I grew up with a father that was a non sports watcher.  He did watch golf but that was it.  Except once a year.  Then he would watch "the big game."   You know which one I'm talking about.
It was a bit of a shock to my system when I went from basically a non sports watching father to marrying into a family that was all about sports.  Watching it, playing it and talking about it.  Thirty years later I'm not sure I'm use to it yet.  I have managed though to raise two sons who are just as big a sports fan as their father and their grandmother (yes, their grandmother!)
On those "big game" days, I am usually in charge of snacks though.  Today's recipe is a great recipe for any sports watching fan or non sports watching fan.  A nice warm, soft pretzel.
These soft pretzels taste pretty much like the ones  at the mall that make you start salivating each time you walk by.  You can create your own version at home just in time for all those "big game" watching fans at your house.
After your soft pretzel dough has risen for about 30 minutes you want to divide it into 8-16 pieces.  Depending on the size of pretzel you want.  I went for a smaller size pretzel so did it into 16 pieces.  If you want the size like the mall pretzels do 8 pieces.  Roll each piece into a long rope – about  15-20 inches.
Form each rope into a pretzel shape and dip each pretzel into a mixture of water and baking soda.  This will give the pretzels that nice golden brown color. Place pretzels on a baking sheet covered with parchment or a silicone  liner.
Sprinkle them with coarse salt (kosher salt) and  allow them to rise, uncovered for 10-15 minutes.
Bake at 500 degree for about 7-9 minutes or until golden brown.
Brush each pretzel with melted butter.  The more, the better!  Don't skimp here!!
Remove from the cookie sheet and enjoy!  These are best eaten warm.  They can be reheated in the microwave.
Tomorrow I'll be back with some fun dipping sauces for your pretzels as well as some ways to decorate your table for "The Big Game!"
I'm a Wisconsin raised girl so you know which team I'm cheering on to"The Big Game!"
  Enjoy!
Leigh Anne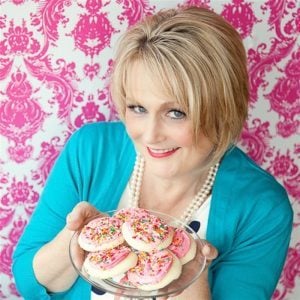 You can also visit me on Facebook, Pinterest, Twitter or Instagram.
Soft Pretzels
Ingredients
2 1/2

C

bread flour

1/2

tsp

salt

2

tsp

sugar

2 1/4

tsp

yeast

1

C

warm water

1/2

C

warm water

2

Tbsp

baking soda

kosher salt

4

Tbsp

butter

melted
Instructions
Preheat oven to 500 degrees

In your mixer combine flour, salt, sugar and yeast.

Stir to combine and then add 1 C warm water.

Using bread hook, mix the dough until a soft, smooth dough forms. Knead for about 5-6 minutes.

Cover dough with a clean cloth and allow to rise for 30-60 minutes. (I was short on time and only did it for 30 minutes)

Place dough on floured counter and divide into 8-16 pieces depending on what size pretzels you want.

For pretzels the size of the "mall pretzels" make 8 pieces.

Roll each piece into a long rope, about 15-20 inches long. Form into a pretzel shape.

Together 1/2 C warm water and 2 Tbsp baking soda. Stir to dissolve soda.

Dip pretzel front and back into water mixture.

Place on baking sheet covered with parchment or silicone baking mat.

Sprinkle with kosher salt.

Allow to sit for 10-15 minutes.

Bake at 500 degrees for 7-9 minutes or until golden brown.

Remove from oven and brush with melted butter. Don't skimp here!

Enjoy warm! Can be reheated in microwave
Shared at:
Southern Lovely  **Lil Luna *Trendy Treehouse*We Are that Family*What's New Wednesday*Adorned from Above *Someday Crafts
Stay Updated!
Need more recipes and creative ideas? Sign up and get a FREE copy of my ebook! Do you think your friends would love this too? Please share my blog with them. Thanks!