Crock Pot Dulce de Leche is the easiest way to make a thick, sweet, rich and delicious caramel sauce.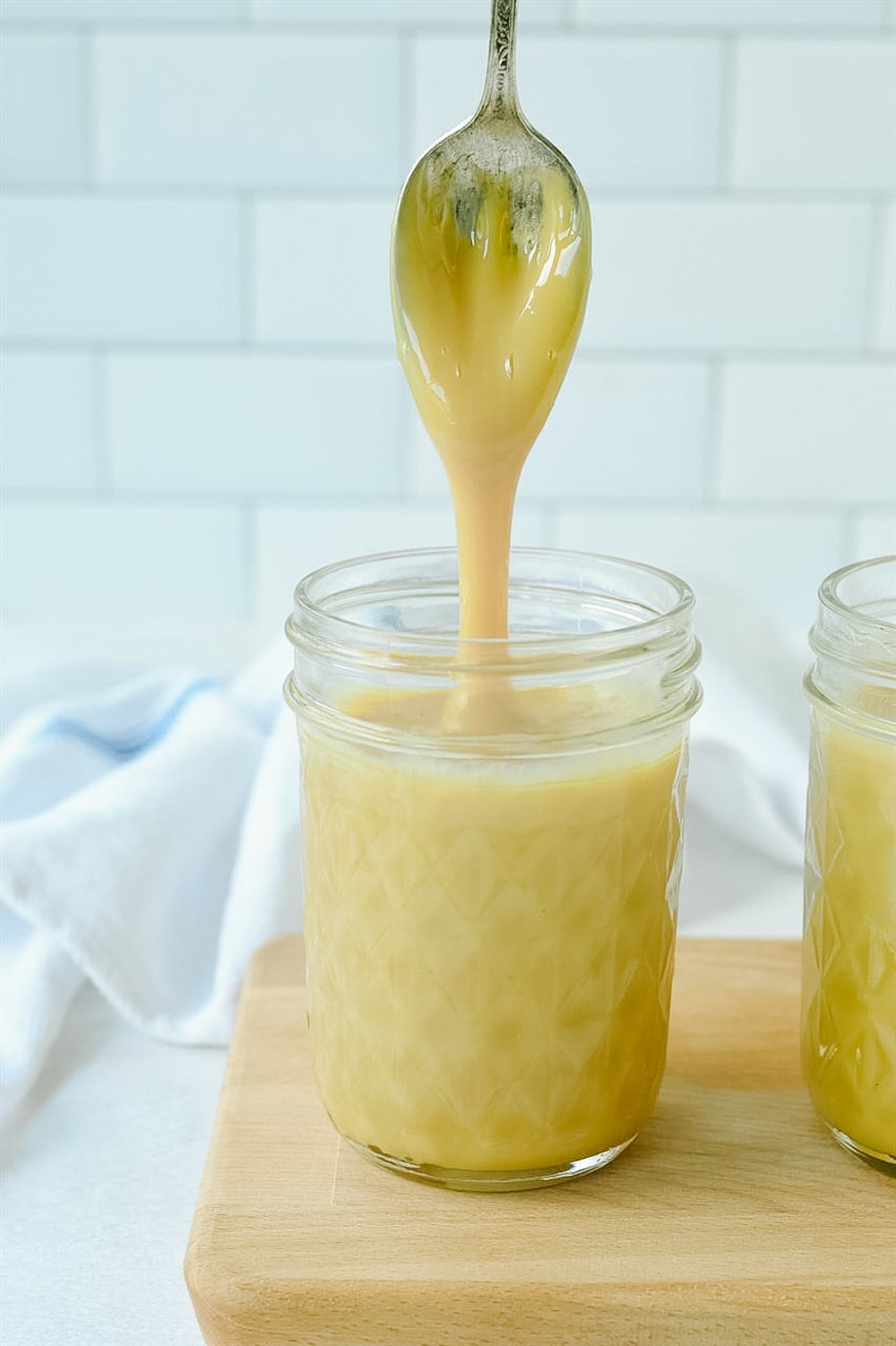 I became a big fan of dulce de leche about 8 years ago when we traveled to Argentina. They serve just about everything with dulce de leche in Argentina – they know how to eat! I remember at breakfast there would be big bowls full of caramel and I would pour it over my fruit. Yum.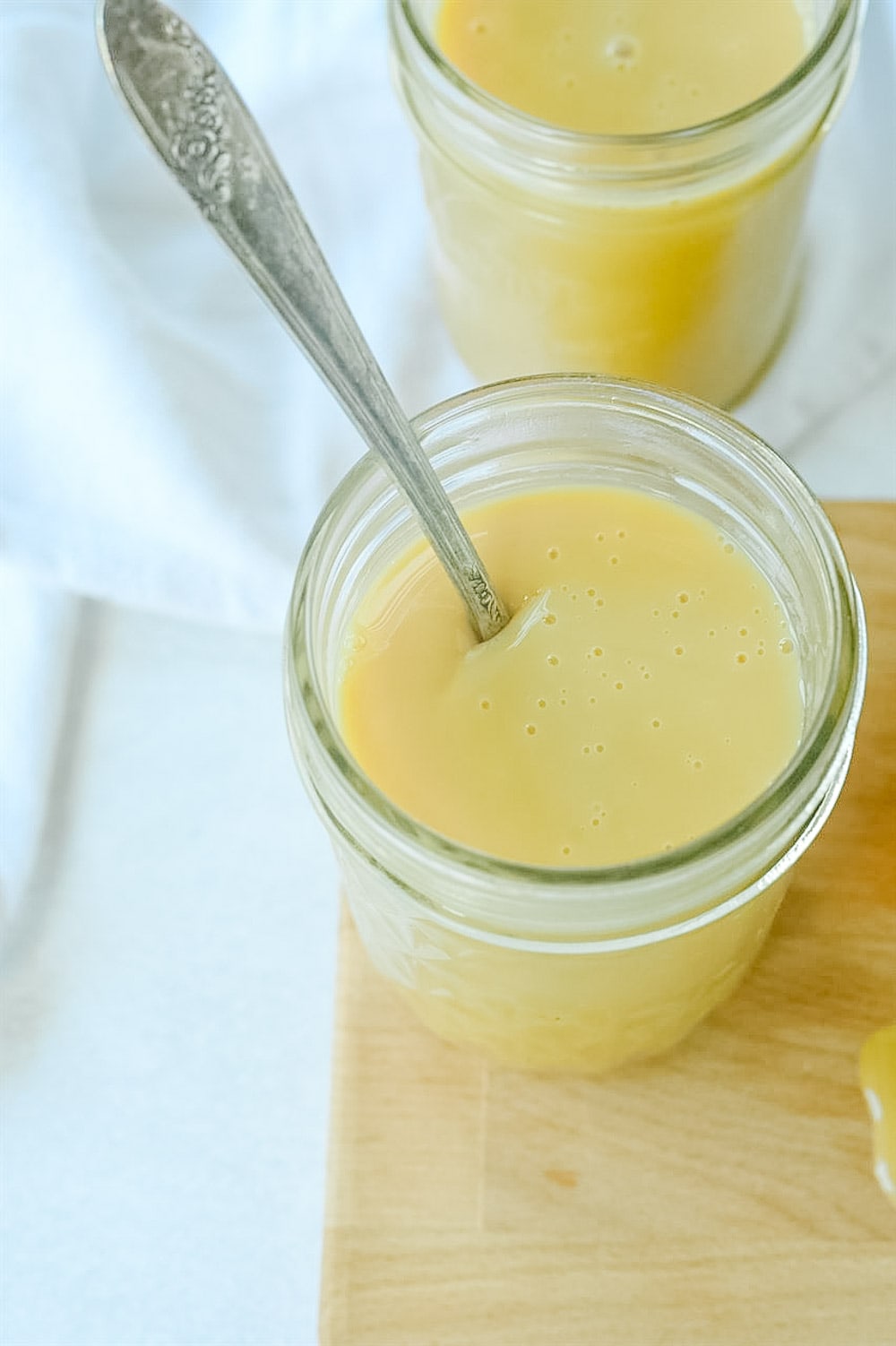 It is next to impossible to find dulce de leche in the stores here in Portland so I have to make my own. The first time I made it, I made it on the stove top. You can read how to do it here. That method involved boiling cans of sweetened condensed milk in a pan of water on the stove top for several hours. It works but it takes some watching and you need to make sure the water doesn't boil away.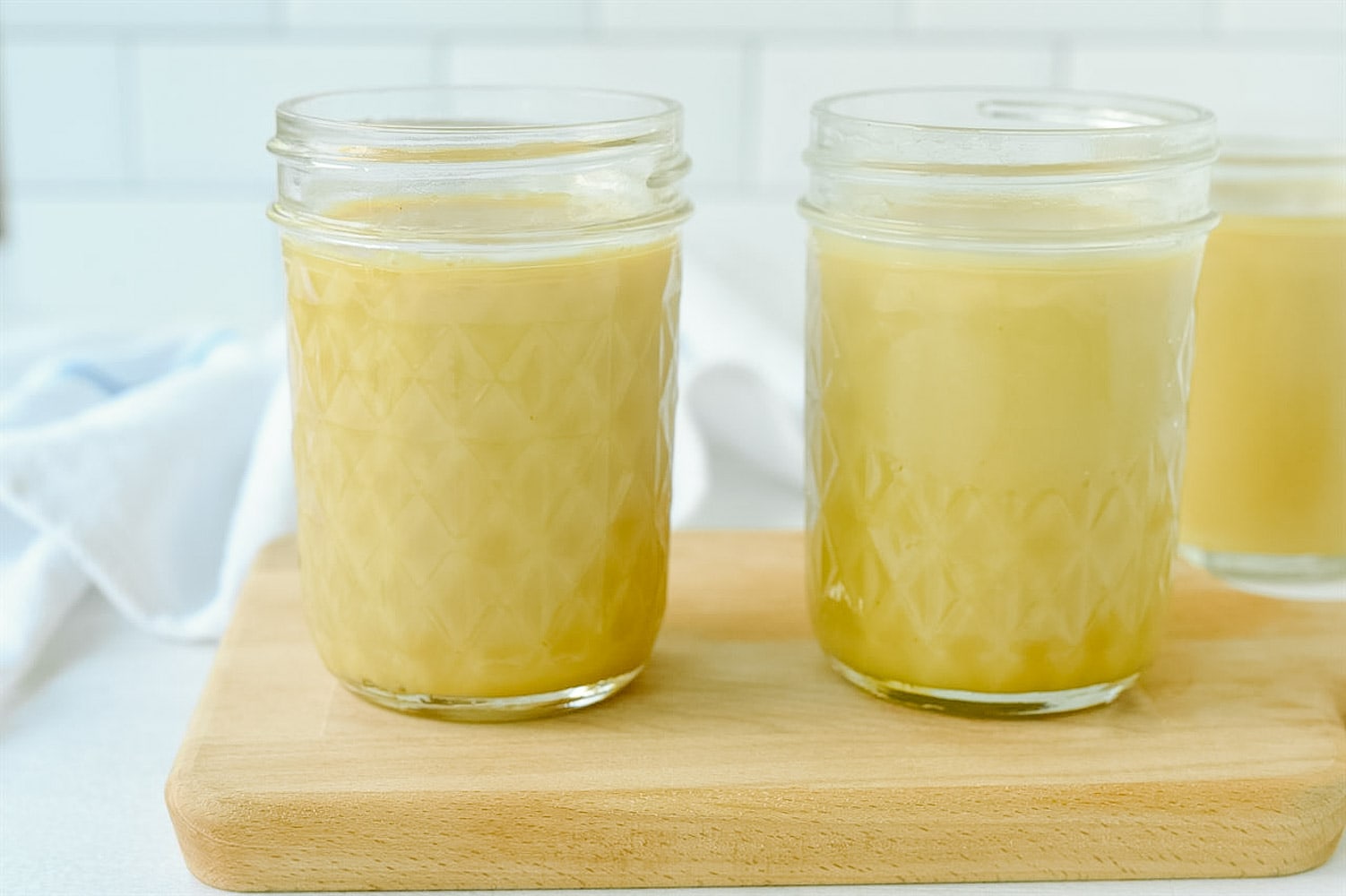 I discovered that making crock pot dulce de leche is the way to go. No watching required.
How to Make Dulce de Leche in a Crockpot
I did three 14 oz. cans of sweetened condensed milk at one time but you could probably do 4 if you wanted. You just don't want the cans to touch. The more cans, the longer it will take.
Remove the labels from the cans and place them in the crockpot. Fill your crock pot with enough water that it covers about 1/2 inch over the top of the cans.
If you prefer, you can open the cans of sweetened condensed milk and pour it into half pint size jars with lids. This allows you to see how thick the dulce de leche is getting. Two 14 oz cans will make three half pint jars crock pot dulce de leche.

Place the jars or the cans into the crock pot and then fill with water. The water should totally cover the jars, about 1/2 inch over the top.
Place the lid on the crock pot and put it on low and allow it to cook for 10 hours. I have only done it on low so not sure how it would work on high. But if someone tries it let me know.
Easy Dulce De Leche
After eight – ten hours remove the jars or cans from the crock pot and allow them to cool before opening. Trust me on this one or you will end up with a big mess. You will have the most amazing, thick, rich, caramel sauce. Grab a spoon and scoop yourself out some. Really, you want to do this.

I cooked my crock pot dulce de leche for 8 hours so it wasn't quite as thick as it would have been if I'd cooked it for 10 hours. We were planning on making these amazing Carmelitas so we wanted it a bit thinner. If you want it thicker, cook for a few more hours.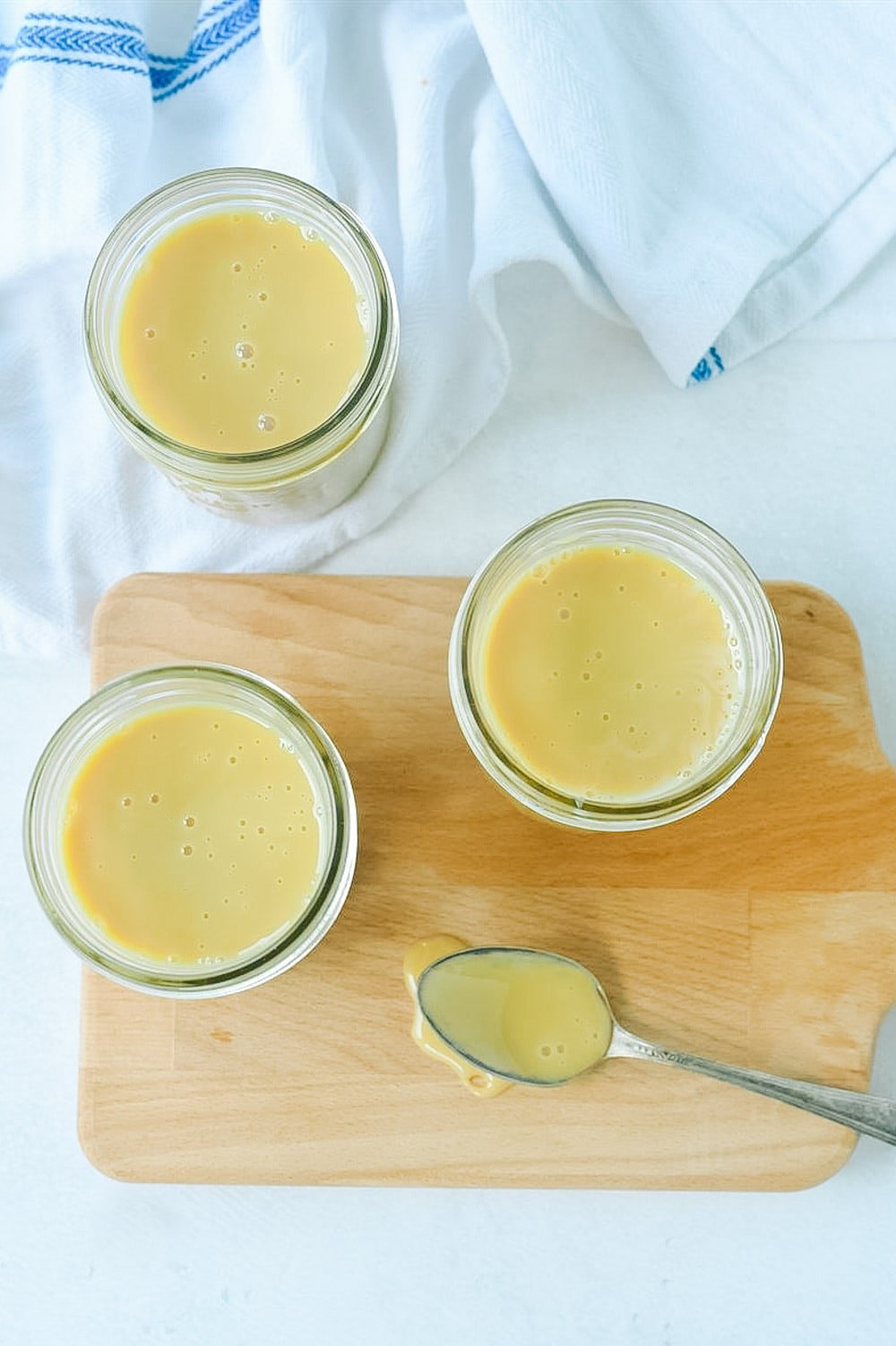 Believe it or not it's pretty darn good spread on toast! I store it in the refrigerator. Not sure on the shelf life as it never lasts too long at my house. It also makes a great little gift, especially in the 1/2 pint sized jar.
Besides eating it straight out of the jar there are lots of other fun ways to use dulce de leche:
For all of my other favorite kitchen products and tools visit my Amazon Store.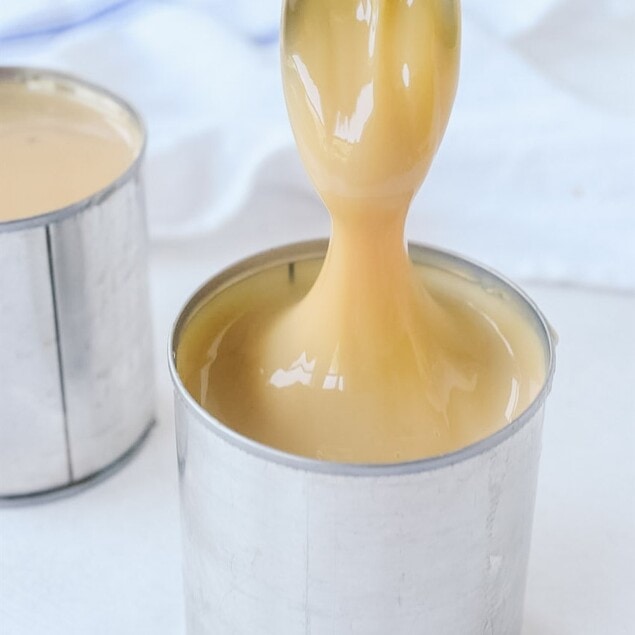 Slow Cooker Dulce de Leche
Slow Cooker Dulce de Leche is the easiest way to make a thick, sweet, rich and delicious caramel sauce.
Ingredients
42 oz sweetened condensed milk 3 (14oz) cans
water
Instructions
Remove labels from cans and place into crockpot.Option 2: Open cans of sweetened condensed milk and pour into three half pint jars, dividing evenly. Put on lids and rings and place in crockpot.

Fill crock pot with water so that it covers about 1/2 inch above the top of the jars.

Turn crock pot onto low and set timer for 8-10 hours, depending on how thick you want it..

After 10 hours and remove jars from crock pot. Allow cans to cool a while before opening.

Open the lid and grab a spoon!
Tips & Notes:
recipe makes 2 pints
Nutrition Facts:
Calories: 119kcal (6%) Carbohydrates: 20g (7%) Protein: 3g (6%) Fat: 3g (5%) Saturated Fat: 2g (13%) Cholesterol: 13mg (4%) Sodium: 47mg (2%) Potassium: 138mg (4%) Sugar: 20g (22%) Vitamin A: 99IU (2%) Vitamin C: 1mg (1%) Calcium: 106mg (11%) Iron: 1mg (6%)
* Disclaimer: All nutrition information are estimates only. Read full disclosure here.