Caramelized Apples with Dulce de Leche with some vanilla ice cream and you have a simple yet delicious dessert.
Apples and dulce de leche are such a perfect combination. Try drizzling some dulce de leche over this Apple Crumb Pie to make it even more delicious! It would be wonderful on this Apple Crisp too.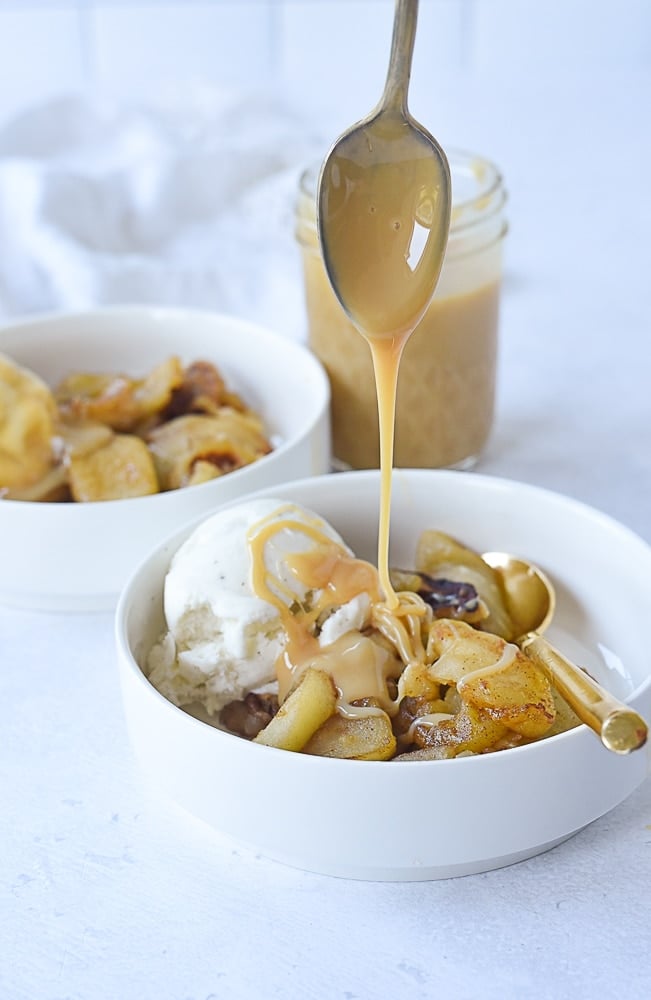 Last week I was talking with my good friend Deb who lives in Michigan. Deb is an amazing cook. She was having dinner guests that evening and was describing the menu to me – if Deb was making it I knew it would be good. So of course I asked for the recipes.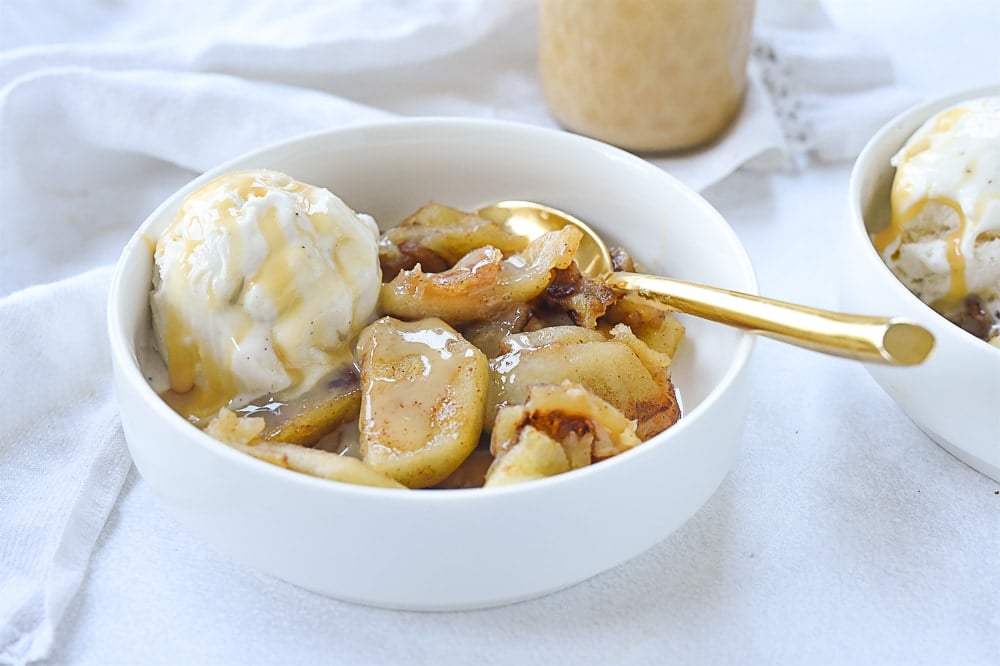 I couldn't wait to try the Caramelized Apples with Dulce De Leche! It did not disappoint

What is Dulce de Leche?
I am a big dulce de leche fan since our visit to Argentina years ago. Dulce de leche is pretty much a staple in that country. It is a thick caramel sauce – yum! They serve it on everything in Argentina. At our hotel the breakfast buffet would have a huge, punch bowl size container of dulce de leche every morning. You could spread it on your toast, pour it over your fruit or just eat it straight like I did!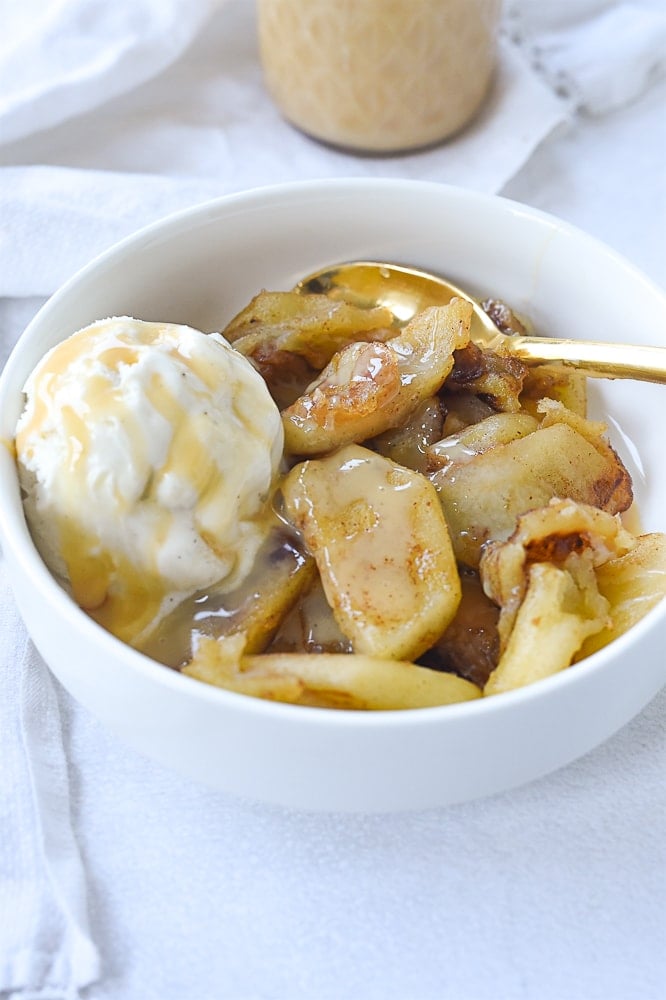 This is a simple dessert . You almost think it's healthy because there are apples in it!! But it is one of those desserts that after you finish it, you keep thinking about it. While we were playing cards after dinner more than one of us said out loud, " That dessert was really good!"
In fact, since we had some left over dulce de leche I browned up a few more apples after school yesterday and Tessa and I enjoyed it again. And it was just as good the second time!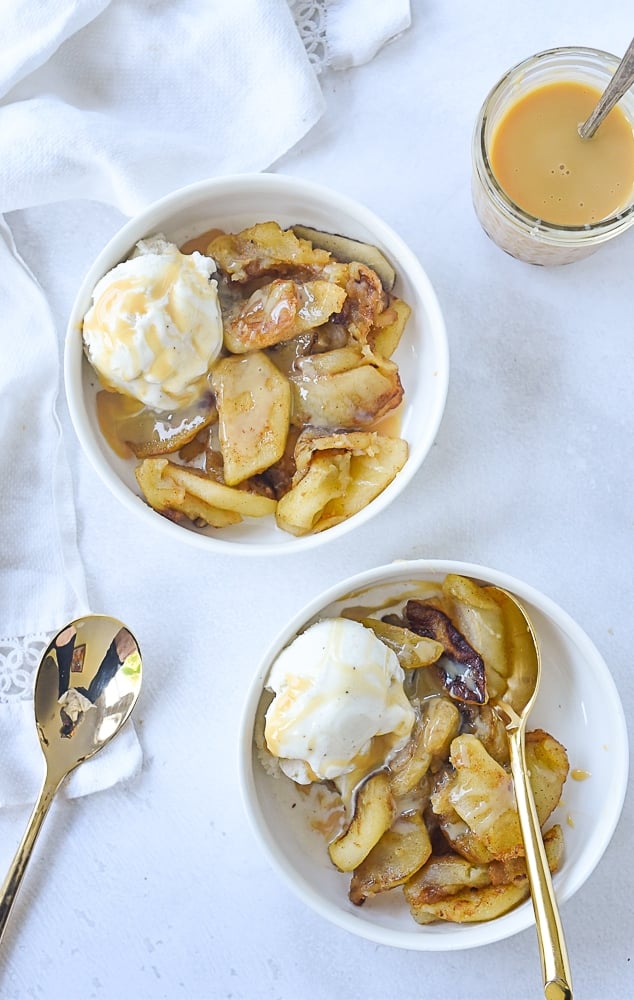 How to Make Dulce de Leche
You can purchase dulce de leche in some grocery stores but it can be hard to find. Making your own dulce de leche is an easy process – it just takes time. Dulce de leche literally means "sweet milk" and is basically sweetened condensed milk that has been cooked, in the can. I like to do it in the crock pot and let it cook overnight.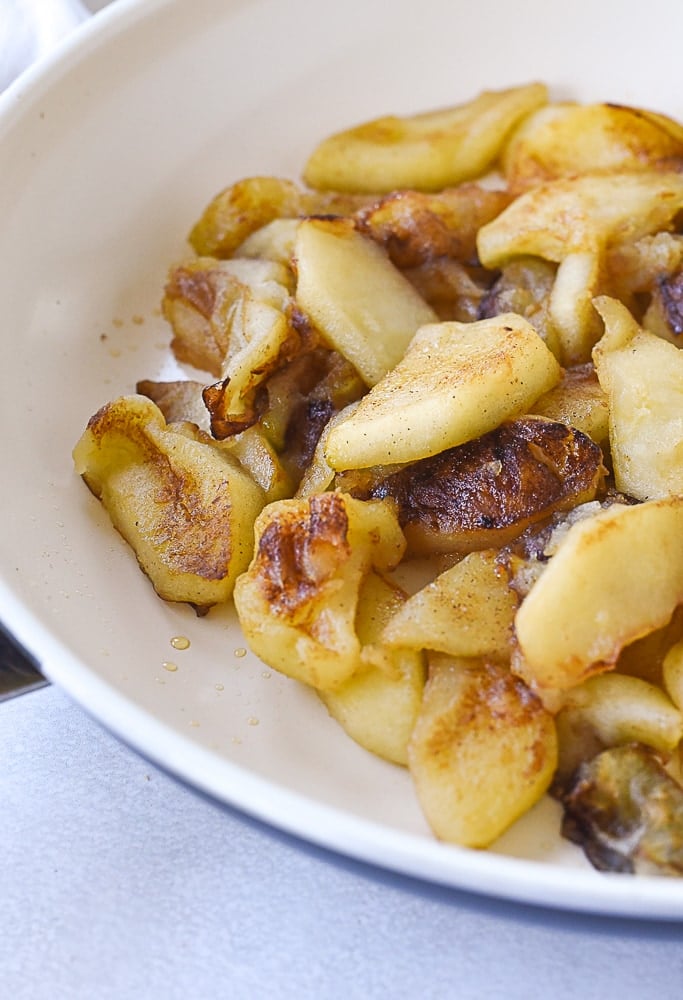 You need to plan ahead to make the dulce de leche but it can be done ahead of time and just refrigerated until you are ready to use it.
How to Caramelize Apples
Place sliced apples into a pan with butter. Cool apples until they are browned and soft, not mushy. Then just sprinkle with cinnamon and sugar.
Place apples in a bowl, add a scoop of vanilla ice cream and then a generous drizzle of dulce de leche. Eat immediately!!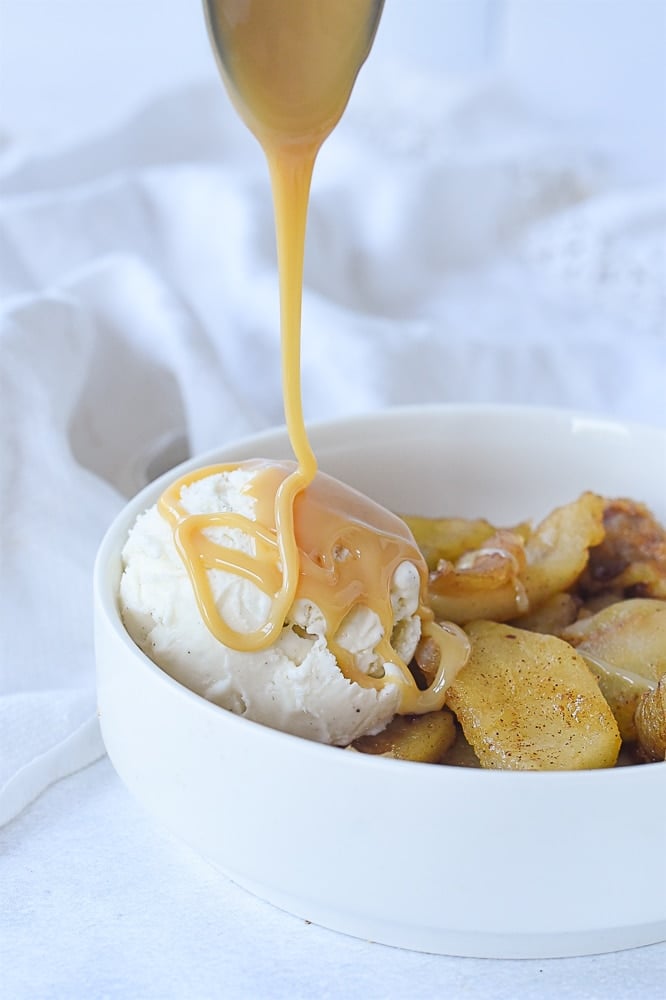 Some other favorite ways to use Dulce de Leche:
For all of my other favorite kitchen products and tools visit my Amazon Store.
Did you know I wrote a cookbook? Check out the Holiday Slow Cooker Cookbook for 100 delicious recipes.
Caramelized Apple and Dulce De Leche Recipe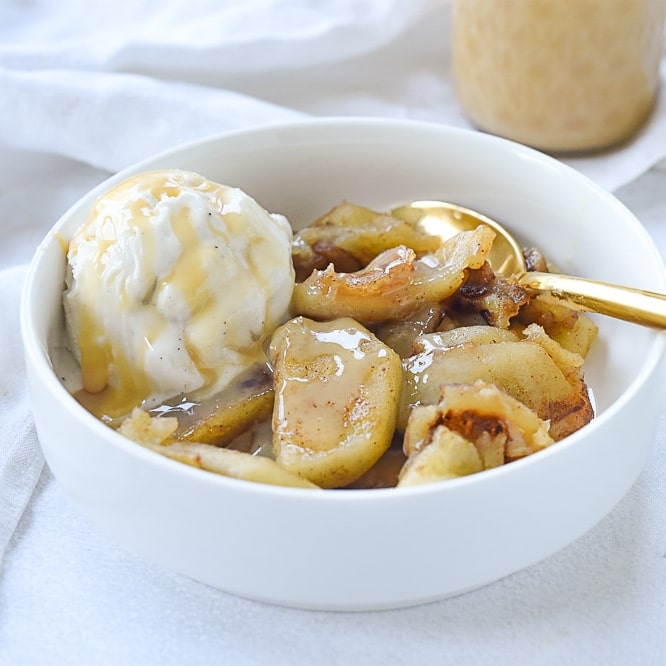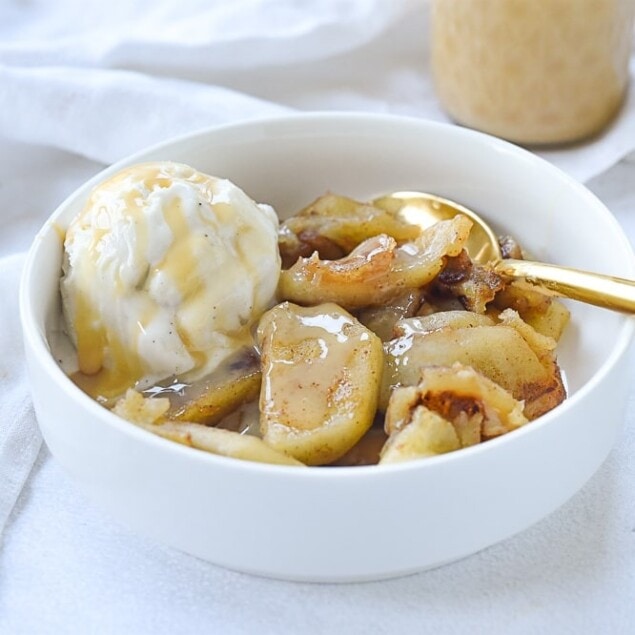 Dulce de Leche and Apples
Delicious baked apples topped with homemade dulce de leche.
Ingredients
3 Tbsp. butter
4 apples peeled, cored and cut into 1/4 in. slices (I usually use a mix of apples)
3 tsp. cinnamon sugar
Good quality vanilla ice cream
Dulce de Leche warmed
Instructions
In large skillet, melt butter over medium-high heat.

Add apple slices and saute for about 10 minutes, or until softened and lightly browned.

Sprinkle cinnamon sugar over apples and cook for 3 to 4 minutes until they are nicely browned and softened but not mushy

Remove from heat and keep warm

Scoop ice cream into individual bowls

Spoon warm apples over and then the warm dulce de leche over the apples.

Serve immediately
Dulce de Leche
Put unopened can of condensed milk in large heavy saucepan that is higher than the can.

Add water to come about three-quarters of the way up the sides of the can and bring to a simmer over medium heat

Reduce heat to a very low simmer, partially cover and cook, turning the can over at the halfway point (45 minutes), for a total of 1 1/2 hours

(You can remove the wrapper in the water with tongs when it falls off.)

Remove the saucepan from the heat

Let the can cool in the pan of water until it reaches room temperature

Open the can and pour the contents into a small bowl

Stir in the vanilla

The mixture should be very thick and taste like a rich caramel sauce

Cover and refrigerate
Nutrition Facts:
Calories: 253kcal (13%) Carbohydrates: 41g (14%) Protein: 4g (8%) Fat: 9g (14%) Saturated Fat: 6g (38%) Cholesterol: 29mg (10%) Sodium: 104mg (5%) Potassium: 281mg (8%) Fiber: 2g (8%) Sugar: 38g (42%) Vitamin A: 320IU (6%) Vitamin C: 5mg (6%) Calcium: 148mg (15%) Iron: 1mg (6%)
* Disclaimer: All nutrition information are estimates only. Read full disclosure here.