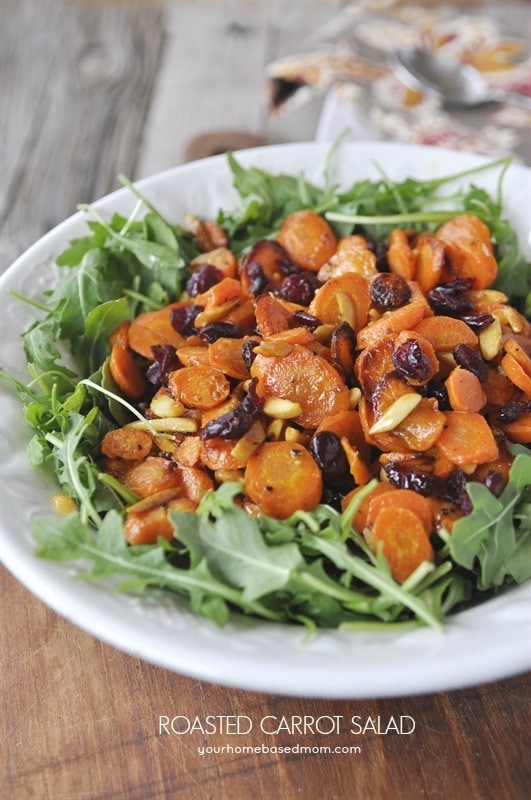 It's a new year and we are all trying to healthier right? Which means eating more veggies! Let me tell you, you won't feel like you are eating your veggies with today's recipe. It is so good. I didn't know I liked carrots so much. In fact my husband hasn't stopped talking about this salad since I made it.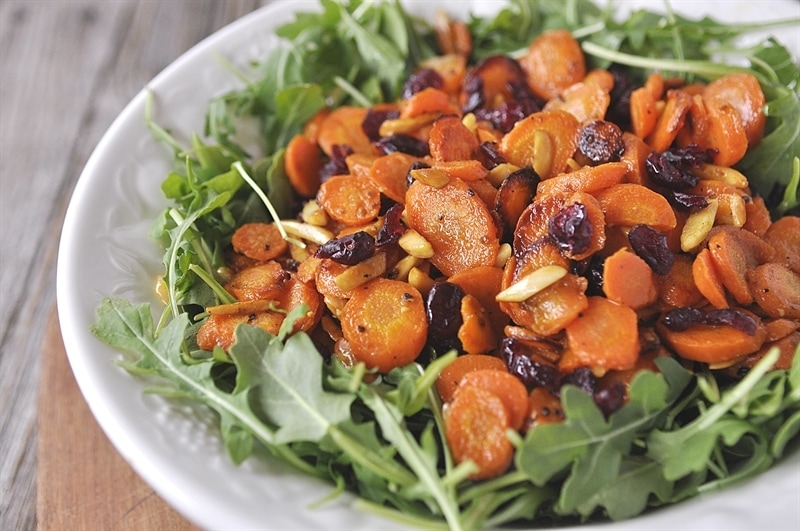 Roasting a carrot makes them so sweet that you almost feel like you are eating candy. Really!
This salad is a fun combination of colors, flavors and textures.
I started by peeling and slicing about 10 – 12 carrots. I sliced them fairly thin. Maybe 1/4″ or slightly thinner.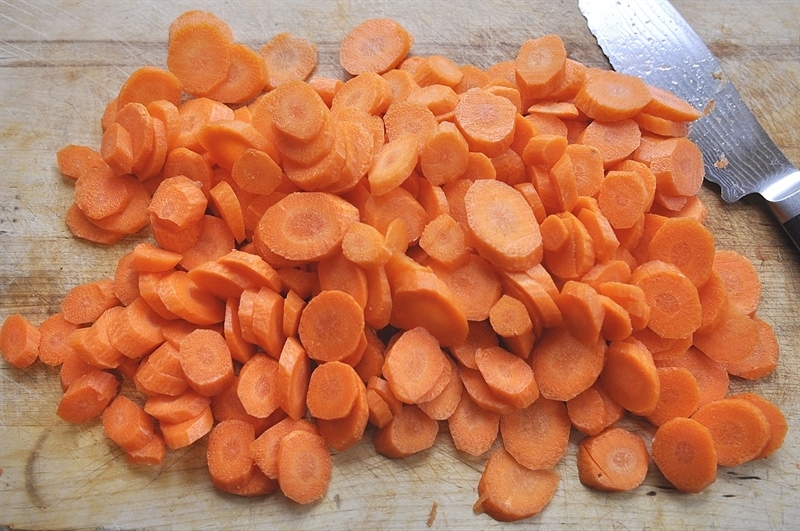 I then combined the carrots with some slivered almonds and drizzled them with olive oil and garlic. And then a healthy sprinkle of salt and pepper.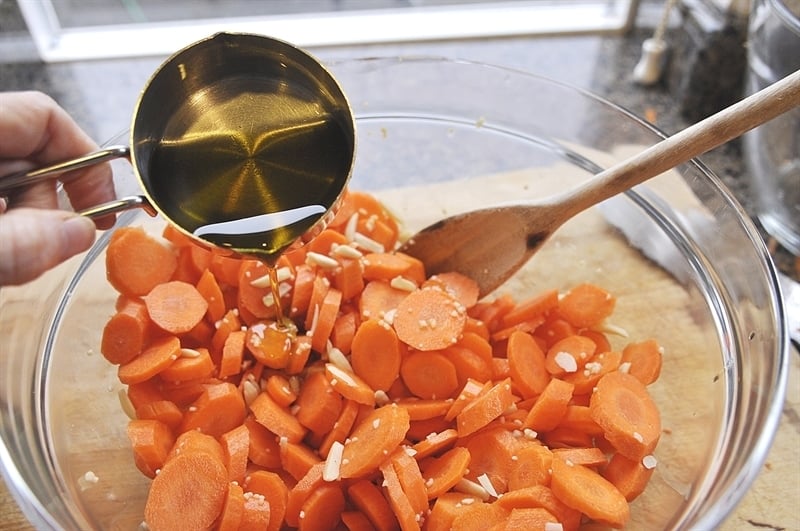 Layer them on a cookie sheet in as even a layer as you can and pop them in a 400 degree oven for about 20-30 minutes. The time may vary depending on how thin or thick you slice your carrots. You want to roast them until they are fork tender but not mushy. No mushy carrots!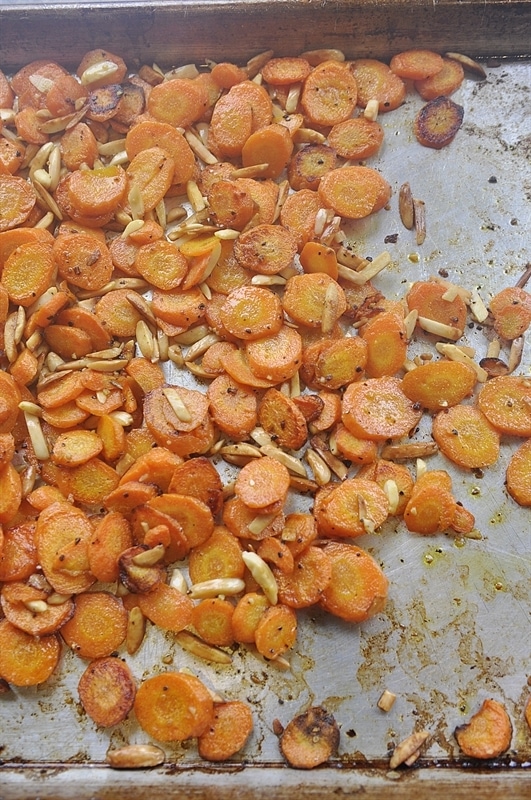 I turned them a couple times during the roasting process so that the nuts don't burn. Remove from the oven and let the carrots cool off to room temperature.
Now for the best part – drizzle them with some honey and vinegar. So yummy!!! I served them over a layer of arugula and then sprinkled with dried cranberries. Add additional salt and pepper to taste.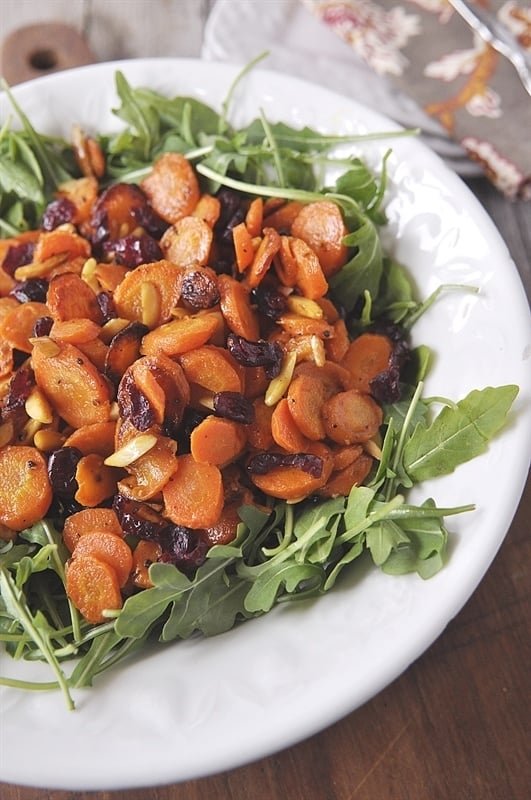 Eating your vegetables was never so fun or delicious. This dish was a huge hit at our house and I can't wait to make it again.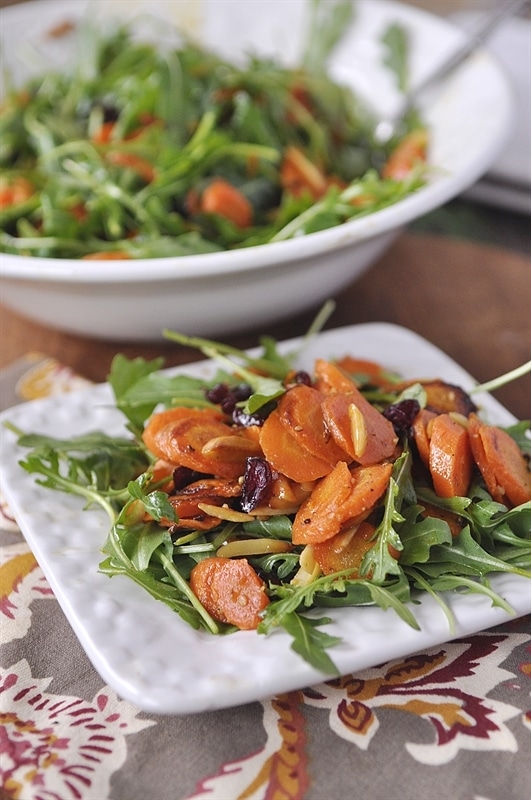 Now go eat your veggies!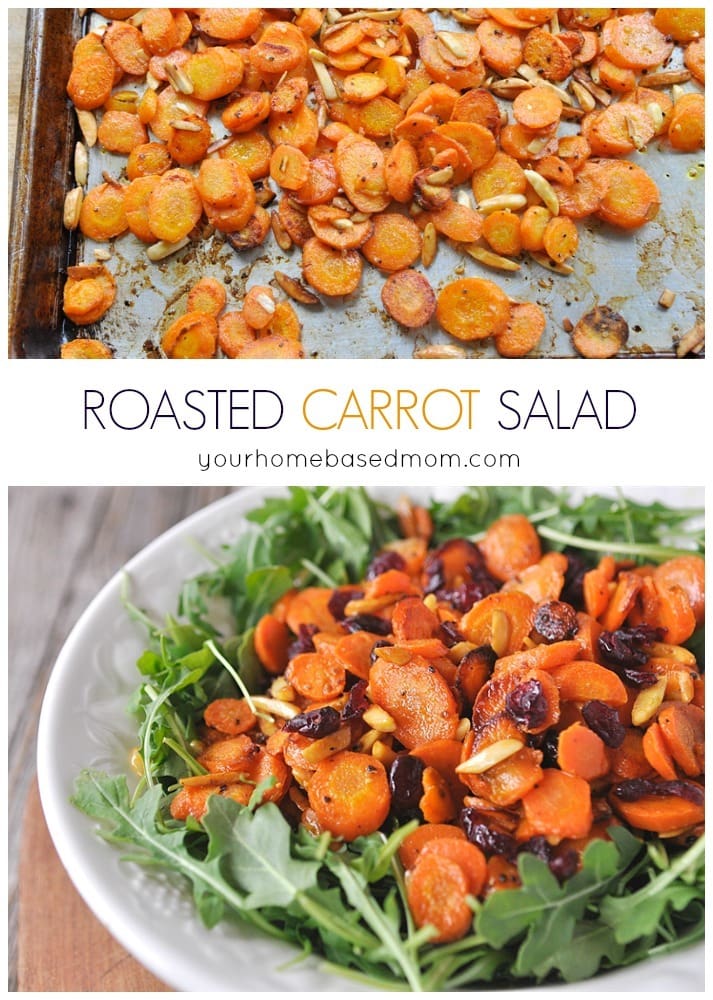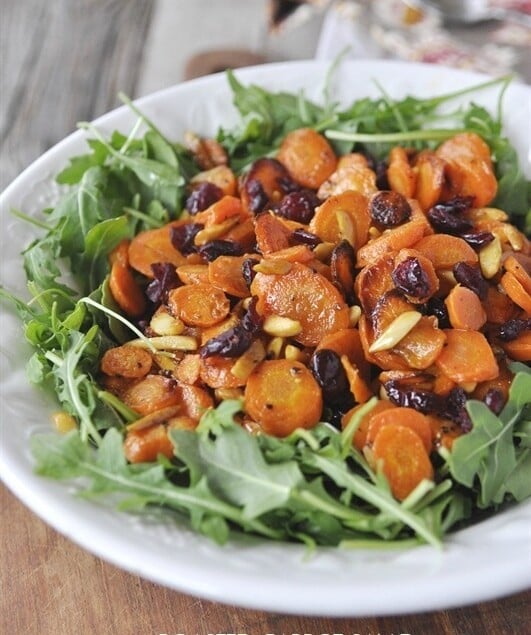 Roasted Carrot Salad
Ingredients
10-12 carrots peeled and thinly sliced. About 5 cups
1/2 C slivered almonds
4 cloves garlic minced
1/4 C olive oil
salt and pepper to taste
1 tsp honey
1 Tbsp apple cider vinegar
1/4 C dried cranberries
2-4 C arugula
Instructions
Preheat oven to 400 degrees.

Combine carrots, almonds and garlic in a bowl.

Drizzle with olive oil and stir to coat.

Season with salt and pepper.

Spread in single layer on a cookie sheet.

Bake for 20-30 minutes or until carrots are tender, not mushy.

Remove and allow to cool to room temperature.

Mix together honey and vinegar and drizzle over cooled carrots.

Add in cranberries and more salt and pepper to taste.
Adapted from allrecipes.