These easy riblets are baked right in your oven.  They are so delicious, the meat just falls right off the bone!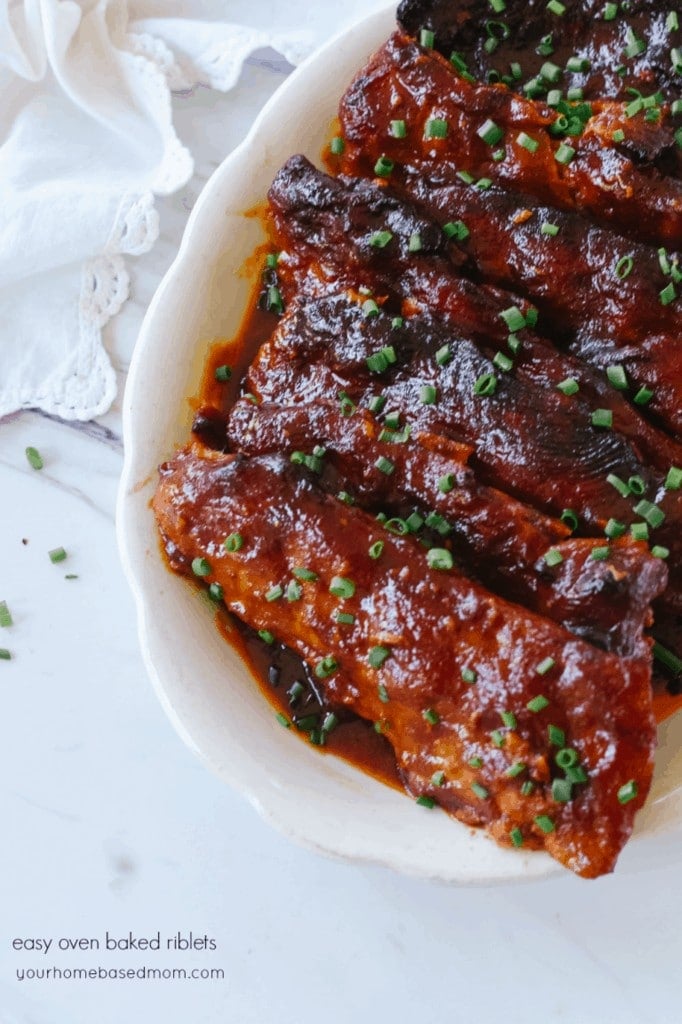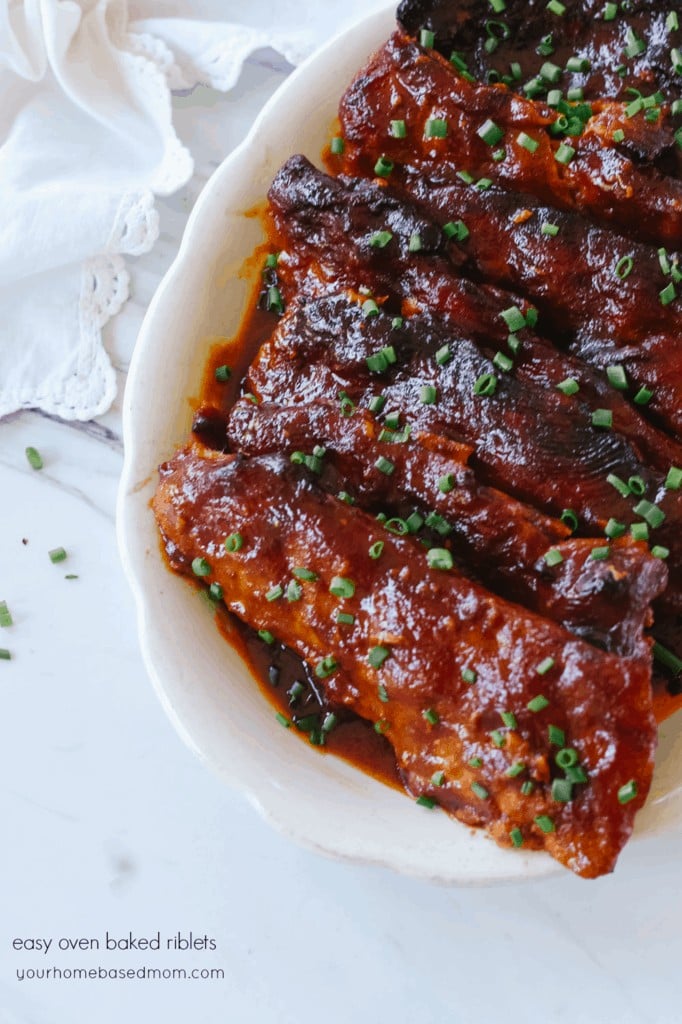 If you are looking for a great recipe to serve guests, look no further.  These bbq riblets are so easy to make, but your guests will only know how delicious they are to eat!  Just make sure you have a lot of napkins on hand! They are a bit messy to eat.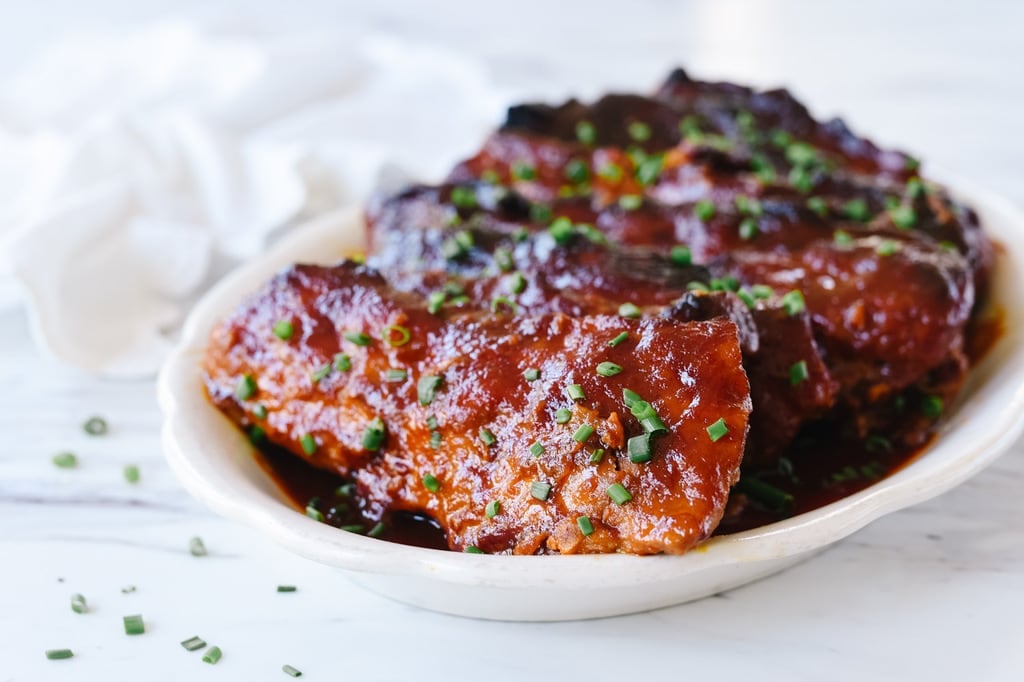 What are Riblets?
Pork riblets are a cut of meat prepared by a butcher.  When the butcher trims spare ribs to make them straight and flat, the piece he removes are sold as riblets.  They are delicious, easy to cook and the biggest benefit is that they cost considerably less than a rack of ribs.  That is a big help to the budget!  The package I bought fed 5 adults, plus some leftovers, and was only $6.00!  That price can't be beat.
How Do I Cook Riblets?
Begin my placing  riblets in a foil liked 9 x 13 pan.  Spray with cooking spray.  This will make clean up easier.
To cook your meat, start by browning them in the oven at 450 degrees.  Once browned, cover them with the delicious sauce.  This homemade bbq sauce is a recipe from my mother and it has stood the test of time. Once the pork is covered, turn the oven down to 350 degrees.  Then put them in the oven for about 90 – 120 minutes, basting them every 30 minutes or so.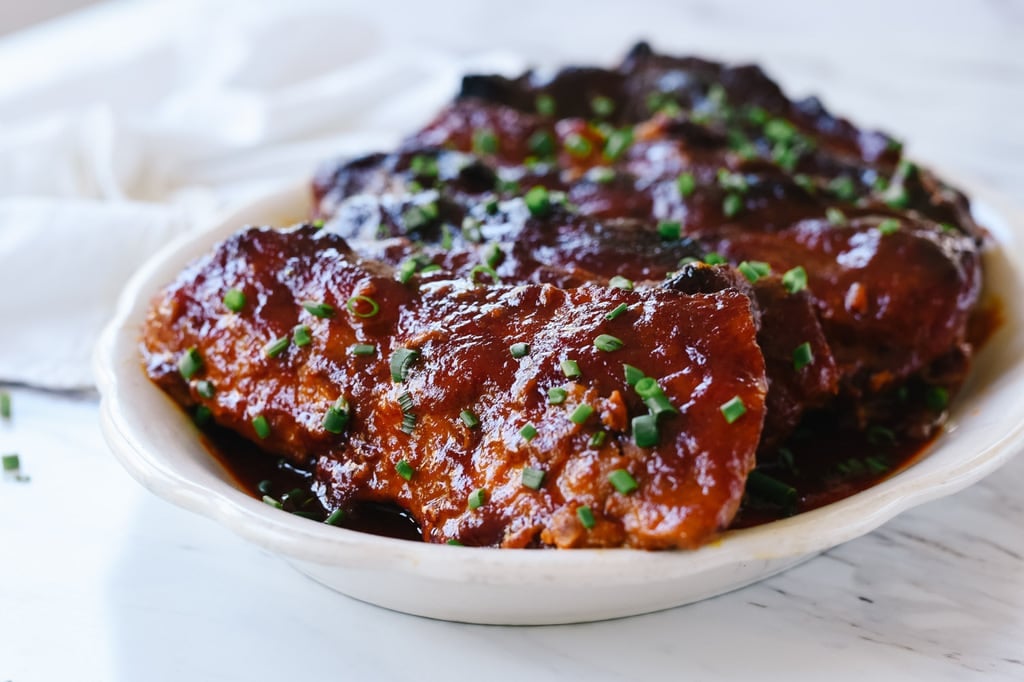 When they are done, riblets will be nice and glazed and gooey, just the way a bbq riblet should be!  Depending on the size of the pan and the amount of meat you are cooking, you may need to allow for more time.
What Sides Go With Riblets?
These are some of my favorites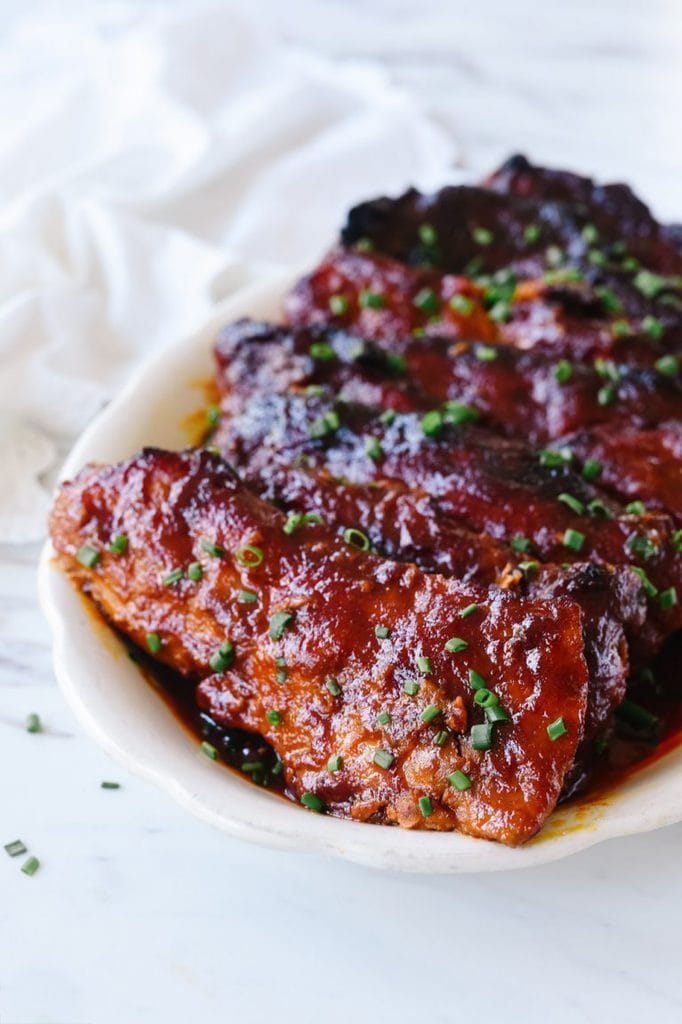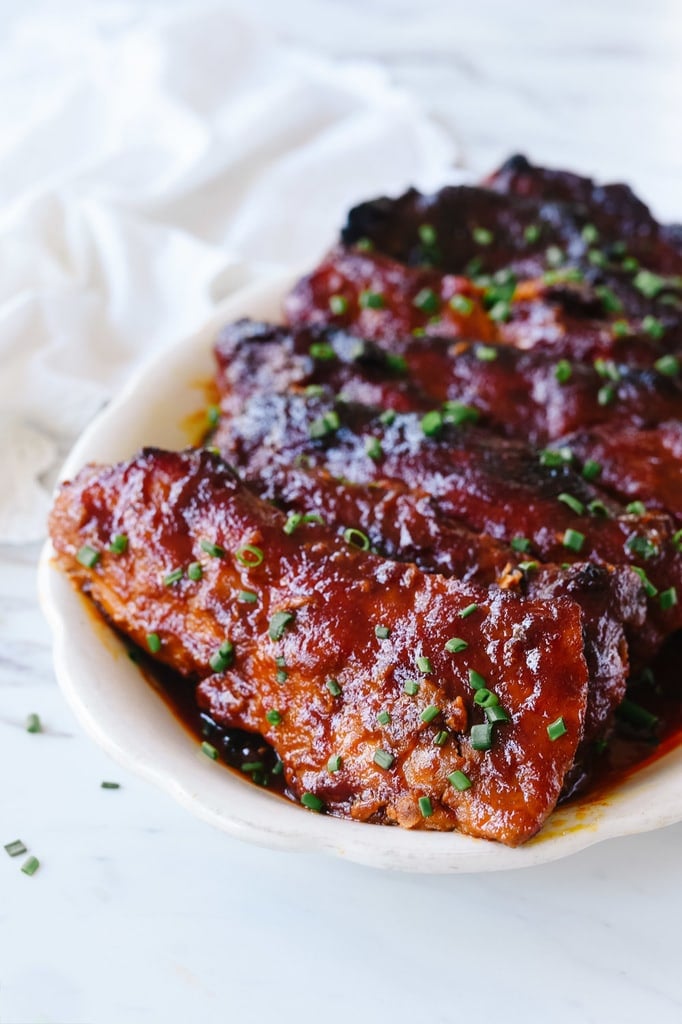 Riblets Recipe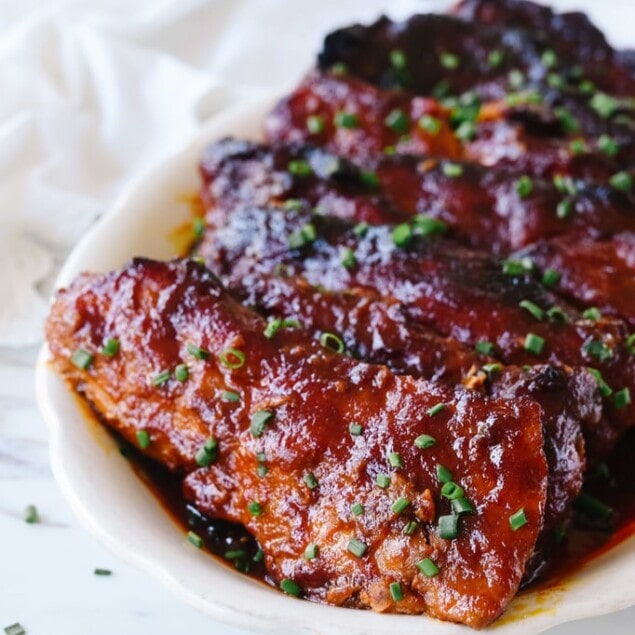 Oven Baked BBQ Riblets
These easy riblets are baked right in your oven. They are so delicious, the meat just falls right off the bone!

Ingredients
3-3.5 lbs pork riblets
1 cup brown sugar
1 Tbsp. paprika
1 tsp dry mustard
1/4 tsp chili powder
2 Tbsp Worcestershire sauce
1/4 cup vinegar I used white
8 oz. tomato sauce
1/4 cup ketchup
Instructions
Mix sauce ingredients together.

Place ribs in pan and brown in oven at 450 for 15 minutes

Turn the oven down to 350 (don't forget!) before putting in ribs.

Pour sauce over ribs and bake at 350 for 1 1/2 hours or until ribs are glazed and gooey! There will be a lot of sauce but it will thicken up as it cooks and coat the ribs.

Turn and baste every 20-30 minutes
Nutrition Facts:
Calories: 166kcal (8%) Carbohydrates: 41g (14%) Sodium: 161mg (7%) Potassium: 181mg (5%) Sugar: 38g (42%) Vitamin A: 1300IU (26%) Vitamin C: 1.2mg (1%) Calcium: 42mg (4%) Iron: 1.2mg (7%)
* Disclaimer: All nutrition information are estimates only. Read full disclosure here.
Originally posted September 23, 2009
Need some help figuring out what's for dinner tonight?
Come join our Facebook Group!  Join hundreds of others who love sharing dinner time ideas.  You don't want to miss out on the fun!

You'll find lots of ideas for dinner from all our awesome members and you can share your ideas too!  Join the Family Dinner Table today.