Razzleberry Pie, also known as Triple Berry Pie uses a combination of raspberries, blueberries and blackberries between two layers of flaky pie crust.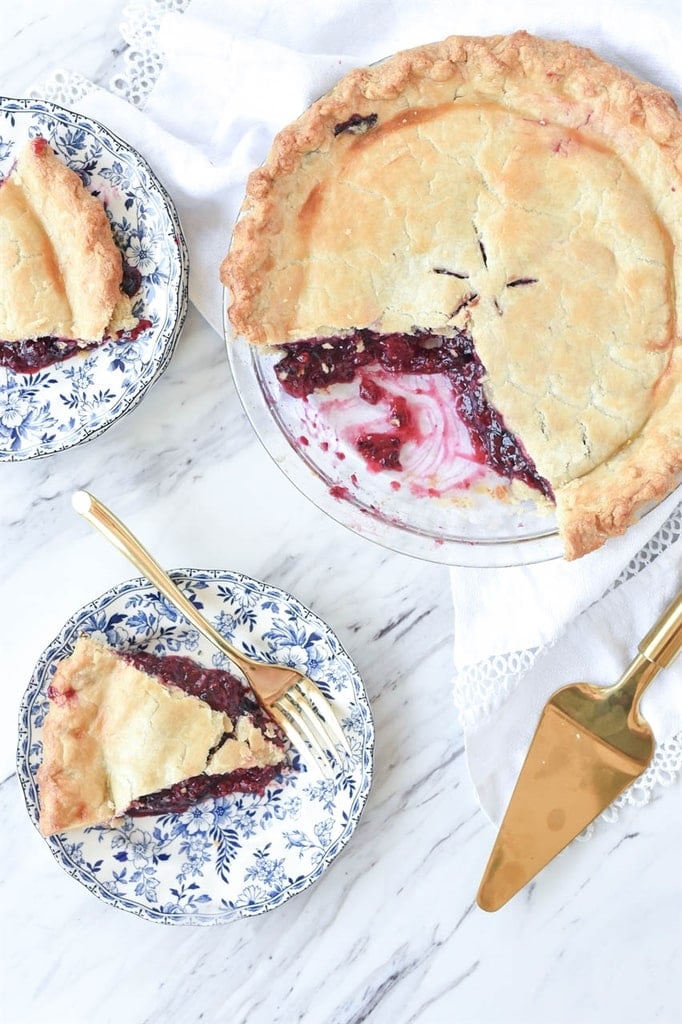 Summertime is my favorite time of year to make pies.  I know a lot of people only make pies during the holidays, but berry pies are my favorite.  And the summer time is the best time for berries!  Years ago we had a Marie Calendars within a mile or so of our house and my favorite pie to get there was the Razzleberry Pie.  The store is no longer there but I still enjoy those Razzleberry pies by making them at home.  It is also known as a Triple Berry Pie but Razzleberry is so much more fun to say!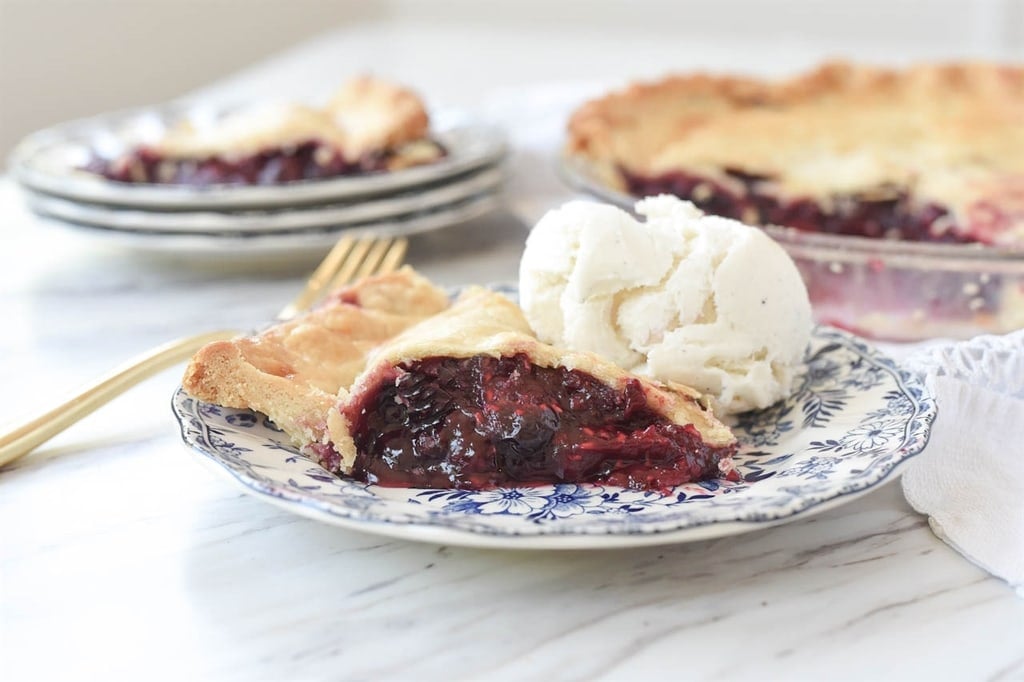 The pie uses a cooked filling that is a combination of blueberries, raspberries and blackberries.  Here in Oregon we have marionberries which is a cross between a blackberry and a raspberry and I often use those instead of blackberries.  The berries are cooked down with sugar and cornstarch and allowed to cool.  If you are in a hurry, put it into the refrigerator to cool.
Triple Berry Pie
While it is cooling you can make your pie crust.  Be sure and follow my Perfect Pie Crust Recipe.  I use a combination of butter and shortening.  The butter gives you good flavor and the shortening gives you a flaky pie crust.  The recipe makes two crusts.  Use one to line the bottom of your 9 inch pie dish.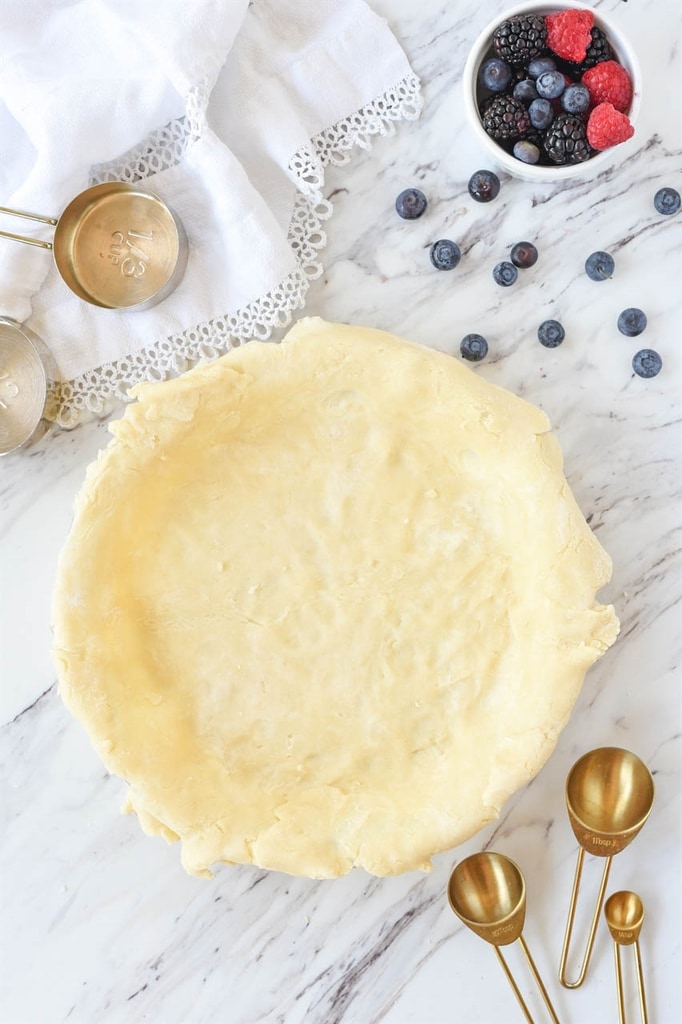 Then add your cooled berry filling.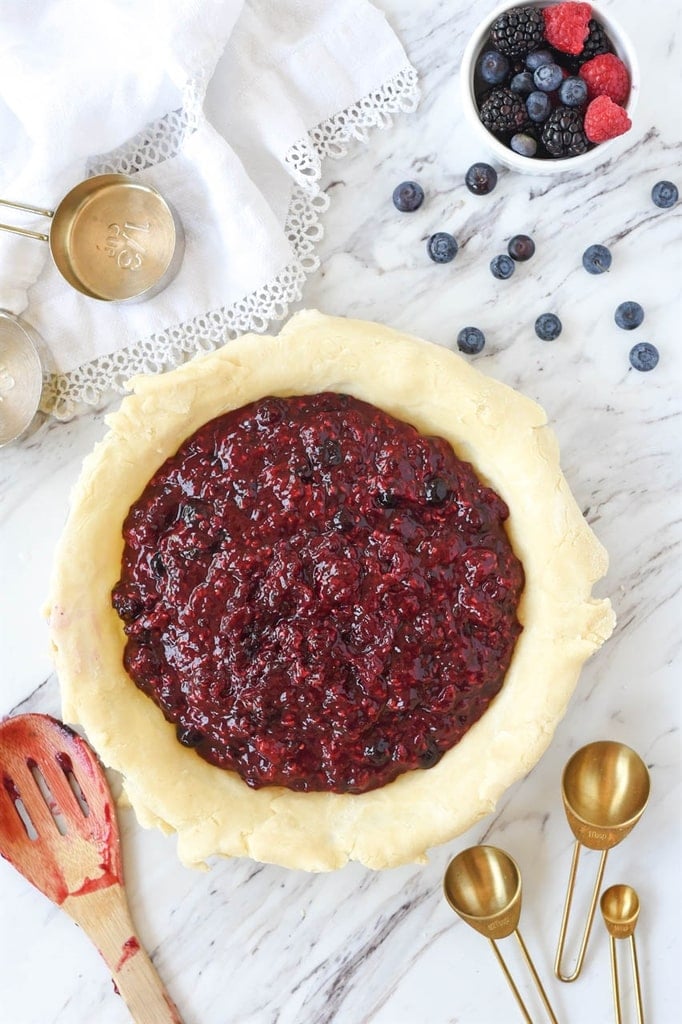 And then place your other crust on top and crimp your edges together.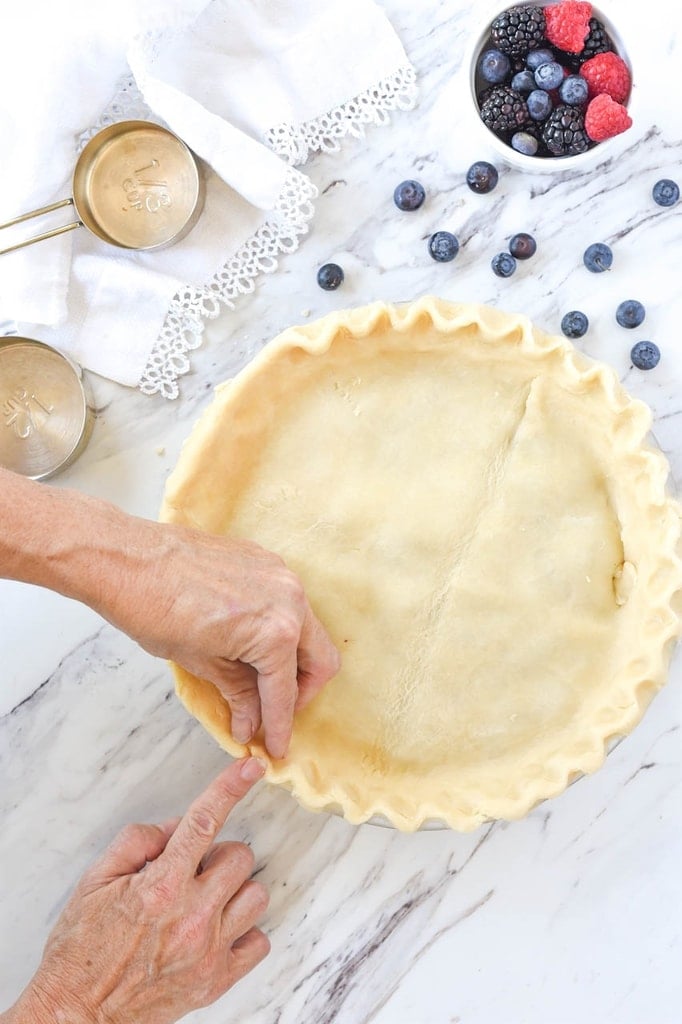 Add a few slits in the top so that the steam is released and add a egg wash to the crust to give it a nice golden brown shine.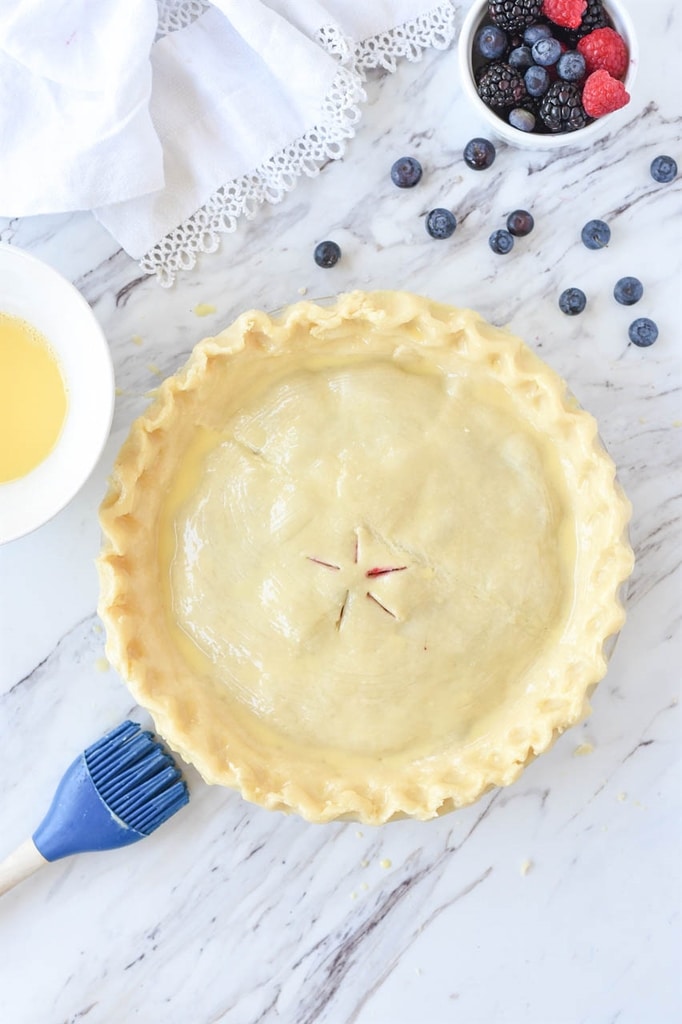 I always like to put my pies on a cookie sheet while in the oven in case any juices escape and over flow.  It helps with oven clean up!  Bake at 400 F  for about 50 – 60 minutes or until your crust is beautifully golden brown.  If you find that the edges of your pie are baking quicker than the top of the crust and getting too brown, cover them with a strip of foil.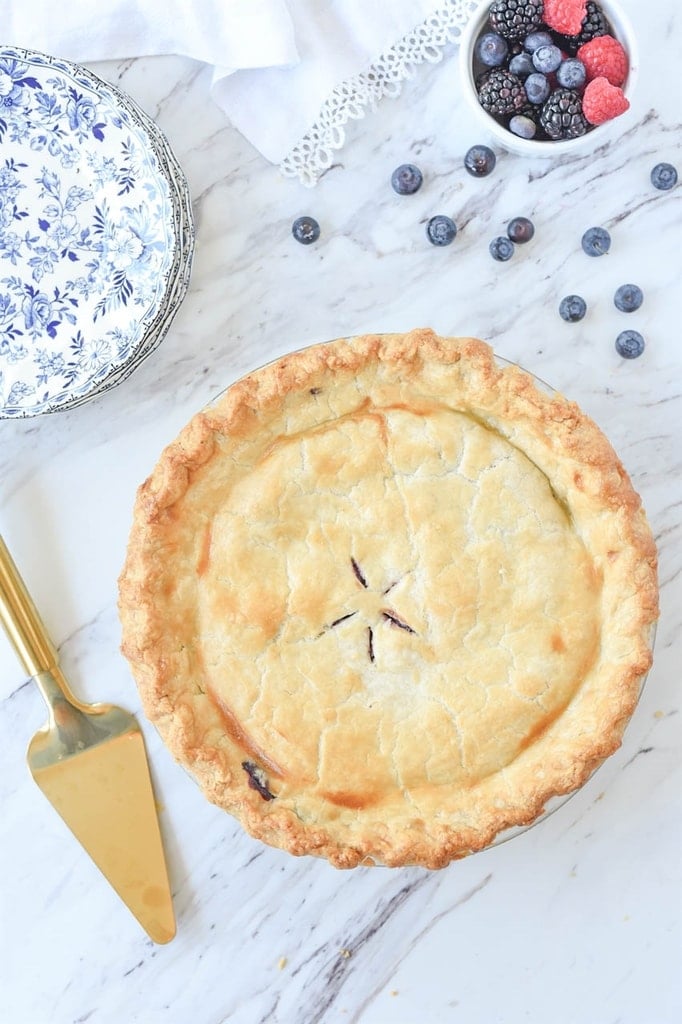 You can eat the Razzleberry Pie warm or let it cool.  The triple berry pie filling will set up a bit more as it cools but who can wait!  The only thing left to do is add a scoop of vanilla ice cream because triple berry pie should never be eaten without ice cream!

Can I Use Frozen Berries?
Yes, you may.  They work great.  I just like to thaw and drain them before I cook them.
Some of my other favorite pies:
Some of my favorite kitchen tools to make Razzleberry Pie:
9" GLASS PIE PLATE – perfect size for any pie!
FRENCH ROLLING PIN– I love this thing. There are no handles to get in the way.  Just use the palms of your hands on the ends. Just like the French!
For all of my other favorite kitchen products and tools visit my Amazon Store.
Did you know I wrote a cookbook?  Check out the Holiday Slow Cooker Cookbook for 100 delicious recipes
Razzleberry Pie Recipe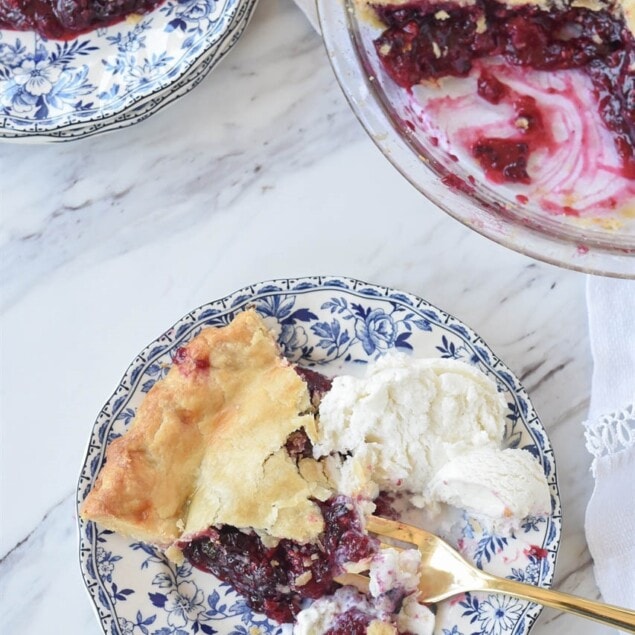 Razzleberry Pie or Triple Berry Pie
Razzleberry Pie also known as Triple Berry Pie uses a combination of raspberries, blueberries and blackberries and is my favorite pie!
Ingredients
2 pie crusts
2 cups raspberries
2 cups blueberries
2 cups blackberries
3/4 cup granulated sugar
pinch salt
1 tsp lemon juice
4 Tbsp cornstarch
1 egg beaten
Instructions
Preheat oven to 400 degrees F.

On a lightly floured surface roll out one pie crust and fit into a 9" pie plate., leave edges of dough hanging over the edge of pie plate.

In a pan, combine berries, sugar, salt, lemon juice and cornstarch and stir to combine. Cook over medium heat until filling thickens. Cool.

Place cooled berry mixture into pie plate. Roll out remaining pie crust and place over the top of berry mixture.

Crimp edges of pie crust and cut 3-5 small one inch slits into top of pie crust.

Brush crust with egg mixture.

Bake for 50 minutes or until crust is golden brown.
Nutrition Facts:
Calories: 342kcal (17%) Carbohydrates: 55g (18%) Protein: 4g (8%) Fat: 12g (18%) Saturated Fat: 3g (19%) Cholesterol: 20mg (7%) Sodium: 183mg (8%) Potassium: 180mg (5%) Fiber: 5g (21%) Sugar: 25g (28%) Vitamin A: 135IU (3%) Vitamin C: 19.2mg (23%) Calcium: 31mg (3%) Iron: 1.7mg (9%)
* Disclaimer: All nutrition information are estimates only. Read full disclosure here.
Need some help figuring out what's for dinner tonight?
Come join our Facebook Group!  Join hundreds of others who love sharing dinner time ideas.  You don't want to miss out on the fun!

You'll find lots of ideas for dinner from all our awesome members and you can share your ideas too!  Join the Family Dinner Table today.