This boccone dolce is heaven on a plate! My favorite of all meringue desserts ever and the one I order every time we go to Papa Haydens restaurant here in Portland. Every time!!
Check out more of my favorite meringue desserts such as Raspberry Pavlova, Meringue Cookies and Lemon Meringue Pie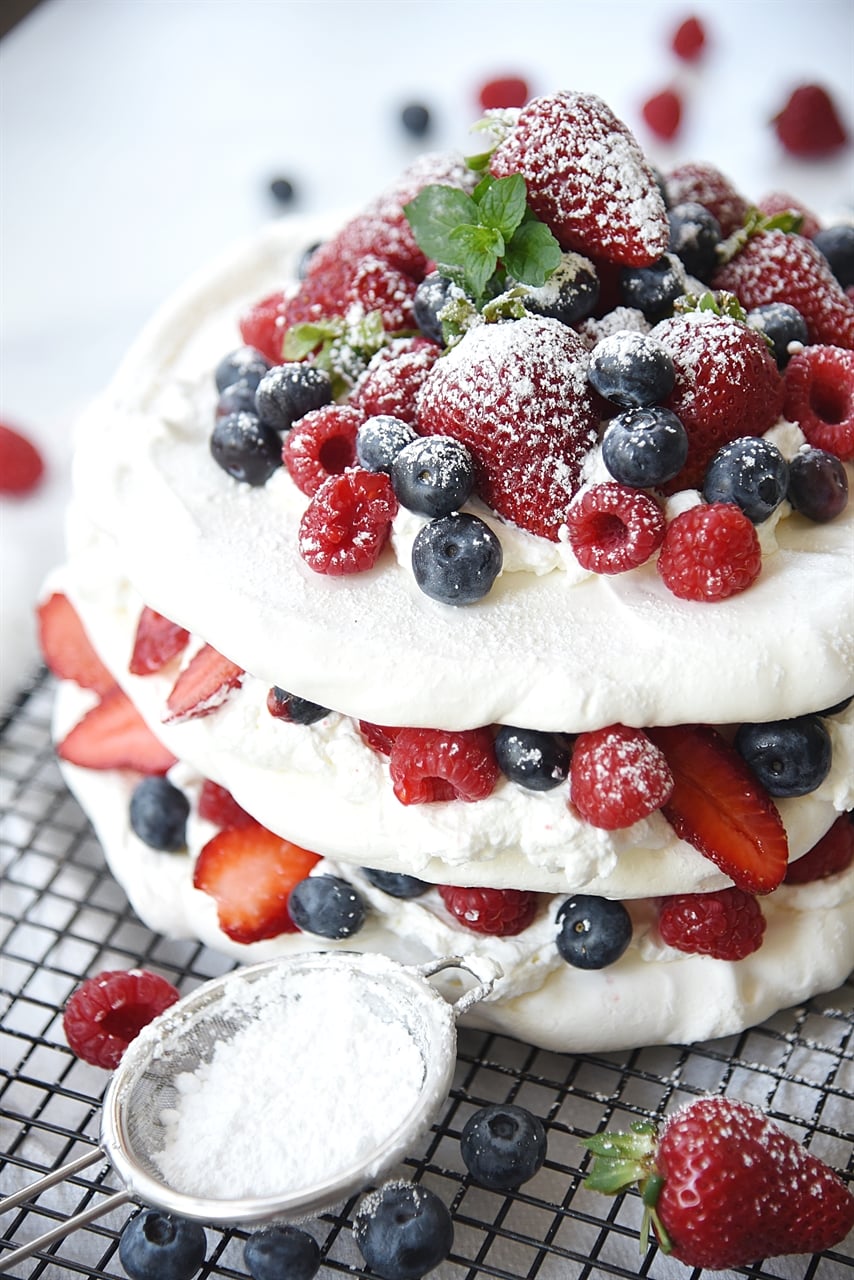 Meringue Cake
When Jim asked me what I wanted for Mother's Day dinner I tried to keep the menu as easy as possible since his culinary skills are limited to breakfast and what he can throw on the grill. I told him I would be in charge of dessert. I had been planning for weeks to make my ALL TIME favorite dessert – Boccone Dolce or "Sweet Mouthful" in Italian.
A local restaurant, Papa Haydens, that is famous for their desserts, serves this amazing meringue dessert. I order it EVERY time I go there despite the dozens of choices on the menu. Not wanting to wait until we went to the restaurant to enjoy Boccone Dolce I googled the recipe and found this great version.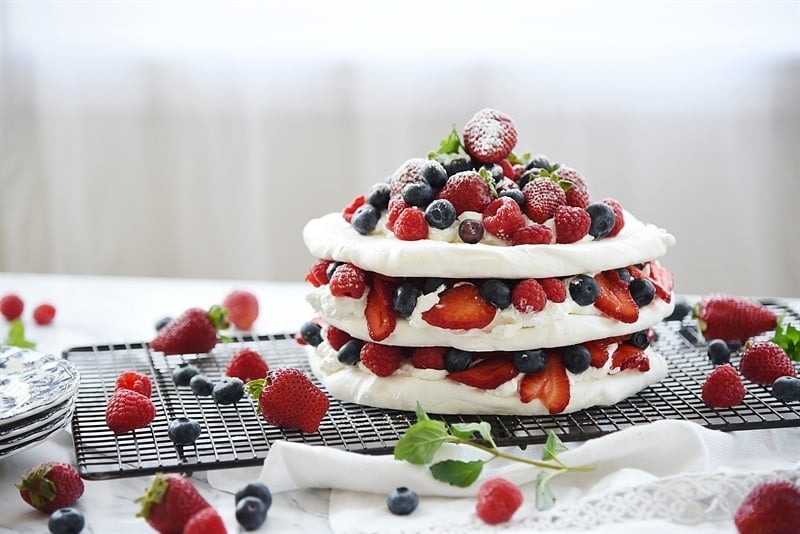 What is Boccone Dolce?
Boccone Dolce is a combination of melt in your mouth meringue layered with whipped cream and fruit. YUM! Don't let the picture of the dessert or the mention of meringue scare you away. It is actually very easy to make!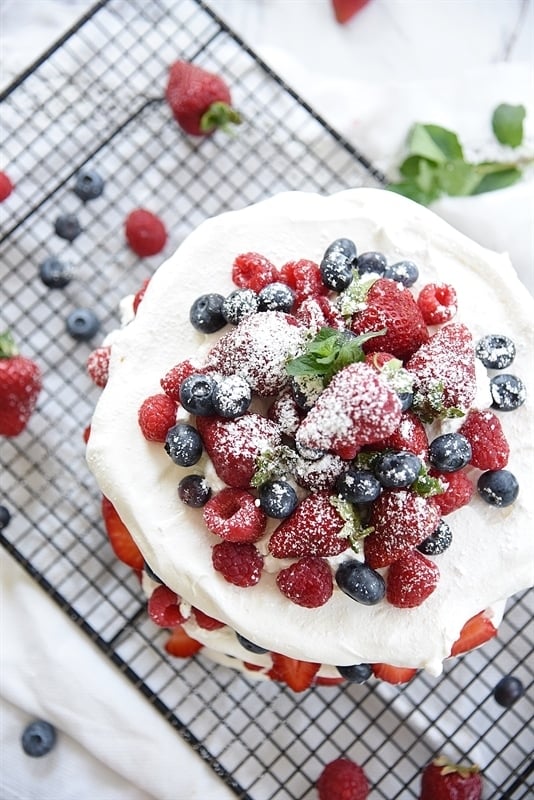 How to Make Boconne Dolce
Meringue Layer
This meringue is not like the soft meringue that is on lemon meringue pie. This meringue is crisp and dry and melts in your mouth when you bite into it! Be sure and use egg whites at room temperature and a clean bowl in order to get your egg whites to whip properly. Also make sure none of the egg yolk gets in with the whites.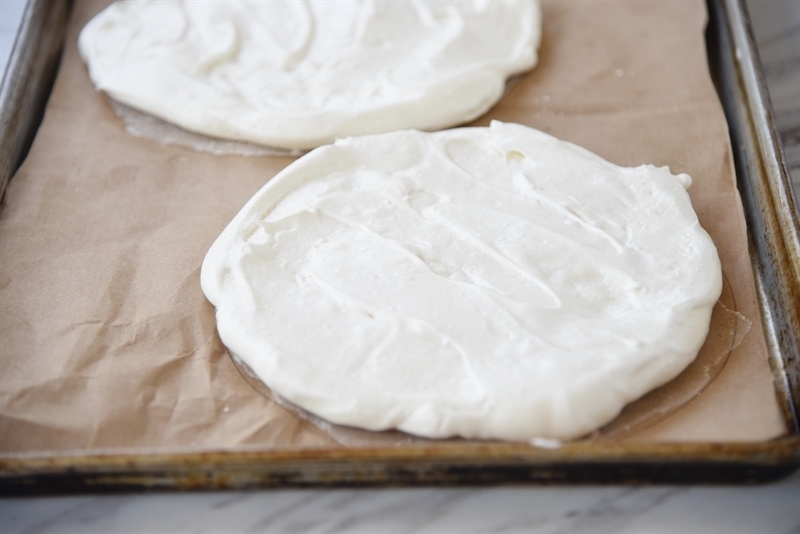 Whipped Cream Layer
Whip your cream until it is a medium stiffness. You can read all my tips for making whipped cream here.
Fruit Layer
You can use any berries that are in season such as strawberries, raspberries, blackberries, blueberries (remember I live in berry heaven!) and if no berries are in season you can also use bananas. For Mother's Day I used a combination of strawberries and raspberries.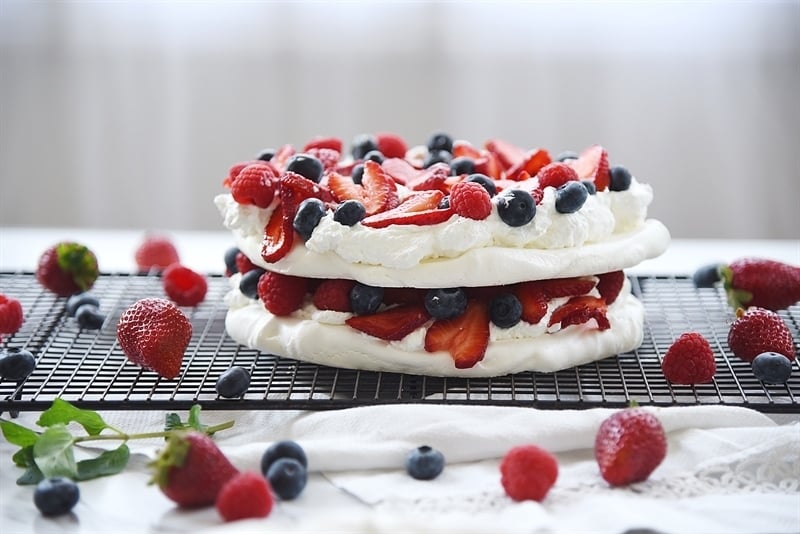 How to Assemble Boccone Dolce
Place one meringue layer on a serving dish.
Add a layer of whipped cream
Add fruit.
Place the other meringue on top and layer it with whipped cream and more fruit and repeat with the third layer!
Drizzle with chocolate if preferred. I dusted mine with some powdered sugar.
On the very top, pile on the berries. It looks so pretty!
Now this meringue desserts looks super fancy and impressive but it really is easy to make. The hardest part of the whole thing is cutting it.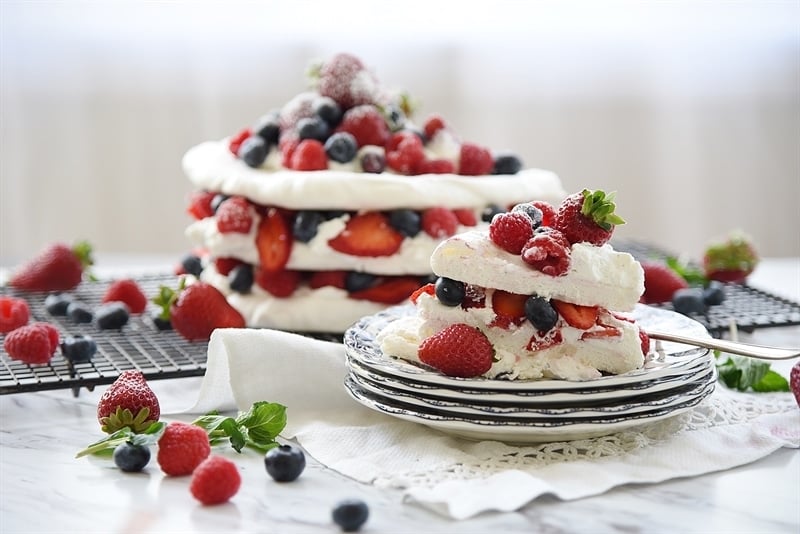 How to Cut Meringue
This meringue dessert is not the easiest to cut – I find using a serrated bread knife works well and use a sawing like motion. Even if it falls apart a bit when you slice it, it is still going to taste amazing. It's almost too pretty to eat but please, eat it! And eat a piece for me too.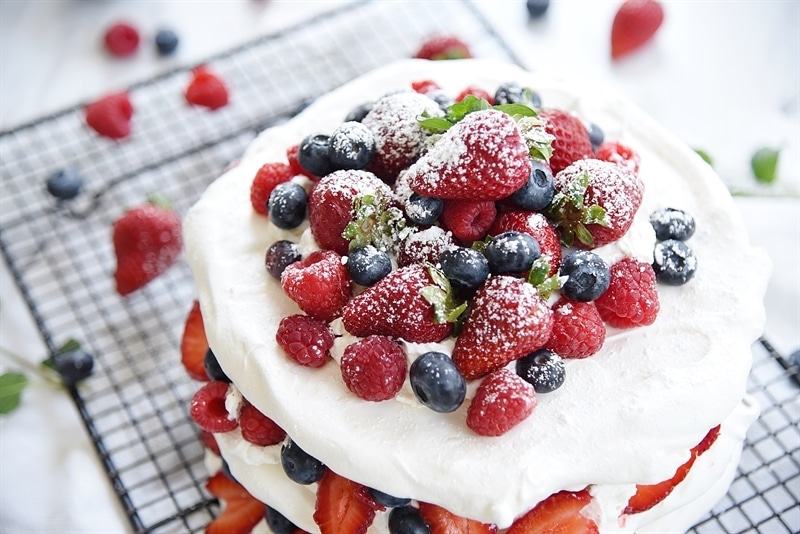 Be sure and follow  me over on You Tube for weekly cooking demos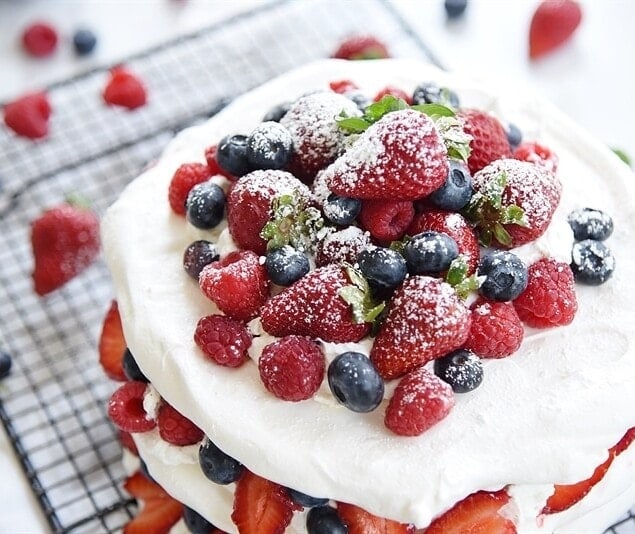 Boccone Dolce
Boccone Dolce means sweet mouthful and this dessert lives up to it's name. It is heaven on a plate and in your mouth. The merginue melts in your mouth!
Ingredients
MERINGUE
4 egg whites room temperature
¼ teaspoon salt
1 teaspoon pure vanilla extract
1/2 tsp cream of tartar
1 cup superfine sugar also called Baker's sugar
FILLING
3 Tbsp. powdered sugar
3 cups heavy whipping cream
½ tsp. vanilla extract
2 pints berries sliced
Instructions
MERINGUE:
Preheat oven to 225 degrees F. Line baking sheets with parchment or waxed paper. Trace three (3), 8-inch circles on paper.

Using a mixer, beat egg whites, salt, cream of tartar, and vanilla extract until soft peaks form.

Gradually beat in sugar and continue beating until meringue is stiff and glossy.

With a rubber spatula, spread meringue evenly and equally over top of each parchment paper circle.

Bake approximately 2 hours or until meringue becomes bisque colored.

NOTE: The low temperature will prevent them from browning too quickly. Then turn off oven, open oven door, and let the meringues "rest" in the oven another 15 minutes. Remove from oven and carefully peel off parchment or waxed paper. Put cake on racks to dry until thoroughly cool.

Once cooled, meringues may be wrapped in plastic wrap and frozen (if desired). NOTE: I wrap each meringue in several layers of plastic, then stack (gently!) in a large plastic container for freezing. Remove from freezer at least an hour before assembling.
FILLING
In a large bowl, whip the cream until stiff; gradually add powdered sugar and then vanilla extract.

Slice berries

To assemble, place a meringue layer on a serving plate, rounded side down

Top with a layer (about ¾ inch thick) of whipped cream

Top cream with a layer of sliced berries

Place a second layer of meringue on top of this, and repeat filling

Top with final meringue, rounded side up, add whipped cream and lots of berries

Refrigerate at least 4 hours or overnight

Garnish with several whole strawberries and powdered sugar
Nutrition Facts:
Calories: 400kcal (20%) Carbohydrates: 23g (8%) Protein: 4g (8%) Fat: 34g (52%) Saturated Fat: 21g (131%) Cholesterol: 122mg (41%) Sodium: 133mg (6%) Potassium: 186mg (5%) Fiber: 3g (13%) Sugar: 16g (18%) Vitamin A: 1366IU (27%) Vitamin C: 3mg (4%) Calcium: 67mg (7%) Iron: 1mg (6%)
* Disclaimer: All nutrition information are estimates only. Read full disclosure here.