Citrus Cheesecake Bars are a triple threat! Lemon, lime and orange!!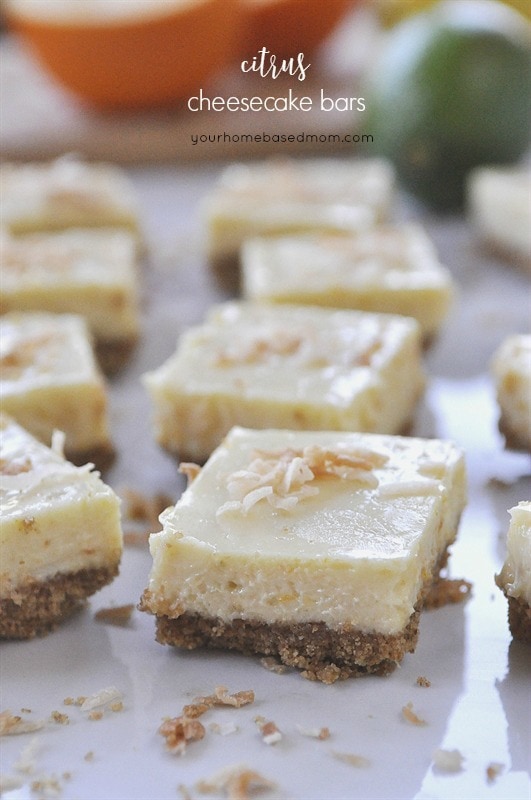 Calling all citrus lovers! You are going to love these. Not too lemony, not too limey and not to orangey but the perfect amount of citrus. The combination of all three fresh citrus juices makes for a perfectly lovely cheesecake bar.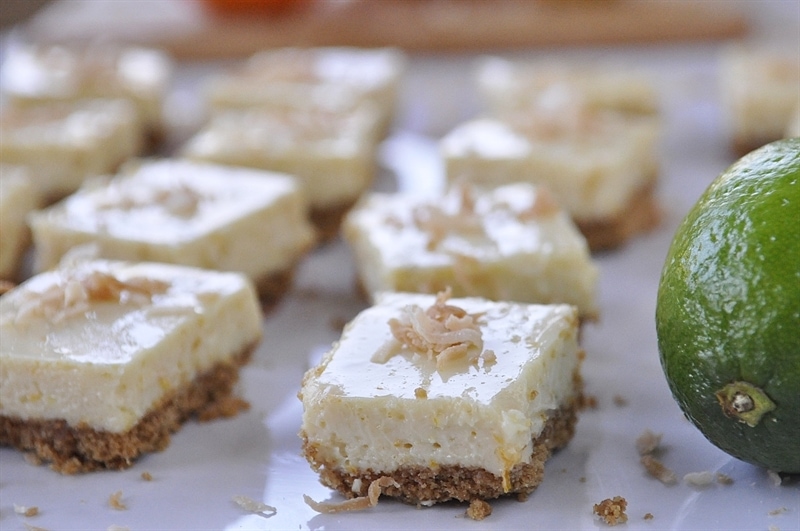 I love cheescake but often don't have enough cream cheese or time to make a full cheesecake. These cheesecake bars are the answer when that cheesecake craving hits.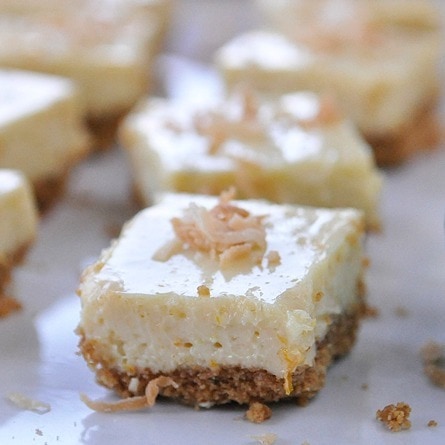 This recipe is made in an 8 x 8 glass pan so it is perfect for our reduced size family. There is enough for us plus enough to share without having too much!! Because believe me, these citrus cheesecake bars are so yummy I would totally be tempted to eat the entire pan myself.
The first step is to line your pan with aluminum foil, you want it to spill over the edges. This is going to make your job of removing it from the pan so much easier and it's going to look prettier too!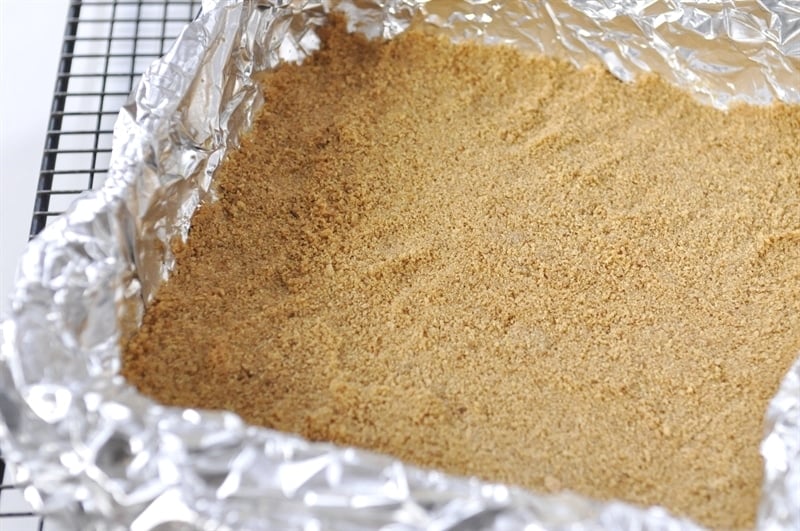 The base of the bar is a graham cracker crumb crust which you bake first and then add the cheesecake mixture on top and bake some more. For the cheescake mixture I use fresh zest from all three fruits and real lemon and orange juice but then used the bottled key lime juice I always keep on hand and that tastes great. If you are going to use fresh lime juice I recommend key limes if you can find them, but if not, regular limes will work too.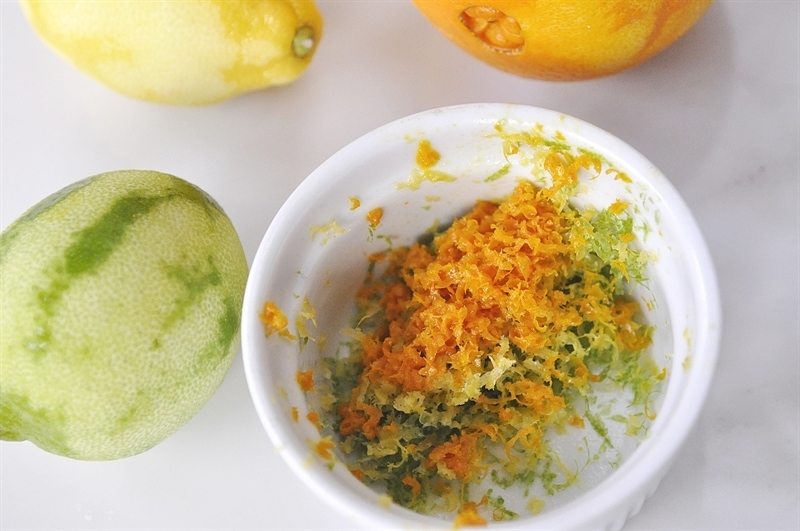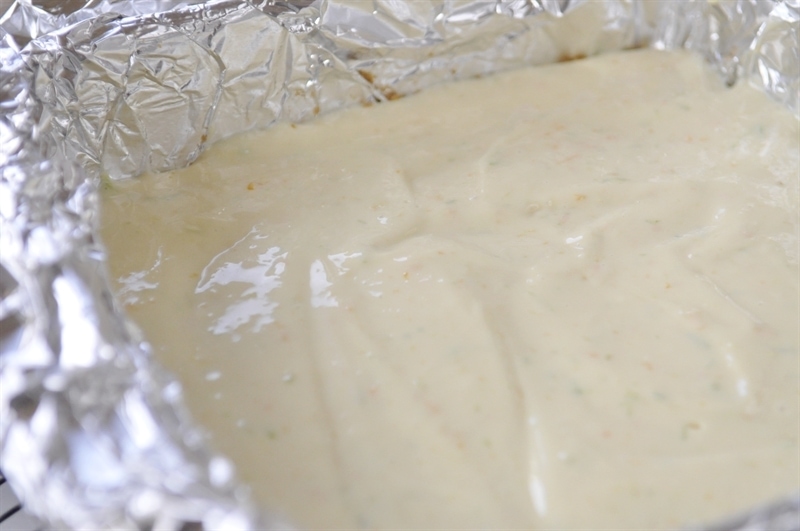 After the bars bake allow them to cool for 1 – 1 1/2 hours and then cover with foil and refrigerate for another 2 hours. You want them to chill thoroughly.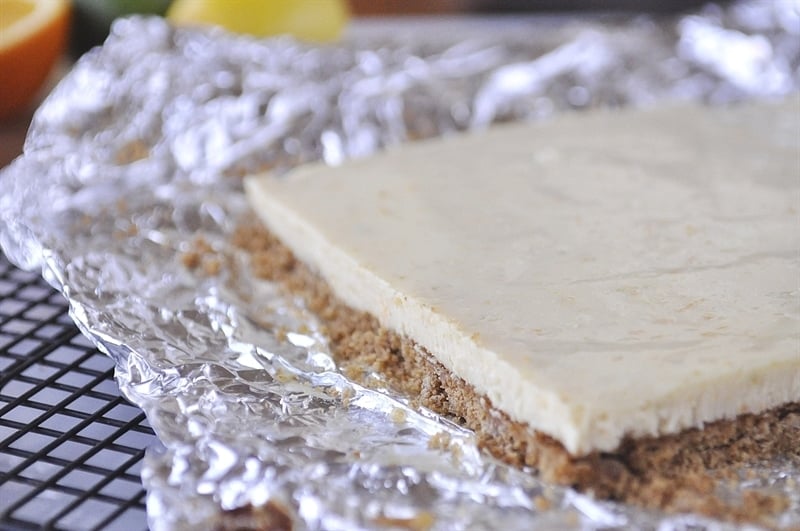 After they are chilled you are ready to remove them from the pan. Just lift the bars out of the pan by the foil. Cut into small 2 inch pieces.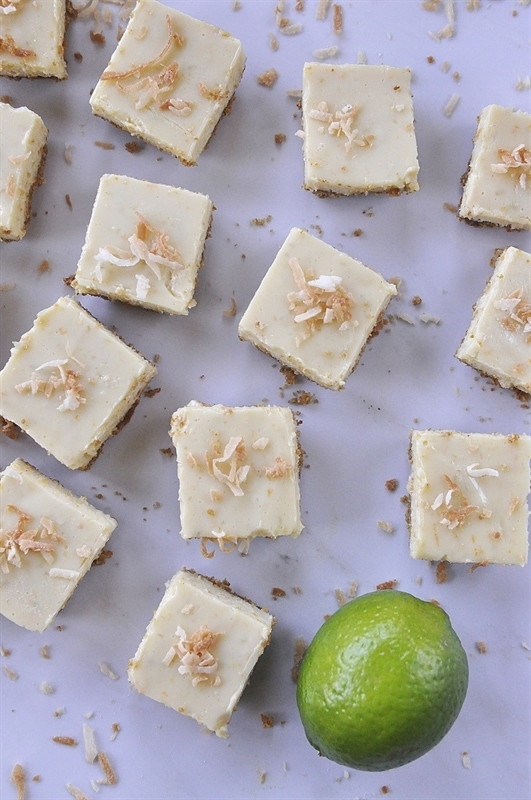 I toasted some sweetened coconut and added that on top for some garnish.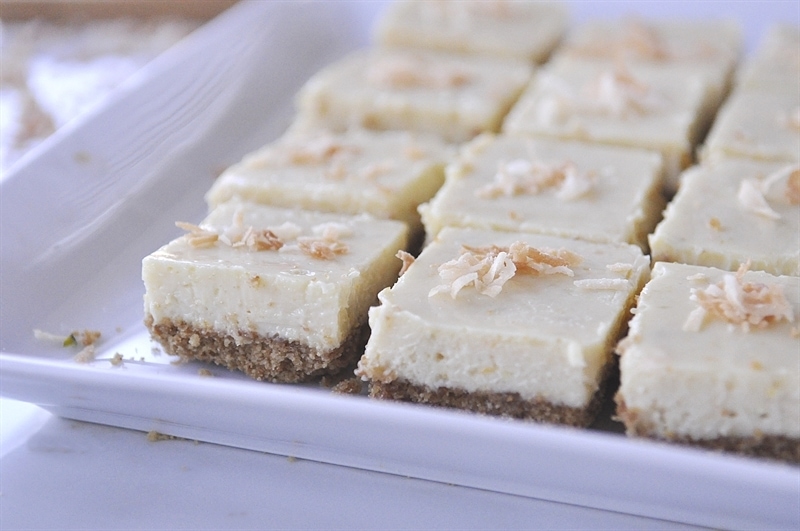 For some other yummy key lime or citrus flavored treats, check out these:
Key Lime Bars – Coconut Lime Sugar Cookies – Citrus Cream Cheese Pull Apart Rolls
Citrus Cheesecake Bars
Ingredients
CRUST
5 oz. of graham crackers crumbs about 9 full crackers
3 Tbsp packed brown sugar
4 Tbsp. butter melted and cooled slightly
FILLING
2 ounces cream cheese room temperature
1 ½ tsp grated lime zest minced
1 ½ tsp grated lemon zest minced
1 ½ tsp grated orange zest minced
Pinch table salt
1 14-ounce can sweetened condensed milk
1 egg yolk
6 Tbsp fresh lime juice either Key lime or regular
1 Tbsp fresh lemon juice
1 Tbsp fresh orange juice
GARNISH (OPTIONAL)
¾ cup sweetened shredded coconut toasted until golden and crisp
Instructions
Adjust oven rack to middle position and heat oven to 325 degrees.

Cover the bottom and sides of 8 incg pan with a piece of foil. Allowing excess to overhang pan sides. Spray foil with nonstick cooking spray.
CRUST:
In a bowl, add sugar to graham cracker crumbs.. Drizzle butter over crumbs and stir until crumbs are evenly moistened with butter.

Press crumbs evenly and firmly into bottom of prepared pan. Bake until deep golden brown, 18 to 20 minutes. Cool on wire rack while making filling. Do not turn off oven.
FILLING:
While crust cools, in medium bowl, stir cream cheese, zests, and salt with rubber spatula until softened, creamy, and thoroughly combined.

Add sweetened condensed milk and stir well until incorporated and no lumps of cream cheese remain; whisk in egg yolk. Add juices and stir gently until incorporated (mixture will thicken slightly).

Pour filling into crust; spread to corners and smooth surface with rubber spatula. Bake until set and edges begin to pull away slightly from sides, 15 to 20 minutes. Cool on wire rack to room temperature, 1 to 1 1/2 hours. Cover with foil and refrigerate until thoroughly chilled, at least 2 hours.

Loosen edges with paring knife and lift bars from baking pan using foil extensions; cut bars into 16 squares. Sprinkle with toasted coconut, if using, and serve. Let bars stand at room temperature about 15 minutes before serving.)