Delicious layers of lemon sponge cake and cream make one unforgettable lemon dessert.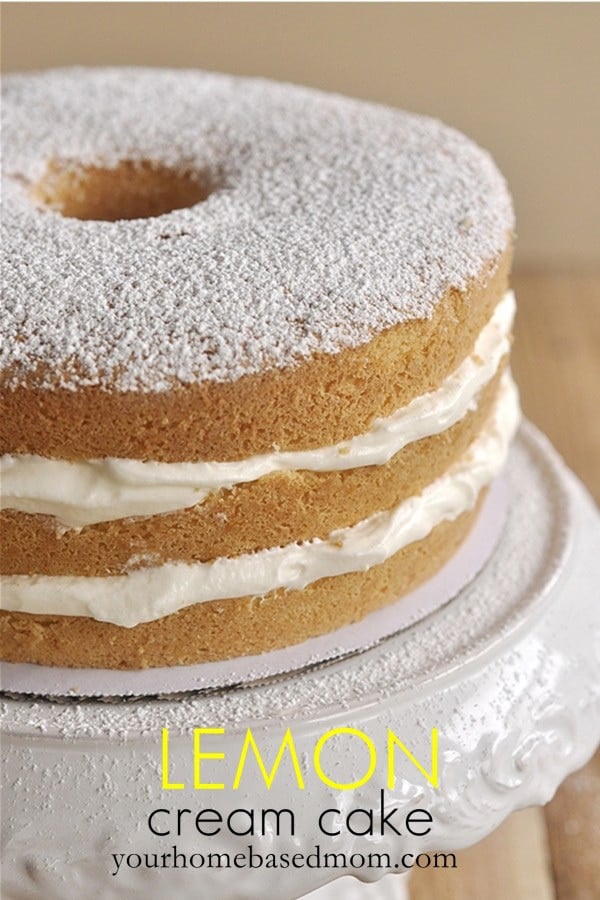 I have been experimenting with a lot of cake recipes lately.  In May we will be hosting a wedding open house for a young man that my husband mentored during his teenage years. We are thrilled that he is marrying a darling girl and we are so excited to be able to support them and honor them by hosting a celebration at our home in their honor.  As part of the celebration, we will be having a cake buffet.  So thus all the experimenting with cake recipes.  I love a cake with lots of frosting but realize that not everyone does so I wanted to make sure to have a cake option that was a bit lighter and not quite so sweet.  I also knew I had to have a lemon cake in the lineup!  This Lemon  Sponge Cake ticks both of those boxes.
I've made lots of fun lemon cakes before, many here on the blog but after I tried this recipe for this layered Lemon Sponge Cake with lemon cream I knew it was the winner.
How to Make Lemon Sponge Cake
The lemon cake in this recipe is a nice light sponge cake made with egg whites that have been whipped stiff.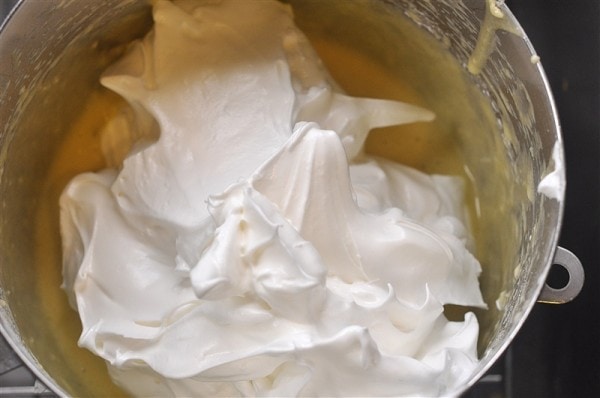 The egg whites are folded in with the  batter which helps create the beautiful light texture.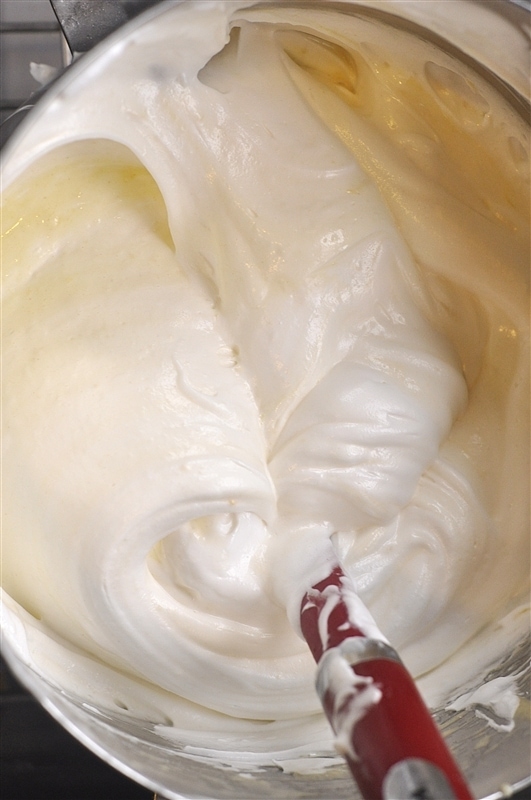 It is baked in a 10″ tube pan or I call it an angel food cake pan.  After baking turn the pan upside down to let it cool.  If your pan doesn't have those little feet on them put the pan over the top of a glass bottle neck (plastic will melt!)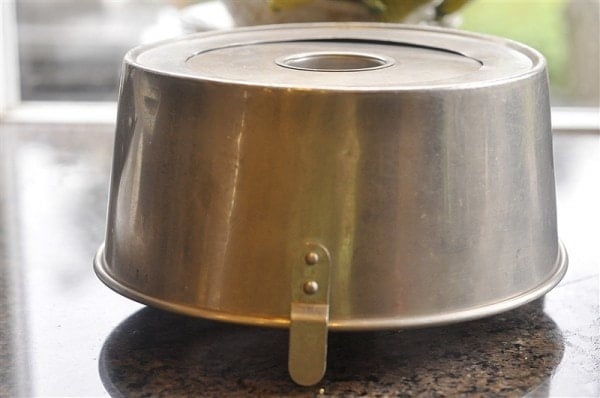 Loosen the edges and remove the cake from the pan after it has cooled.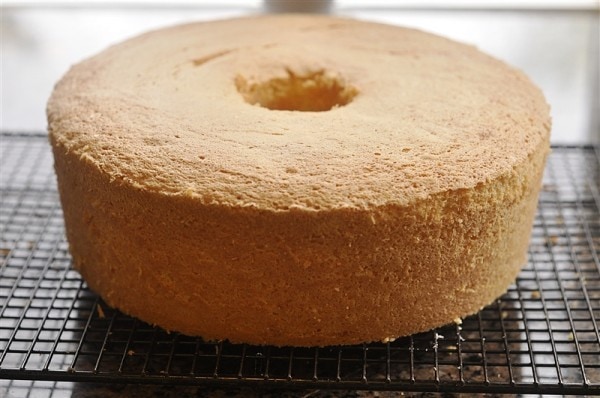 With a long, serrated  knife, slice the cake into three horizontal layers.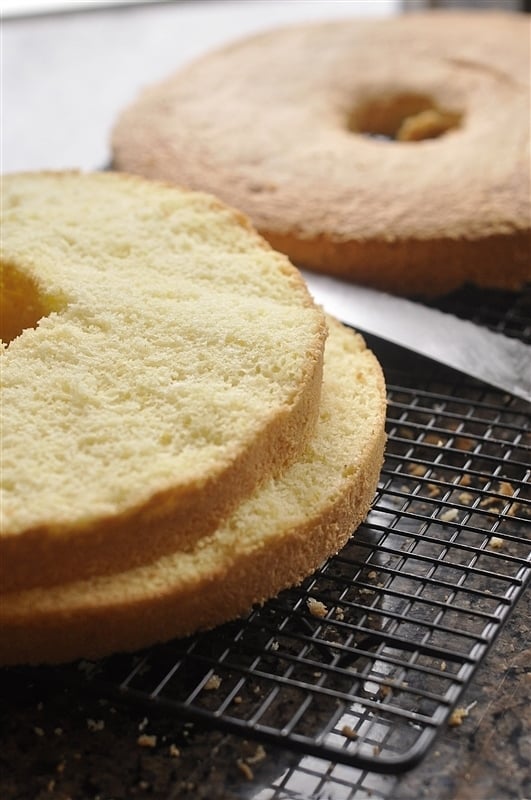 While the cake is cooling mix up your filling.  The filling is a combination of whipping cream, cream cheese, powdered sugar and lemon juice.  Total goodness.  I could really just eat the filling without the cake!!
Place half of the filling on the bottom layer of cake.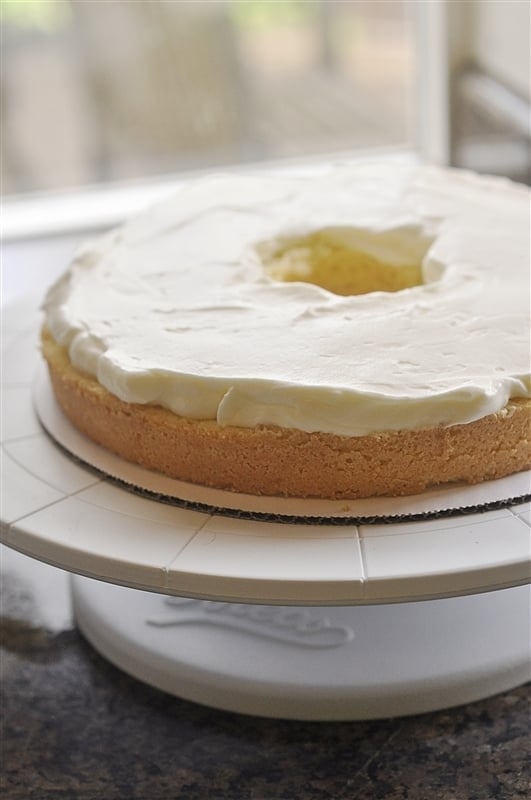 Add the second layer and more filling and than the top layer and give it a nice sprinkling of powdered sugar.  It's just prettier that way.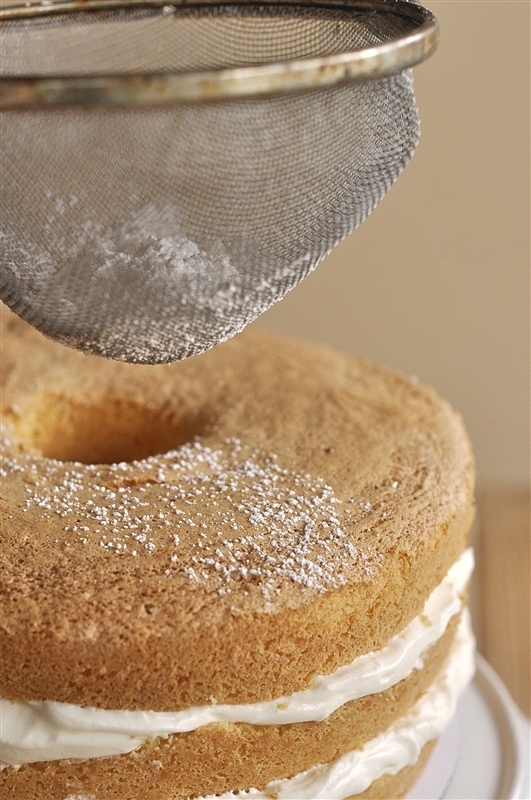 Chill the cake for at least 1/2 hour before serving so the filling has time to set up a bit.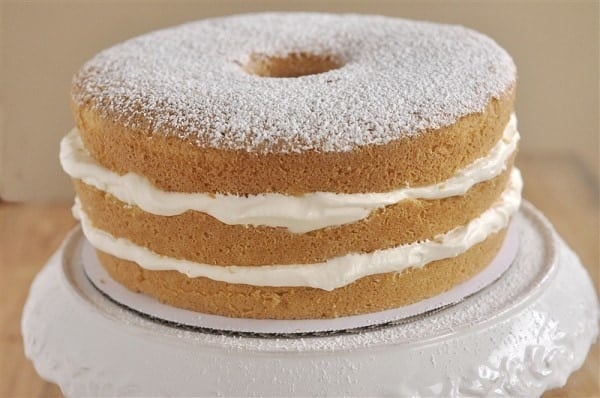 Then it's time to cut yourself a nice piece and enjoy.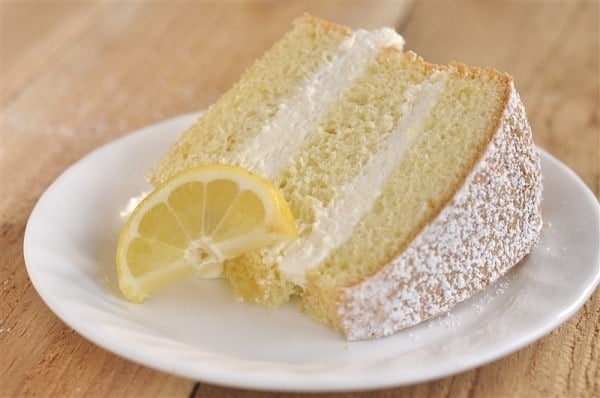 It is really a nice light, lovely cake and it tastes just as good the second day.  Just keep it in the refrigerator.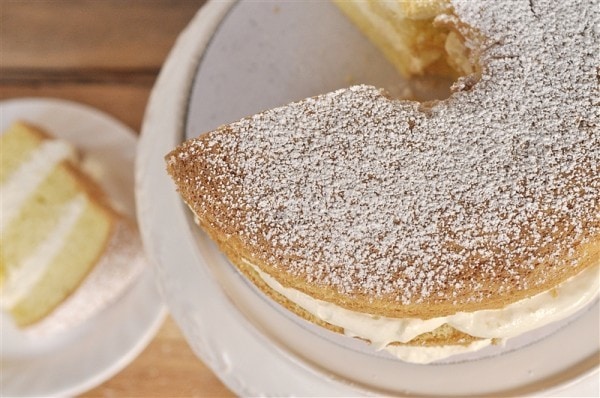 I'll have a few more yummy cake recipes in the next few weeks so stay tuned!
Check out more delicious lemon cake recipes:
Lemon Sponge Cake Recipe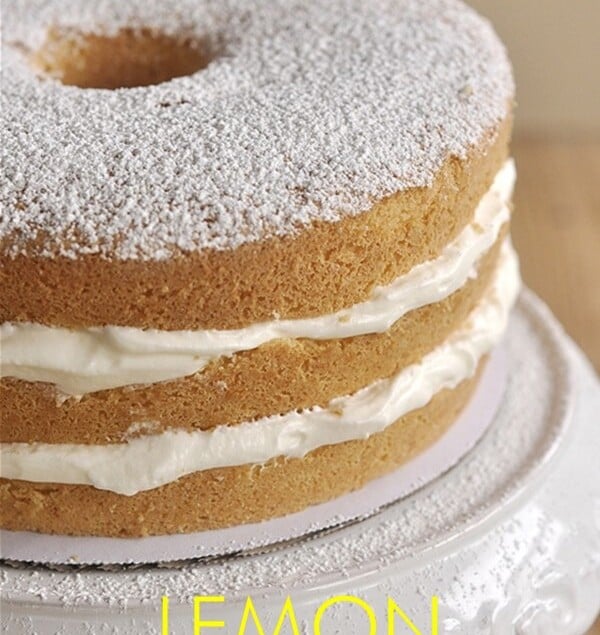 Lemon Sponge Cake
Light fluffy lemon sponge cake layered with delicious lemon cream.
Ingredients
1 3/4 C cake flour
1 Tbsp baking powder
1 tsp salt
1/2 C sugar
1/2 C canola oil
6 egg yolks
3/4 C water
1 1/2 Tbsp lemon zest
1/2 tsp cream of tartar
3/4 C sugar
6 egg whites
Filling
1 C heavy cream whipped
8 oz. cream cheese softened
3 C powdered sugar
4 Tbsp lemon juice
Instructions
Cake
Put egg whites into a bowl and beat slowly until foamy

Sprinkle in cream of tartar and 1/2 C sugar, adding the sugar a little at a time.

Whip until stiff peaks form

In another bowl combine the dry ingredients, flour, baking powder, salt, and 3/4 C sugar.

In a second bowl combine wet ingredients, oil, egg yolks, water and lemon zest

Beat together wet and dry ingredients and then fold in beaten egg whites.

Pour mixture into a non greased 10" tube pan and bake at 350 degrees for one hour.

Remove and turn pan upside down to cool.

Remove from pan and slice cake into 3 horizontal layers with a long serrated knife.
Filling
Whip cream cheese, powdered sugar and lemon juice together.

Fold in whipped whipping cream. Chill for 1/2 hour

Frost the bottom layer of cake with half of the filling.

Place second layer on top and cover with remaining filling

Cover with third layer and refrigerate for 1/2 hour to allow filling to set up a bit.

Sprinkle with powdered sugar before serving.
Nutrition Facts:
Calories: 518kcal (26%) Carbohydrates: 66g (22%) Protein: 6g (12%) Fat: 25g (38%) Saturated Fat: 9g (56%) Cholesterol: 145mg (48%) Sodium: 294mg (13%) Potassium: 220mg (6%) Sugar: 51g (57%) Vitamin A: 675IU (14%) Vitamin C: 3.1mg (4%) Calcium: 91mg (9%) Iron: 0.6mg (3%)
* Disclaimer: All nutrition information are estimates only. Read full disclosure here.