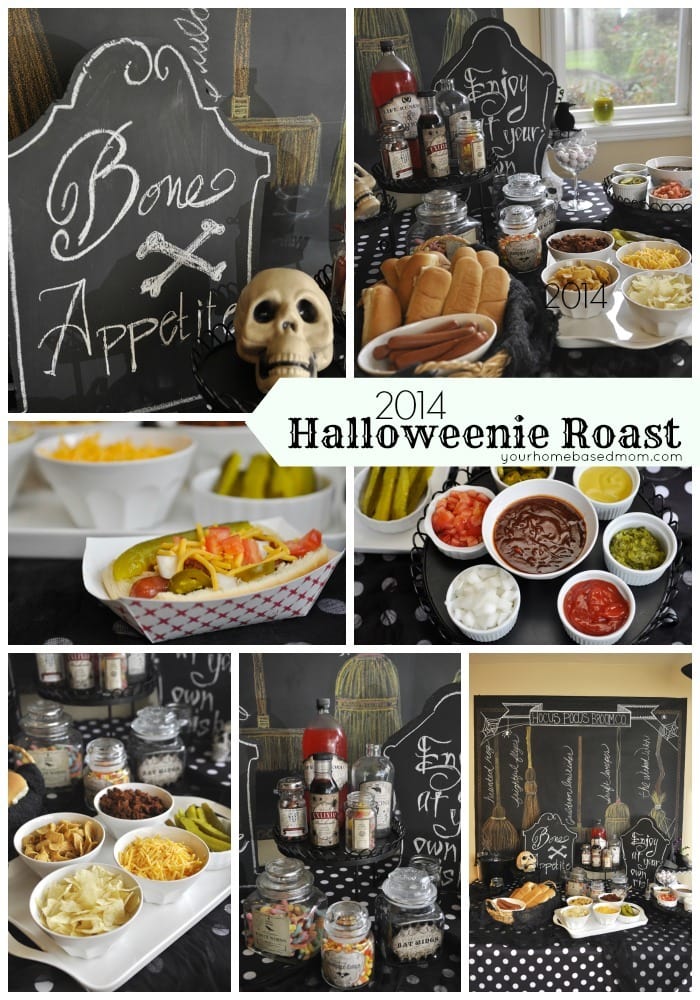 Last night was our annual Halloweenie Roast.  A fun party we host each year for some of our neighbors.  If you've been reading my blog for a while you know how much we love our neighbors and spending time with them.  Even though we are empty nesters we still love celebrating Halloween.  We even dress up!  Our annual Halloweenie Roast is one of my favorite events of the year!  I think I might enjoy Halloween more now as an empty nester than I did when my kids were little!
The menu is pretty much the same every year – we roast hot dogs!  We set up the portable fire pit on the patio and the kids and adults get to cook their own dinner.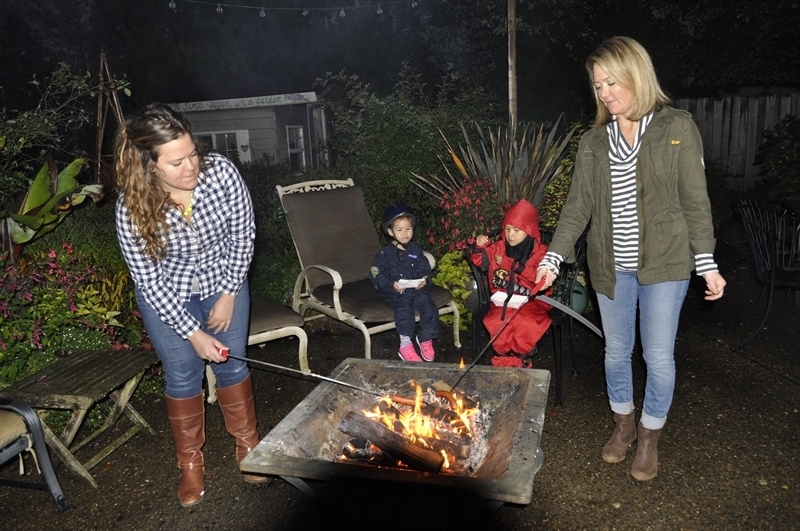 Each of the neighbors brings something to contribute to dinner and we provide all the toppings for their hot dogs!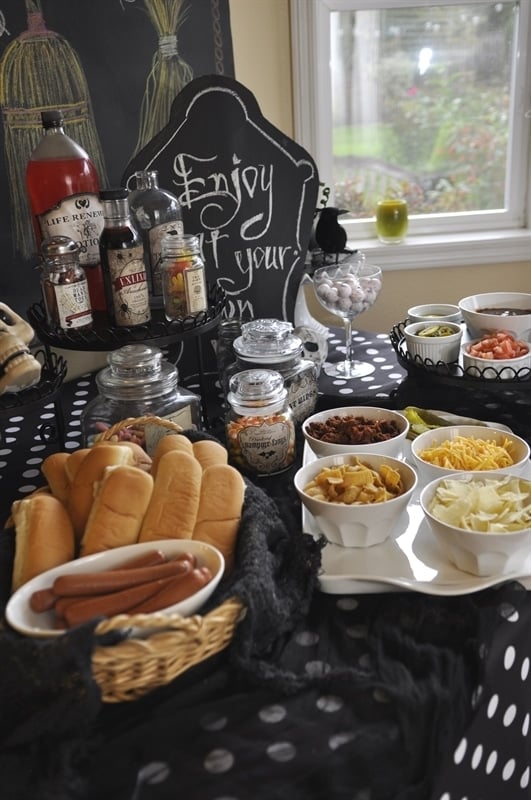 I set up a fun Hot Dog Bar with a fun array of toppings – chili, cheese, pickles, fritos, potato chips.  (Crushed up potato chips are really good on a hot dog).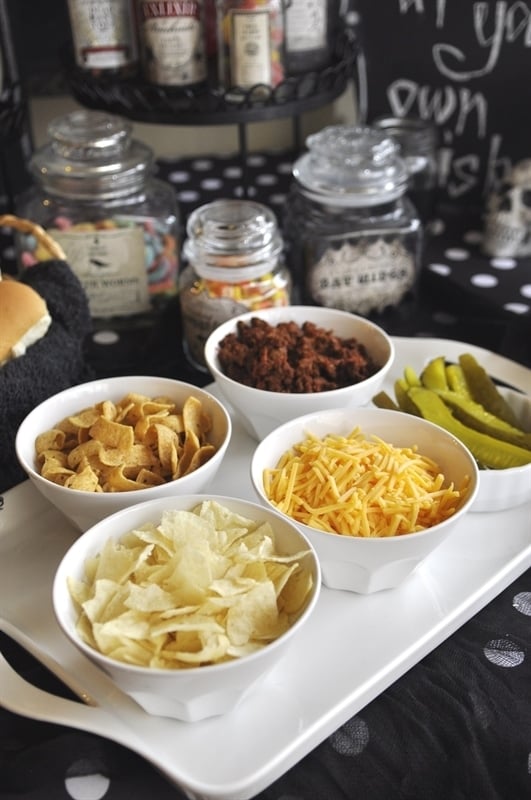 Then there is also ketchup, mustard, pickle relish, onions, tomatoes, peppers and JDawg Sauce.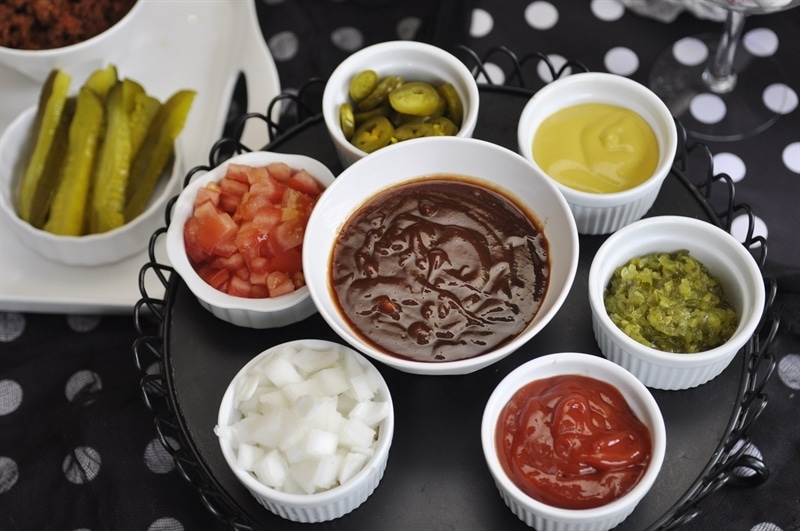 Everyone could custom make their own dog!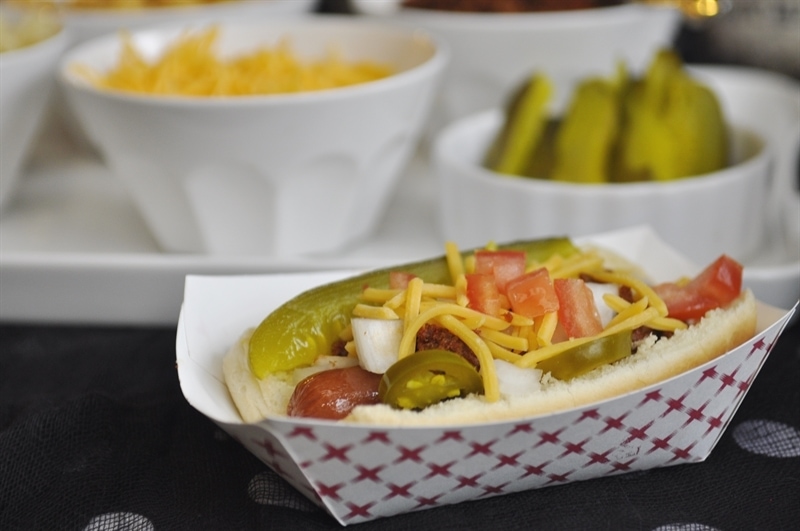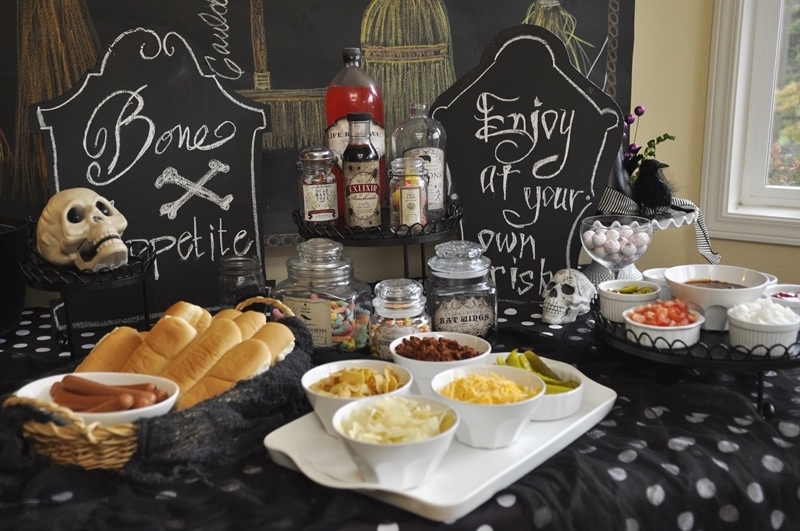 We also had a cauldron full of witch's brew and a pot of hot apple cider on the stove.  And jars full of candy of course!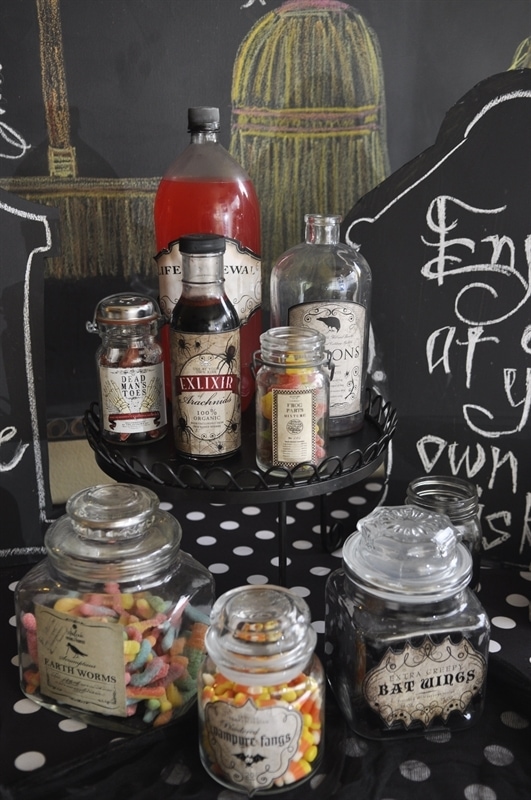 We also made homemade donuts with lots of toppings for dessert but believe it or not I was so busy making donuts I didn't get any pictures.  I'll be doing it again so I promise I'll post the recipe.  They were to die for good!!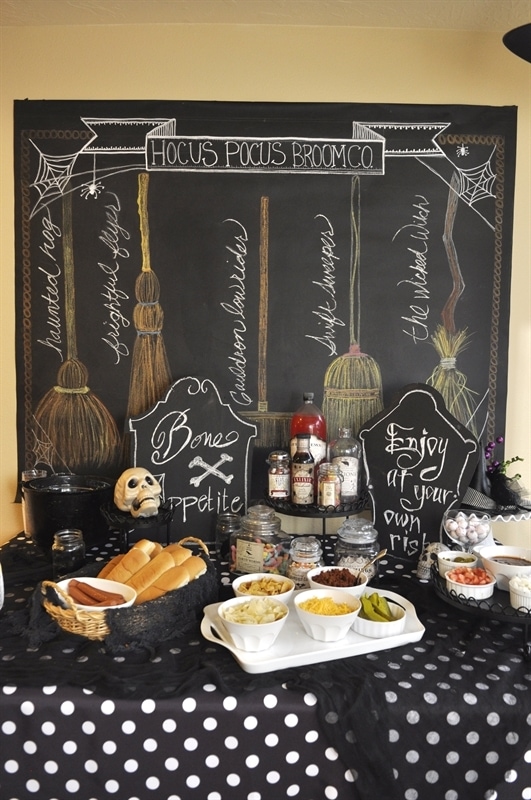 Do you like my cute little chalkboard tombstones? When I was at the mall last week I saw them in the window at Pottery Barn but of course my first thought was – I could make those!  So when I got home I figured someone else probably already had done it and had a tutorial on it and I was right.  I found this great tutorial and downloadable patterns for the tombstones over  here.  I printed off the pattern, traced them onto some press board I already had and Jim cut them out for me.  A couple of coats of chalkboard paint and I was ready to go!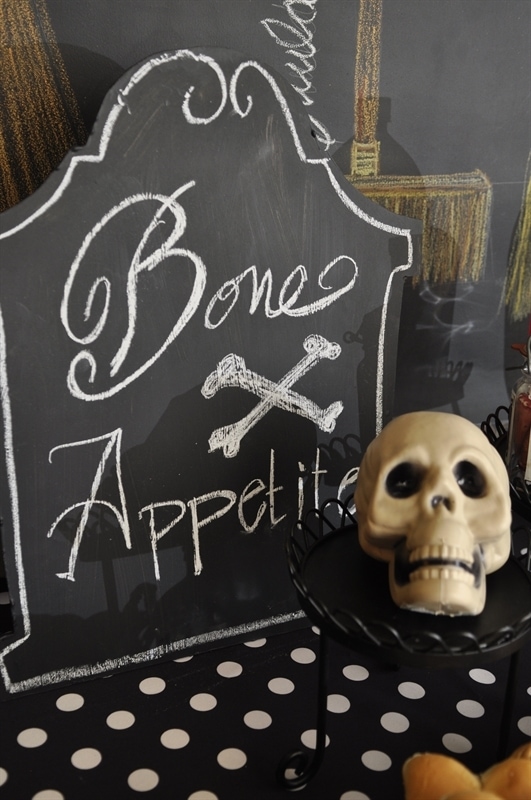 They were the perfect finishing touch to the table!  I didn't have room for the third one!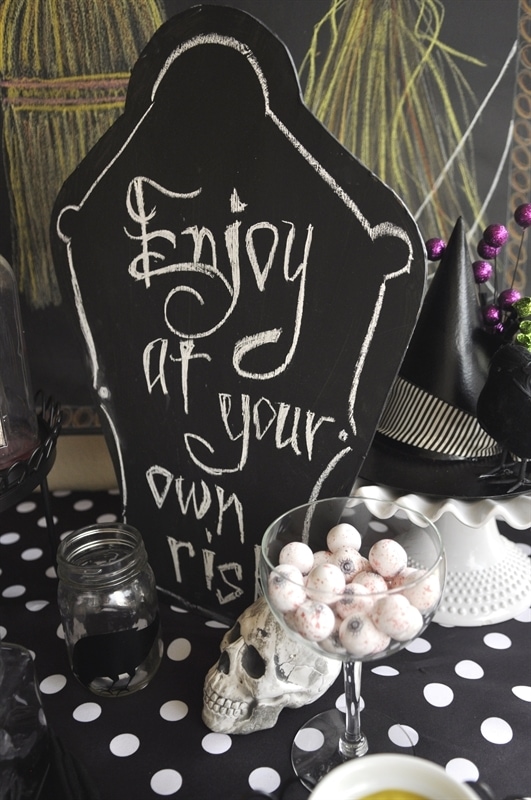 No Halloweenie Roast is complete without some dunking for apples.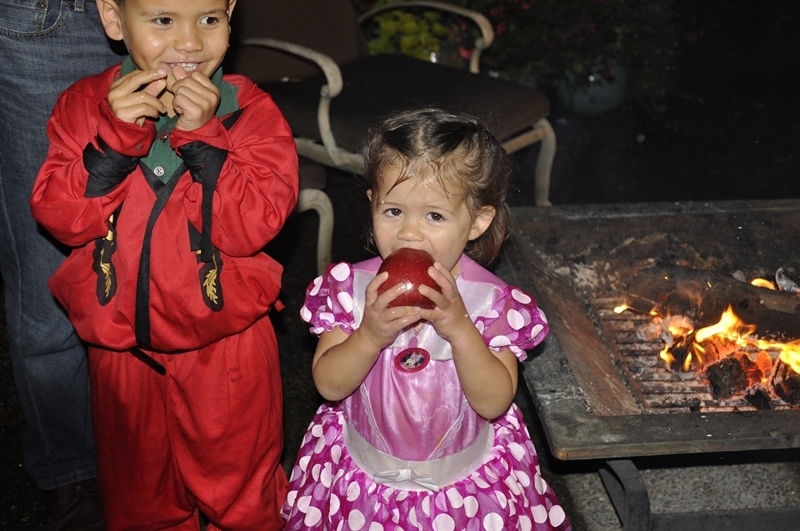 This guy just goes for it!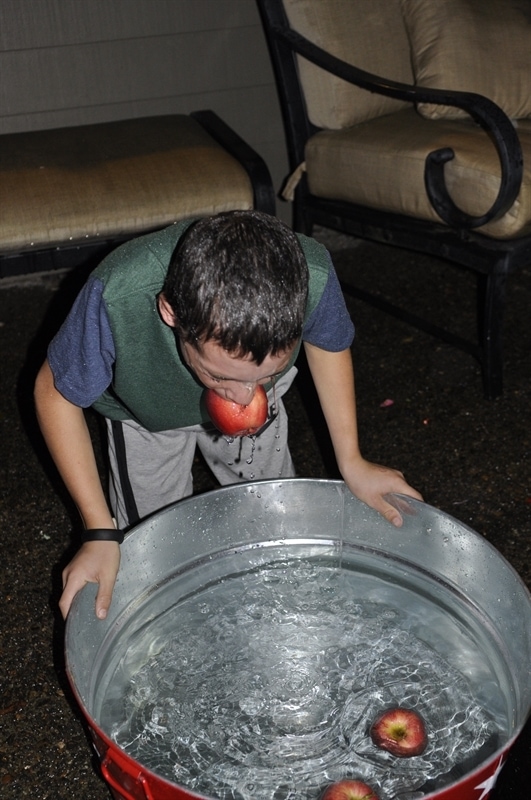 Check out our other Halloweenie Roasts: