With a custard like texture this German pancake for 2 tastes like a crepe. It's made in a 9 x 5 inch loaf pan and is the perfect amount for two people. We're sharing two different flavor variations.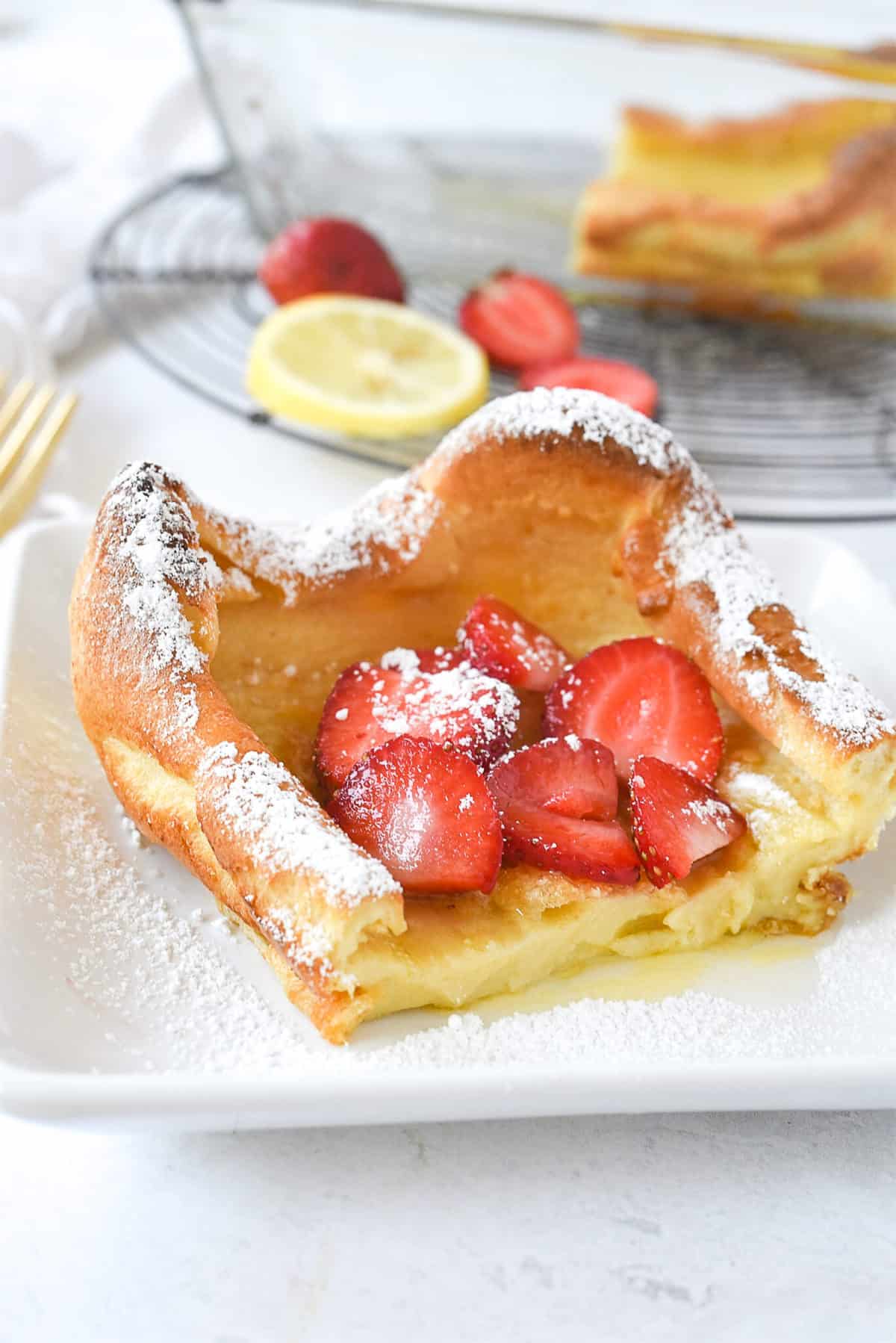 Are German Pancakes Really from Germany?
At our house we call it a Puff Up Pancake and I've also heard it called a German Pancake, Dutch Baby, a Dutch Puff or a Hootenanny Pancake.
This isn't how they make pancakes in Germany so I'm not sure how it got that name? Do you know? But whatever you call it, it's delicious and easy!
My husband doesn't do much cooking at our house but he loves making this for breakfast Sunday morning.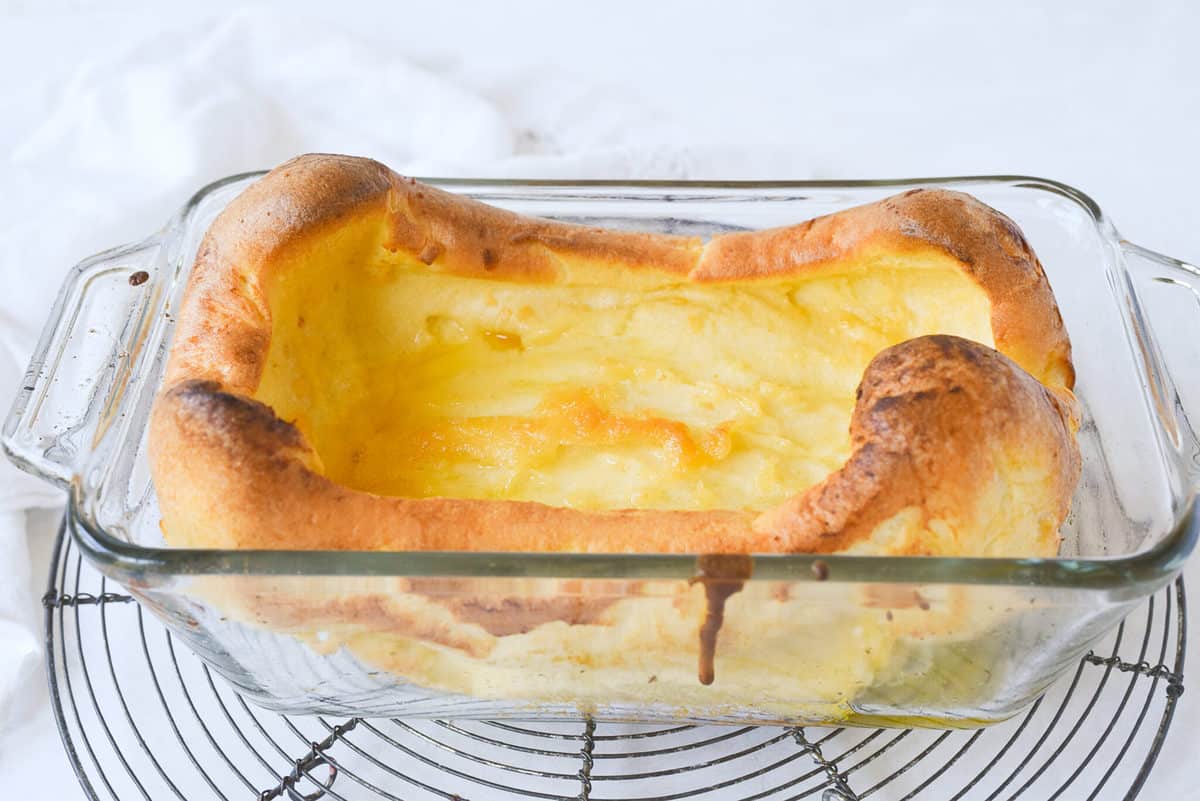 What is a German Pancake?
It is a cross between a pancake, a crepe and a popover. It is made with a thin batter that is poured into a hot pan. As it bakes, the pancake rises and puffs up (why we call it puff up pancake) around the edges.
After it turns golden brown around the edges, remove it from the oven and it will begin to deflate back into the pan creating the perfect place to fill with fresh fruit or berries.
Ingredients
One of the best things about this recipe for German Pancake is you probably have all the ingredients on hand. It's a perfect last minute dinner idea too.
Flour. I use all purpose flour.
Eggs. They give the pancake it's custardy texture and flavor.
Milk. We usually have 2 % but you could use whole milk or skim.
Butter. Melt the butter in the pan as the oven preheats. Add batter to the hot butter. Sometimes I let the butter get a little browned for even more amazing flavor.
Vanilla. This gives it a little extra punch of flavor.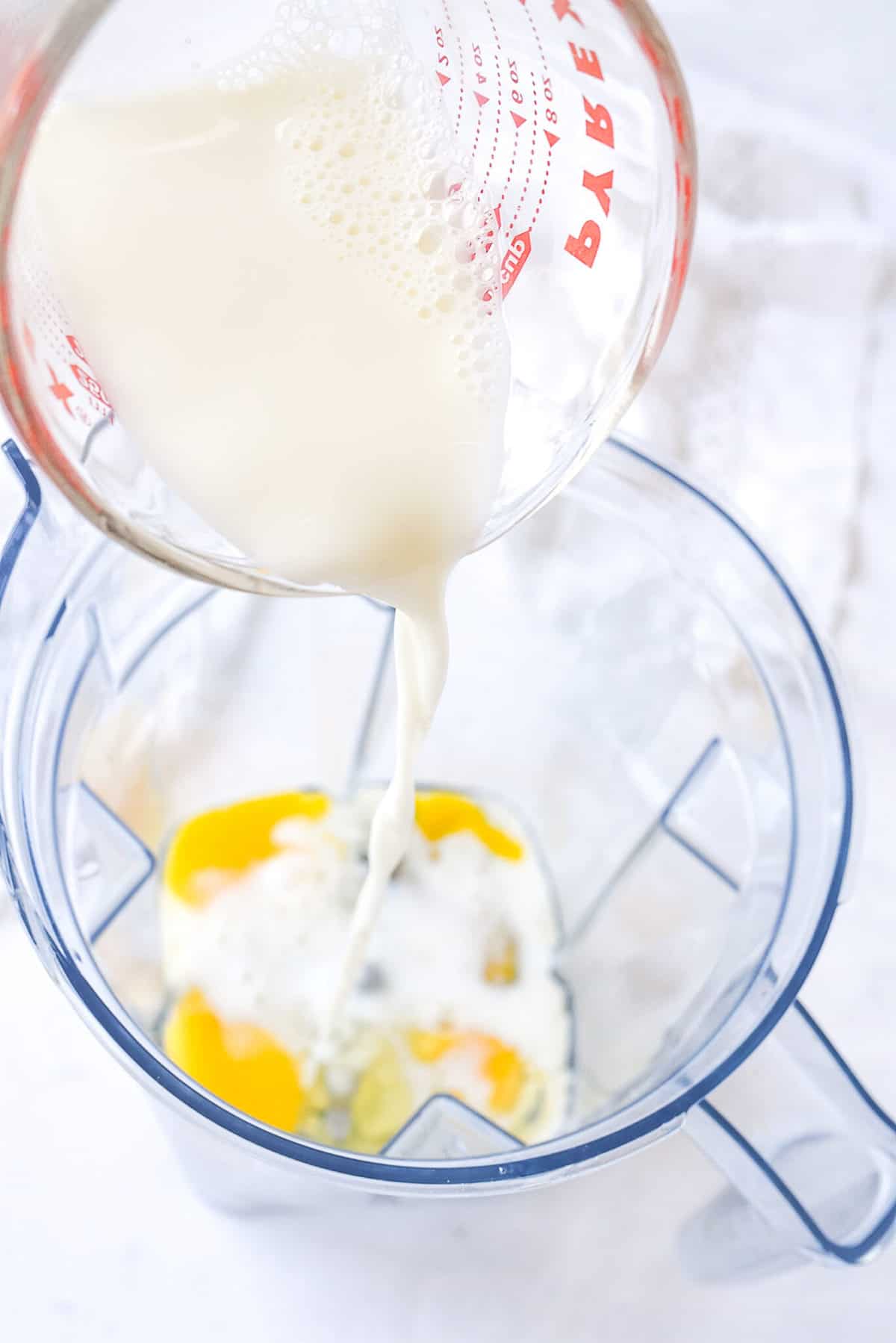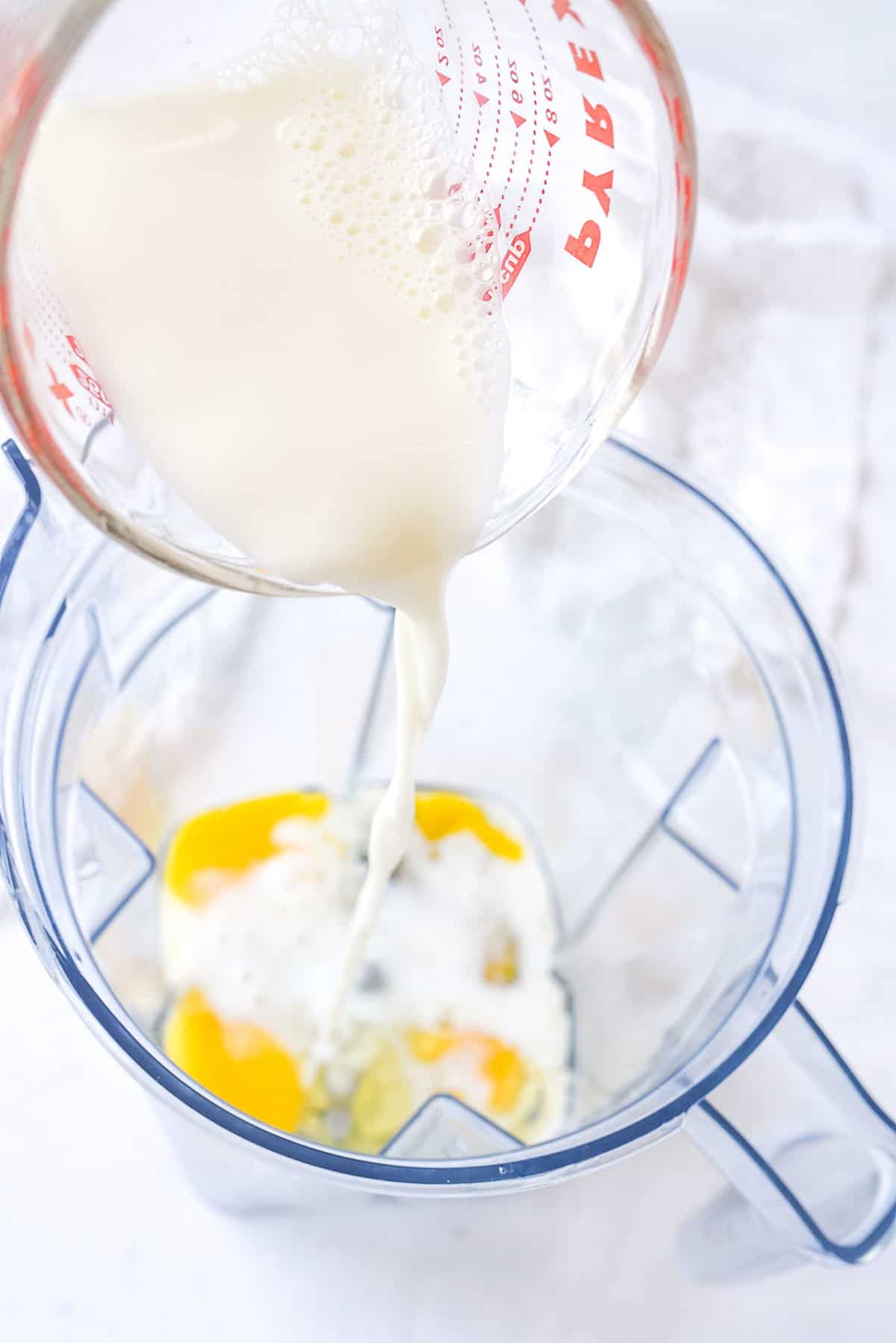 How to Make a German Pancake
Place butter into a 9 x 5 bread pan and place in oven.
Preheat oven to 425 degrees F. Butter will melt as oven preheats. If butter begins to brown a bit, that is fine. It will give it more flavor.
In a blender, combine eggs, milk, vanilla and flour and blend until smooth.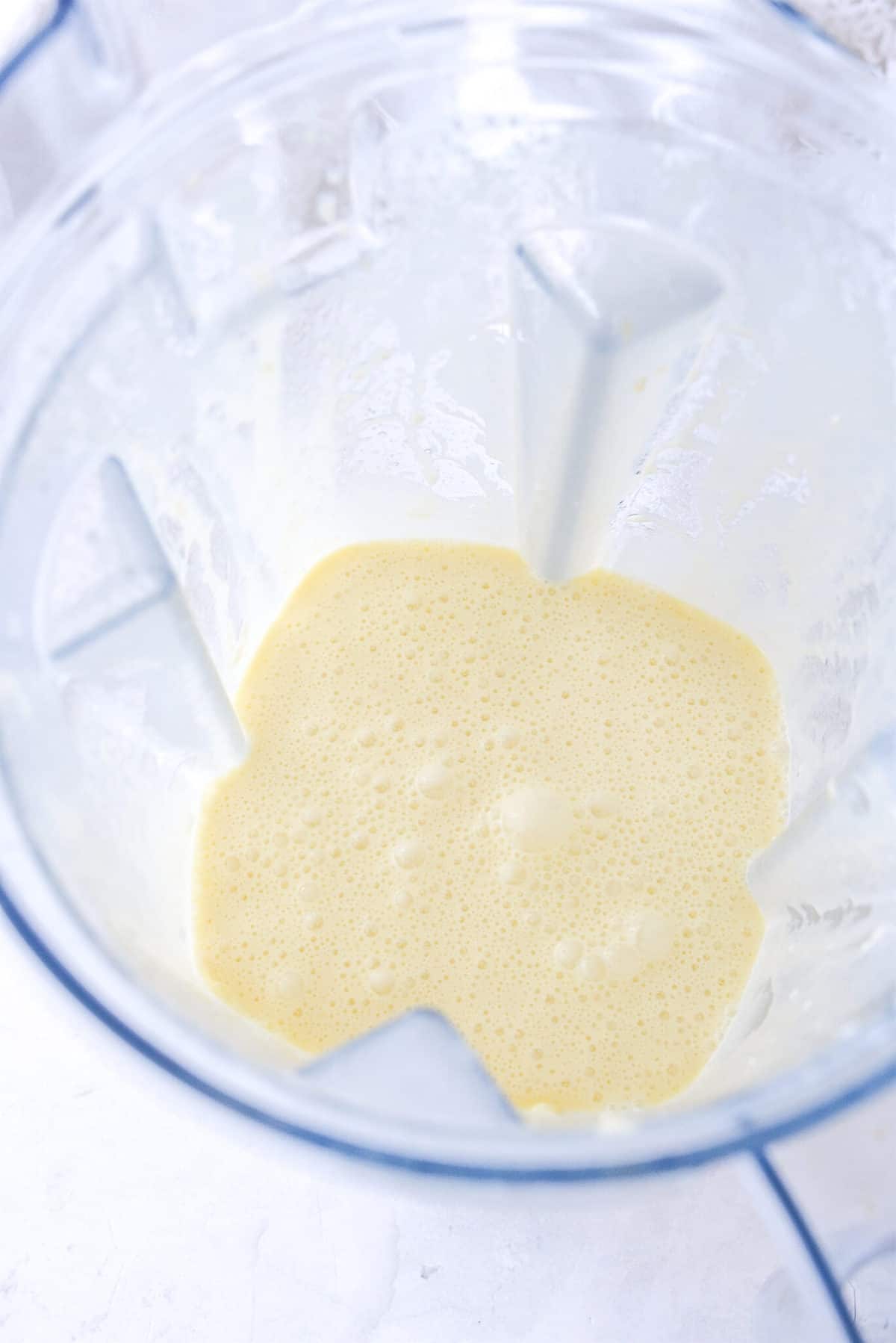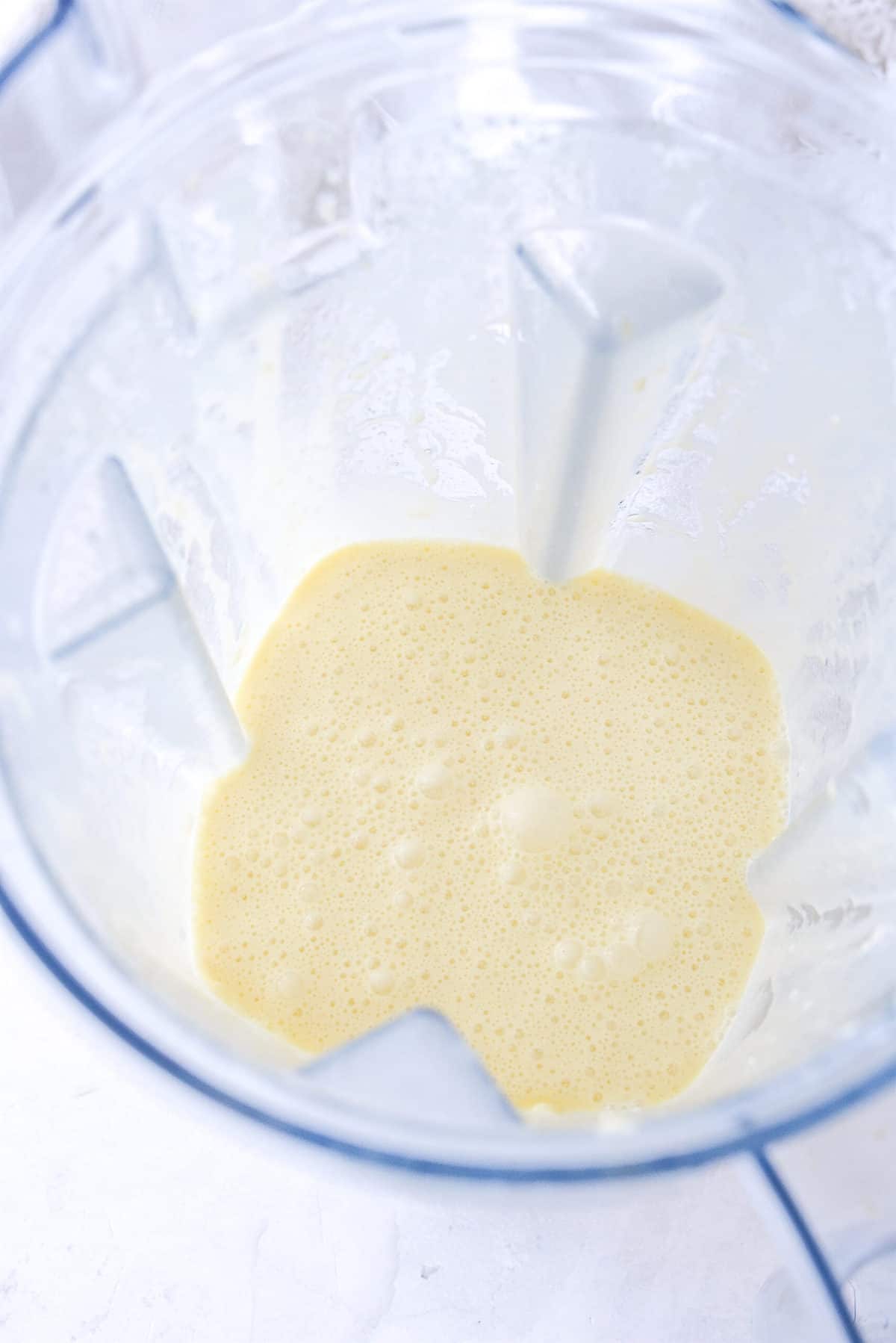 Remove pan from oven once butter is melted and pour batter into hot pan.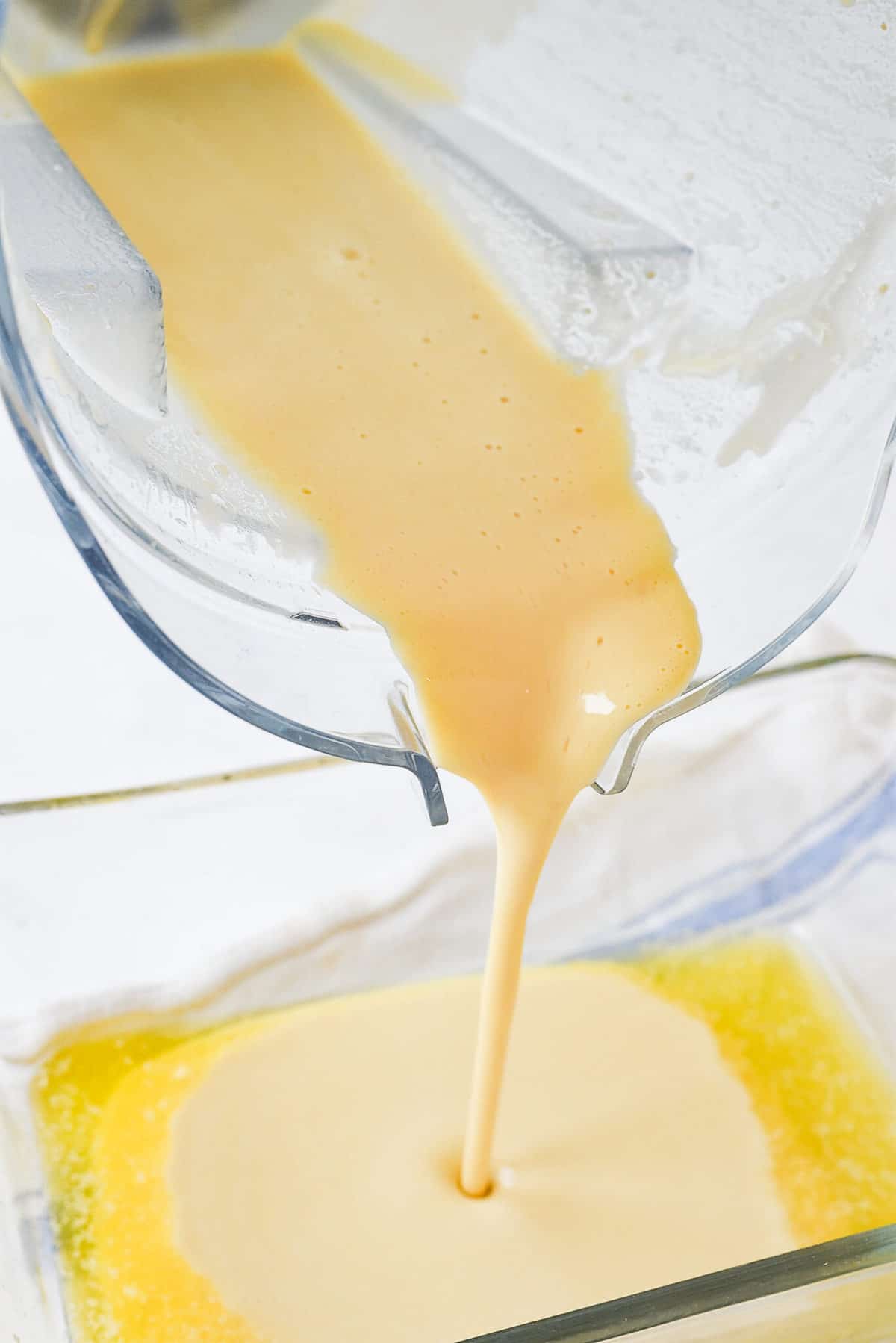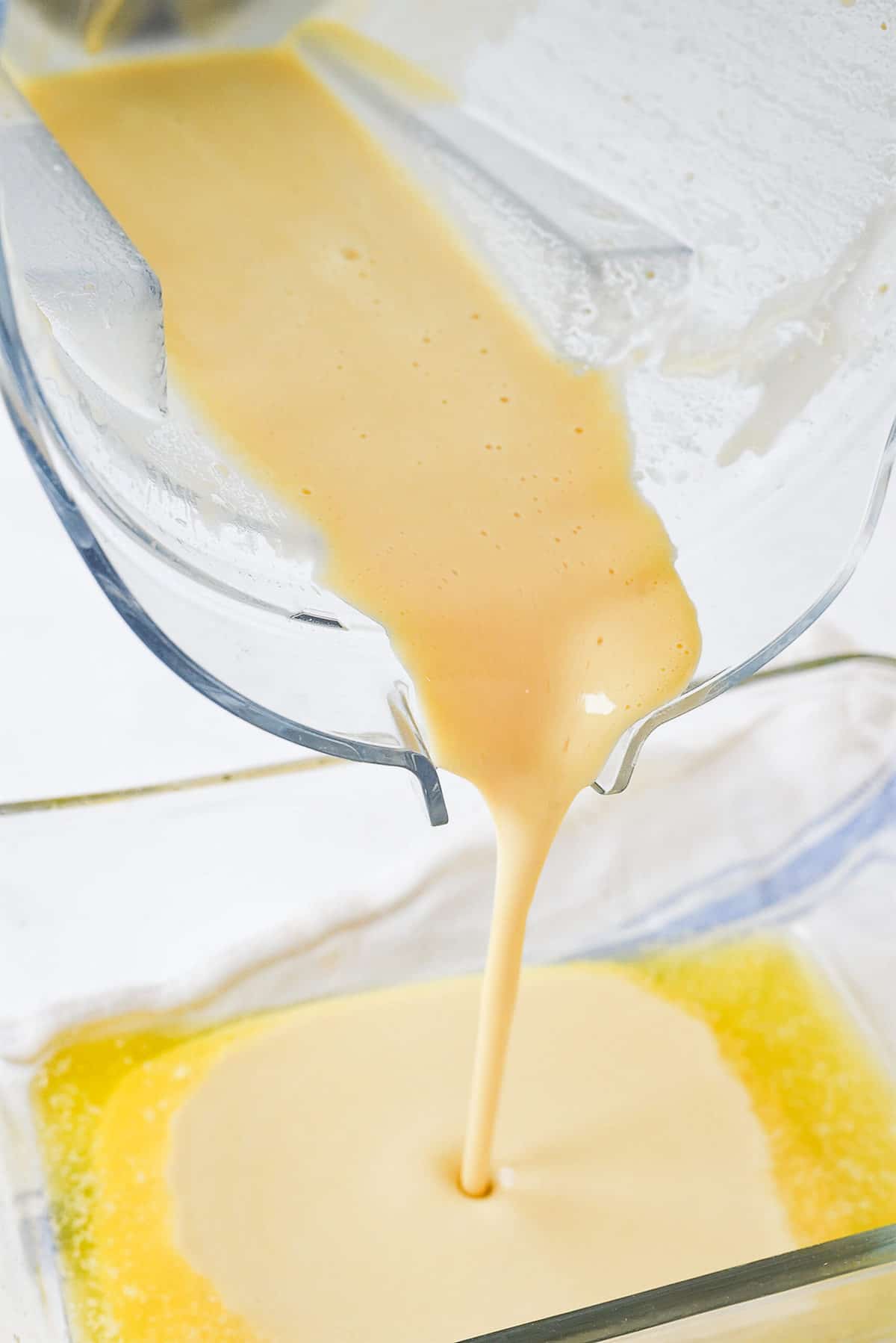 Return pan to oven and bake for 20 minutes or until it puffs up and turns golden brown around the edges.
Serve German Pancake warm.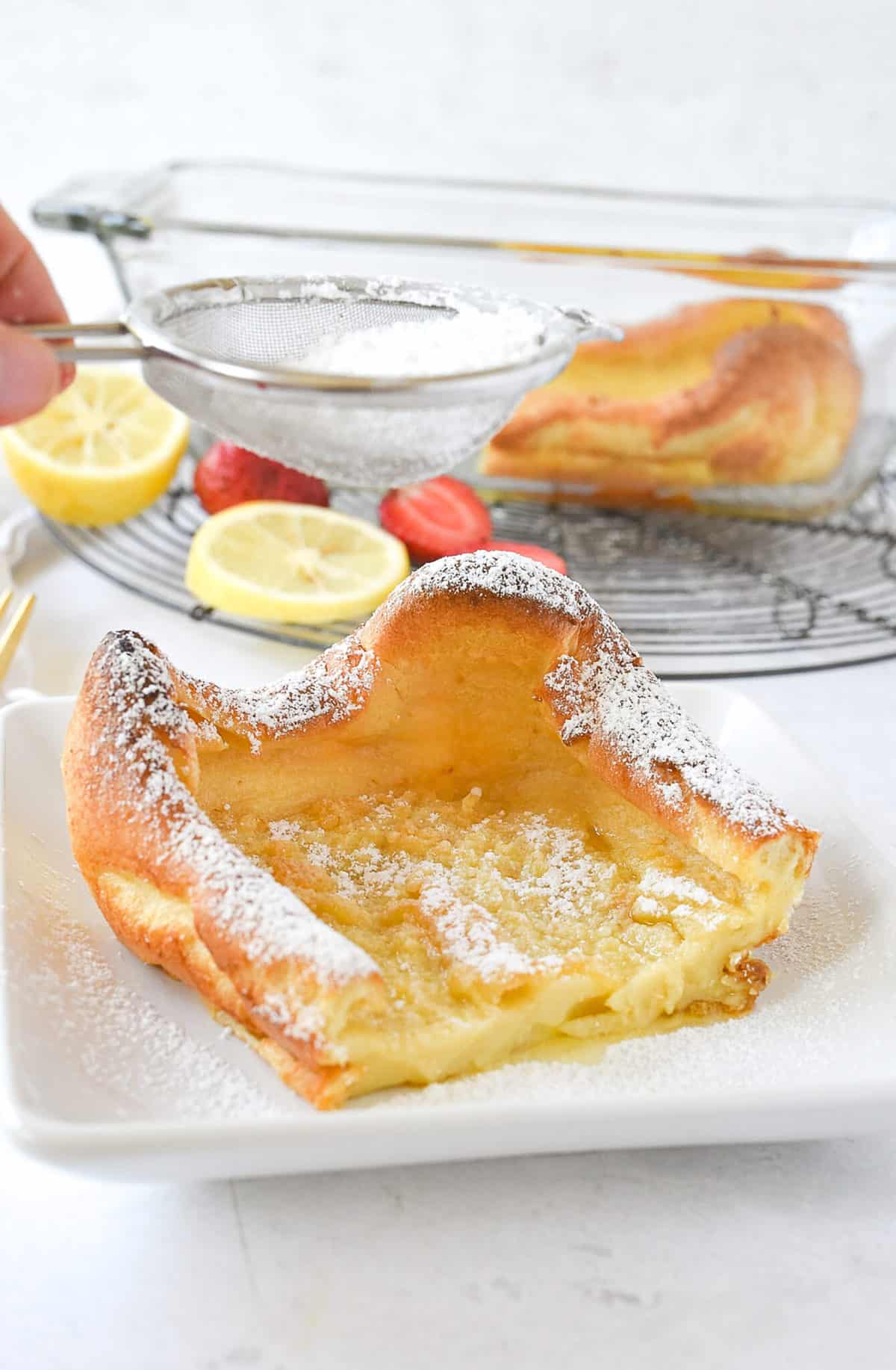 Optional Toppings:
Our favorite way to top a German Pancake is with powdered sugar, a drizzle of lemon juice and some fresh berries.
Also try: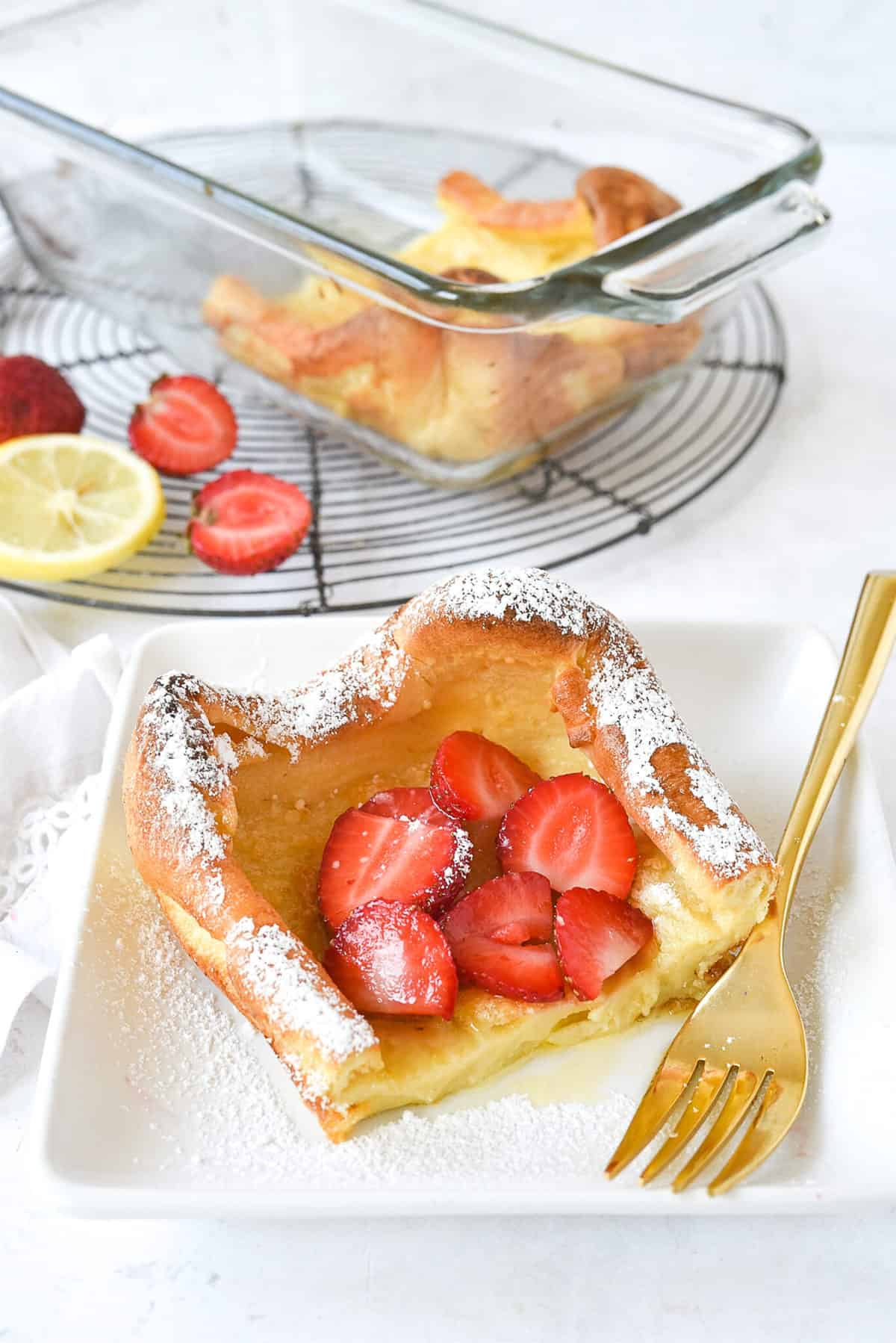 Apple Dutch Baby Variation
One of our favorite variations of a German Pancake for Two is to add apples and cinnamon sugar.
Melt butter in pan as oven preheats.
Place sliced 1/2 of a sliced, unpeeled Granny Smith apple on top of melted butter.
Pour batter over the top.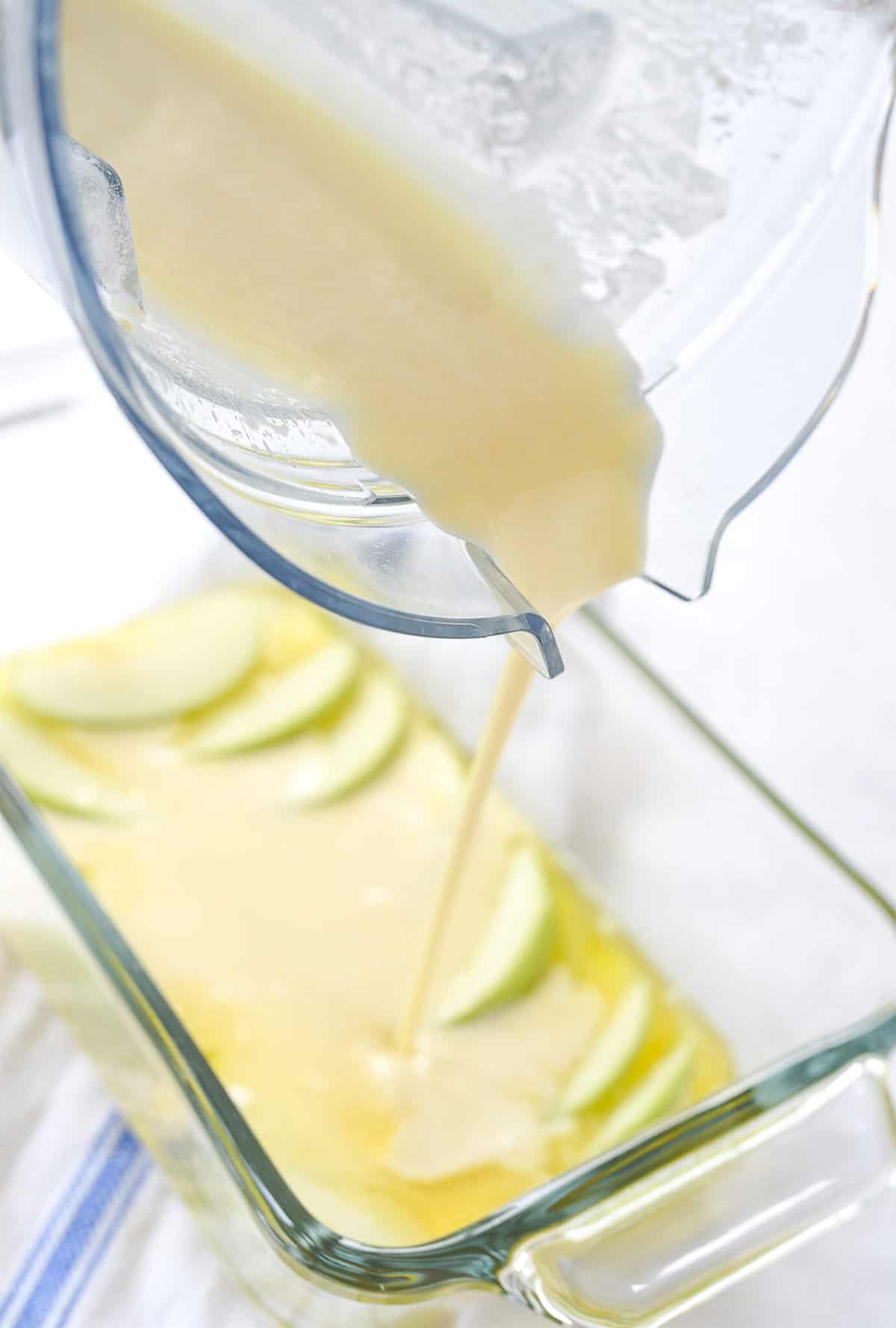 Sprinkle with cinnamon sugar mixture. (2 Tbsp. sugar, 1/2 tsp cinnamon, reserve some for garnishing after baking)
Bake at 400 degrees F for 20 minutes.
Sprinkle German Pancake with some additional cinnamon sugar if desired.
Drizzle with maple syrup.
Frequently Asked Questions
Can I add other fruit?
In addition to apples, we love to add fresh berries such as raspberries and blackberries. use about 1/2 cup of fruit for the small batch recipe. Use thawed or fresh berries, not frozen .
Is there a full batch version of this German Pancake recipe?
Yes, if I am feeding 4-6 people I use the full batch recipe which is found here.
You can also find the full size Apple Dutch Baby Recipe here.
Can I Make this ahead?
German Pancake is best served, warm right out of the oven! You can store leftovers in the refrigerator and reheat later.
Some of our other favorite breakfast recipes include:
Be sure and follow me over on You Tube for weekly cooking demos.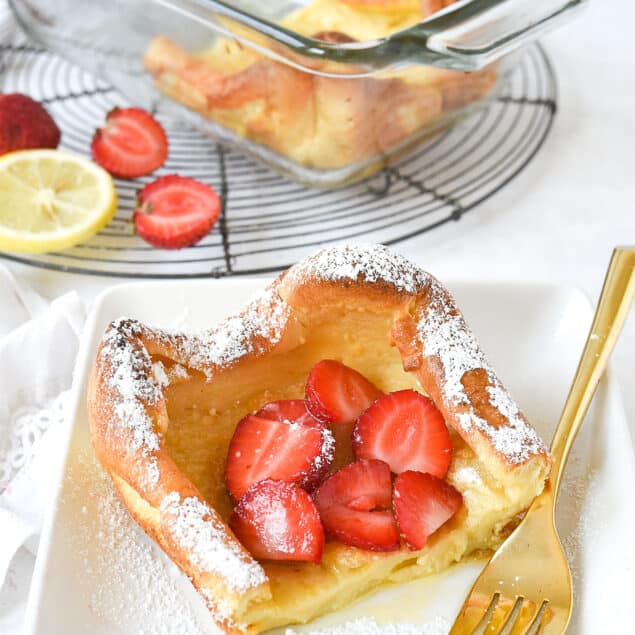 German Pancake for Two
Made in a 9 x 5 inch loaf pan, this German Pancakes for Two is just the perfect amount for 2 people. Top it with fresh berries, powdered sugar and lemon juice for a delicious breakfast!
Ingredients
Dutch Baby
1/4 cup butter
2 eggs
1/2 cup milk 2 percent or whole
1/2 tsp vanilla
1/2 cup all purpose flour
pinch of salt
Instructions
Place butter into loaf pan and place into oven and turn oven to 400 degrees. F

Allow butter to melt as oven preheats.

In a blender, combine, eggs, flour, milk, salt, and vanilla. Blend until smooth

Remove pan with melted butter from oven and pour batter into hot pan.

Return to oven, once fully preheated and bake for 20 minutes.
Tips & Notes:
Apple Version:
I like to use a tart, Granny Smith apple.  I do not peel the apple.
Place half of a sliced, unpeeled apple into the melted butter.
Pour batter over top.
Generously sprinkle with cinnamon sugar mixture (2 Tbsp sugar, 1/2 tsp cinnamon).
Be generous with your cinnamon sugar mixture as there is no sugar in the batter. 
Add some additional cinnamon sugar on top after it is baked if desired.
If your butter begins to brown in the oven, that's o.k.!  It gives it additional flavor.
We also like to add fresh berries like blackberries or raspberries into the dutch baby pancake.  Use about 1/2 cup of fruit.
Nutrition Facts:
Calories: 492kcal (25%) Carbohydrates: 46g (15%) Protein: 11g (22%) Fat: 30g (46%) Saturated Fat: 17g (106%) Polyunsaturated Fat: 2g Monounsaturated Fat: 8g Trans Fat: 1g Cholesterol: 231mg (77%) Sodium: 293mg (13%) Potassium: 234mg (7%) Fiber: 2g (8%) Sugar: 20g (22%) Vitamin A: 1072IU (21%) Vitamin C: 2mg (2%) Calcium: 113mg (11%) Iron: 2mg (11%)
* Disclaimer: All nutrition information are estimates only. Read full disclosure here.