A delicious Dutch Baby Pancake is one of the most requested breakfast dishes at our house. And they aren't just great for breakfast. We we love these puff up pancakes for dinner too!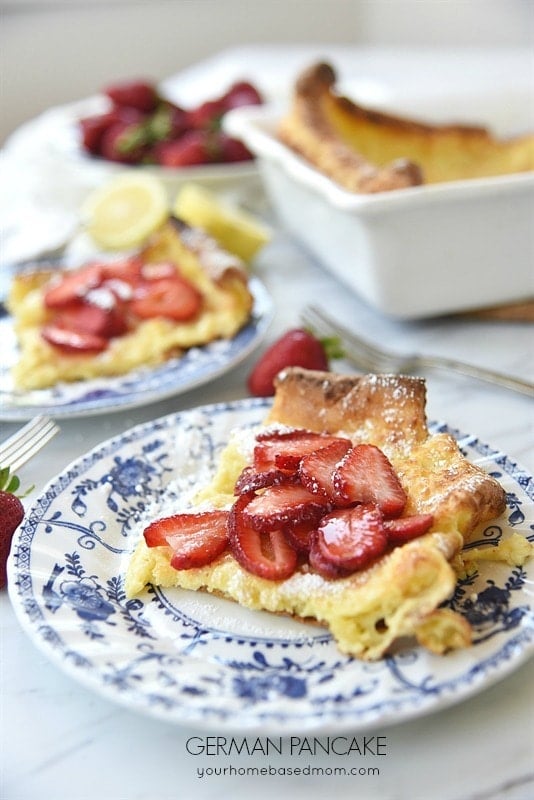 Dutch Baby Pancake, or Puff Up Pancakes as we call it, is a standard at our house. If dad fixes breakfast, the majority of time it is Puff Up Pancakes. If dad fixes dinner, the majority of time it is Puff Up Pancakes. Are you seeing the trend? His cooking repertoire is a little limited, but what he does make is delicious.
Whenever the kids are home for a visit and I ask what they want for breakfast, Dutch Baby Pancake is at the top of the list.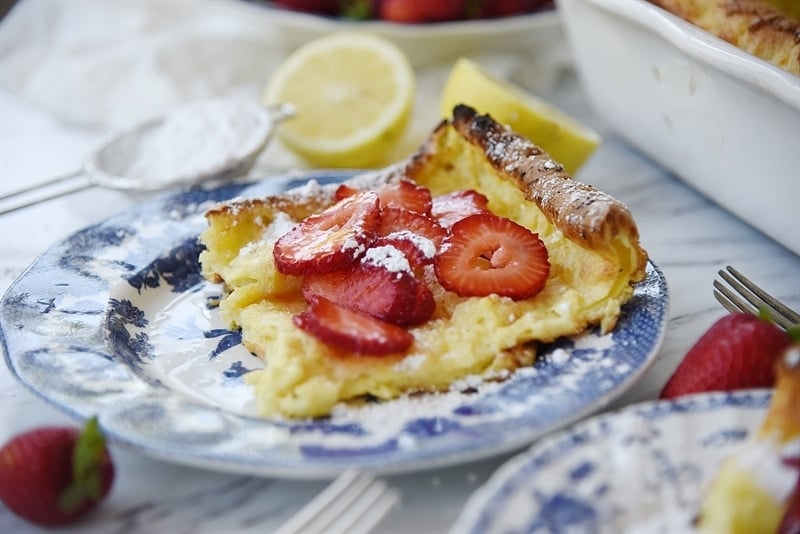 I know there are lots of different names for Dutch Baby Pancake. Hootenannies, Oven pancakes, Pannekoeken, Oven Eggs, Puffy Pancakes, German pancakes, volcano pancakes, and even Rollercoasters. My neighbor who we shared with just called it delicious!
And what ever you want to call it, it is delicious and easy to make!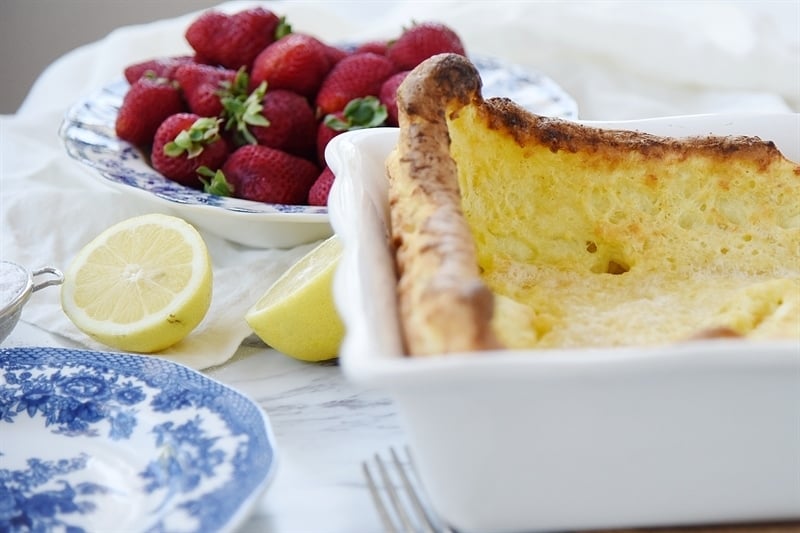 How to make a Dutch Baby Pancake
I always place my butter into the 9 x 13 pan and then place the pan into the oven as the oven preheats. By the time the oven is preheated, the butter is melted. Sometimes the butter is even a little browned which is even better. I love the flavor of browned butter.
I like to mix up my batter in the blender – no lumps that way. My husband just whisks it in a bowl.
Pour the batter right into the hot 9 x 13 with melted butter. As it bakes, it magically puffs up. Thus the name – Puff Up Pancake. You may have a different name for it at your house such as German Pancake or Volcano Pancake.
It will begin to fall a bit after you pull it out of the oven but no worries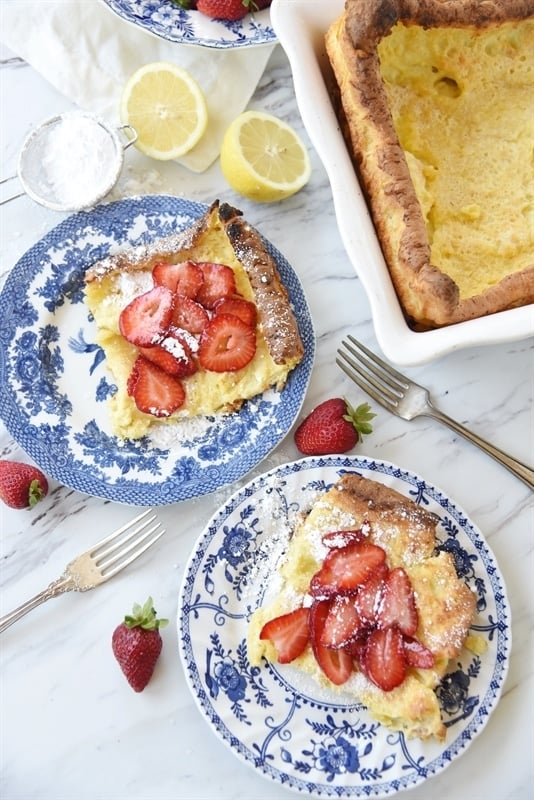 Our favorite way to eat it at our house is with lemon juice squeezed over the top, covered in fresh strawberries (raspberries will do too!) and then with a sprinkling of powdered sugar! Yum!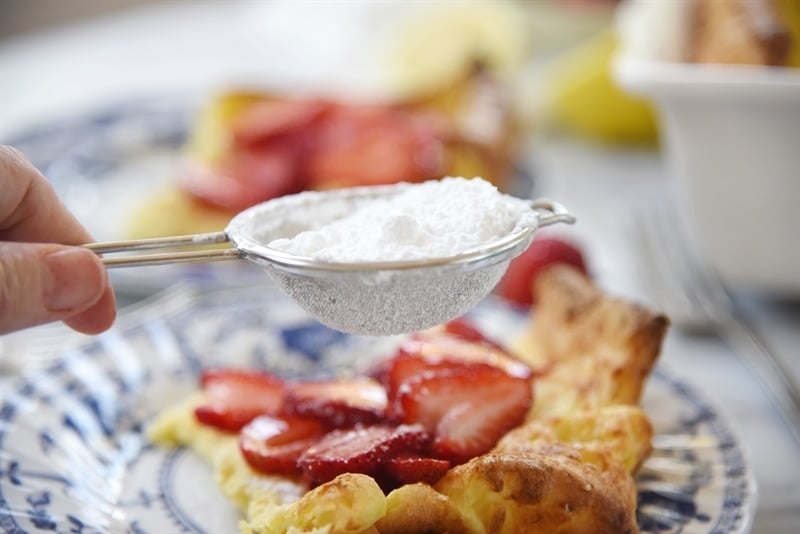 What do you call it at your house?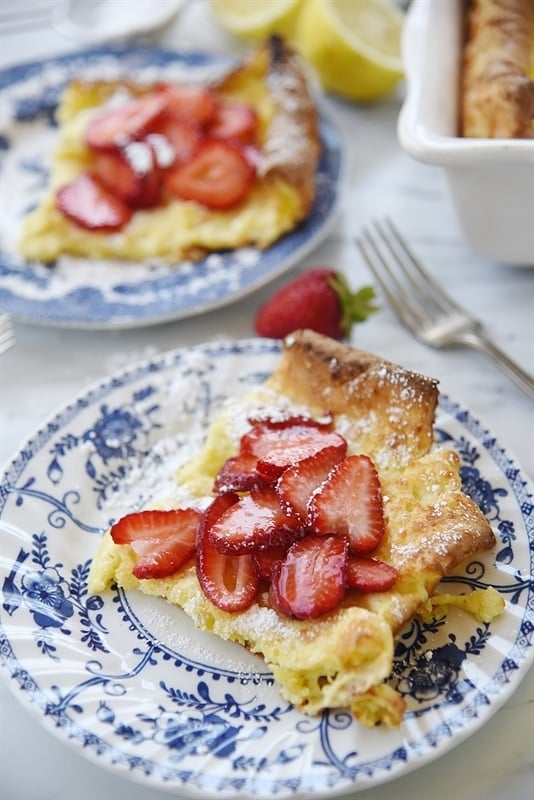 Check out more of my favorite breakfast recipes: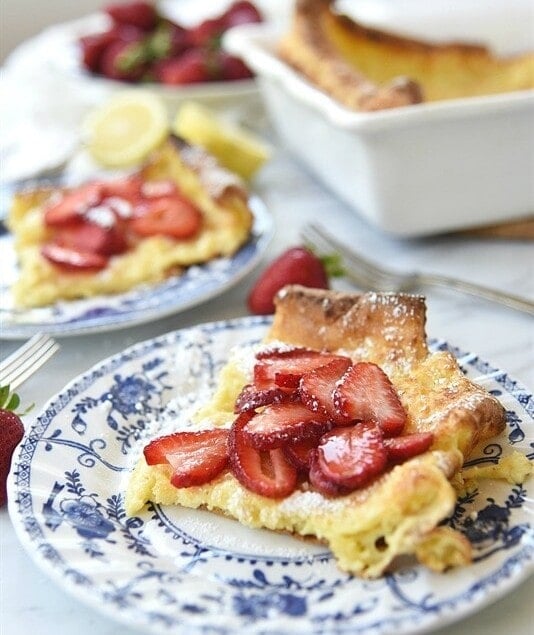 Dutch Baby Pancake
Dutch Baby Pancake, also known as a German Pancake, is a fluffy oven baked pancake your family will love.
Ingredients
1/2 C butter
5 eggs
1 1/4 C milk
1 tsp vanilla
1 1/4 C flour
Instructions
Melt butter in 9 x 13 pan in oven while oven is preheating to 425 degrees

Mix eggs, flour, vanilla and milk with wire whisk or use blender

Add batter to dish and bake for 20-25 minutes

Serve with fruit, powdered sugar and lemon juice
Nutrition Facts:
Calories: 157kcal (8%) Carbohydrates: 11g (4%) Protein: 4g (8%) Fat: 10g (15%) Saturated Fat: 5g (31%) Cholesterol: 91mg (30%) Sodium: 104mg (5%) Potassium: 72mg (2%) Sugar: 1g (1%) Vitamin A: 375IU (8%) Calcium: 43mg (4%) Iron: 0.9mg (5%)
* Disclaimer: All nutrition information are estimates only. Read full disclosure here.