This easy apple pie is delicious but the best part is there is no pastry crust and it's delicious!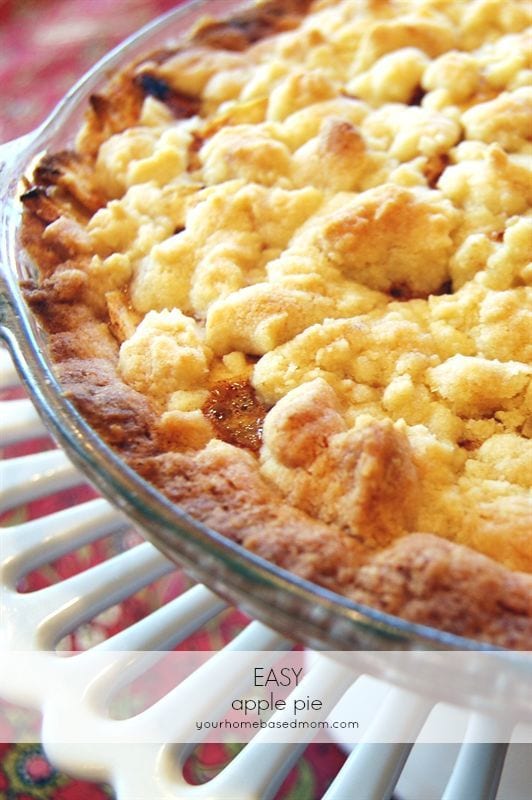 An updated version of this post can be found here.
I hope you don't mind but I have yet another amazing apple recipe.  It's apple season after all!
Last weekend we went to Portland Nursery's annual Apple Festival.  It was a perfect Fall day and we had a great time tasting the dozens of different varieties of apples.  A few of our favorites were Ambrosia,  Cameo, Elstar and  Smoothie Golden.  The festival is still going on this weekend if you live in Portland!
Since Jim eats 5-6 apples a day on his diet we go through ALOT of apples at our house.
I bought some of the Smoothie Golden to make an apple pie.  The Smoothie Golden is a great all-purpose apple – good for everything!
The apples were so pretty with the sunshine reflecting off them I couldn't resist!
Today's recipe is my favorite apple pie .  Not only is it yummy but if you are not a pie maker and the thought of making a pie crust scares you – this is the recipe for you!
No rolled pie crust – you don't even need one of those tough store bought ones either.
This version of apple pie is similiar to a French Apple pie with a yummy crumb topping.  But not only do you use the crumb topping on top – you also use it for the bottom crust.  Yum!  Oh and did I mentioned this crumb topping is FULL of butter and sugar – yum, yum!!
My friend Kim Shaw shared this recipe with me years ago and it is the only apple pie I make.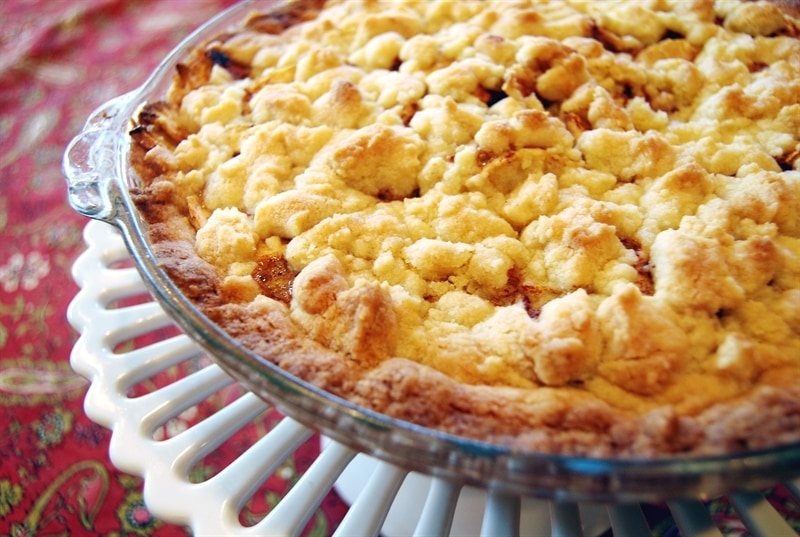 Of course this pie is perfect served alamode!
Friday Favorite – Easy Apple Pie
Ingredients
2

C

flour

1

C

sugar

1

egg yolk

1

tsp

baking powder

1

C

butter

melted

7-8

apples - sliced

cored and peeled. I prefer a crisp, tart apple.

Cinnamon

probably a tablespoon or two

1 1/2

Tbsp

sugar

or more if you like it sweeter
Instructions
Mix together flour, sugar, egg yolk, baking powder

Add butter, melted

Press 1/2 of dough into a glass pie plate.

Being sure you have an even layer on bottom and up the sides of the pie plate. (no holes!)

-8 apples - sliced, cored and peeled. I prefer a crisp, tart apple.

After pressing 1/2 of pie dough into pie plate, pile apples onto crust.

Sprinkle with cinnamon (sorry, no exact measurement - I just sprinkle until it looks like enough, probably a Tablespoon or two) and 1 1/2 Tbsp sugar (or more if you like it sweeter!)

Crumble remaining dough on top by breaking it into small pieces.

Bake at 350 degrees for about 45 minutes - 1 hour

(Time will vary depending on how thick you slice the apples, you want them tender but not mush! I just stick a fork in to see how tender they are.)
Stay Updated!
Need more recipes and creative ideas? Sign up and get a FREE copy of my ebook! Do you think your friends would love this too? Please share my blog with them. Thanks!