This post is sponsored by SeaPak Shrimp and Seafood Co. but all opinions are my own.
I love appetizers.  In fact, I can easily make a meal out of appetizers.  The problem with appetizers is that in the all the craziness of holiday menu planning, they get overlooked.  There just isn't time to prepare a full meal, dessert and then add appetizers on top of that. Or at least that is what people think.  Appetizers don't need to be expensive or time consuming.
Today I've got a couple of super quick and easy appetizer ideas that your family and guests will love and the best part is it won't take a lot of time for you.  Only ten minutes!
SeaPak Shrimp & Seafood Co. recently sent me some of their frozen shrimp products to try. I am joining with SeaPak and their #ToastwiththeCoast campaign to show people how easy it is to enjoy delicious appetizers that don't take a lot of time or money.   I don't know about the parties you go to but everytime there is shrimp at a party I'm at, it is the first thing to disappear.  People love it. Dressing up frozen shrimp is such an easy and delicious way to go.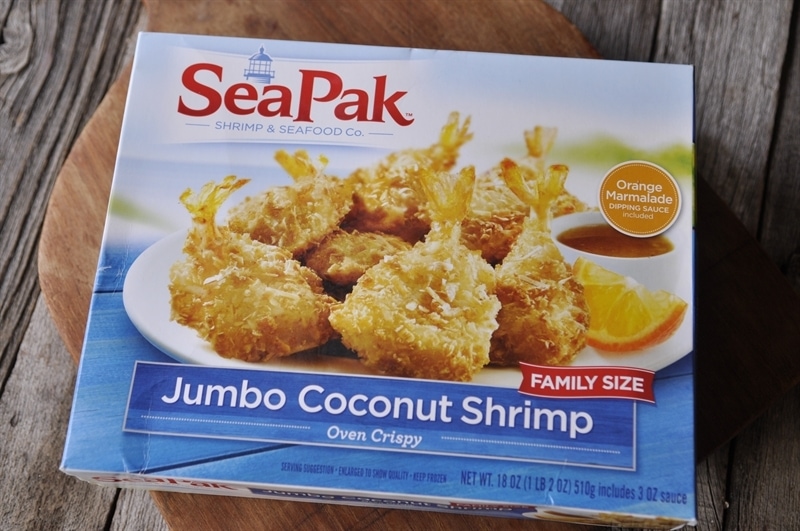 My favorite appetizer when we go out to dinner is always Coconut Shrimp.  If it is on the menu I am there!  With SeaPak frozen shrimp I can so easily recreate this favorite appetizer at home – in only 10 minutes.   It even comes with some yummy orange marmalade sauce to use.
I decided to change it up a bit though and put together my own Tropical Dipping Sauce which I quickly and easily did in the 10 minutes the shrimp were baking.  So seriously, in ten minutes I had a delicious appetizer that tasted just like I order at my favorite restaurant.
The Tropical Dipping Sauce is made of plain Greek yogurt, non alcoholic pina colada mix, crushed pineapple and a bit of sugar.  Just put it in a bowl together and mix.  It is nice if you let it chill in the refrigerator for about an hour but not totally necessary.  The flavors just have a little more of a chance to blend together.
Once the shrimp is out of the oven all you have left to do is dip away and enjoy!
It doesn't get much easier or yummier than that!

Another appetizer I often see served at parties is shrimp over cream cheese and topped with chili sauce.  Using SeaPak's frozen popcorn shrimp I created my own version.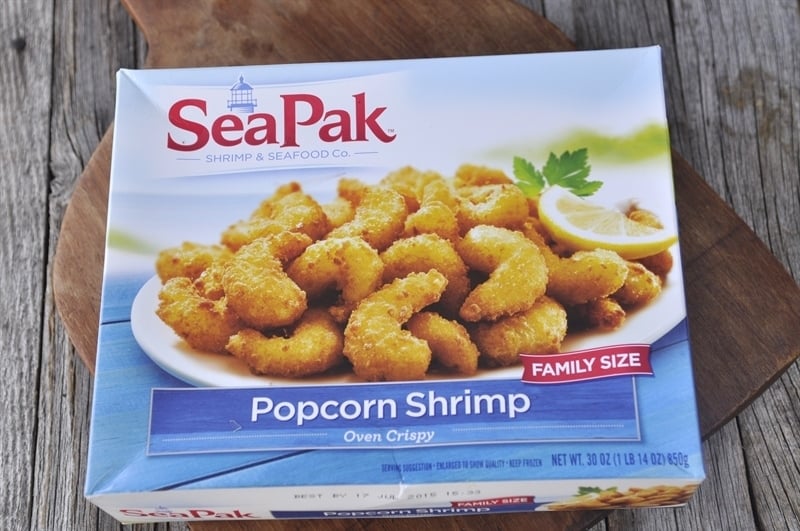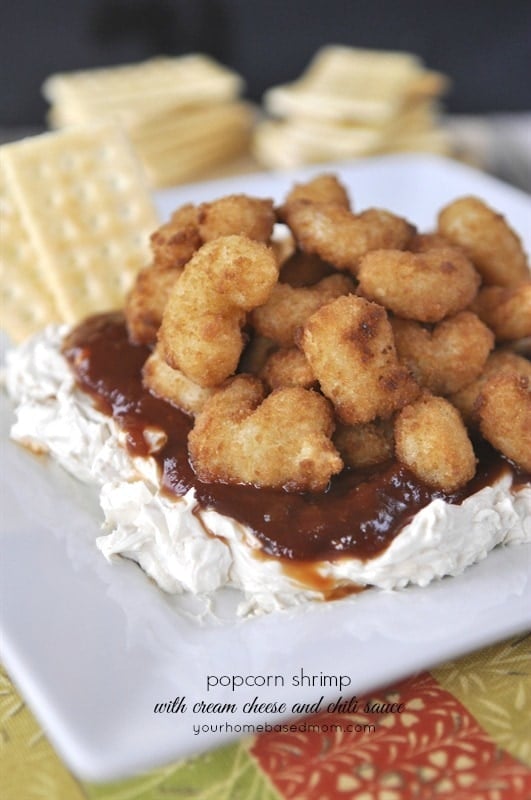 I am not a fan of straight cream cheese so I dressed it up a bit with worcestershire sauce and garlic and then spread that on a plate.  Covered it with some chili sauce and then topped it with the popcorn shrimp.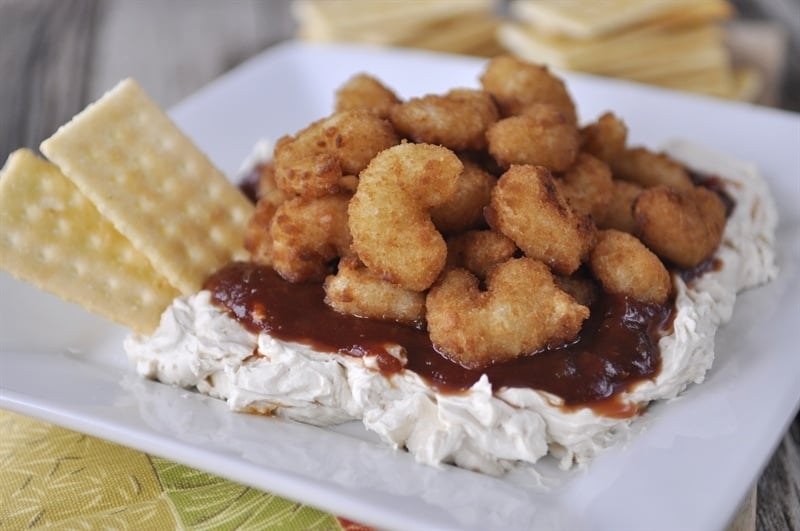 Doesn't get much easier than that either, does it!  Two delicious appetizers in just minutes.  I like to serve this one with crackers.  Just dip right in.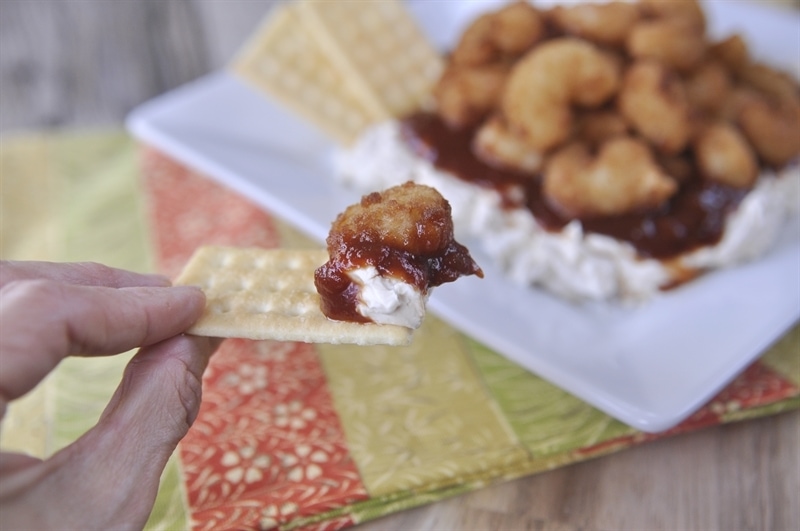 I am a fan of chili sauce so sometimes I add more by just drizzling it all over the top of the shrimp too.  Be sure and check out SeaPaks other products for your holiday party needs.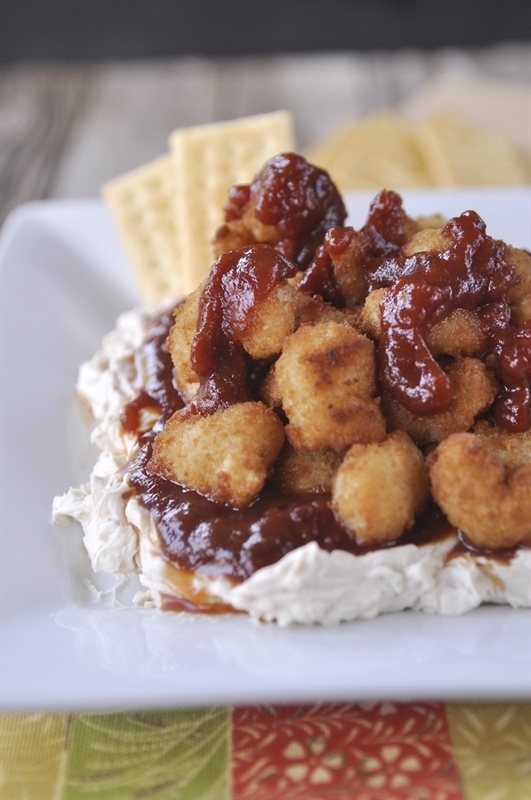 Quick and Easy Shrimp Appetizers
Ingredients
Coconut Shrimp with Tropical Dipping Sauce
1 18 oz. box of frozen coconut shrimp
1/2 C Greek yogurt
3 Tbsp non alcoholic pina colada mix
1/4 C canned crushed pineapple
1 Tbsp white sugar
Popcorn Shrimp
1 30 oz. box frozen popcorn shrimp
8 oz. of cream cheese softened
2 Tbsp Worcestershrie sauce
4 cloves garlic chopped
1 jar chili sauce
Instructions
Coconut Shrimp with Tropical Dipping Sauce
Bake coconut shrimp according to directions on the box.

Mix together yogurt, pina colada, pineapple and sugar.

Refrigerate for an hour

Serve with coconut shrimp
Popcorn Shrimp
Bake popcorn shrimp according to directions on the box.

Mix together cream cheese, Worcestershire sauce and garlic

Layer cream cheese mixture on plate.

Top with chili sauce

Top with popcorn shrimp

Serve with crackers