This New England Clam Chowder is the ultimate comfort food with so much flavor thanks to a secret ingredient!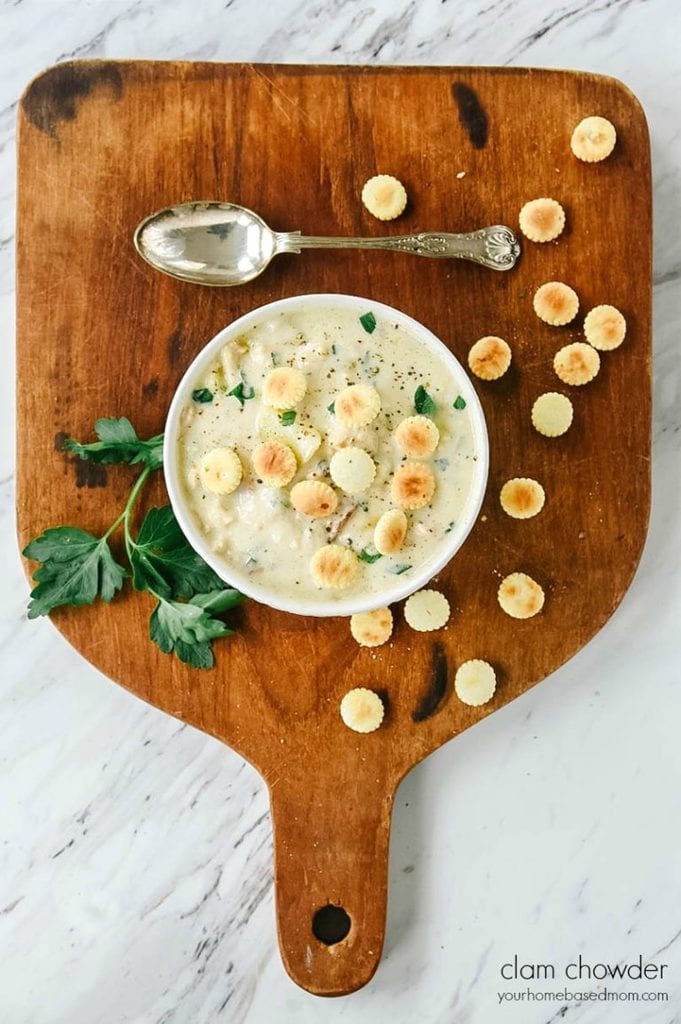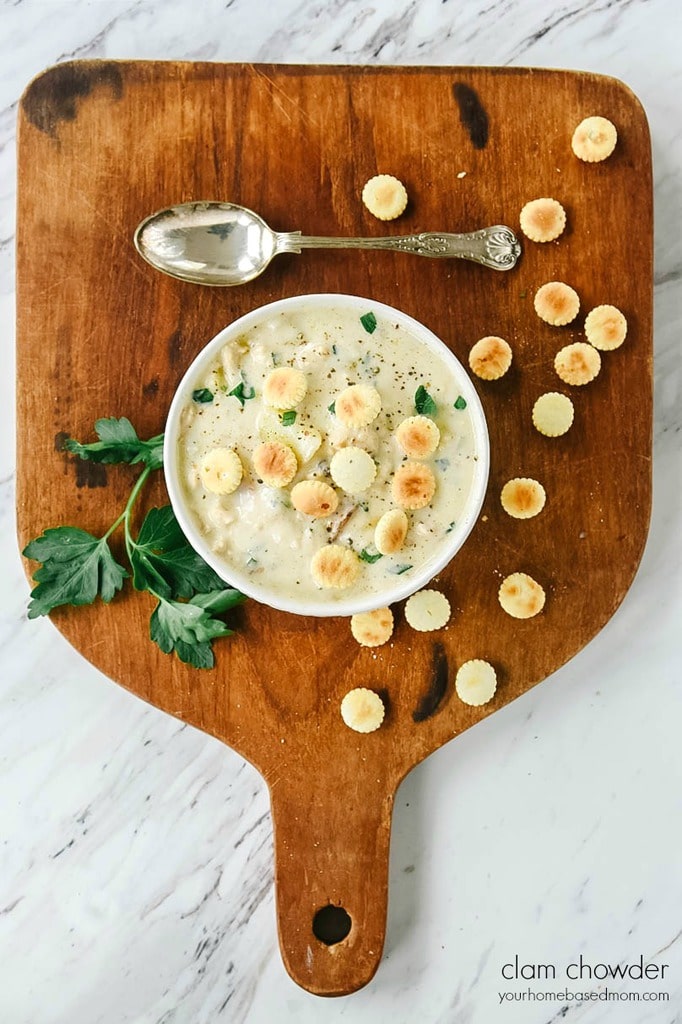 Each New Year's Eve we host a Soup Party.  I usually make up 4 different kinds of soup and my guests all bring an appetizer to share.  We then celebrate  and ring in the new year.  I change up the soups I make each year but clam chowder is always on the menu.  I actually don't think my guests would come if I didn't make clam chowder.
Pretty much everyone at my party will agree that this is the best clam chowder they have ever had.  They tell me that over and over, all year long. But promise me you won't wait until next New Year's eve to make this!  It would be perfect football watching food, or any week night dinner.
What is Clam Chowder?
This recipe is for the traditional New England style clam chowder. A thick, chowder made from clams, potatoes, onions, bacon and milk or cream. It is believed to have been introduced by the French on the East Coast.  You can now find various regional variations of chowder across the country, including Manhattan Clam Chowder.  I guess my version is a Pacific NW Clam Chowder.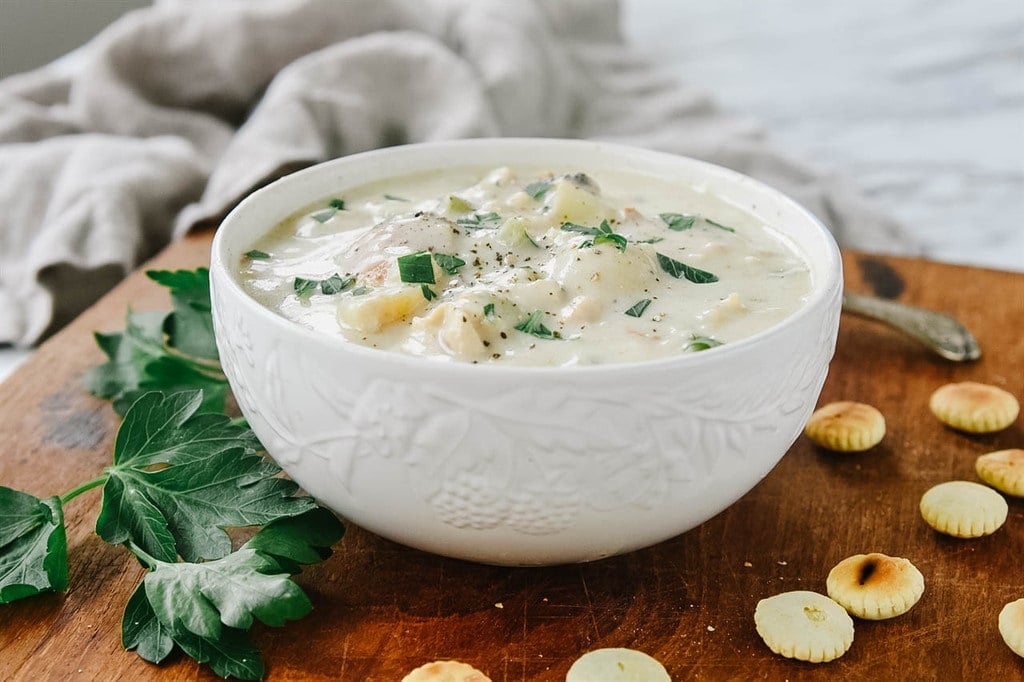 Living in the Northwest, we have access to a lot of really good chowder but I can honestly say this chowder is as good or better than the chowder we've had in restaurants.
How to Make Clam Chowder
There is a special ingredient that makes this the best clam chowder recipe ever!  The secret ingredient is pepper bacon.  Not regular bacon but thick cut pepper bacon.  I promise you, it's the best.  So don't skip it or use regular bacon!!  Trust me on this one.
The soup also has chunks of potatoes.  I use Yukon gold and I don't even peel them.  I have also used russet potatoes and they work great too, just be sure and peel those.
For clams, I use canned chopped clams but if you have access to fresh clams – use them!
I also use a combination of whole milk and half and half which makes the chowder rich and delicious.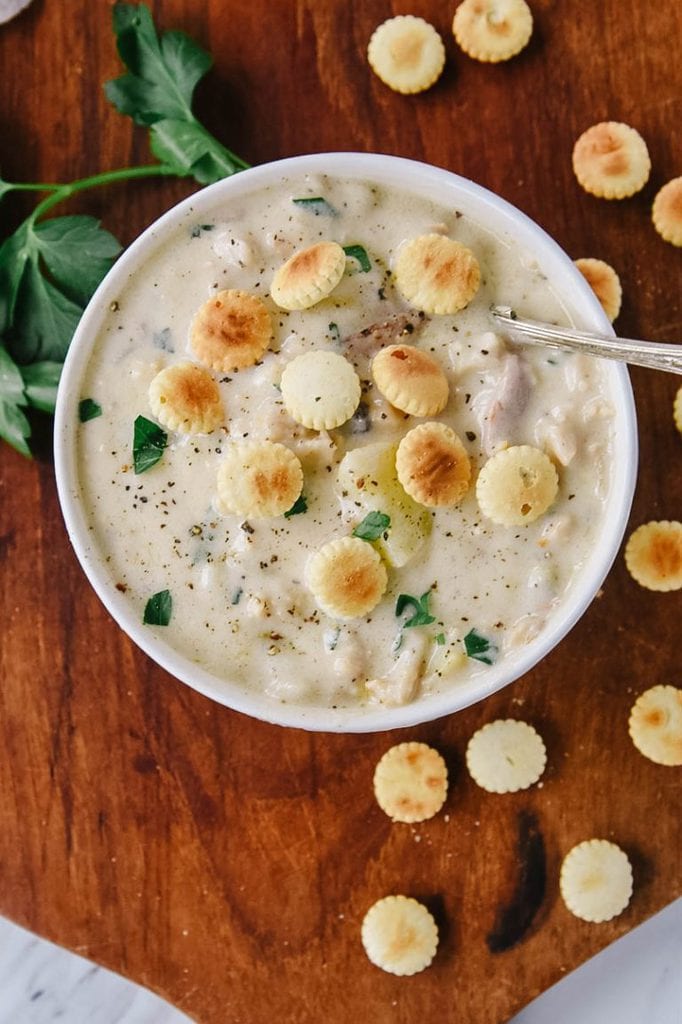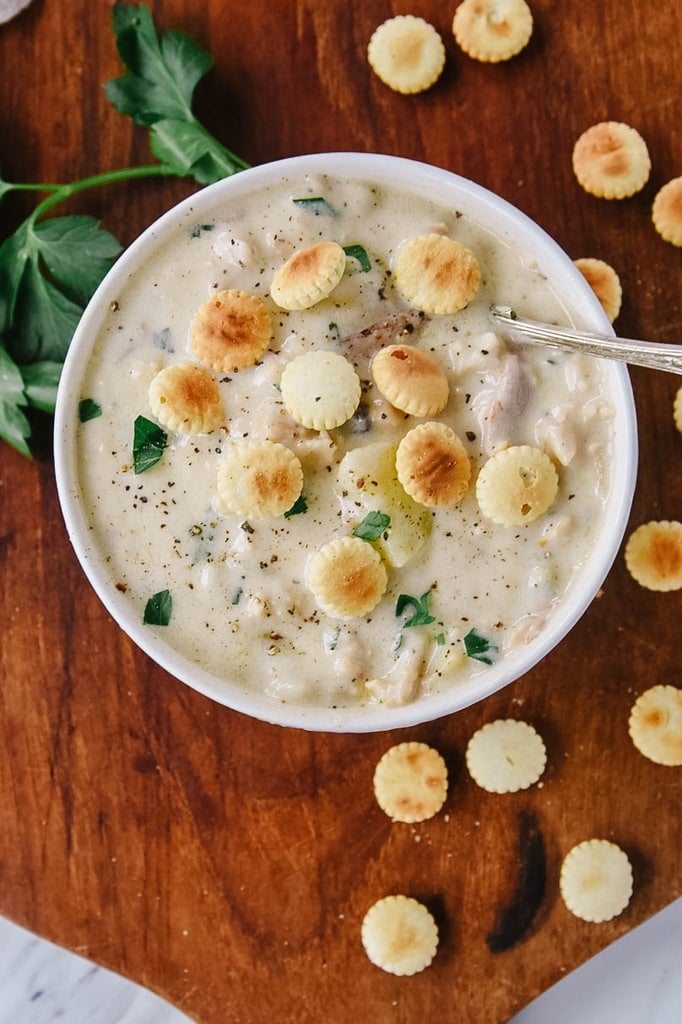 Besides, the flavor, the one thing my guests tell me over and over again they love about this clam chowder is it is not too thick.  After you refrigerate it, it will thicken up so reserve some clam juice or some more milk to thin it out when you reheat it.
I like to serve it with a dusting of fresh ground pepper, some fresh parsley and of course little oyster crackers.
For some of my other favorite soups check out this post.
Clam Chowder Recipe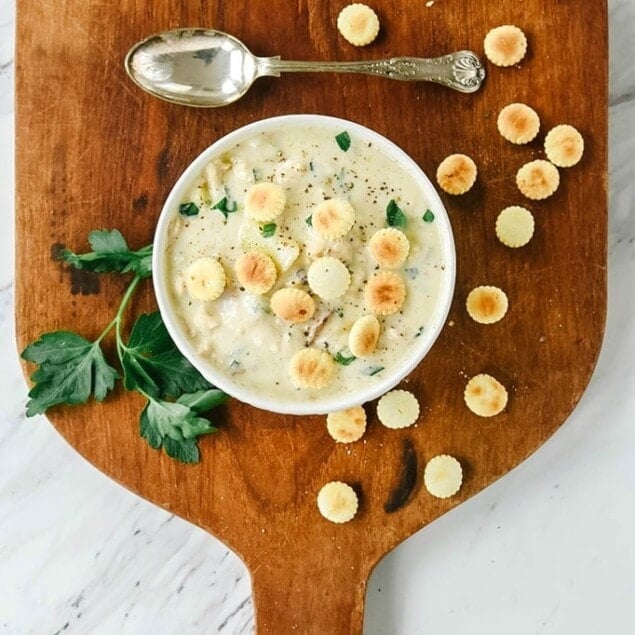 Clam Chowder
Ingredients
8 slices pepper bacon diced
1/2 C butter
1/2 large onion chopped
1 C celery chopped
1/2 C flour
24 oz. chopped clams or 2 C fresh clams, shucked
2 cups cubed potatoes peeled and cubed
3 C whole milk
1/2 C half and half
salt and pepper
Instructions
In a large pot cook bacon until browned and crisp. Drain grease. Crumble.

Add butter, onions and celery to pot and cook over medium heat until onions are softened and translucent.

Add flour, cook 3 minutes stirring constantly

Drain clams and reserve liquid.

Add enough water to clam liquid to measure 2 cups.

Add this liquid slowly to mixture in pot, stirring constantly.

Add potatoes and bring mixture to boil.

Reduce heat and simmer about 20 minutes or until potatoes are tender.

Add clams, bacon, milk, half and half.

Heat until thickened, be careful not to burn.

Add salt and pepper.

If soup thickens up to much you can add additional milk
Nutrition Facts:
Calories: 455kcal (23%) Carbohydrates: 25g (8%) Protein: 13g (26%) Fat: 33g (51%) Saturated Fat: 17g (106%) Cholesterol: 84mg (28%) Sodium: 509mg (22%) Potassium: 531mg (15%) Fiber: 1g (4%) Sugar: 7g (8%) Vitamin A: 880IU (18%) Vitamin C: 11.2mg (14%) Calcium: 185mg (19%) Iron: 1.3mg (7%)
* Disclaimer: All nutrition information are estimates only. Read full disclosure here.
Need some help figuring out what's for dinner tonight?
Come join our Facebook Group!  Join hundreds of others who love sharing dinner time ideas.  You don't want to miss out on the fun!

You'll find lots of ideas for dinner from all our awesome members and you can share your ideas too!  Join the Family Dinner Table today.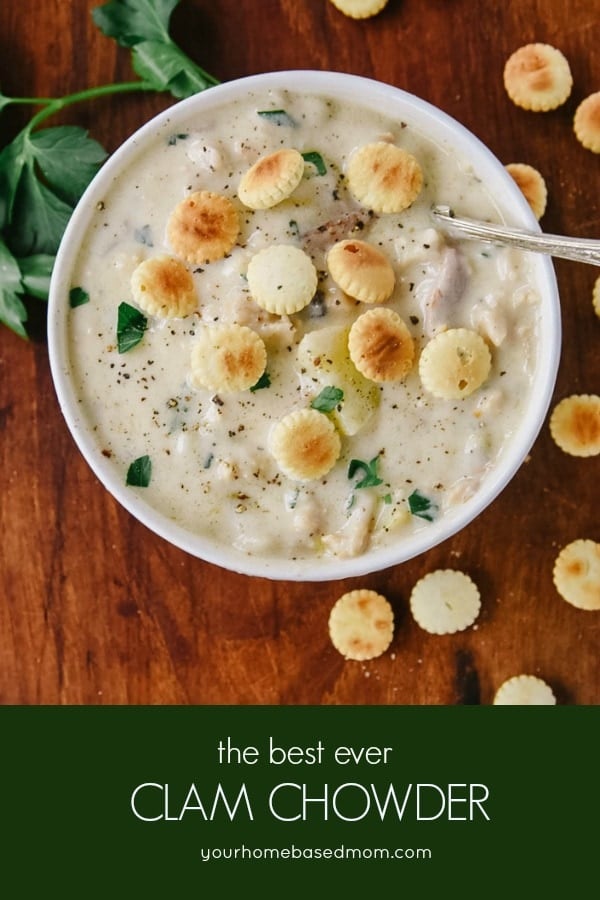 Originally shared Dec. 30, 2007