Cilantro lime coconut pork kebobs are delicious! Cooked on the grill and then garnished with cilantro, peanuts and green onions.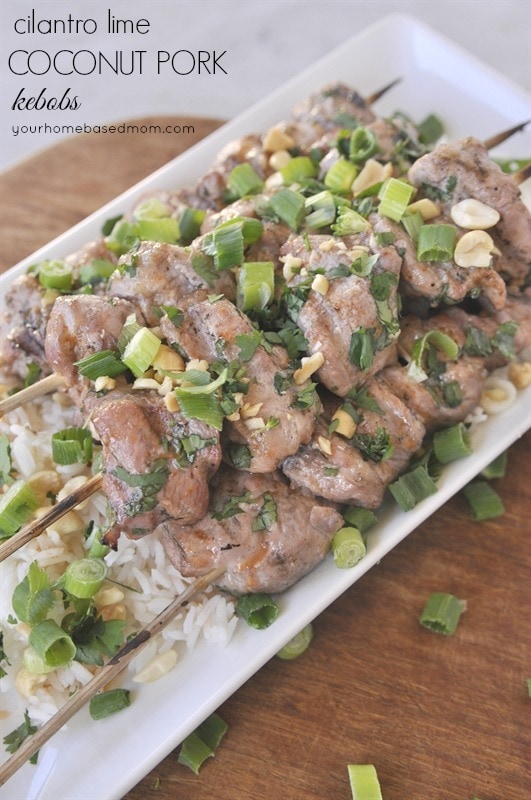 Lately I have felt like I have lost my groove when it comes to fixing dinner. After we came back from our week at the beach I was totally unmotivated to cook. I think I overcooked! I loved every minute of cooking 3 meals a day for 7 -10 people but after having cooked for just two people for the last few years it took a little adjustment. I did warn Jim though that I wasn't cooking for a week!  I don't think he thought I was serious, but I was.
So whether it has been the hot summer days or all the cooking I did at the beach, I have had zero motivation. Earlier this week it was a frozen pizza for me (Jim is gluten free and dairy free) and scrambled eggs for Jim!
Let's just say I haven't done a lot of cooking since the kids left. But last night I think I got my groove back. We love pork tenderloin so I bought a pork tenderloin this week not sure what I was going to do.  A few nights ago I went to pull it out of the fridge and I couldn't find it any where! I checked both refrigerators and even checked the trunk of my car in case it got left in there but no tenderloin. I probably left it at the grocery check out!  Ever done that??  I wish I could say it's the first time I've done it.
So I went back to the store and bought another tenderloin. I've been cooking a lot with coconut milk since Jim went dairy free and when I found a recipe for Coconut Pork Kebobs in the Food Network magazine I decided it was the perfect way to use my tenderloin. It also was done on the grill which was perfect since it's been too hot lately to turn on the oven!!
The pork marinades in a mixture of coconut milk, brown sugar, cilantro, lime juice, garlic and Asian chilie sauce.  Let it marinade for at least an hour up to four hours.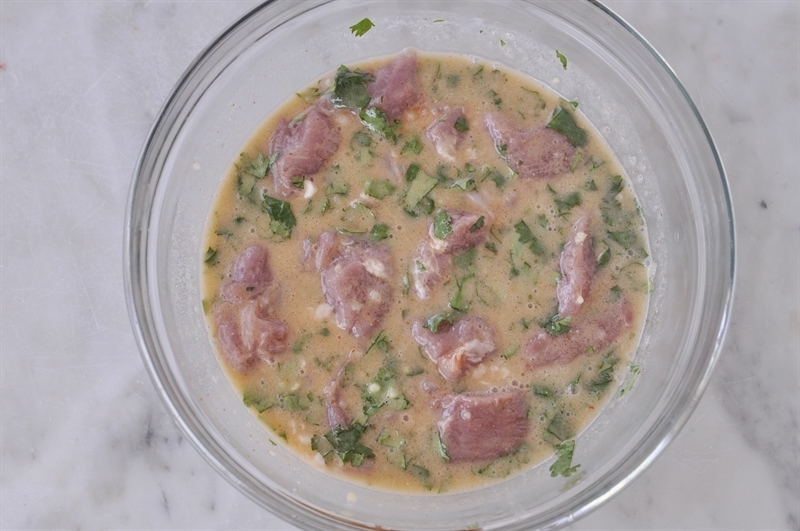 I then made kebobs out of it.  Soak the bamboo skewers in water for about 30 minutes before you use them so they don't totally go up in flames!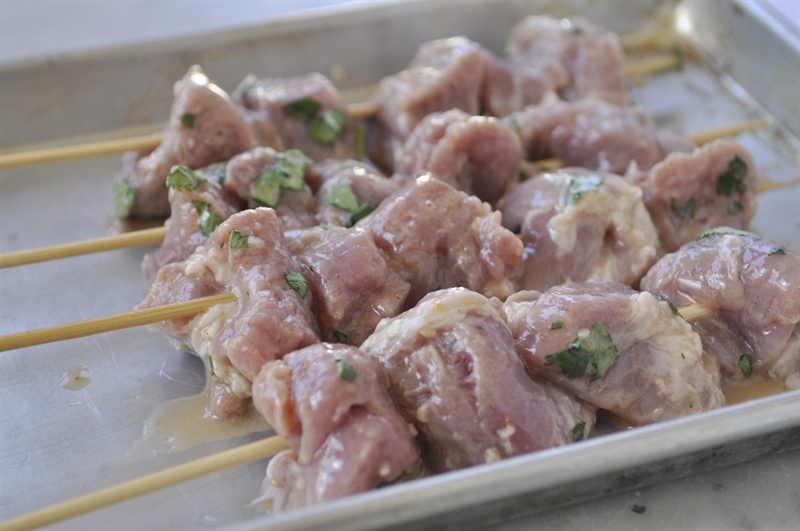 As they grilled I basted them with the leftover coconut milk (not the milk it marinaded in).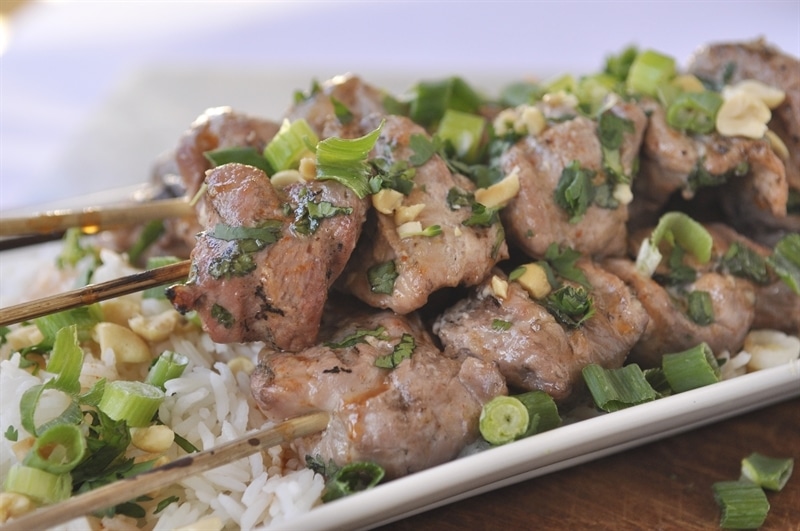 After they are cooked I served them on a bed of jasmine rice and garnished it with cilantro, chopped peanuts and green onion.  I think they are so pretty!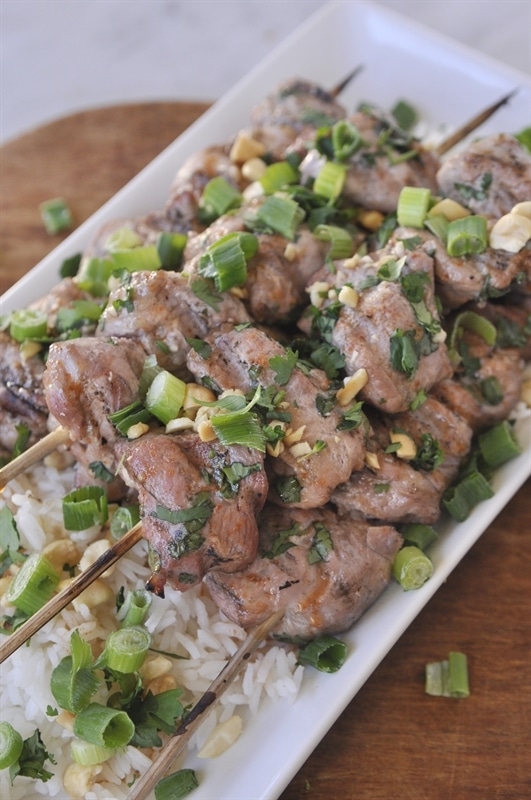 The final touch is a drizzle of mixture of brown sugar, water, lime juice and more of the yummy Asian chile sauce.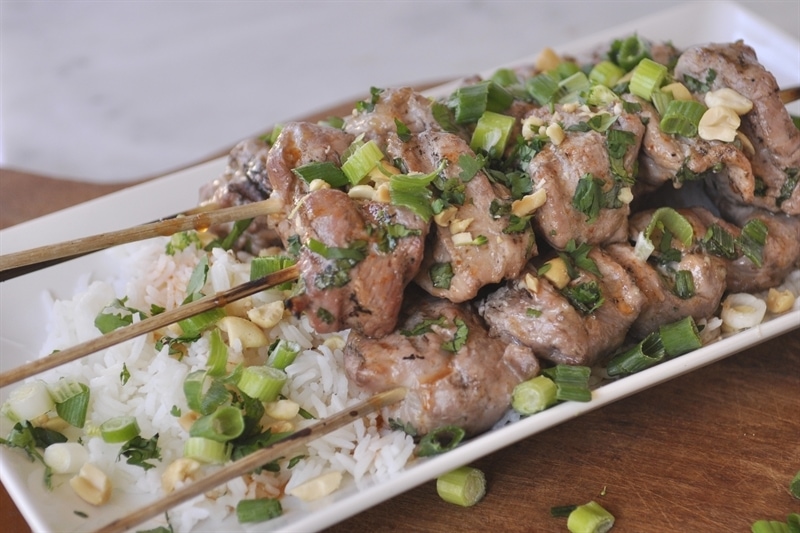 It was a delicous dinner and I think Jim was glad to see I was cooking again!
For more yummy pork recipes try these:
Pork Carnitas – Slow Cooker Chili Verde Pork – Slow Cooker Parmesan Honey Pork Roast.

Cilantro Lime Coconut Pork Recipe

Cilantro Lime Coconut Pork Kebobs
Delicious cilantro lime pork skewers made with creamy coconut milk.
Ingredients
2 lb. pork tenderloin cut into 1 inch cubes
13.5 oz coconut milk 1 can
4 cloves garlic minced
1/3 C plus 1 Tbsp packed brown sugar
1/4 C chopped fresh cilantro plus more for garnish
2 Tbsp fresh lime juice
2 Tbsp Asian chile sauce
1 Tbsp water
Chopped peanuts green onions and cilantro for garnish
Instructions
Mix together half the can of coconut milk, garlic, 1/3 C brown sugar, cilantro, 1 Tbsp lime j uice and 1 Tbsp Asian chile sauce.

Add in cubed pork.

Cover and marinade for 1-4 hours in the refrigerator.

Place pork on bamboo skewers and grill.

Baste pork with remaining coconut milk as it cooks.

Grill until pork is cooked through, approx 15-20 minutes depending on heat of grill.

Combine water, 1 Tbsp brown sugar, 1 Tbsp lime juice and Asian chile sauce in a bowl.

Drizzle over kebobs.
Nutrition Facts:
Serving: 4g Calories: 363kcal (18%) Carbohydrates: 15g (5%) Protein: 32g (64%) Fat: 18g (28%) Saturated Fat: 13g (81%) Cholesterol: 98mg (33%) Sodium: 158mg (7%) Potassium: 777mg (22%) Sugar: 12g (13%) Vitamin A: 80IU (2%) Vitamin C: 3.7mg (4%) Calcium: 34mg (3%) Iron: 3.7mg (21%)
* Disclaimer: All nutrition information are estimates only. Read full disclosure here.