Buttermint Drop Cookies just look like Christmas and make a great addition to any holiday party.
You may have  missed Cookie Day #1 and Cookie Day #2 so go check those out too!
Today is:
Cookie Day #3
Buttermint Drop Cookies
We have a divided household as far as today's cookie goes.  We have the mint lovers and the mint haters.  We have very strong feelings about mint at our house.  There is no in between.  You either love it or hate it.  I am one of the mint lovers.
I have been on a total peppermint kick lately.  Have any of you tasted the amazing Peppermint Bark Ice Cream from Haagen Daz?  It is a seasonal flavor, get it while you can!  I'm not even going to tell you how many pints I have gone through.  I keep it hidden in the back of the freezer so I don't have to share (please don't tell Jim)  Yesterday at Trader Joes I picked up a carton of their peppermint ice cream that has crushed up peppermint Jo Jo's (like an oreo) in it – can't wait to try it!  I have a whole week of peppermint treats planned here on the blog next week so all you peppermint lovers stay tuned.
In the meantime today's cookie will keep all you peppermint lovers happy for now.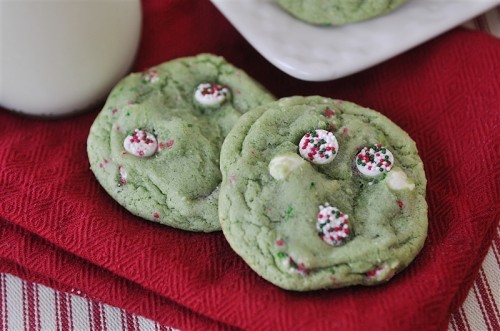 This recipe calls for Guittard Smooth Melty Petit Mint Chips.  They are also a seasonal item.  I found them at Winco in a display right next to the check out.  You might also want to check the holiday candy aisle.
They look like this…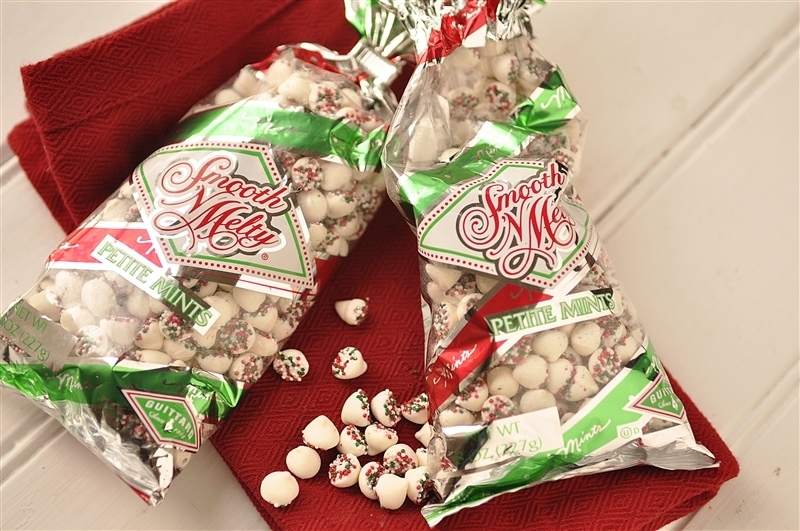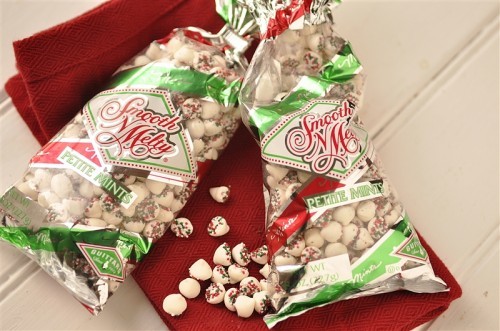 If you can't find them you could also just use regular mint chips in the cookie.  If the chips you use are green I would probably not put the green food coloring in the cookie dough – too much green!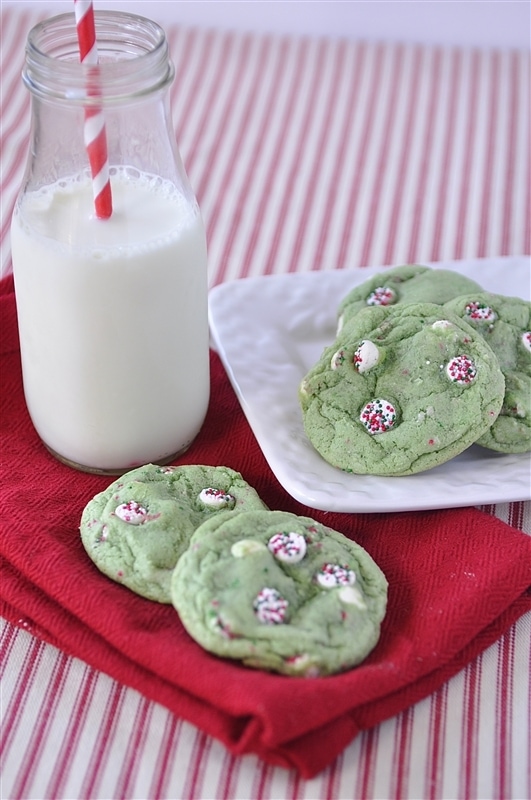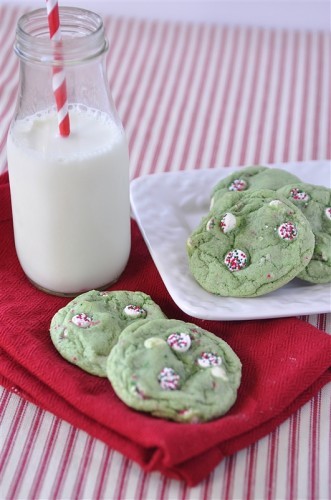 Every holiday cookie plate needs a little taste of peppermint on it!  I found this recipe over at The Cooking Photographer, one of my new favorite blogs.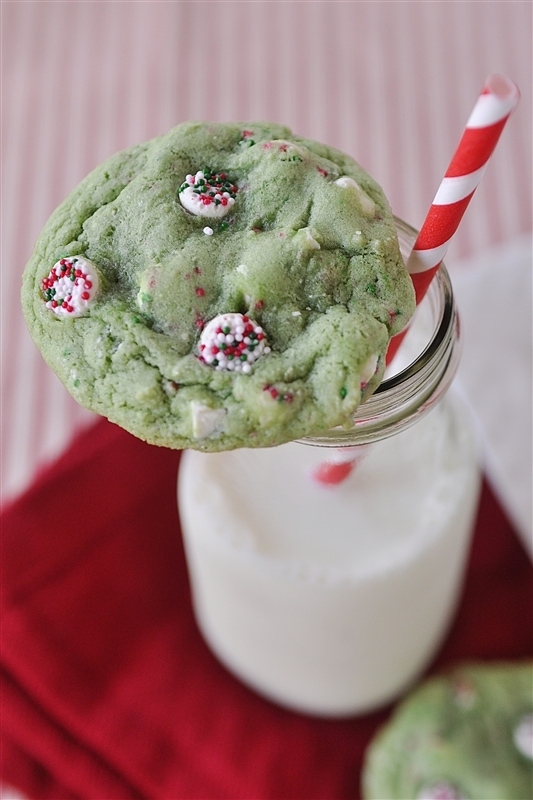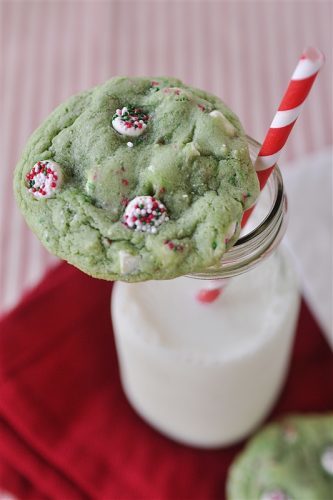 Wouldn't Santa love to find a plate of these pretty peppermint flavored cookies and a glass of milk waiting for him on Christmas Eve!?
The texture of this cookie is nice and soft and the mint chips give it a great peppermint flavor.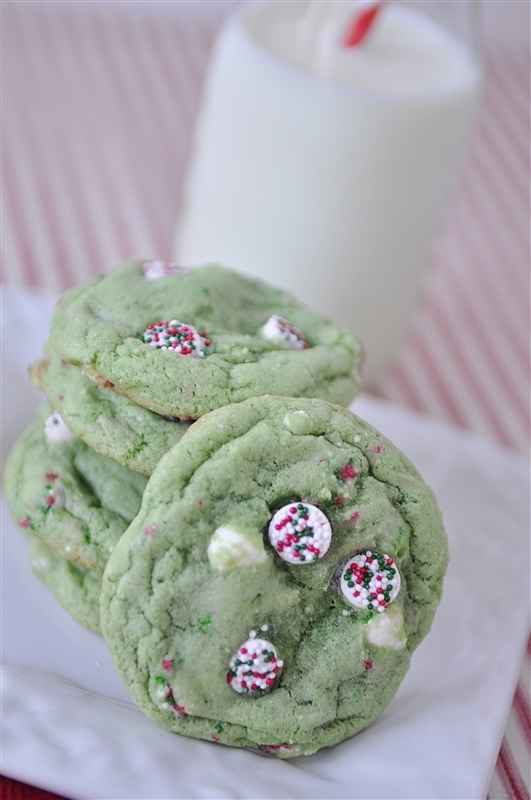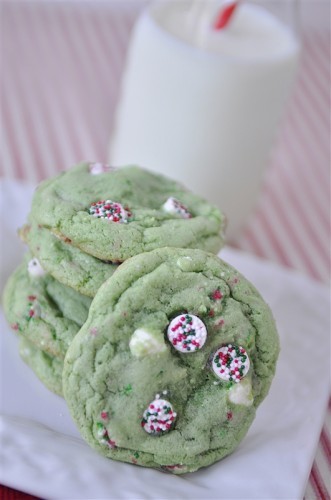 Don't they just look like a Christmas cookie!  To me, nothing says Christmas more than peppermint.
What's your favorite Christmas cookie?  Are you a peppermint fan or do you prefer a chocolate cookie?  Maybe citrus??  Tomorrow I've got a great nutty flavored cookie for you.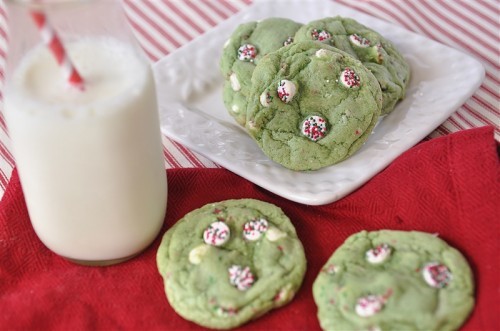 I cut the recipe in half from the original and it still made 2 1/2 dozen good size cookies.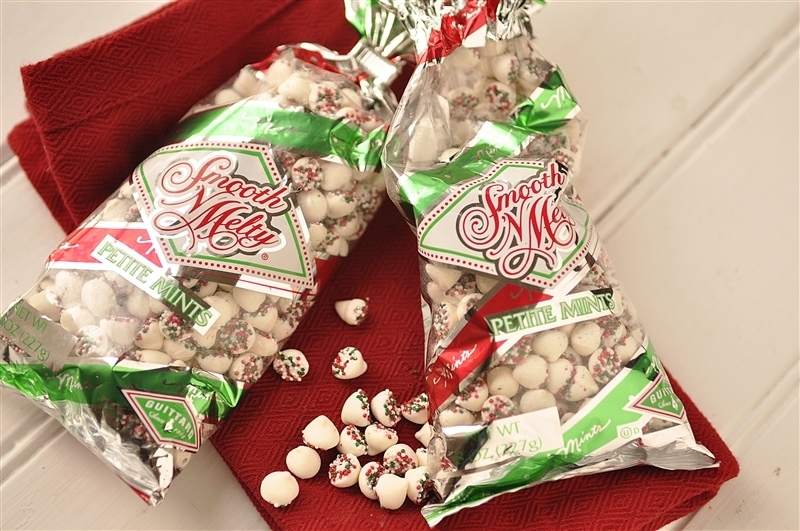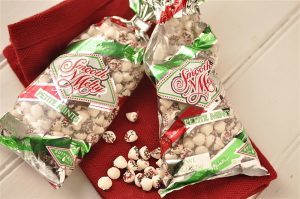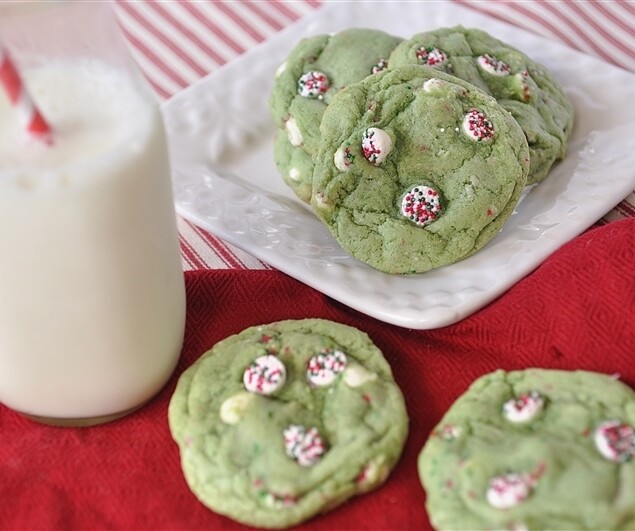 Buttermint Drop Cookies
Delicious cookies with buttermint chips
Ingredients
1/4 C butter softened
3/4 C sugar
3/4 C brown sugar
1/2 tsp salt
2 eggs
green food color liquid or paste
1 tsp vanilla extract
1/2 tsp peppermint extract peppermint, not mint
1/2 tsp baking powder
1/2 tsp baking soda
2 C flour
8 oz. bag Guittard Smooth Melty Petite Mint Chips divided
Instructions
Preheat oven to 350 and line cookie sheets with parchment paper.

In your mixer beat together butter, sugars, and salt.

Add in eggs, food coloring, and extracts.

Add in baking powder and baking soda.

Mix in flour.

Add in 2/3 bag of chips reserving rest of the top.

Wrap dough in plastic wrap and refrigerate for 1-2 hours or until dough is chilled but not solid.

Scoop dough into balls and place on parchment lined cookie sheet.

Press 3 chips into each cookie (bottom side of chip sticking out)

Bake 9-10 minutes or until the edges begin to turn golden. Let stand for 2 minutes and then move to cooling rack.
Nutrition Facts:
Calories: 111kcal (6%) Carbohydrates: 21g (7%) Protein: 2g (4%) Fat: 2g (3%) Saturated Fat: 1g (6%) Cholesterol: 19mg (6%) Sodium: 99mg (4%) Potassium: 36mg (1%) Fiber: 1g (4%) Sugar: 13g (14%) Vitamin A: 79IU (2%) Calcium: 14mg (1%) Iron: 1mg (6%)
* Disclaimer: All nutrition information are estimates only. Read full disclosure here.