Enjoy all the flavor of a Thin Mint Girl Scout Cookie in the form of hot chocolate.
For a few other fun recipes using Girl Scout Cookies check out these Thin Mint Cookie Milkshakes , Thin Mint Cookie Pizza  and Tagalong Cookie Milkshakes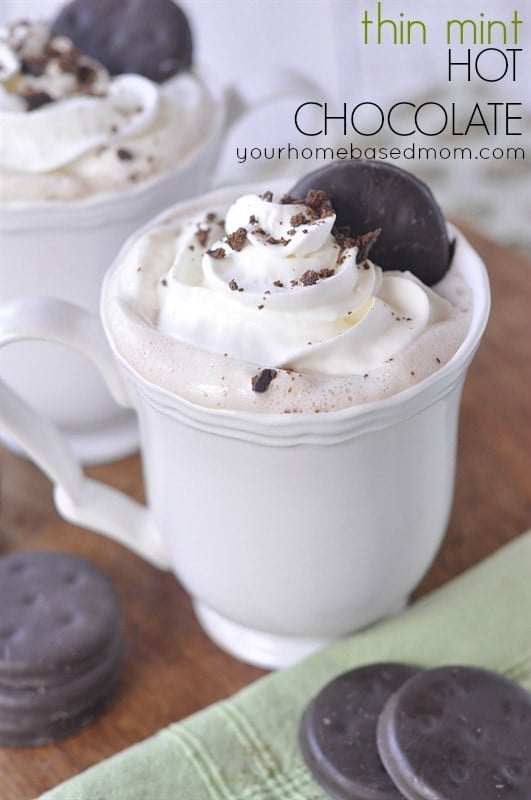 One thing I am unable to say no to?  A cute little Girl Scout selling Girl Scout cookies.  I was a Brownie and a Girl Scout and my mother was my leader, wasn't I cute?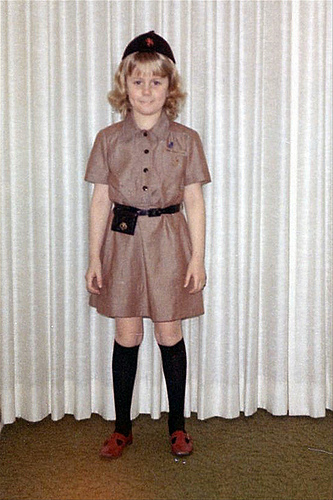 My girls were also Brownies and Girl Scouts and I was their leader so I have a special place in my heart for the program and I can never turn away a Girl Scout ringing my door bell selling cookies. When I had a lot of little Girl Scouts in my neighborhood I had to pace myself and only buy a few boxes from each one so I didn't end up with a two year's supply of Girl Scout cookies. Now I only know one little Girl Scout so I always load up when she calls me.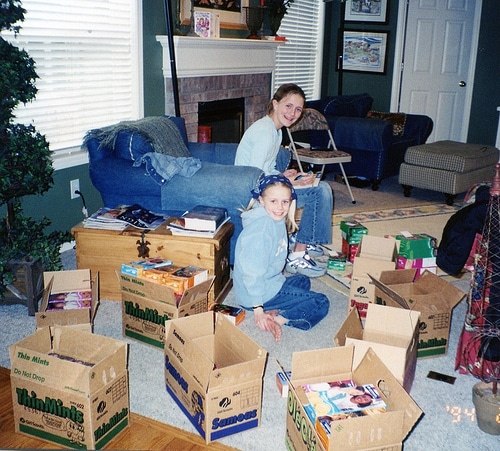 Thin Mint Hot Chocolate
Thin Mints are my favorite!  Hands down, no contest!  I always stash a few boxes of Thin Mints away in the freezer.  I think that is the best way to eat a Thin Mint – frozen.  But eventually they are all gone and I am left patiently waiting for the next season of Girl Scout Cookies to arrive.
Well, I have found a solution to my lack of Thin Mints cookie problem.  Thanks to today's recipe I can now enjoy a mug of warm, yummy Mint Hot Chocolate that tastes just like a Thin Mint Cookie.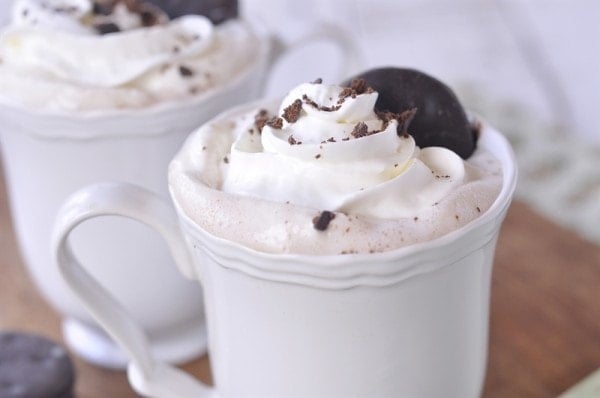 Mint Hot Chocolate Ingredients
Cocoa Powder
Sugar
Salt
Vanilla Extract
Peppermint Extract
Milk. I use 2 percent.
Whipped Cream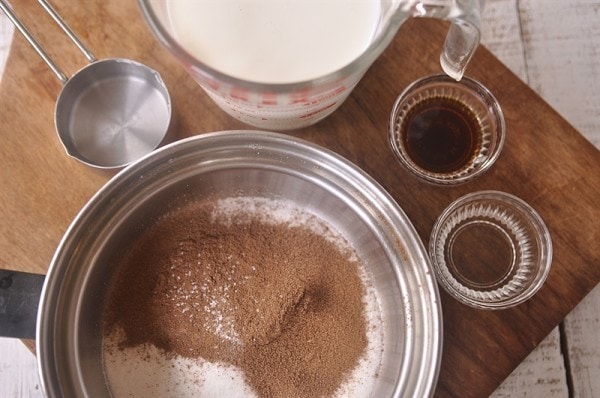 How to Make Mint Hot Chocolate
Mix together sugar, cocoa and salt in a pan.
Add water and mix until dissolved.
Bring to a boil and cook and stir for about 2 minutes
Add in milk and extract.
Cook until hot. Do not allow to boil.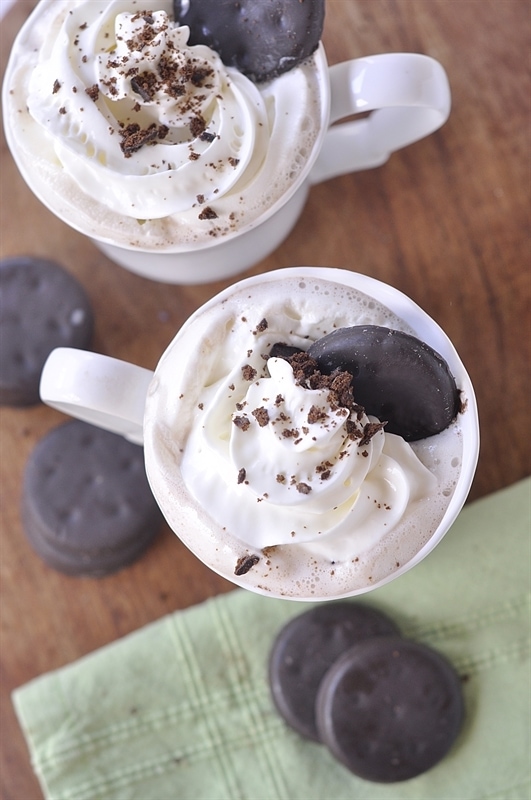 And if you are lucky enough to have a box of Thin Mints around crush up a few to sprinkle on the top and then add a little Thin Mints side car. They are so yummy once they melt a little in the hot chocolate.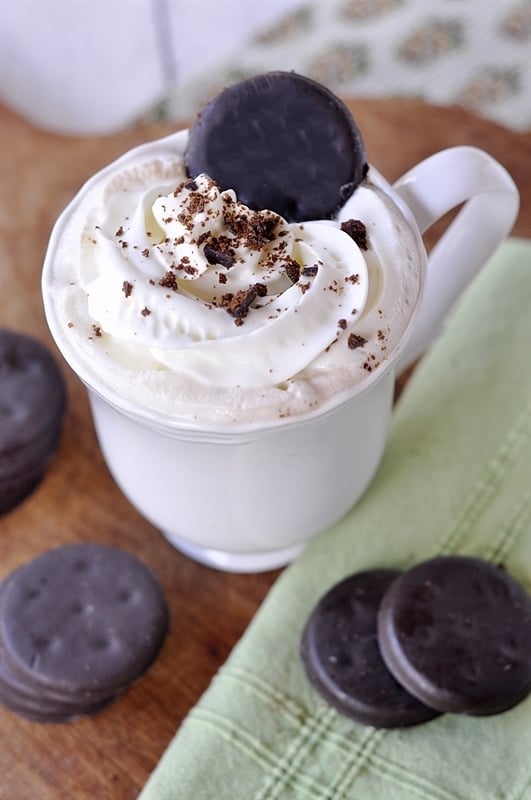 So what's your favorite Girl Scout Cookie? Tagalongs come in second for me although I think my husband would choose Samoas!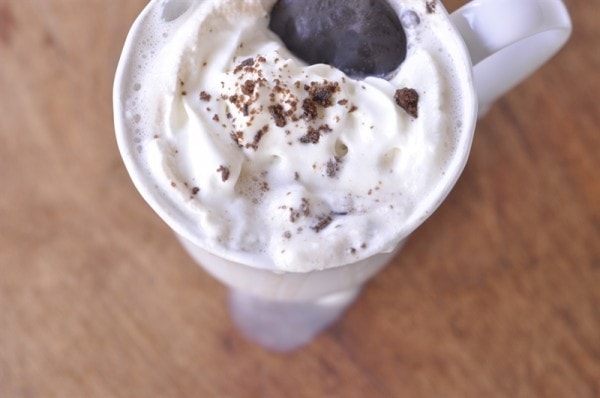 For all my other favorite kitchen products and tools visit my Amazon Store.
Did you know I wrote a cookbook?  Check out the Holiday Slow Cooker Cookbook for 100 delicious recipes. Be sure and follow  me over on You Tube for weekly cooking demos.
Mint Hot Chocolate Recipe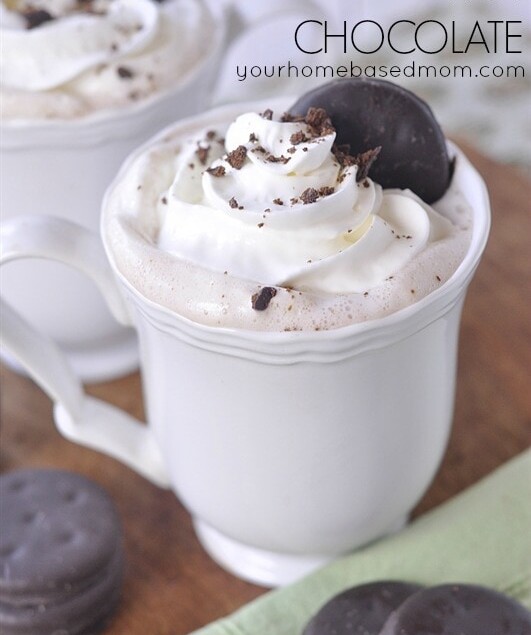 Mint Hot Chocolate
Ingredients
1/2 cup sugar
1/4 cup cocoa powder
pinch of salt
1/3 cup hot water
3 cups milk I used 2 %
1 tsp vanilla extract
1/2 tsp peppermint extract
Instructions
Mix together sugar, cocoa and salt in a pan.

Add water and mix until dissolved.

Bring to a boil and cook and stir for about 2 minutes

Add in milk and extract.

Cook until hot. Do not allow to boil
Nutrition Facts:
Calories: 450kcal (23%) Carbohydrates: 74g (25%) Protein: 14g (28%) Fat: 13g (20%) Saturated Fat: 8g (50%) Cholesterol: 37mg (12%) Sodium: 162mg (7%) Potassium: 652mg (19%) Fiber: 4g (17%) Sugar: 69g (77%) Vitamin A: 593IU (12%) Calcium: 429mg (43%) Iron: 2mg (11%)
* Disclaimer: All nutrition information are estimates only. Read full disclosure here.