Blitz Bread is an easy way to create delicious homemade bread. Made in a 9 x 13 it is quick and easy and delicious every time.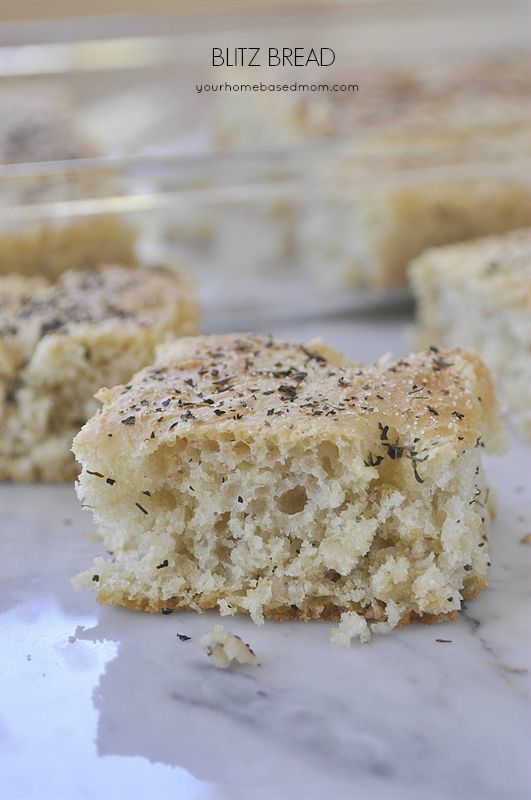 Blitz bread is one of my favorite breads to make in the fall.  After a few rainy, fall days in Portland I was totally in the mood for Blitz Bread!
Nothing warms the tummy better than homemade soup and warm, fresh bread!
I found this recipe over at my friend Melanie's blog – My Kitchen Cafe. I have loved every recipe of Melanie's that I have tried and I have tried a lot of them. We enjoyed her Sweet and Sour Chicken recipe for dinner on Monday!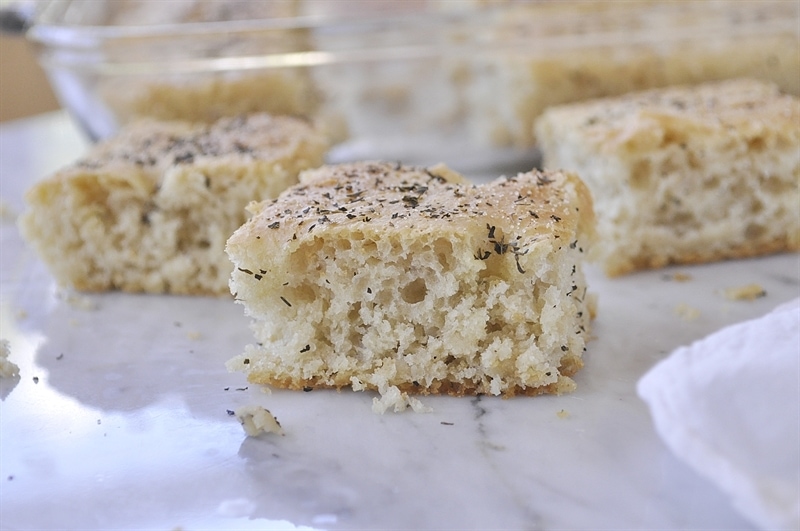 If you are a non-bread maker don't be scared away. Give this recipe a try! I promise you won't be disappointed. I have made it 3 times in the last month.
I know several of my friends who enjoyed this bread at a luncheon I recently had at my house have been waiting for me to post this recipe – well here it is!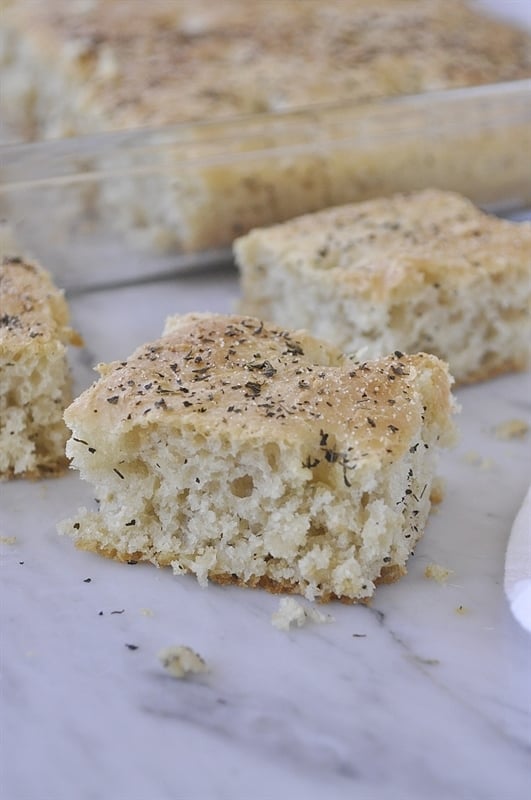 I have no idea why it is called Blitz Bread except the definition of blitz has the words fast and rush in it. This bread is fast and can be made in a rush! There is no needing necessary with this recipe.
The dough does need to rise so you need to allow time for that but it is quick to mix up, pop in the pan and then forget until it's time to bake it in the oven.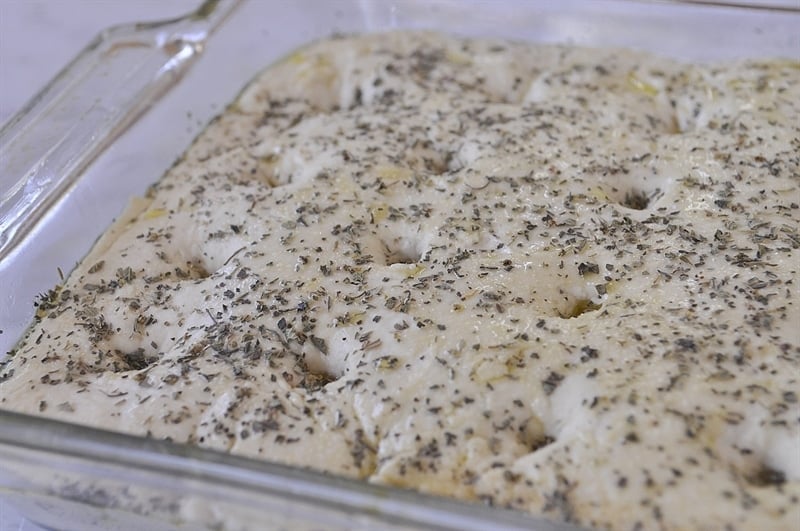 After rising for about an hour, bake it for 30-35 minutes or until golden brown on top.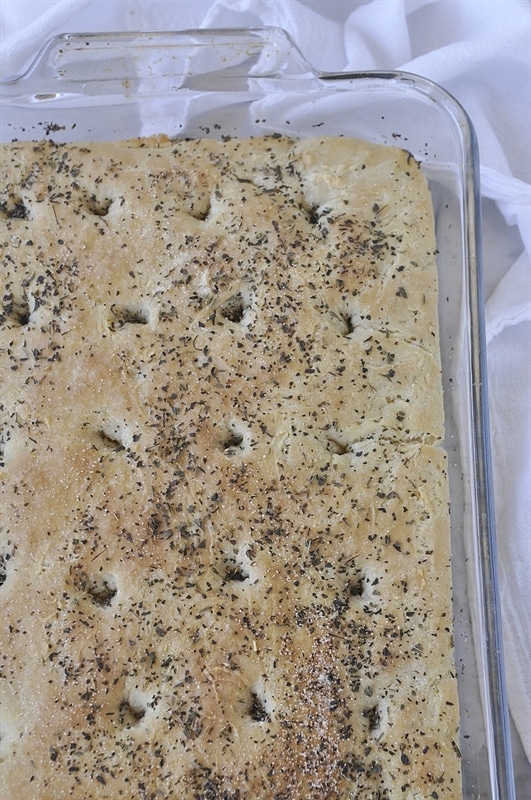 I like to slice it up into squares and serve it that way or feel free to just grab and tear!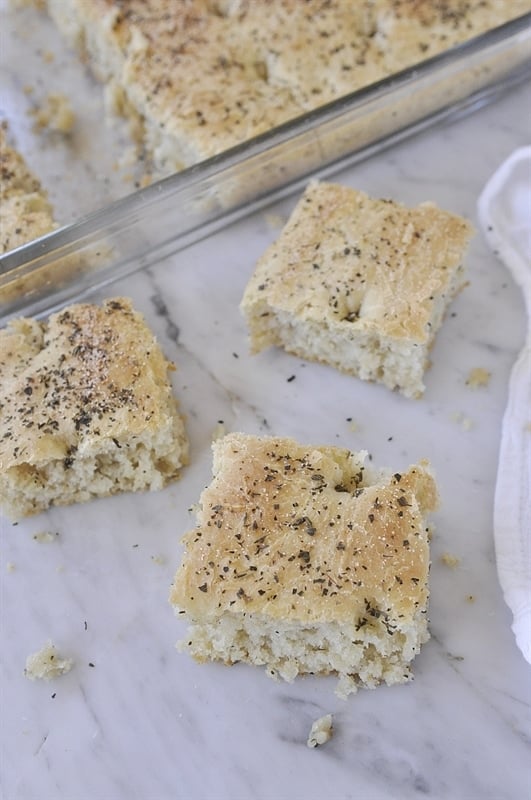 Recipe originally posted in October, 2008
One of my other favorite pan breas is this Herbed Oatmeal Bread

adapted from King Arthur Flour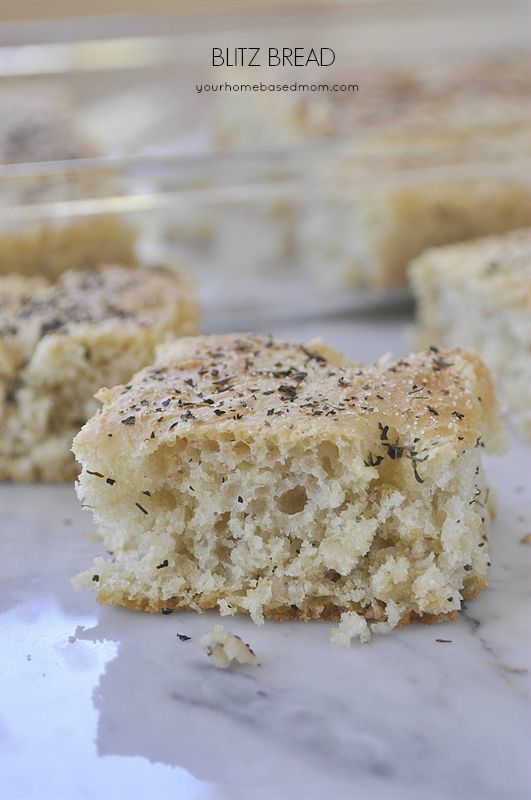 Blitz Bread
Ingredients
1 1/2

C

12 ounces warm water

3

Tbsp

1 1/4 ounces olive oil (plus additional for drizzling)

1 1/4

tsp

salt

3 1/2

C

14 ¾ ounces all-purpose flour

1

Tbsp

instant yeast

1/2

tsp

garlic salt

3

tsp

dried herbs

I used Italian Seasoning

dried herbs for sprinkling
Instructions
Lightly grease a 9" x 13" pan, and drizzle 1 to 2 tablespoons olive oil in the bottom.

Combine all of the ingredients, except the dried herbs for sprinkling, and beat at high speed with an electric mixer for 60 seconds.

Scoop the sticky batter into the prepared pan, cover the pan, and let it rise at room temperature for 60 minutes, till it is puffy.

While the dough is rising, preheat the oven to 375°F.

Gently poke the dough all over with your index finger.

Drizzle it lightly with olive oil, and sprinkle with the dried herbs of your choice, if desired.

Bake the bread till it's golden brown, 35 to 40 minutes.

Remove it from the oven, wait 5 minutes, then turn it out of the pan onto a rack. Serve warm or at room temperature.

To make cheese-stuffed bread: Add 1 cup crumbled feta cheese to the dough after it's been kneaded for 60 seconds
Stay Updated!
Need more recipes and creative ideas? Sign up and get a FREE copy of my ebook! Do you think your friends would love this too? Please share my blog with them. Thanks!