Blitz Bread is an easy way to create delicious homemade bread.  This easy focaccia Recipe is made in a 9 x 13 pan and is so quick and delicious every time.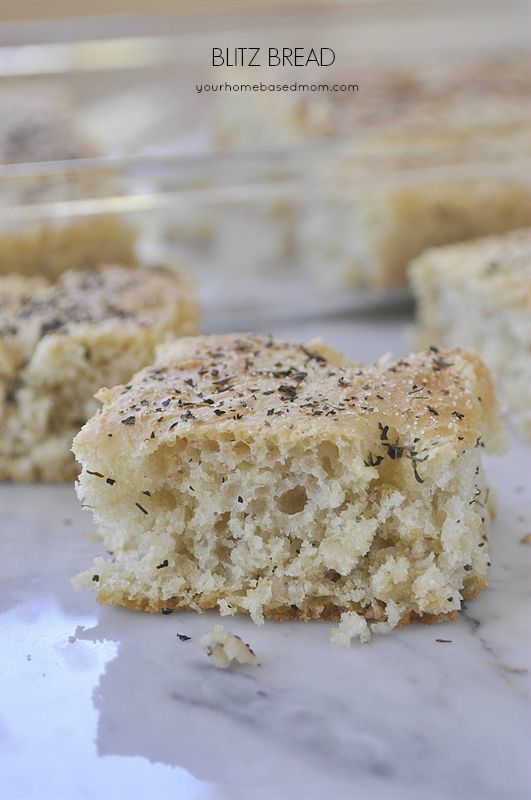 Blitz bread is one of my favorite breads to make in the fall.  Nothing warms the tummy better than homemade soup and warm, fresh bread!  And this easy focaccia recipe is so quick to pull together, it almost takes no planning at all.  Just enough time to let it rise.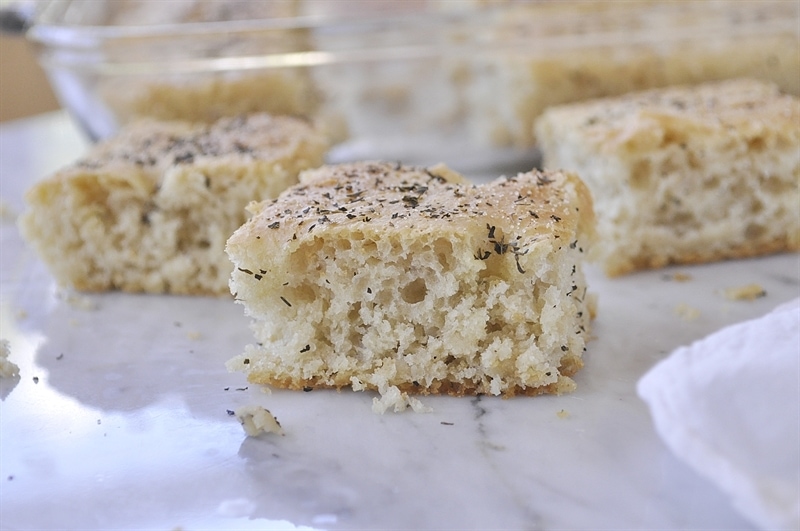 If you are a non-bread maker don't be scared away. Give this recipe a try, I promise you won't be disappointed. I have made it 3 times in the last month.
Several of my friends enjoyed blitz bread at a luncheon I recently had at my house.  And they have been waiting for me to post this recipe!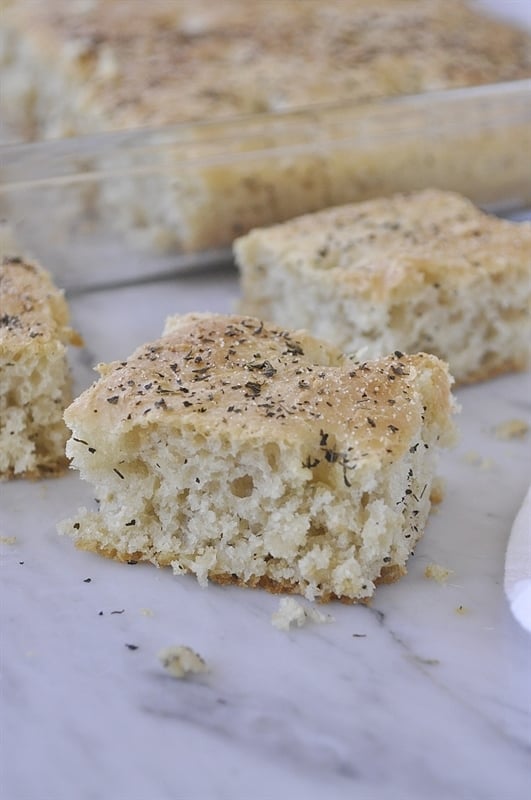 I am not sure why this easy focaccia recipe is called blitz bread.  Maybe because it is fast to make and you can make it in a rush!  There is no kneading in the recipe, so it comes together quickly.  You do have to allow time for the bread to rise.  But it is quick to mix up, pop in the pan and then forget until it's time to bake it in the oven.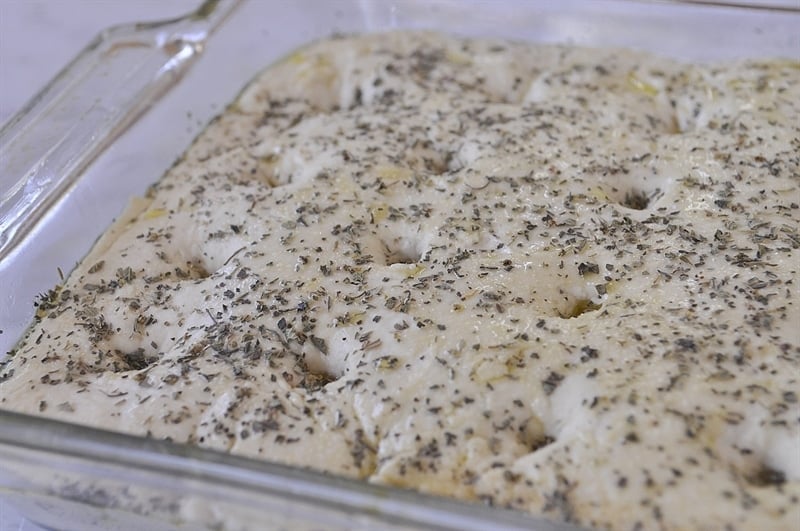 After rising for about an hour, you bake it for 30-35 minutes or until golden brown on top.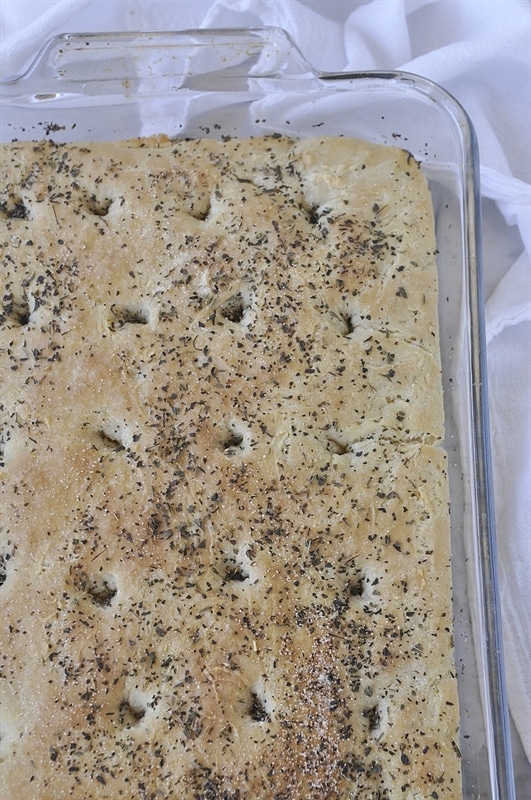 Then slice it up into squares and serve or feel free to just grab and tear!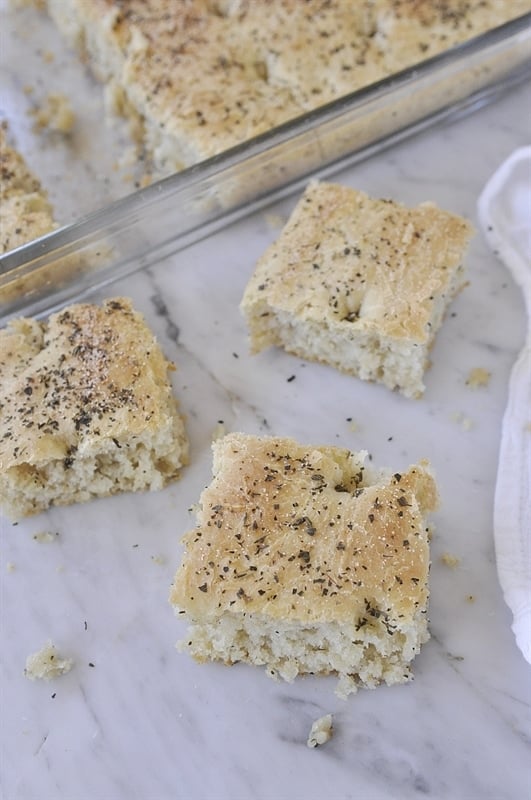 Check out more of my delicious bread recipes.


Easy Focaccia Recipe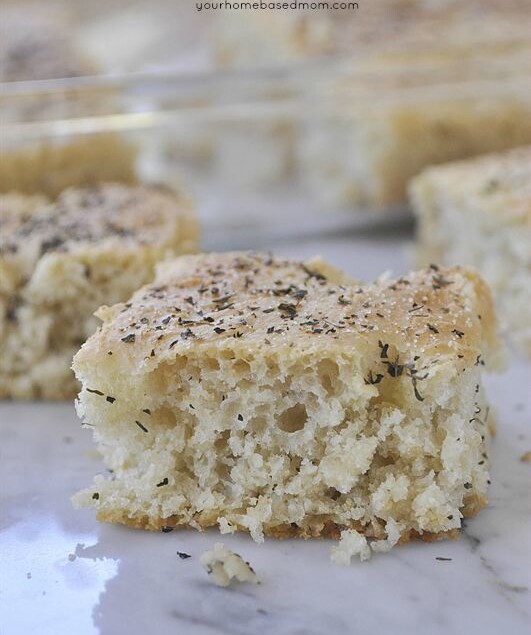 Easy Focaccia Bread Recipe
This easy focaccia bread recipe, also known as blitz bread, is quick to make, bakes in a 9x13 pan, and is delicious with any meal.
Ingredients
1 1/2 C 12 ounces warm water
3 Tbsp 1 1/4 ounces olive oil (plus additional for drizzling)
1 1/4 tsp salt
3 1/2 C 14 ¾ ounces all-purpose flour
1 Tbsp instant yeast
1/2 tsp garlic salt
3 tsp dried herbs I used Italian Seasoning
dried herbs for sprinkling
Instructions
Lightly grease a 9" x 13" pan, and drizzle 1 to 2 tablespoons olive oil in the bottom.

Combine all of the ingredients, except the dried herbs for sprinkling, and beat at high speed with an electric mixer for 60 seconds.

Scoop the sticky batter into the prepared pan, cover the pan, and let it rise at room temperature for 60 minutes, till it is puffy.

While the dough is rising, preheat the oven to 375°F.

Gently poke the dough all over with your index finger.

Drizzle it lightly with olive oil, and sprinkle with the dried herbs of your choice, if desired.

Bake the bread till it's golden brown, 35 to 40 minutes.

Remove it from the oven, wait 5 minutes, then turn it out of the pan onto a rack. Serve warm or at room temperature.

To make cheese-stuffed bread: Add 1 cup crumbled feta cheese to the dough after it's been kneaded for 60 seconds
Nutrition Facts:
Calories: 167kcal (8%) Carbohydrates: 28g (9%) Protein: 4g (8%) Fat: 3g (5%) Sodium: 342mg (15%) Potassium: 48mg (1%) Fiber: 1g (4%) Vitamin A: 15IU Vitamin C: 0.2mg Calcium: 13mg (1%) Iron: 2.2mg (12%)
* Disclaimer: All nutrition information are estimates only. Read full disclosure here.