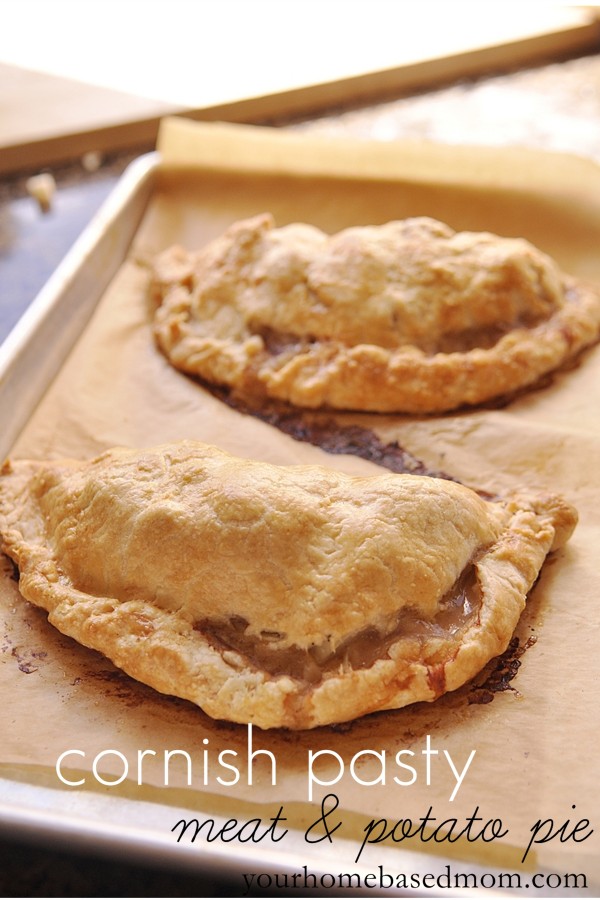 After returning from my recent trip and not cooking for 3 weeks I asked on Facebook what you would like to see on the blog in the coming weeks recipe wise.  One of you said you'd love to see some recipes for some of the things I ate on my trip.  Those of you who followed along on Instagram got to see some of that food.  I thought that was a great idea and I already had a few ideas brewing in my tired little head.
Today's recipe is for a Cornish Pasty (that is pasty as in future and past.  Not as in paste!)  As the name implies the pasty originates from the Cornwall area of England.  I ate my first pasty in Bath, England at the West Cornwall Pasty Company
A pasty is made with pie crust dough and filled with meat and vegetables such as potato, turnip and onion.    I kept my first attempt at a pasty pretty basic and just used beef and potatoes.  I left out the turnip and I didn't have an onion.
I used my Perfect Pie Crust recipe for the crust.  The pie crust recipe will make 4 pasties.  I also used a Top Sirloin cut of meat.
After rolling out my pie crust I used a small plate ( 8inches) to cut out my circle.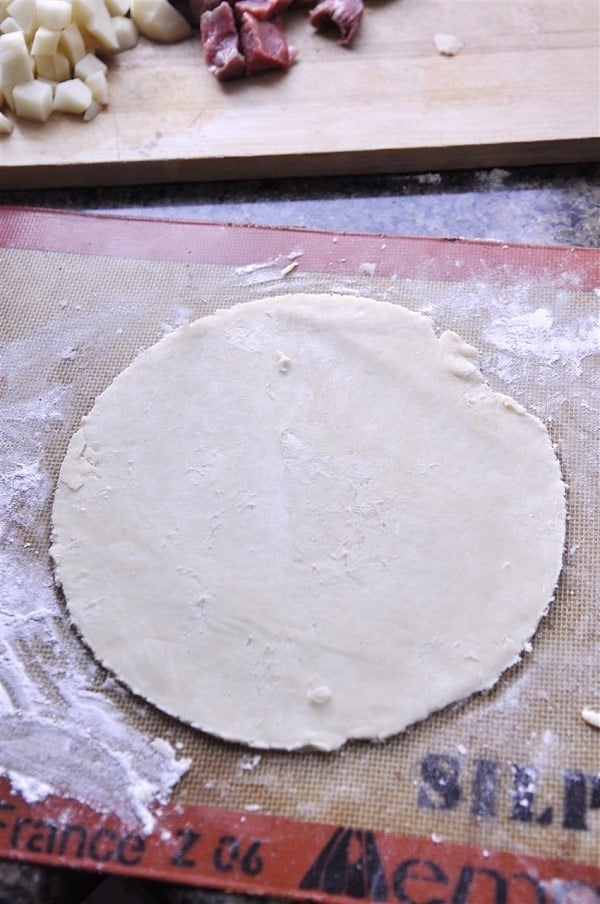 Cut your potato and meat into small bite size pieces.  Nothing is precooked before putting it into the pastry so make sure it is small enough that it will cook through during the baking process.
Fill the center of each pastry circle with meat, potato and any other filling you might like.  I am excited to experiment with some other fillings and flavors.  Add some salt and pepper and a dollop of butter on top.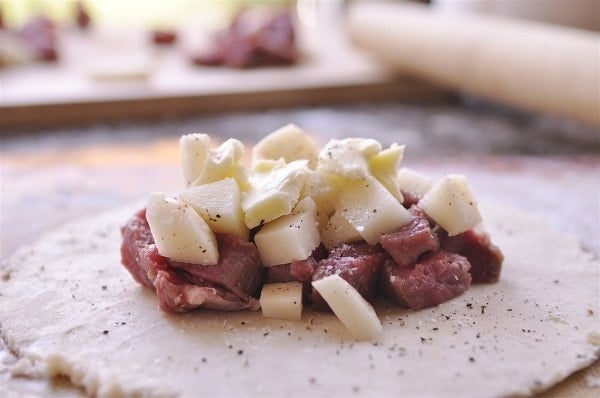 Fold the pastry over to create a half circle, and press the edges together to seal.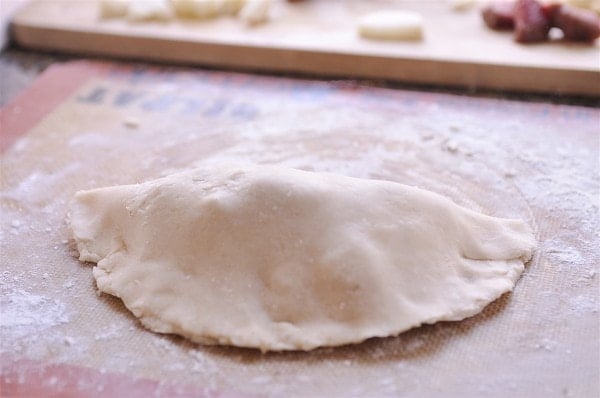 Then comes the tricky part that I don't quite have down yet and that is creating a pretty little edge around the pastry.  I did my best.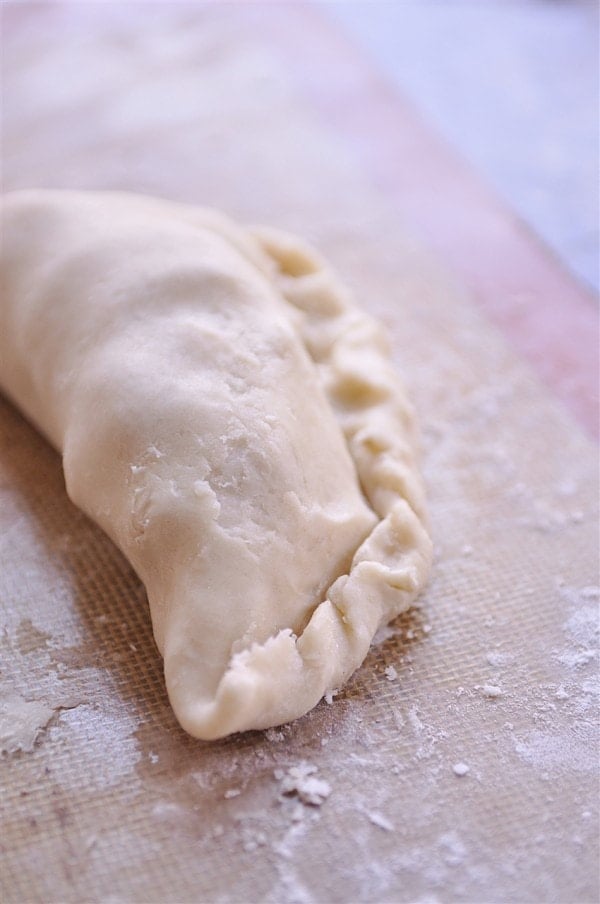 The final step before baking is to give it a wash of beaten egg.  That is what will create that nice shine on the outside.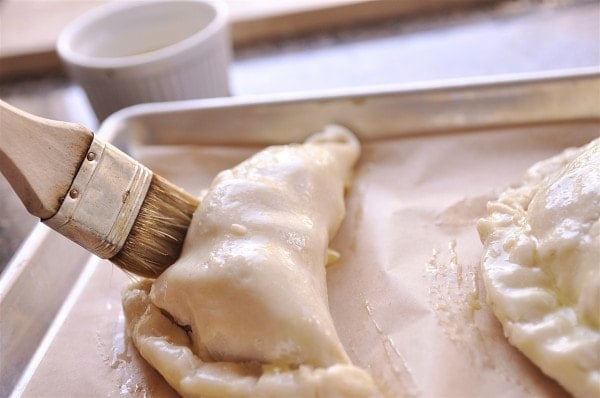 It bakes at 400 degrees for about 45 minutes.  It will be nice and golden brown.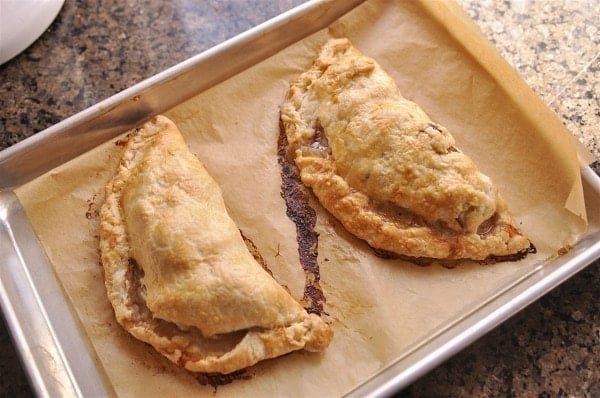 I am thinking this will be a great way to use up leftover meat and vegetables.  The possibilities are pretty much endless.  I'm going to try some chicken next.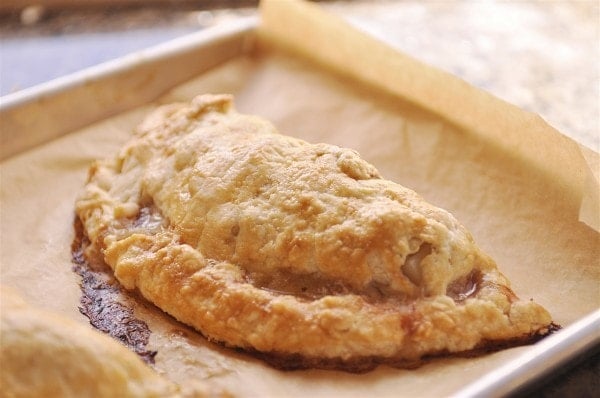 The pasty can be picked up and eaten by hand or I preferred to use a knife and fork.  The pastry was so light and flaky, just like a pastry should be!  The filling was delicious and make a great complete meal.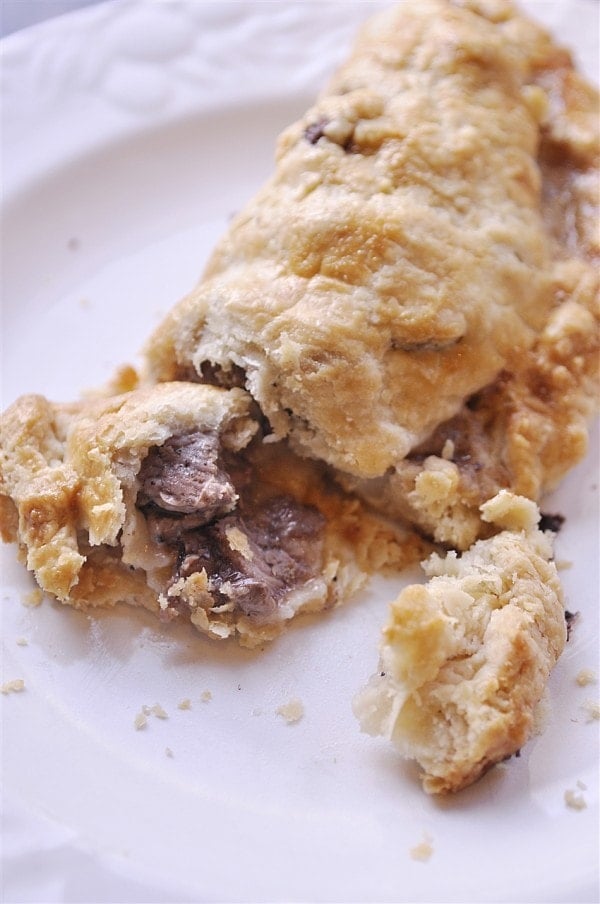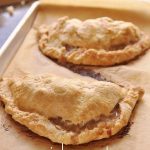 Print
Cornish Pasty}Meat & Potato Pie
Ingredients
Pastry
2 1/2

C

flour

1/2

C

butter

1/2

C

shortening

pinch

of salt

ice cold water

add teaspoon by teaspoon until right consistency has formed

1/2

lb.

sirloin steak

cubed

1

large potatoe

peeled and cubed,

salt and pepper

2

Tbsp

butter

1

egg

beaten for egg wash
Instructions
Pastry
Place flour, salt, butter and shortening in bowl.

Use your hands to combine ingredients until small pebbles form

Add cold water a teaspoon at a time until the dough begins to hold together and form a ball.

Do not over handle the dough. Dough should be soft, moist but not wet.

Divide dough into quarters.

Place ball of dough onto wax paper and flatten. Place another piece of wax paper over the top and roll out the pastry into a circle Remove wax paper and place a 8inch saucer on top of the dough and cut around, using it as a pattern.

Fill center of dough with meat and potato (1/4 of meat & potato)

Fold dough over to form a half circle and seal closed.

Crimp edges of dough

Brush with a egg wash.

Bake at 400 degrees for 45 minutes
For some other beef recipes check out these:
Enjoy!
Leigh Anne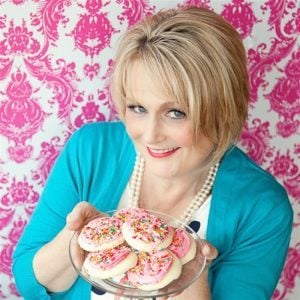 You can also visit me on Facebook, Pinterest, Twitter or Instagram.
For a list of where I Link Up each week go here.