Cornish Pasty is easy as pie to make at home! It's filled with tender meat and potatoes and is a complete meal.
I love recreating recipes I enjoyed during my travels. Some of my other favorite Anglophile recipes include this Victoria Sponge Cake and Cucumber Tea Sandwiches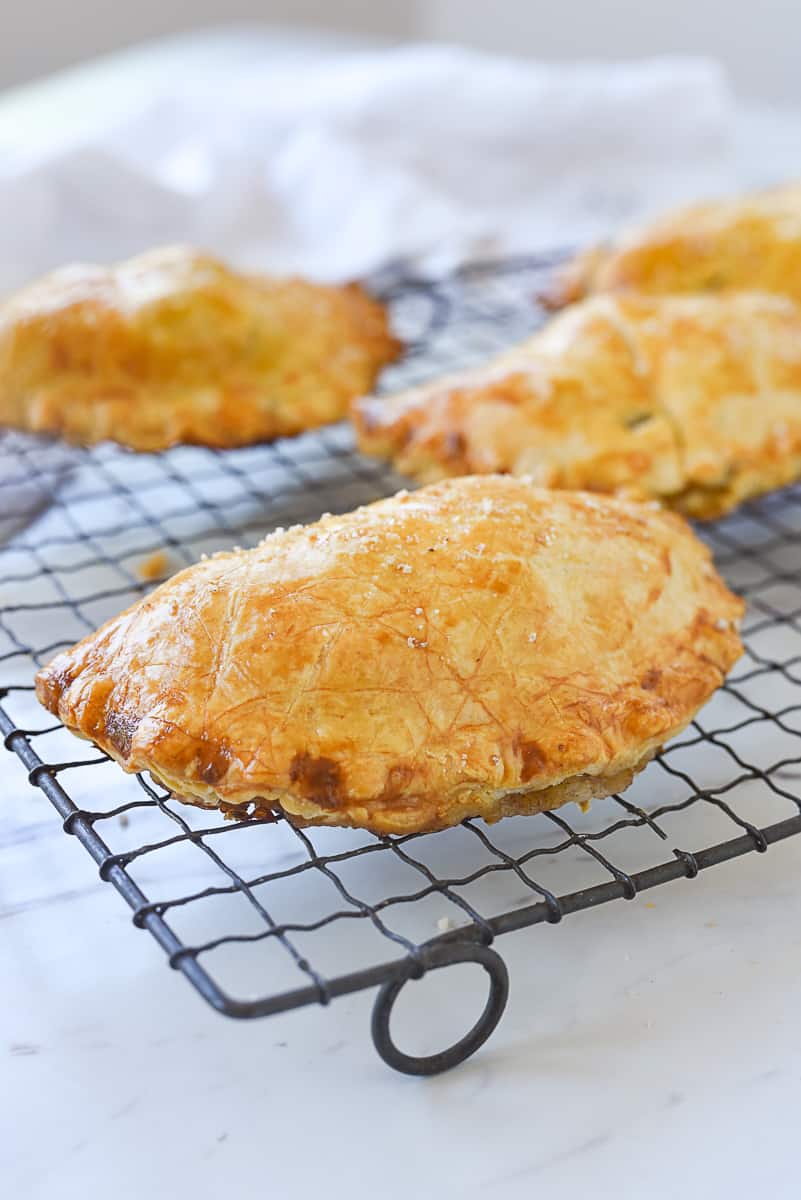 After returning from a trip to England I wanted to recreate one of the favorite things I ate while there.
Cornish Meat Pie
Today's recipe is for a Cornish Pasty. It is also called a Cornish Meat Pie. As the name implies the pasty originates from the Cornwall area of England. I ate my first pasty in Bath, England at the West Cornwall Pasty Company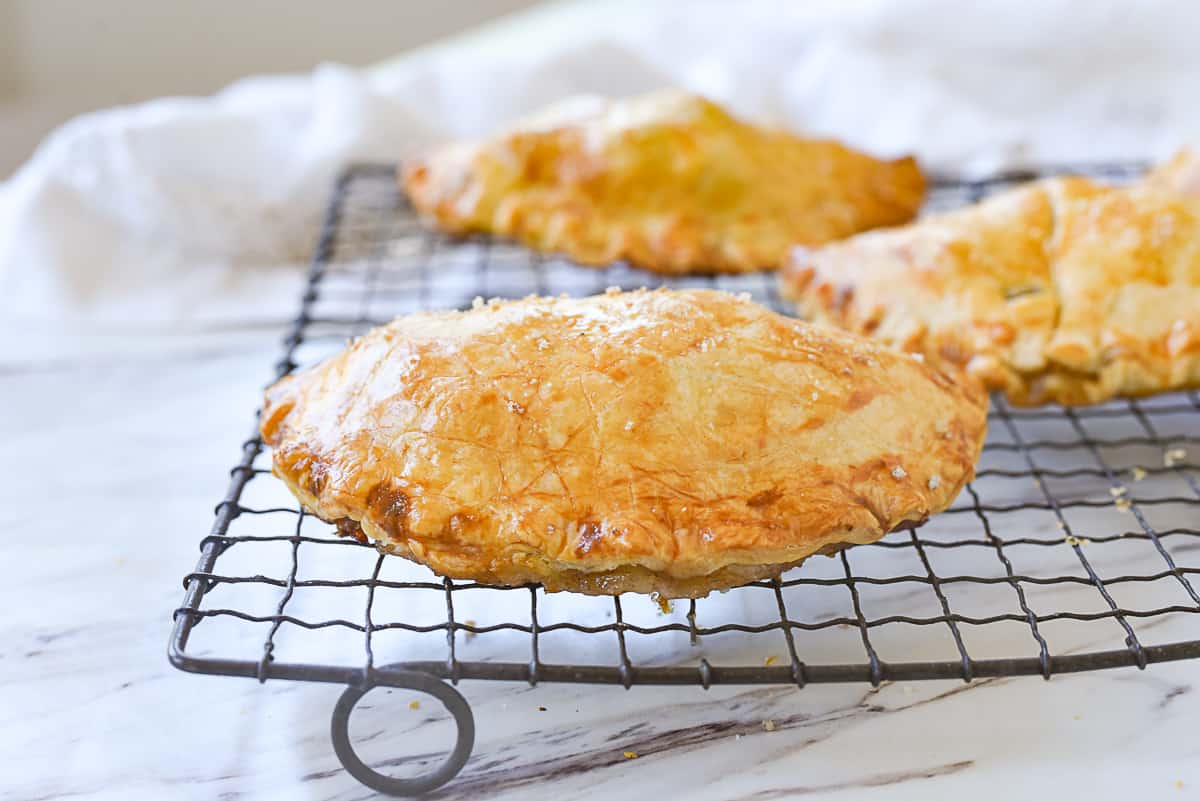 What is Cornish Pasty?
A pasty is made with pie crust dough and filled with meat and vegetables such as potato, turnip and onion. The history tells us that it was created for Cornish tin miners. They couldn't return to the surface for lunch and needed a hearty easy-to-hold and simple-to-eat lunch option. Because their hands were usually dirty from work, they could hold onto the thick pastry crust and not get the contents dirty. The pastry also kept the inside warm for several hours.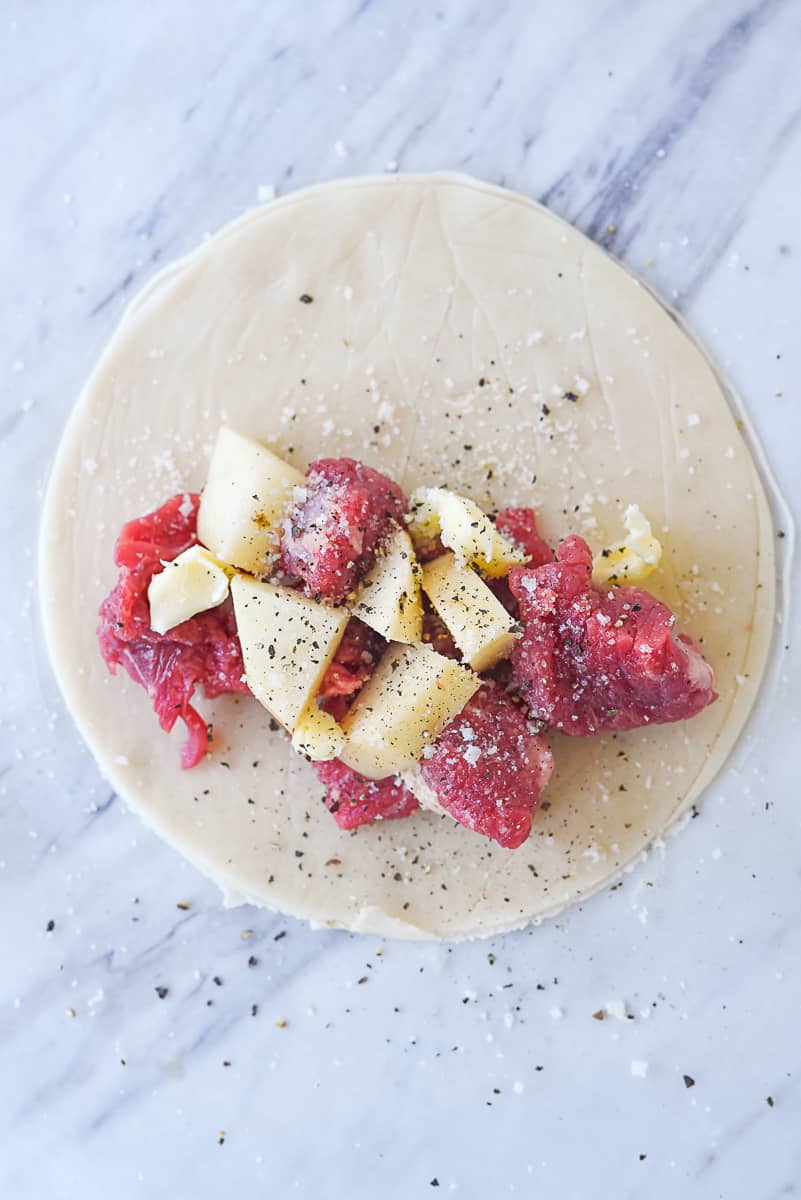 Cornish Pasty Ingredients
Pie Crust. I used my Perfect Pie Crust recipe for the crust. This pie crust recipe will make 4 pasties.
Meat. I used a Top Sirloin cut of meat but you could also use stew meat. You want a lean cut of meat.
Vegetables. Potatoes and Onions only for an authentic pasty.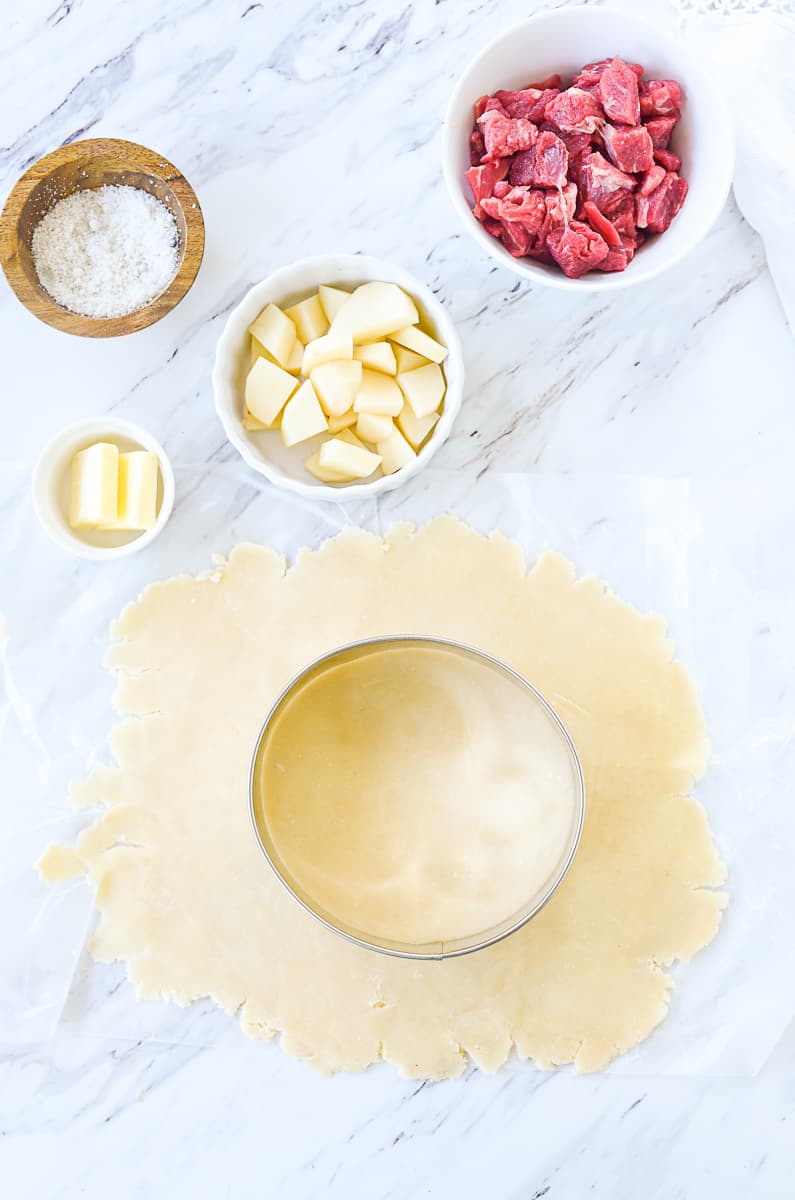 How to Make Cornish Pasty
Roll out pie crust and cut into an 8 inch circle. You can use a plate and cut around it or I purchased an 8 inch round cutter.
Place vegetables and meat onto one half of the pastry circle. Nothing is precooked before putting it into the pastry so make sure it is small enough that it will cook through during the baking process.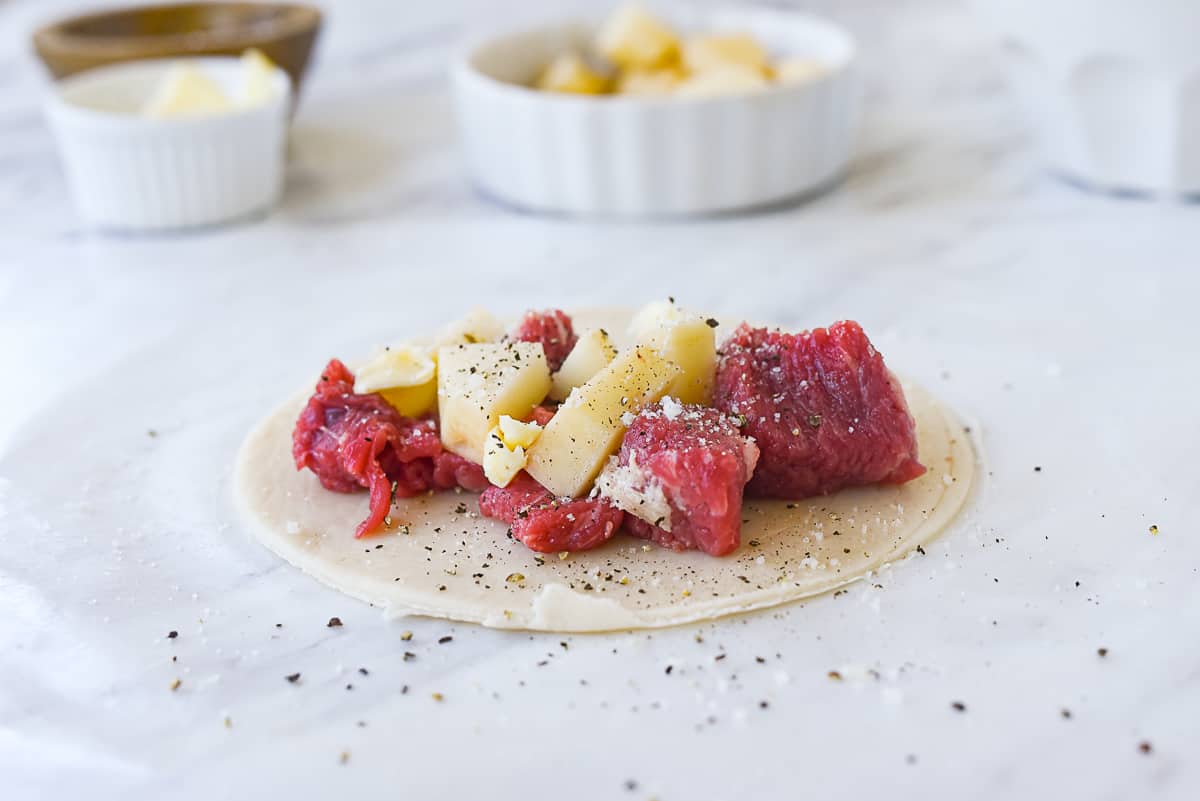 Salt and pepper and add a teaspoon of butter on top.
Fold the pasty over to create a half circle, and press the edges together to seal.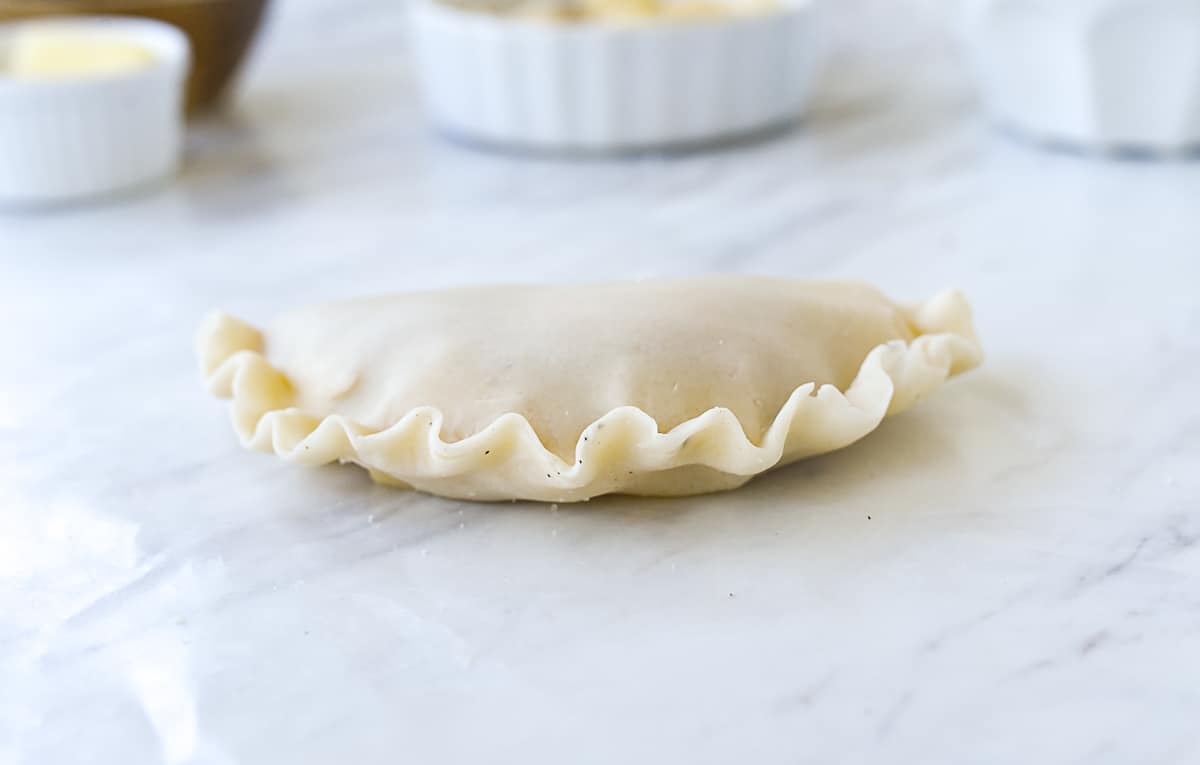 Crimp the edges of the pasty. This is a sure sign it's a Cornish pasty. My crimping isn't perfect but it worked. You just want to make sure the pasty stays closed during baking. I did have one come open but it still tasted delicious.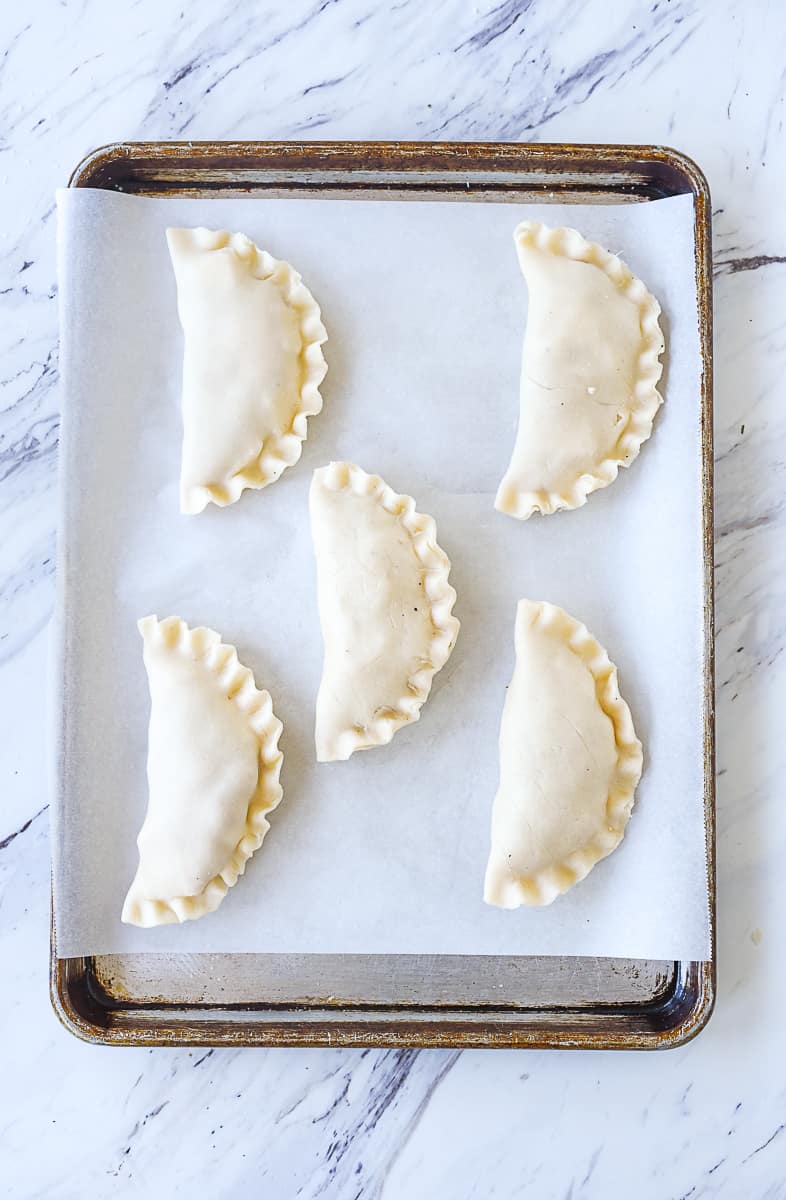 Place them on a parchment lined baking sheet.
Wash each pasty with a beaten egg. That is what will create that nice shine on the outside.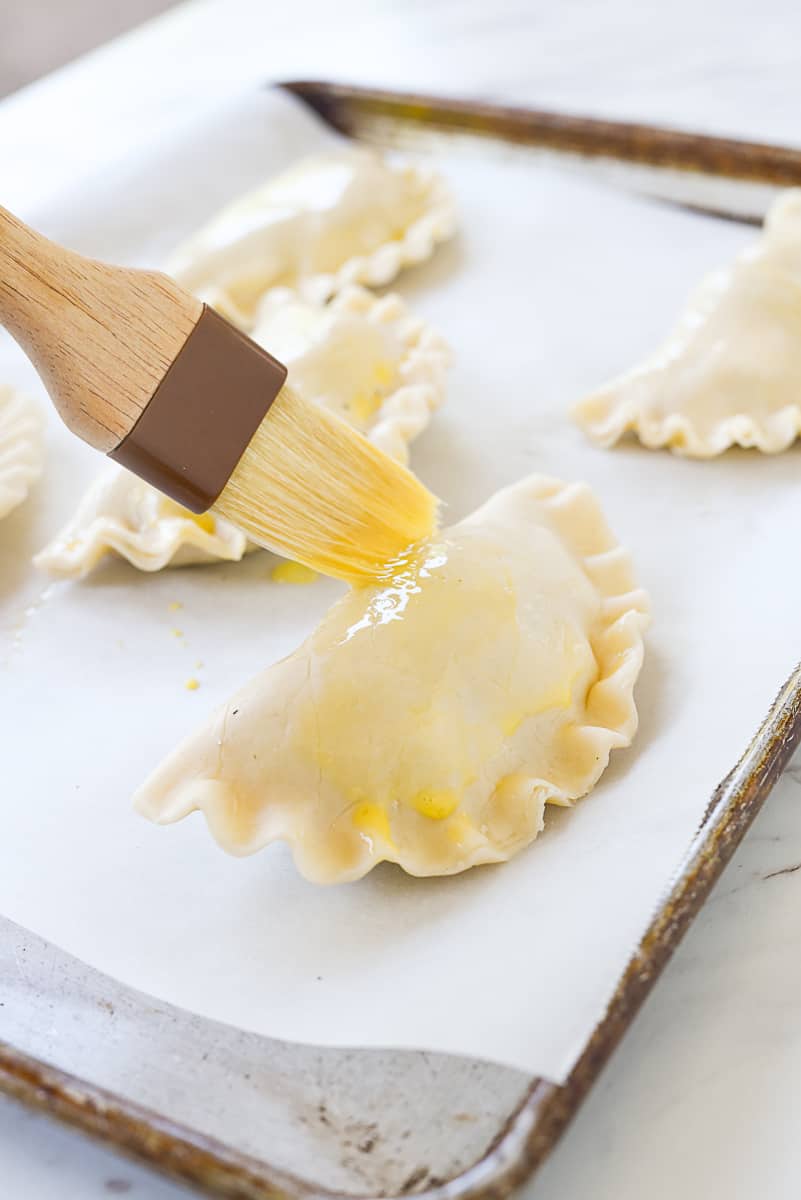 Bake at 400 degrees for about 45 minutes. It will be nice and golden brown.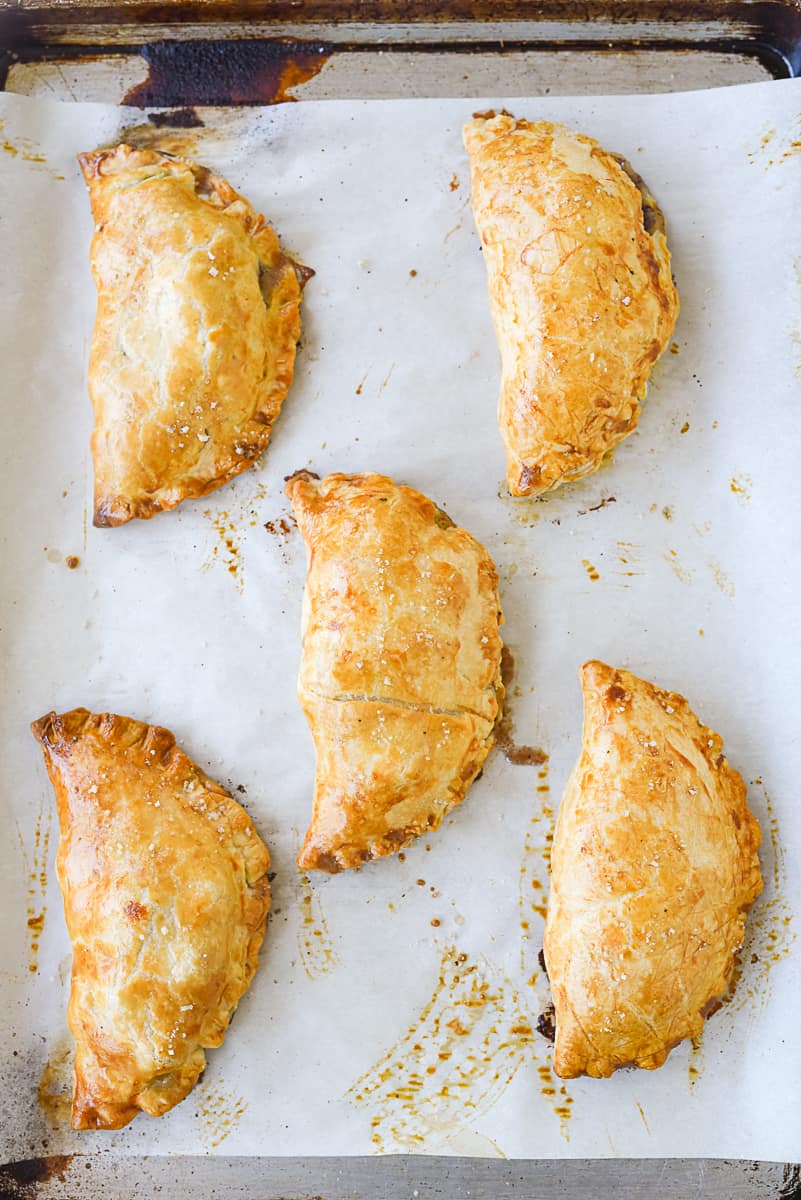 Tips for the Perfect Cornish Meat Pie
Roll your pie crust thin, but not too thin. You don't want your hard potatoes poking through the dough.
Use a firm potato like a russett, it holds it's shape and doesn't turn to mush as it bakes.
Use a lean cut of beef.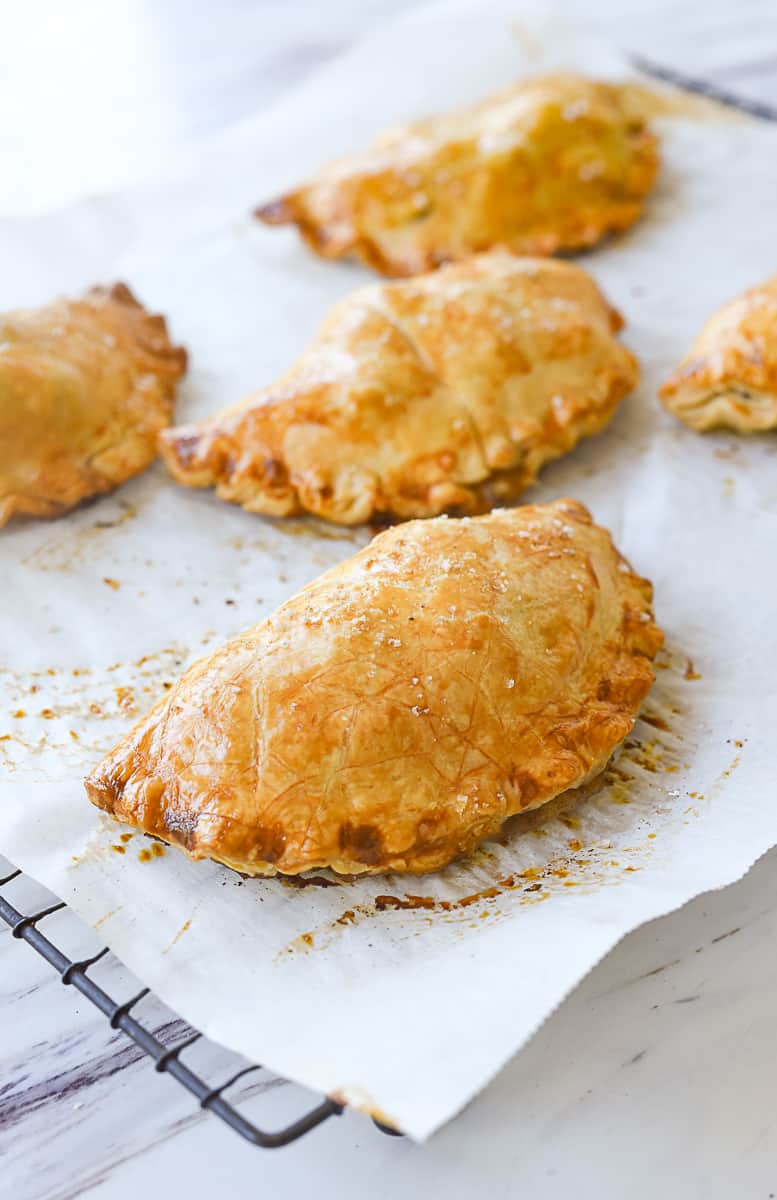 Can Cornish Pasty be Frozen?
Absolutely. They hold up great to freezing and can be frozen baked or unbaked. Wrap them individually in plastic wrap and then store in a zippered freezer bag.
If you're freezing them unbaked it's best to cook them while still frozen – don't thaw them first. Baking time will take roughly 15-20 minutes longer.
If you're freezing them baked and cooled then you can reheat in the oven or microwave. You will get a crisper crust if done in the oven.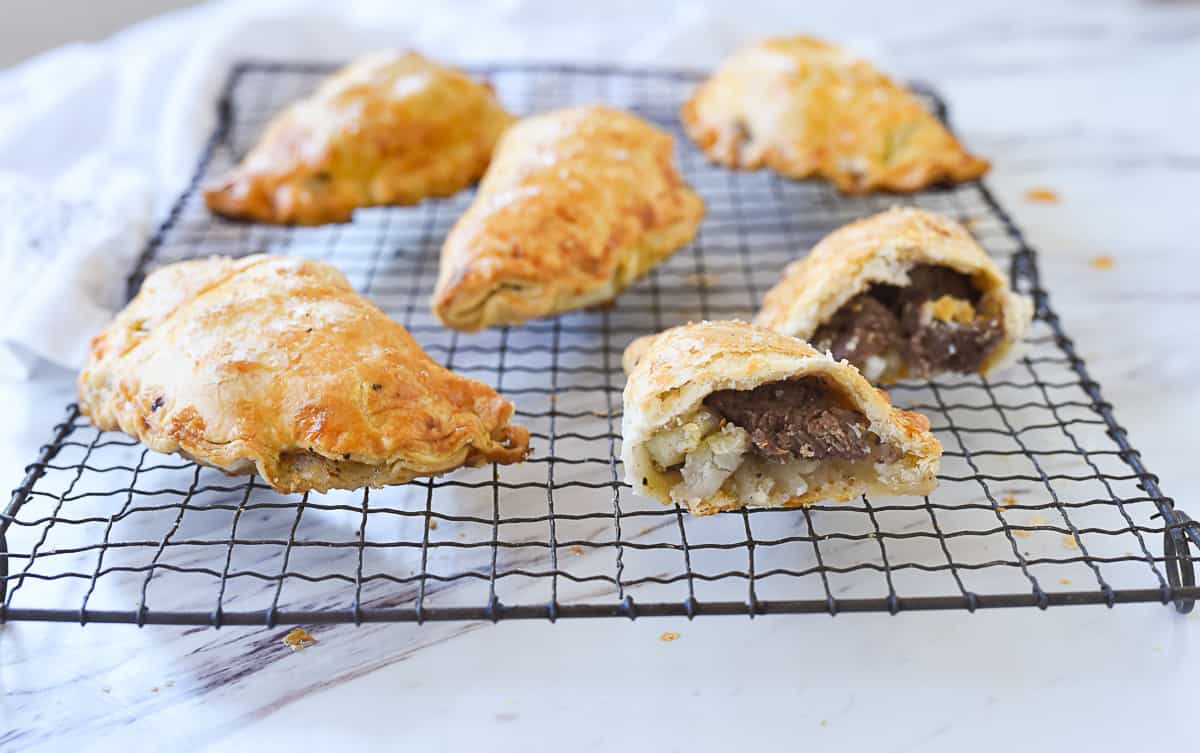 The pasty is designed to be eaten by hand but I preferred to use a knife and fork. It is so light and flaky, just like a pasty should be! The filling was delicious and makes a great complete meal.
For some other beef recipes check out these:
For all of my other favorite kitchen products and tools visit my Amazon Store.
Did you know I wrote a cookbook? Check out the Holiday Slow Cooker Cookbook for 100 delicious recipes
Cornish Pasty Recipe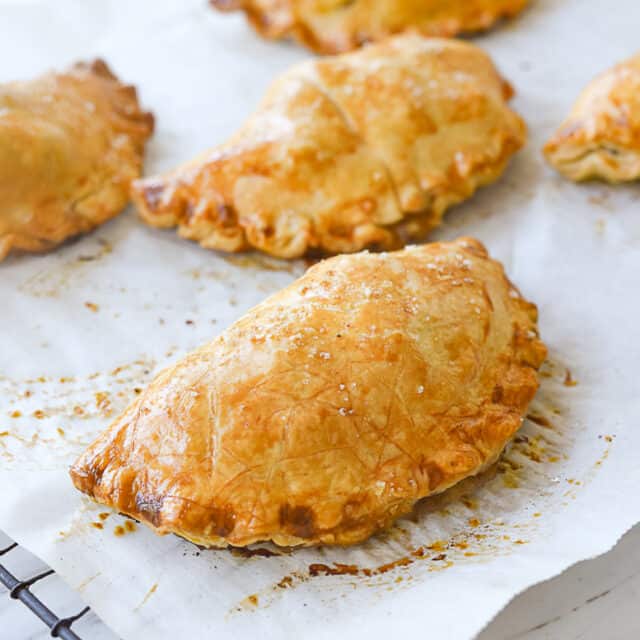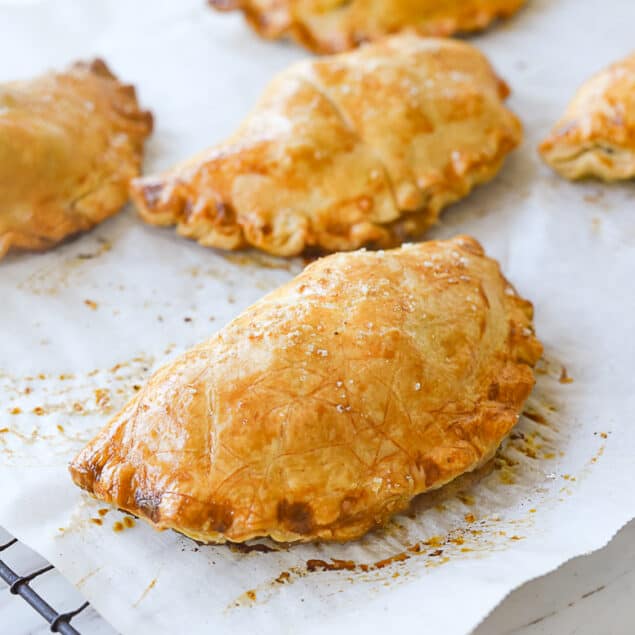 Cornish Pasty
Flaky crust filled with tender meat and potatoes.
Ingredients
Pasty
2 1/2 cups flour
1/2 cup butter
1/2 cup shortening
pinch of salt
ice cold water add teaspoon by teaspoon until right consistency has formed
Meat Pie Filling
1/2 lb. sirloin steak cubed
1 large potato peeled and cubed,
salt and pepper
2 Tbsp butter
1 egg beaten for egg wash
Instructions
Pasty
Place flour, salt, butter and shortening in bowl.

Use your hands to combine ingredients until small pebbles form

Add cold water a teaspoon at a time until the dough begins to hold together and form a ball.

Do not over handle the dough. Dough should be soft, moist but not wet.

Divide dough into quarters.

Place ball of dough onto wax paper and flatten. Place another piece of wax paper over the top and roll out the pasty into a circle Remove wax paper and place a 8inch saucer on top of the dough and cut around, using it as a pattern.

Fill center of dough with meat and potato (1/4 of meat & potato)

Fold dough over to form a half circle and seal closed.

Crimp edges of dough

Brush with a egg wash.

Bake at 400 degrees for 30-40 minutes or until golden brown and meat is cooked through.
Nutrition Facts:
Calories: 898kcal (45%) Carbohydrates: 69g (23%) Protein: 23g (46%) Fat: 59g (91%) Saturated Fat: 26g (163%) Trans Fat: 5g Cholesterol: 152mg (51%) Sodium: 306mg (13%) Potassium: 525mg (15%) Fiber: 3g (13%) Sugar: 1g (1%) Vitamin A: 944IU (19%) Vitamin C: 10mg (12%) Calcium: 49mg (5%) Iron: 5mg (28%)
* Disclaimer: All nutrition information are estimates only. Read full disclosure here.
Recipe originally shared May 21, 2013