Fire up the grill you are going to want to throw a couple of these Balsamic Herbed Flat Iron Steaks on it now!I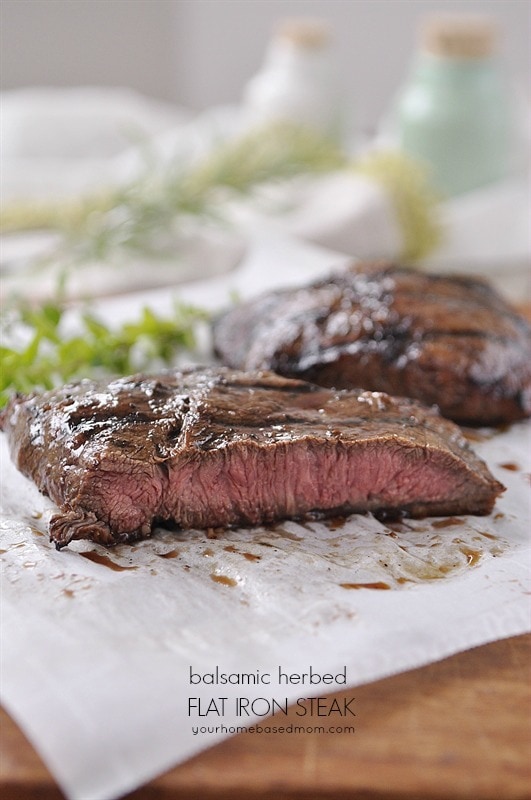 I love throwing a steak on the grill on a hot summer night along with some grilled veggies  and the perfect summer salad.  No oven necessary.   It is one of my favorite summer meals.  Of course some homemade ice cream afterwards is always a good idea.  I love to keep steaks on hand in my freezer so I always have something to throw on the grill.
How To Grill Steak
Grilling a steak is easy to do and the only problem is the risk of overcooking the meat. I use to be a well done kind of girl, but in my older years I have learned to like and appreciate a medium piece of meat. It is amazing how much more flavor the steak had when you didn't cook it to death! The secret to the perfectly cooked steak – a meat thermometer! I couldn't find the one I have on Amazon, I had received it as a promotional gift from a company but the one I linked to got great reviews. Get yourself one if you don't have one!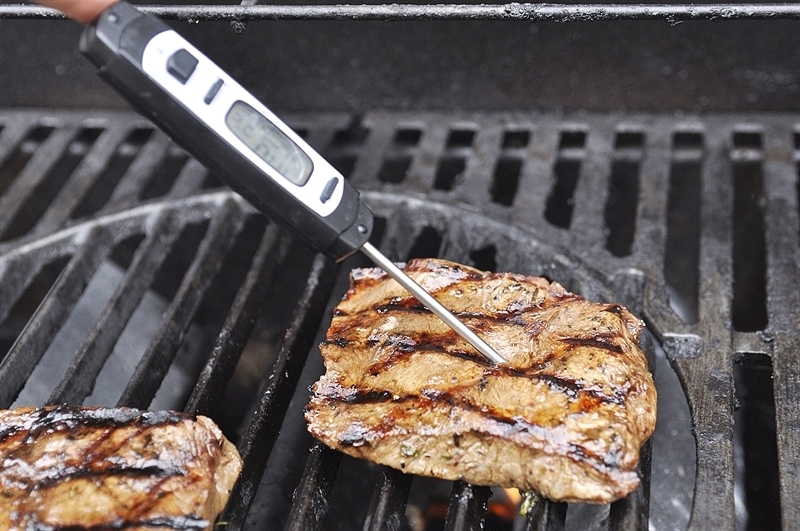 No matter how you like your meat cooked, rare, medium, or well done, a thermometer is going to give you the best results. Cutting into the meat while it is on the grill to see how it is doing is not the answer. When you do that you release all those delicious juices that are inside and you don't want to lose those! Use a thermometer! To get those great grill marks rotate the meat 1/4 turn half way through cooking on that side and you'll get the criss cross marks.
Another trick to a great steak is to undercook it slightly and then take it off the grill and let it sit for about 5 minutes, the meat will continue to cook.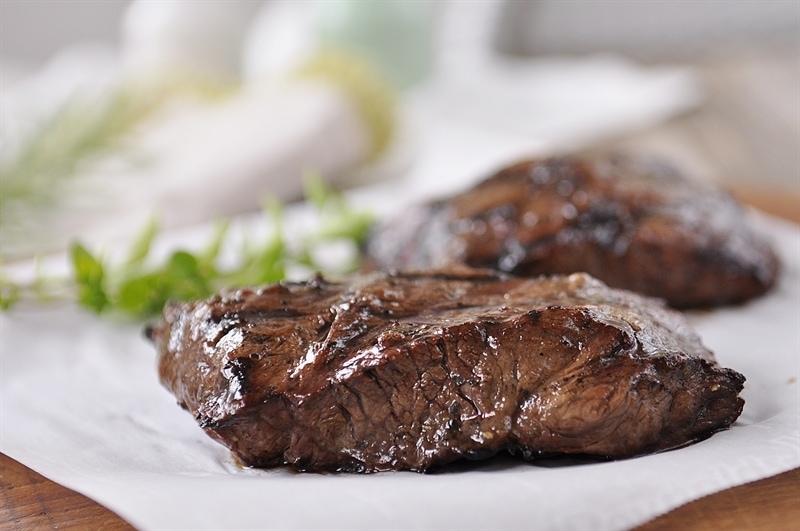 You don't have to buy an expensive cut of meat to get a delicious steak.  For today's recipe I used a flat iron steak. This cut gets it's name because the shape is like that of an old fashioned iron.  Flat iron steak is best if you marinate it before you grill. It makes for a more tender and flavorful cut of meat. I also think this cut of meat does its best at a medium temperature.  If you like a well done piece of meat it might not be as flavorful.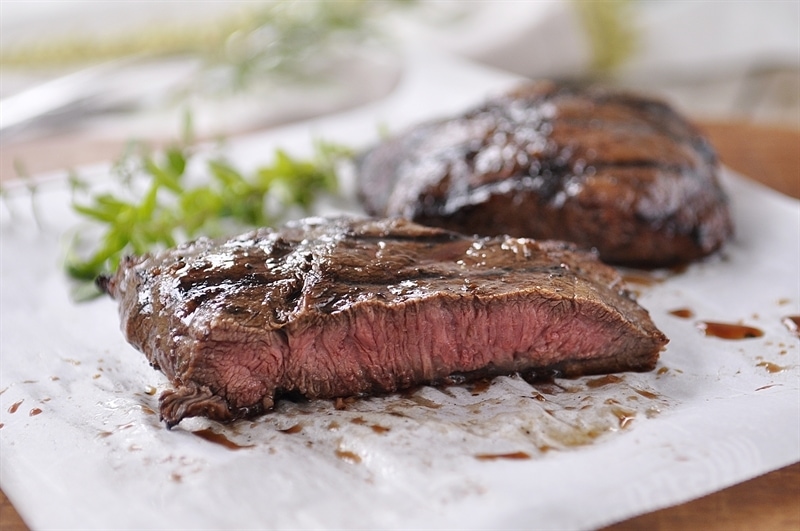 I marinated the steak is a combination of balsamic vinegar, beef broth, olive oil and seasoning.  It gives the meat great flavor without being too overpowering.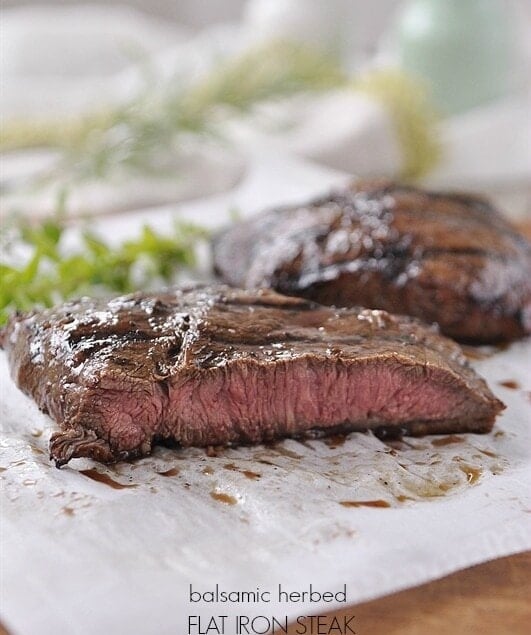 Balsamic Herb Flat Iron Steak
Delicious balsamic herb marinade for your steak.
Ingredients
4 tsp garlic minced
1/4 cup olive oil
1/4 cup balsamic vinegar
1/2 cup beef broth
1 Tbsp Italian Seasoning
3/4 tsp salt
1/2 tsp black pepper
1 1/2 lb. flat iron steak
Instructions
In a bowl, combine garlic, oil, balsamic vinegar, beef broth, herbs and salt and pepper.

Pour into a resealable plastic bag and add steak. Shake to coat and refrigerate for 8 hours or overnight.

Heat grill to medium high heat.

Grill steak on each side for 5-6 minutes for medium. Use a thermometer to check temperature.

Steak will continue to cook once it is removed from grill.

Remaining sauce can be heated in a pan and boiled until reduced to 1/2 and then spooned over top if desired.
Nutrition Facts:
Calories: 443kcal (22%) Carbohydrates: 5g (2%) Protein: 33g (66%) Fat: 32g (49%) Saturated Fat: 9g (56%) Polyunsaturated Fat: 2g Monounsaturated Fat: 17g Trans Fat: 1g Cholesterol: 112mg (37%) Sodium: 678mg (29%) Potassium: 591mg (17%) Fiber: 1g (4%) Sugar: 2g (2%) Vitamin A: 23IU Vitamin C: 1mg (1%) Calcium: 43mg (4%) Iron: 5mg (28%)
* Disclaimer: All nutrition information are estimates only. Read full disclosure here.