A few weeks ago I was in Minneapolis attending a Creative Memories convention.  Hard to believe but I've been doing it for 19 years!  One of the best parts of going is getting to spend time with my friend Deb.  Even though we only see each other once a year or so, each time we are together, it is just like it was yesterday that we saw each other last.  To quote Anne of Green Gables – "We are kindred spirits!"
One thing we both appreciate and enjoy is good food.  We had a little time to kill in the Minneapolis airport on the way home and we were hungry so we checked out the selection of restaurants.  Pretty much your basic airport fare but there was one I wasn't familiar with – French Meadow Bakery. Deb had heard good things about it so we gave it a try and I'm glad we did.
We decided to try one of their flatbread pizzas with a salad.  We decided to share and after I tasted it I wished we hadn't.  It was so good!  We chose one with sundried tomatoes and pesto.
I said good bye to my sweet friend and headed home.
I thought about that flatbread all the way home as I ready my book – Garden Spells (which I loved).
After I got home I decided I needed some more of that flatbread pizza and since we don't have French Meadow Bakery here in Oregon I had to figure out how to make it myself.  I think I came up with a pretty good home made version.
The dough is yeast based but don't be afraid! The recipe is easy and makes enough for four flatbreads about the size of a personal pizza.
Roll the dough out thin and use your fork to prick the dough to prevent big air bubbles and then apply a nice coating of olive oil.
Then you can get creative with your toppings.  I kept one of mine plain jane – a little sea salt and then some Italian seasoning and a little garlic powder.  It was great served with hummus.
For the rest I used some store bought pesto and sun dried tomatoes with freshly grated Parmesan cheese on top.  I have to say it was pretty darn close to the version we had at the airport.
I cooked my flatbread on my Pampered Chef baking stone which helps give it a nice crisp bottom.  If you don't have one you can also use a cookie sheet.
The first time I made it I rolled my dough out onto my wooden cutting board but it was as little tricky getting it from the board onto the hot cooking stone without totally destroying it since the dough is so thin.
I got a little smarter the next time and I rolled the dough out onto parchment paper and then placed the flatbread and the parchment paper on top of the stone (the edges of the paper will get brown and a little crispy but it works fine)
It bakes fast – about 5 – 10 minutes!  And then you have some yummy flatbread to enjoy.  Perfect as an appetizer, served with a summer salad or just for a snack.
I cut it into pieces, put it in a airtight container and took it on a picnic one night.
You can get as creative as you want with toppings.  I'm thinking a little caramelized onion would be good too.  Let me know what topping ideas you come up with and leave a comment please.  It's been a bit lonely around here and I'd love to hear from you – makes me happy:)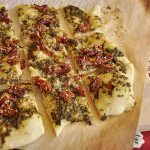 Print
Sundried Tomato and Pesto Flatbread
Ingredients
1

pkg of active dry yeast

1

tsp

honey

1

C

warm water

105-115 degrees

3

C

flour

plus extra for dusting

1

tsp

sea salt or kosher salt

1

Tbsp

olive oil plus extra for brushing

Fresh black pepper

Fresh or dried herbs

Other desired toppings - pesto

sundried tomatoes, Parmesan cheese
Instructions
Dissolve yeast and honey in 1/4 C of the warm water and let sit until bubbly

In mixer combine flour and salt

Add oil, yeast mixture and remaining warm water and mix on low until dough pulls away from the sides of bowl and clusters around the dough hook and is not sticky. (May need to add a bit more flour)

Place in a clean and lightly greased bowl

Cover with a clean, damp towel and let rise for about 30 minutes in a warm place until doubled in size

Divide the dough into four pieces

Form into a ball and cover with a damp towel and let rest for 15-20 minutes

At this point the dough can be wrapped in plastic and refrigerated for a few days or made into flatbread

To make flatbread, place a piece of parchment on counter and dust lightly with flour and roll out the dough into a thin, roundish shape

At least 9 inches in diameter

Lightly brush rolled out dough with olive oil and use a fork to prick the surface of the dough to prevent air pockets from forming while baking

Season the dough with salt and pepper, herbs, pesto, sundried tomatoes and cheese or all of the above!

Preheat oven and baking stone in oven to 500 degrees.

Place flatbread and parchment paper onto baking stone or onto a cooking sheet and bake until golden brown 5-10 minutes

Transfer to a cutting board, cut into pieces with a pizza cutter and enjoy!