A very delicious homemade pizza starts with the perfect pizza dough recipe.
Because what is pizza without the pizza crust. This is the pizza crust recipe that we have been using for years. Crispy on the outside and chewy on the inside, this is just the pizza crust you are looking for.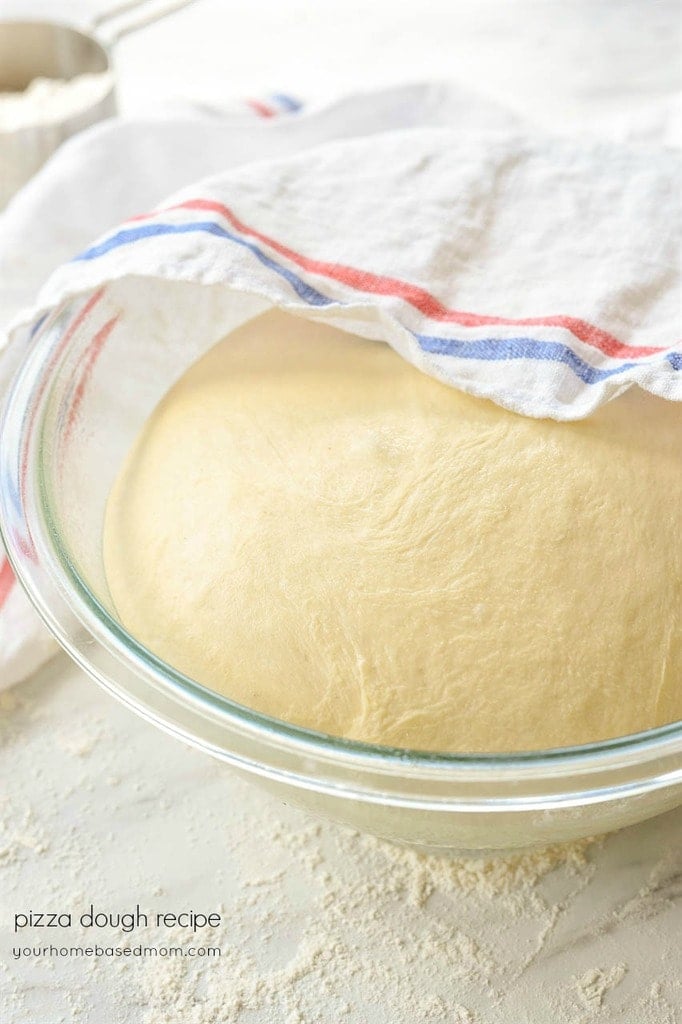 I grew up in the midwest, an hour north of Chicago in a very Italian town. We had lots of amazing pizza restaurants and I ate a lot of amazing pizza. Over the years I have come to learn a thing or two about making great pizza crust. And I am going to share my tips with you.
The crust can make or break the pizza. I prefer a medium thickness of crust – not too thin and not too thick – just right and crisp on the bottom. No soggy crust! This pizza dough recipe is perfect for making just such a crust.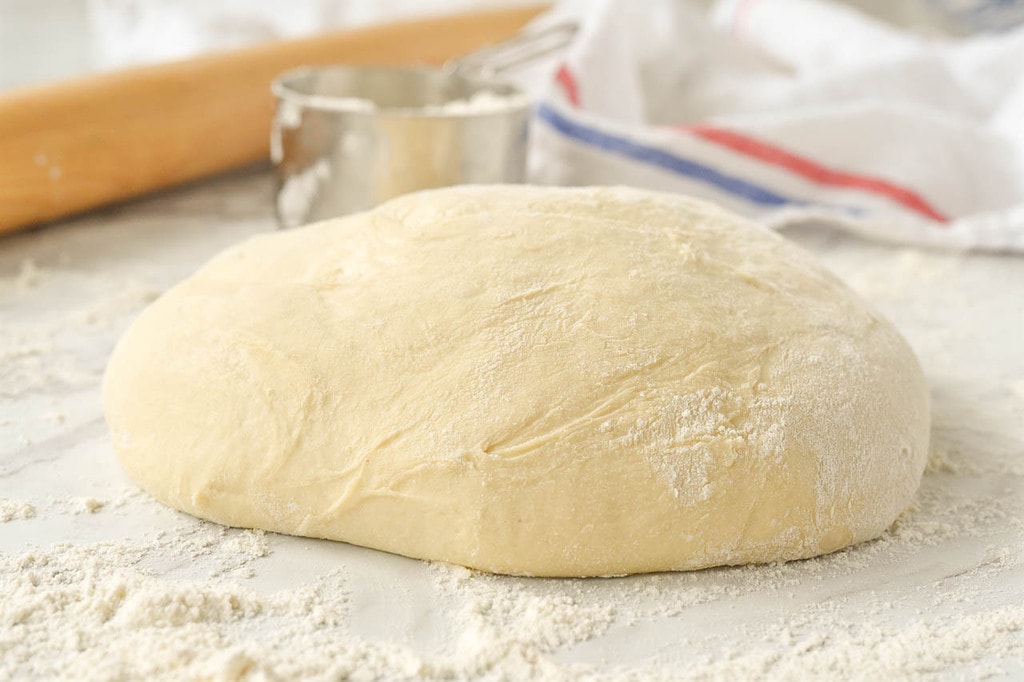 First tip, I let the dough rise for at least an hour. A couple of hours won't hurt either. I've even been known to let it rise for most of the day!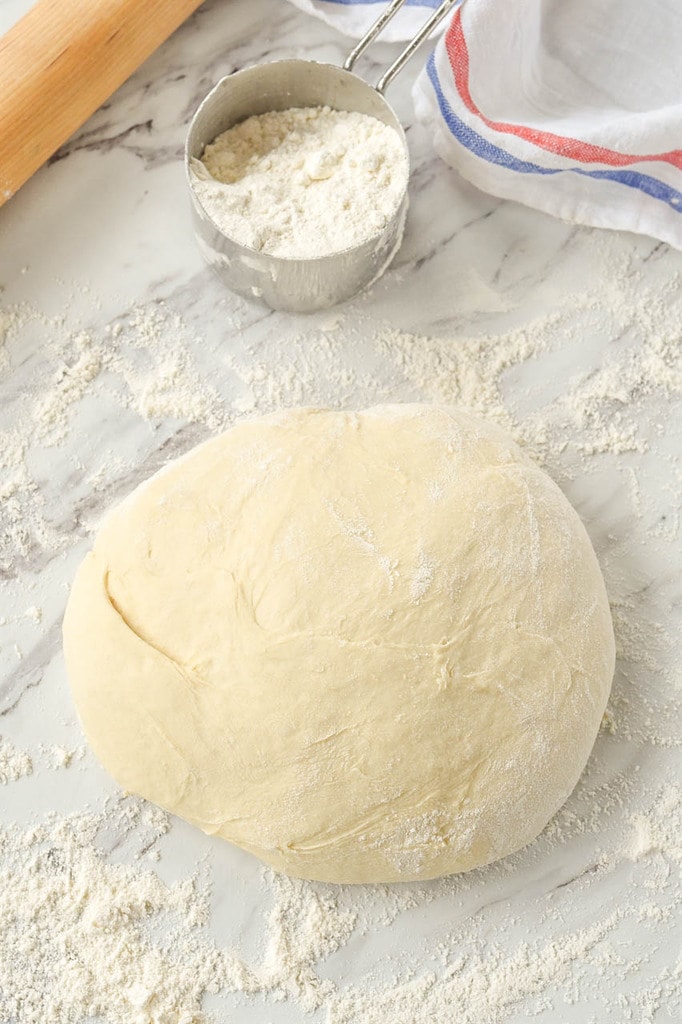 Next tip, you can use all purpose flour, but bread flour is best for making homemade pizza dough.
When making homemade pizza, there are two pizza making tools that come in handy. A wooden paddle and a pizza stone. They are not essential, but they make the job easier and the crust crisper. Remember, these are my tips for the perfect pizza crust! If you don't have a pizza paddle use the backside of a cookie sheet.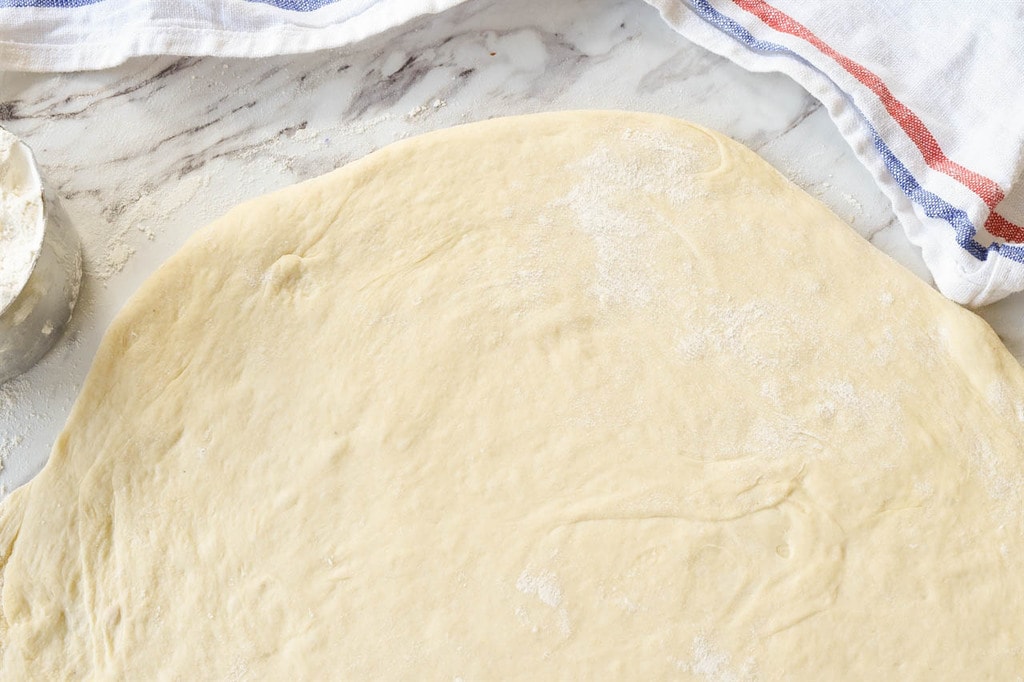 Put a light coating of cornmeal onto the pizza paddle before you roll out your dough. It helps prevent the dough from sticking and gives it a great texture.
You can just use your hands like they do at the pizza place but I prefer a rolling pin to roll out my dough.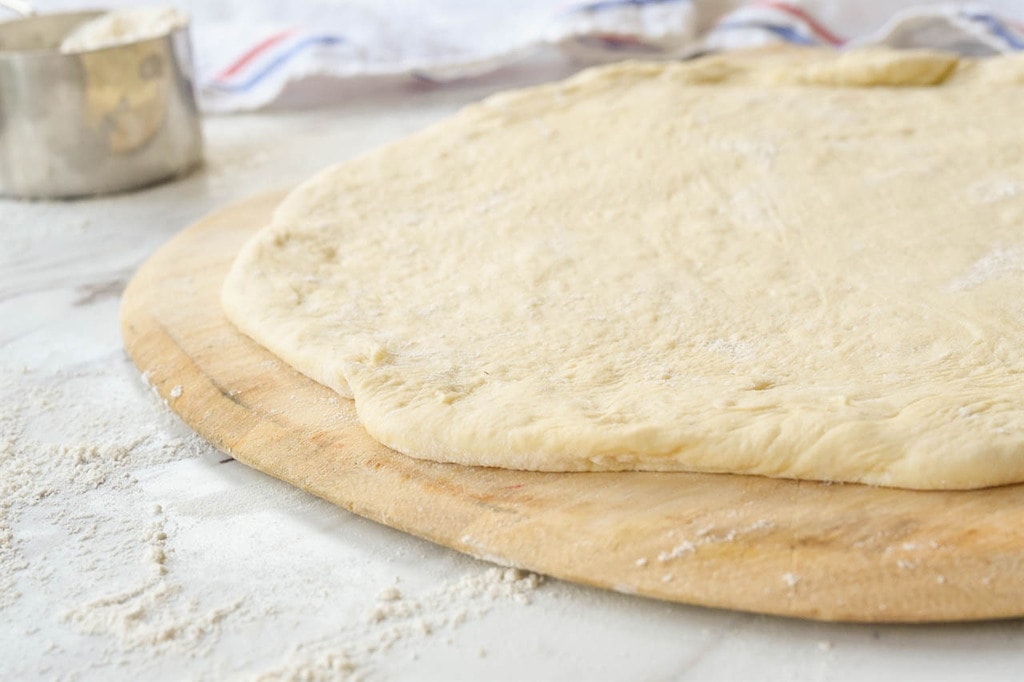 About 30 minutes before you want to cook your pizza place your pizza stone into the oven and heat the oven to about 450 degrees. You want that stone nice and hot!
Once you have rolled out your homemade pizza dough, add the sauce and topping you prefer. I highly recommend my homemade pizza sauce. It goes great with just about any topping.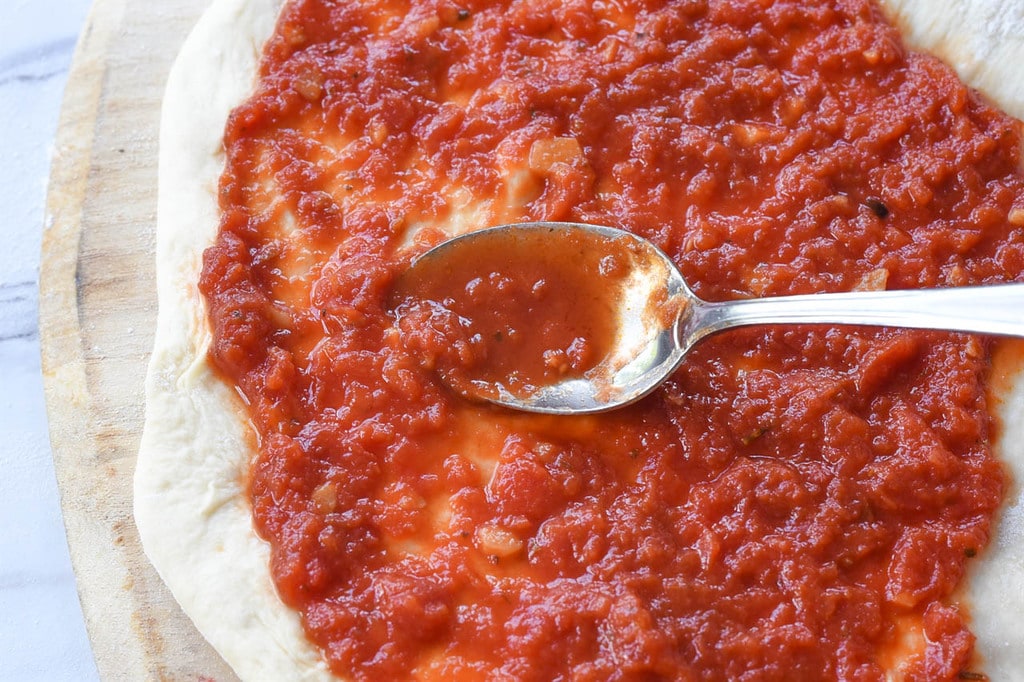 Then slide it in the oven and bake for about 10-12 minutes until the edges are nice and golden brown. And enjoy your delicious homemade pizza!
Some of my favorite ways to use homemade pizza dough:
My favorite kitchen tools I use to make HOMEMADE PIZZA DOUGH:
6 PIECE MEASURING CUP SET – Everyone needs at least one set of measuring cups, I have 4 sets!
MAGNETIC MEASURING SPOONS – I love these things. They are magnetic so they stay together in the drawer!
For all of my other favorite kitchen products and tools visit my Amazon Store.
Did you know I wrote a cookbook? Check out the Holiday Slow Cooker Cookbook for 100 delicious recipes.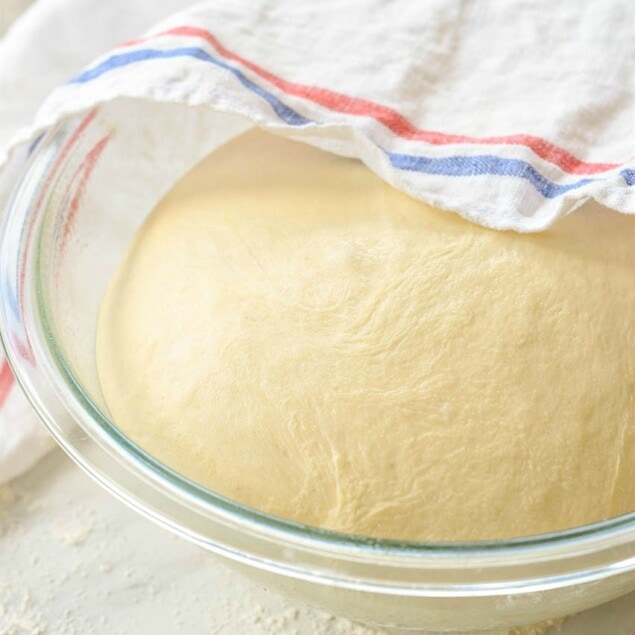 Pizza Dough Recipe
Pizza at home starts with this perfect pizze dough recipe.
Ingredients
1 C warm water
3 tsp yeast
1 Tbsp sugar
4 C bread flour
1 tsp kosher salt
1 Tbsp olive oil
Instructions
Preheat oven and pizza stone to 450 degrees

Combine yeast and sugar with warm water and allow to sit for 5-10 minutes until bubbly

Add flour, salt, and olive oil into the yeast mixture and knead until smooth, but a little sticky. Approximately 5 minutes with a stand mixer or 10 minutes by hand.

Allow dough to rise for at least one hour.

Cover pizza paddle or backside of a cookie sheet with a light layer of cornmeal.

Roll out dough. (You may need to add a little extra flour.)

Add sauce and desired toppings. Slide pizza onto hot pizza stone. Bake for 10 – 12 minutes, until edges are golden brown.
Nutrition Facts:
Calories: 555kcal (28%) Carbohydrates: 99g (33%) Protein: 17g (34%) Fat: 9g (14%) Saturated Fat: 1g (6%) Sodium: 1174mg (51%) Potassium: 182mg (5%) Fiber: 4g (17%) Sugar: 6g (7%) Calcium: 19mg (2%) Iron: 1.3mg (7%)
* Disclaimer: All nutrition information are estimates only. Read full disclosure here.