Thin Crust Margherita Pizza is delicious in its simplicity! It has all of the best Italian flavors on a thin pizza crust.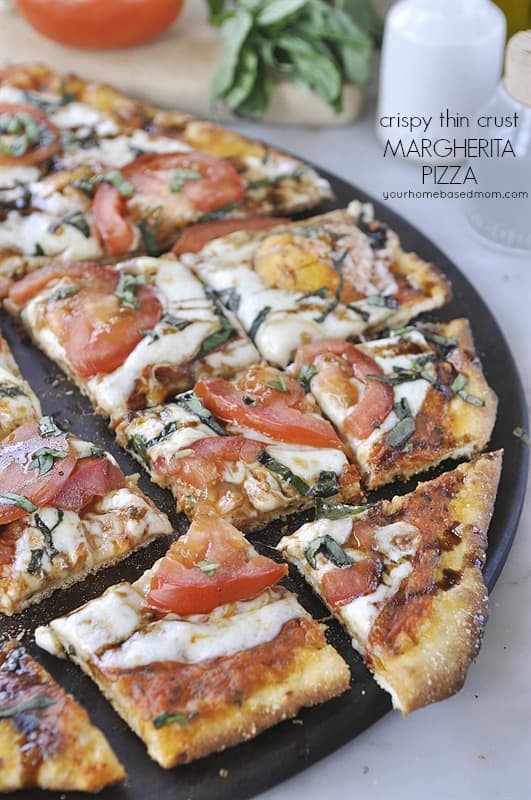 I'm a huge fan of pizza. It is pretty much my favorite food of all time. Whenever anyone asks that question, "If you could only eat one food for the rest of your life, what would it be?" My answer is always pizza! Making good pizza at home is so easy, all you need are a few simple tools and ingredients.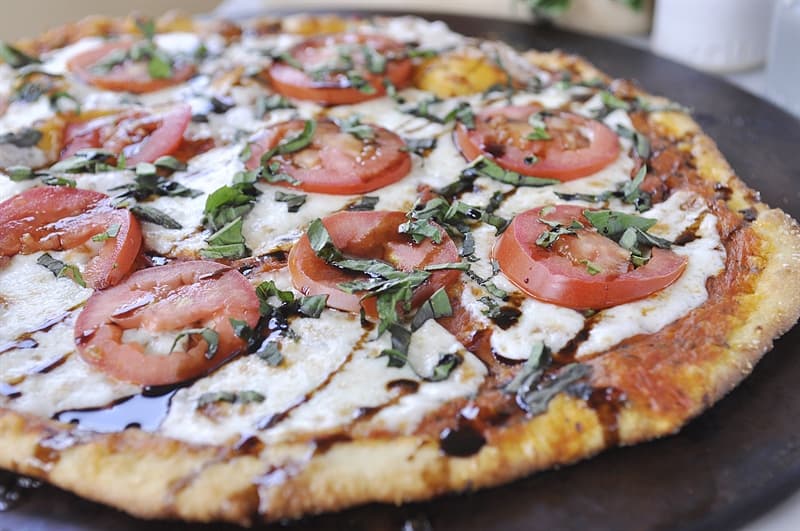 What is Margherita Pizza?
I am usually a pretty plain jane when it comes it pizza. I'm usually a cheese pizza girl but sometimes I get a little wild and I order Margherita Pizza.
Margherita Pizza is a Neapolitan style pizza that is made with tomatoes, mozzarella cheese, fresh basil, salt and olive oil. I love to finish it off with some balsamic vinegar. I love making mine with a thin crust.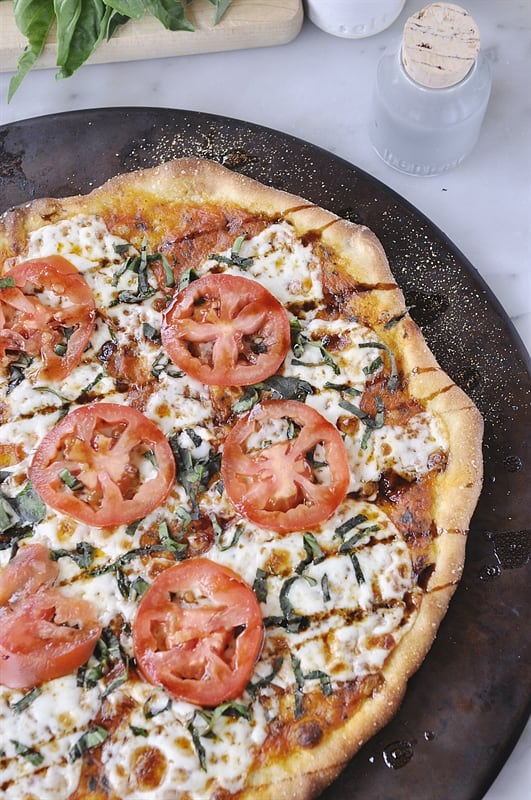 Tips For a Thin Crust Pizza
A good pizza starts with a good pizza dough. This is my favorite pizza dough recipe, it makes enough for two large pizzas.
There is some equipment that you need in order to get a nice crisp crust. You will need a wooden pizza paddle and a pizza stone. I sprinkle the pizza paddle with some flour and some cornmeal. This helps the dough from sticking to the paddle. If you don't have a pizza peel you can place the pizza crust on a piece of parchment paper to lift and set it onto your hot pizza stone or baking tray.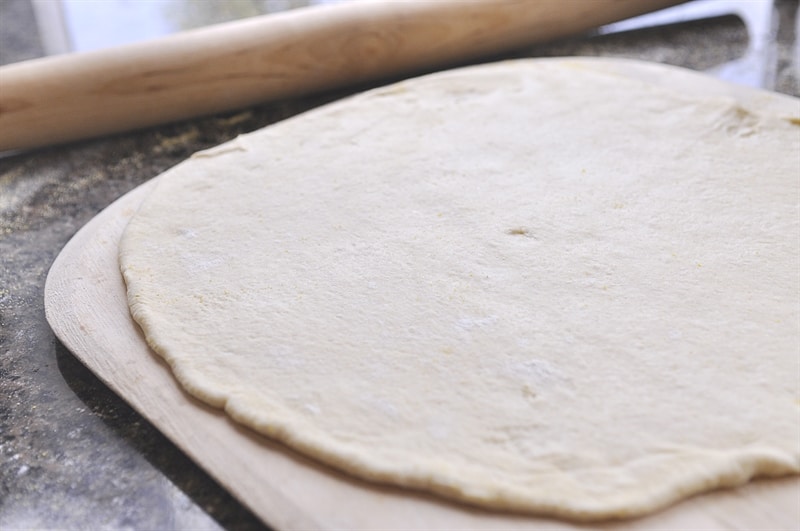 How to Make Margherita Pizza
Roll out the pizza dough as thinly as possible, if you like your crust thicker just don't roll it out as thin.
Drizzle the dough with some olive oil and then sprinkle with some kosher or sea salt.
Preheat the pizza stone in the oven while you are preparing the dough. the longer it can preheat the better (at least 30 minutes). The hot stone is going to give that crispy crust.
Prebake your pizza crust before adding the sauce and your toppings. This will make your dough nice and crispy on the outside and soft on the inside.
Slide your dough onto the pizza stone in your oven. To get it off of the pizza paddle, jiggle the dough on the paddle to make sure it is loose and not sticking to the paddle. With a nice little jerk of the paddle slide the dough from the paddle onto the preheated stone in the oven. If you find that your dough is sticking to your paddle, lift up the edges and add a little more flour or cornmeal.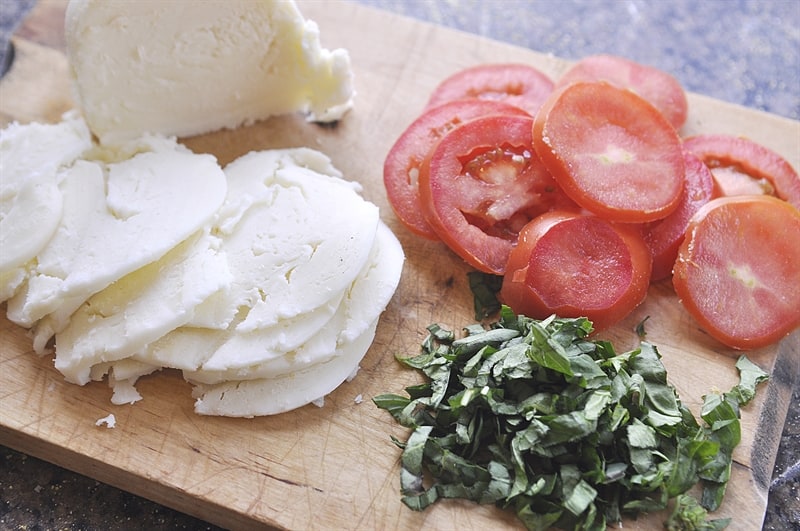 Bake the dough for about 5-6 minutes. Remove from the oven, using your paddle.
Add a light layer of sauce. You don't need a lot of sauce and too much sauce will the pizza soggy.
Add the mozzarella cheese. Use a good quality of mozzarella cheese, I like to buy the soft mozzarella that you have to slice, not the pre-shredded cheese.
Bake for another 5 minutes until the cheese is melted and the crust is golden brown and crisp.
Remove from the oven and top with sliced tomatoes, sliced fresh basil and a drizzle of balsamic vinegar.
How to Slice a Pizza
You are ready to eat. The question is, how do you slice your pizza? I grew up eating pizza sliced into squares and it wasn't until I moved to the west coast that I saw pizza sliced in pie slices. Which do you prefer?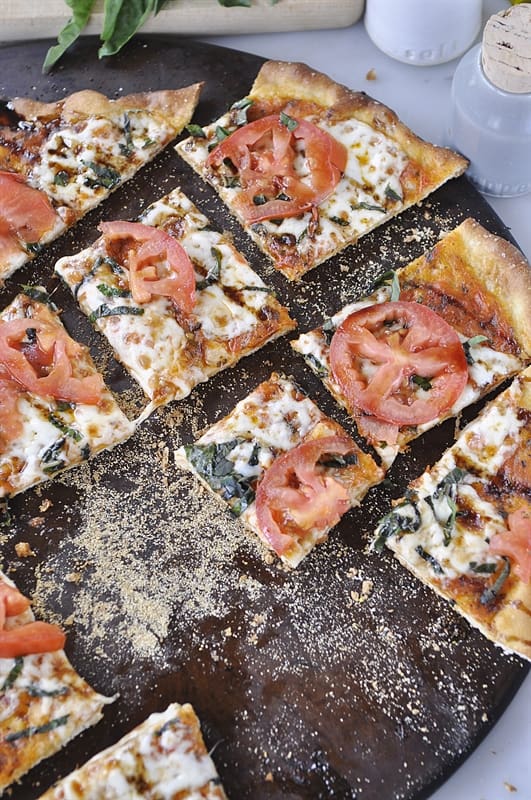 Check out more of my favorite pizza recipes:
For all my other favorite kitchen products and tools visit my Amazon Store.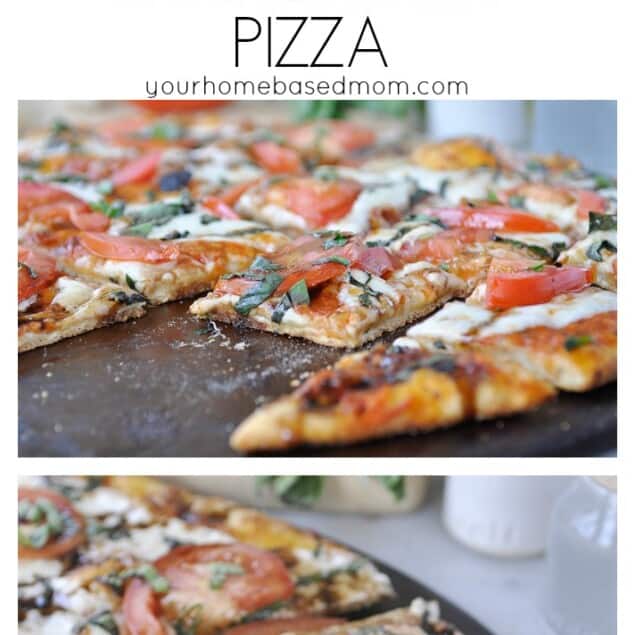 Thin Crust Margherita Pizza
Thin, crispy, and delicious Pizza Margherita!
Ingredients
Pizza Crust
2 1/4 tsp active dry yeast
1/4 C warm water
2 1/2 C flour plus extra for dusting
1 1/2 tsp sugar
2 tsp salt
1 Tbsp olive oil
3/4 C warm water
Pizza Sauce
2 Tbsp olive oil
2 tsp garlic minced
2 tsp sugar
1 16 oz. can crushed tomatoes
1/2 tsp Italian seasoning
Cornmeal for dusting
8 ounces fresh mozzarella cheese sliced
2 tomatoes thinly sliced
1/4 cup basil sliced
Balsamic vinegar for drizzling
Instructions
Pizza Crust
Add yeast and sugar into 1/4 C warm water. Let stand for 5 minutes to proof.

In a bowl combine 2 1/2 C flour and 2 tsp salt.

Add in 1 Tbsp olive oil and 3/4 C warm water. Mix until combine and knead until dough is soft and elastic. Either by hand or in a mixer with a dough hook.

Form into a ball and place in a bowl that has been sprayed or brushed with olive oil. Brush top of dough with olive oil. Cover and allow to rise in warm place until doubled in size.

Preheat oven to 500 degrees F and place pizza stone in oven on the lowest rack. Preheat stone for at least 30 minute if possible.
Pizza Sauce
Combine olive oil, spices and diced tomatoes in a saucepan. Bring to a simmer and then allow tomatoes to soften and sauce to thicken. Stir frequently. Will take about 10 minutes.

Place mixture in food processor and blend until smooth.

Put back in pan and cook over medium heat until sauce is reduced to about 1 cup, for about 10 minutes.

Salt and pepper to taste
Pizza
Divide dough in half and roll out dough half of the dough onto the pizza paddle that has been sprinkled with flour and cornmeal. Roll as thin as you like. Into about a 10 inch circle.

Jerk the paddle back and forth to make sure the dough is loose and not stuck to the paddle.

Drizzle dough with olive oil and sprinkle with salt.

Transfer dough from paddle to hot stone in the oven. Jerk the paddle to allow the dough to slide off the paddle onto the stone. Bake 5 minutes.

Remove from oven and and add a light coating of sauce and top with cheese.

Bake until cheese melts and crust is golden brown. About 5 minutes.

Remove from oven and top with fresh sliced tomatoes, chopped basil and drizzle with balsamic vinegar.

Repeat with remaining dough.
Nutrition Facts:
Calories: 287kcal (14%) Carbohydrates: 33g (11%) Protein: 11g (22%) Fat: 12g (18%) Saturated Fat: 4g (25%) Cholesterol: 22mg (7%) Sodium: 836mg (36%) Potassium: 152mg (4%) Fiber: 1g (4%) Sugar: 2g (2%) Vitamin A: 450IU (9%) Vitamin C: 4.2mg (5%) Calcium: 160mg (16%) Iron: 2.3mg (13%)
* Disclaimer: All nutrition information are estimates only. Read full disclosure here.