Need to feed a crowd, aka the family? Have a bunch of hungry teenagers? Pan Pizza to the rescue!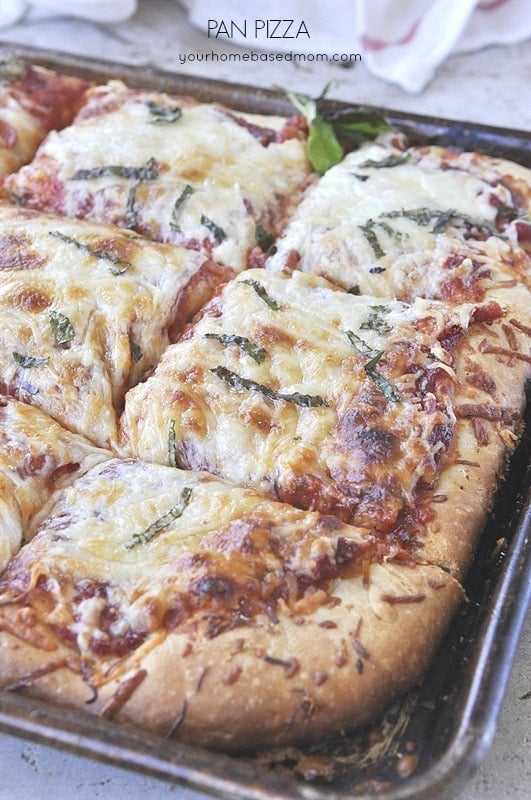 I love a good thin crust pizza but sometimes you just need a nice thick piece of pizza. And sometimes you need to feed a lot of hungry people. When that happens, and especially when they both happen at the same time, pan pizza is the best solution.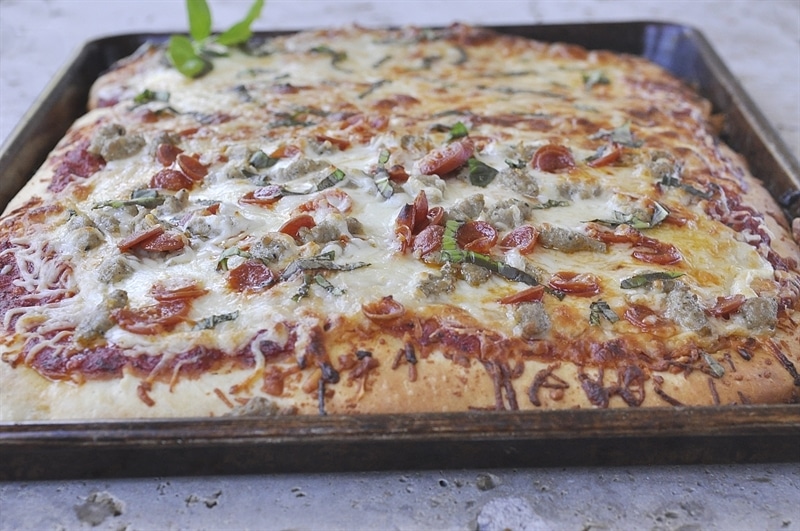 One of the things I love most about pan pizza, besides the sheer size of it, is that because of it's size, you can easily cater to different pizza topping tastes. There is plenty of room to reserve some of the pizza for the puriest, the cheese only lovers (like me) and you've still got plenty of pizza real estate left over for the meat lovers (like my husband). Everybody is happy.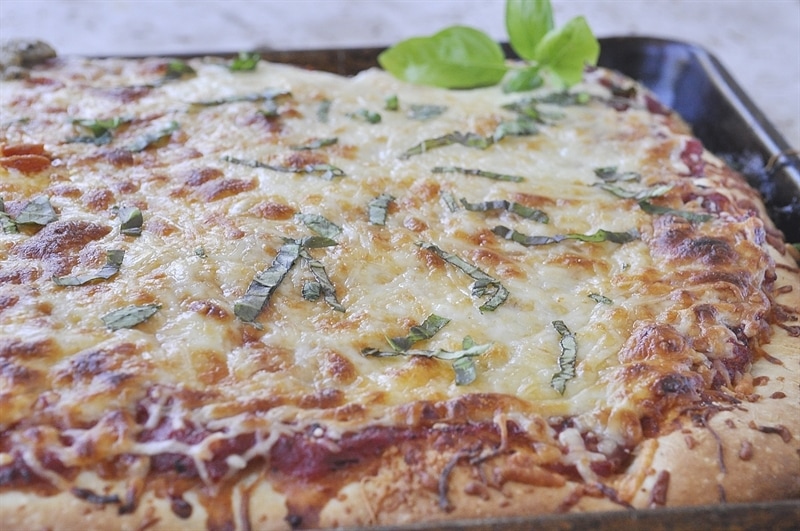 This pizza starts with a yeast dough. Let the dough rise once in a bowl and then roll it out on your counter. Place the rolled out dough onto a large baking sheet that has a nice heavy coating of olive oil on it. This makes for a tasty, crisp crust. Cover the dough and let it rise one more time for about 15 minutes.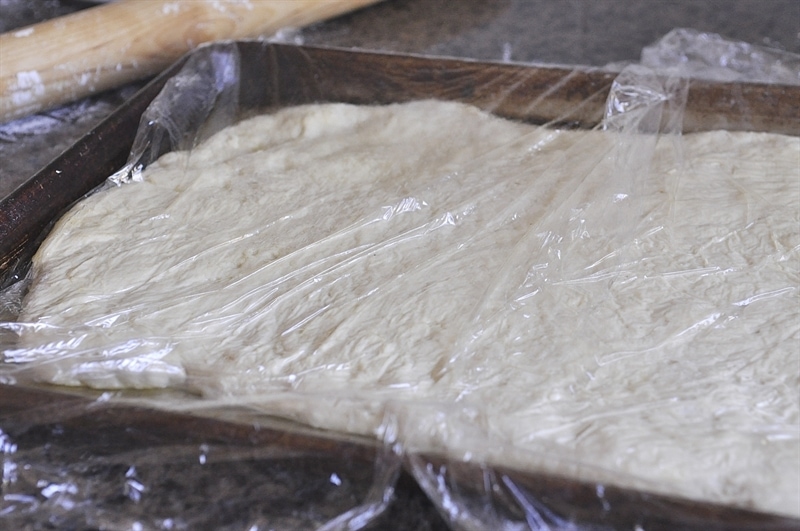 The dough is baked three different times, once with just a dusting on parmesan cheese on the dough, then once covered in sauce and then again once the toppings and cheese have been put on. The par baking helps prevent the crust from getting soggy.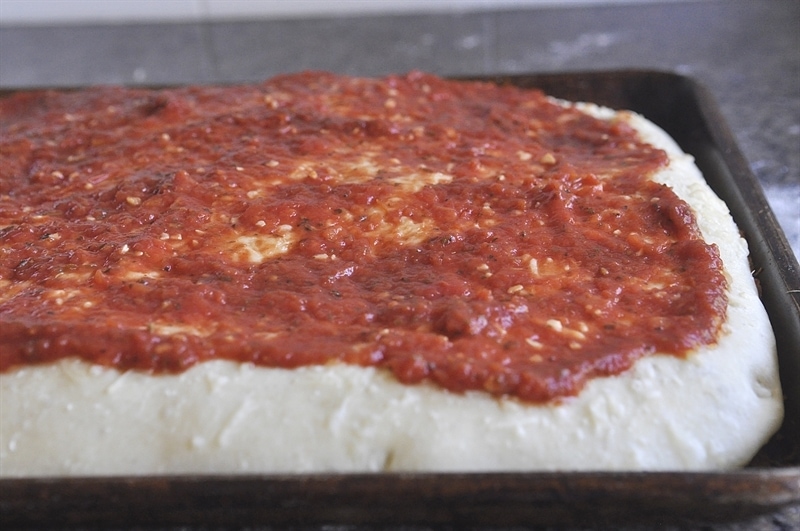 You get a pizza with a nice crisp but chewy crust as a result.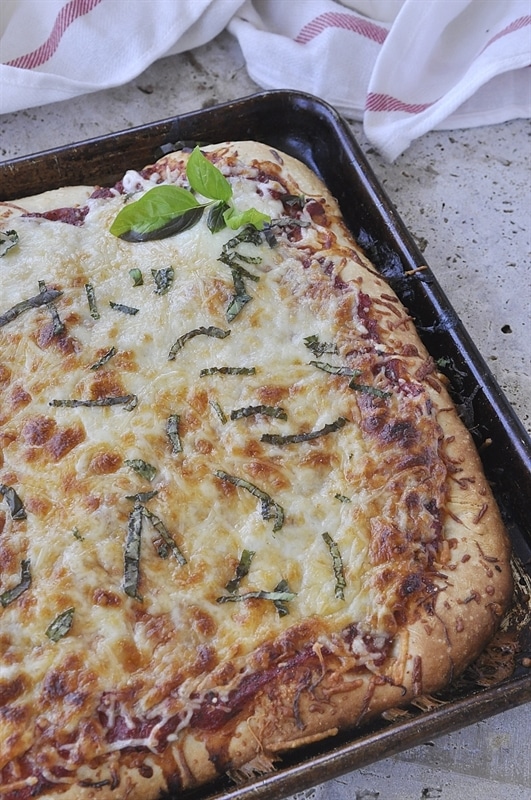 Cut the pizza up into square pieces and dig in! I shared this with some of the teenage boys in my neighbor and they loved it!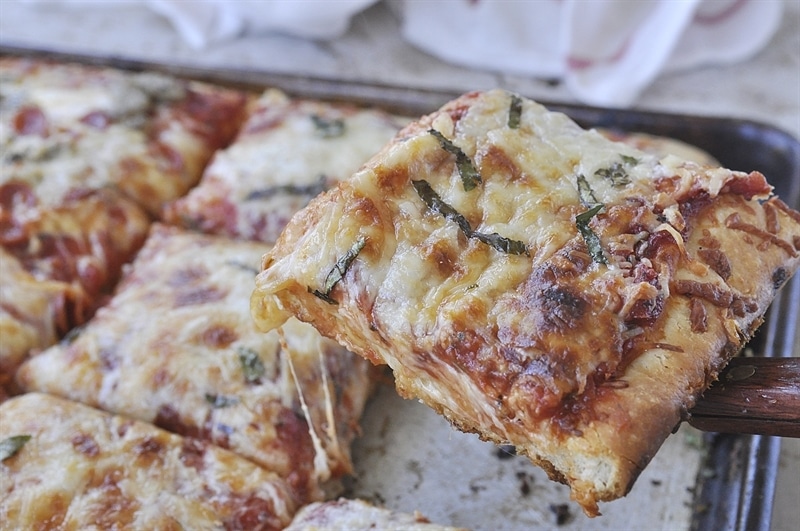 Pan Pizza Recipe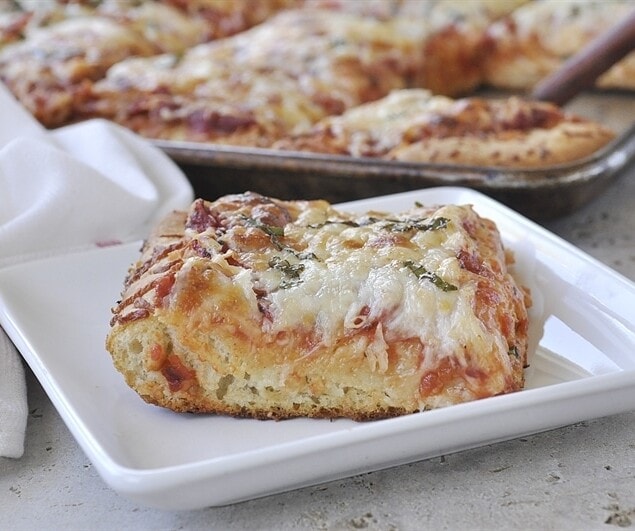 Pan Pizza
A thick crust pizza with all of your favorite toppings.
Ingredients
Dough
1 3/4 cups warm water 110 degrees
1/2 cup extra-virgin olive oil divided plus 1 Tbsp oil
1 tablespoon sugar
5 cups all-purpose flour
4 1/2 teaspoons instant or rapid-rise yeast
2 teaspoons salt
SAUCE AND TOPPINGS
1 tablespoon extra-virgin olive oil
3 garlic cloves minced
1 1/2 teaspoons dried oregano
2 tablespoons tomato paste
1 28-ounce can crushed tomatoes
Salt
3 ounces Parmesan cheese grated (1 1/2 cups)
12 ounces Italian Blend Cheese shredded (3 cups)
Desired pizza toppings sausage, pepperoni, etc.
2 tablespoons chopped fresh basil
Instructions
Grease large bowl.

Combine water, ¼ cup oil, and sugar. Using stand mixer fitted with dough hook, mix flour, yeast, and salt on low speed until combined, about 30 seconds. Increase speed to medium-low, add water mixture, and knead until dough is uniform in texture, about 3 minutes.

Transfer dough to greased bowl, cover with plastic wrap, and let rise at room temperature until doubled in size, 1 to 1½ hours.

Evenly coat rimmed baking sheet with ¼ cup oil.

On lightly floured work surface, use rolling pin to roll dough into 16 by 12-inch rectangle. Transfer dough to prepared sheet and stretch dough to cover sheet, pressing dough into corners. Brush dough evenly with remaining 1 tablespoon oil and cover with plastic. Set in warm spot (not oven) until slightly risen, about 20 minutes.

While dough rises, heat oil in large saucepan over medium heat until shimmering. Cook garlic, oregano, until fragrant, about 30 seconds. Stir in tomato paste and cook until just beginning to brown, about 2 minutes. Add tomatoes and simmer until reduced to 3 cups, about 10 minutes. Off heat, season with salt to taste.

Adjust oven rack to lowest position and heat oven to 450 degrees. Remove plastic and, using your fingers, make indentations all over dough. Sprinkle dough with 1 cup Parmesan and bake until cheese begins to melt, about 7 minutes.

Remove sheet from oven and spoon sauce over pizza, leaving 1-inch border. Bake until sauce is deep red and steaming, 7 to 10 ­minutes.

Sprinkle cheese blend and remaining ½ cup Parmesan evenly over sauce and any desired pizza toppings and bake until cheese is golden brown, about 12 minutes. Remove pizza from oven and let rest for 5 minutes. Sprinkle with basil. Serve.
Nutrition Facts:
Calories: 421kcal (21%) Carbohydrates: 45g (15%) Protein: 17g (34%) Fat: 20g (31%) Saturated Fat: 4g (25%) Polyunsaturated Fat: 1g Monounsaturated Fat: 8g Cholesterol: 10mg (3%) Sodium: 582mg (25%) Potassium: 140mg (4%) Fiber: 3g (13%) Sugar: 2g (2%) Vitamin A: 118IU (2%) Vitamin C: 1mg (1%) Calcium: 158mg (16%) Iron: 3mg (17%)
* Disclaimer: All nutrition information are estimates only. Read full disclosure here.