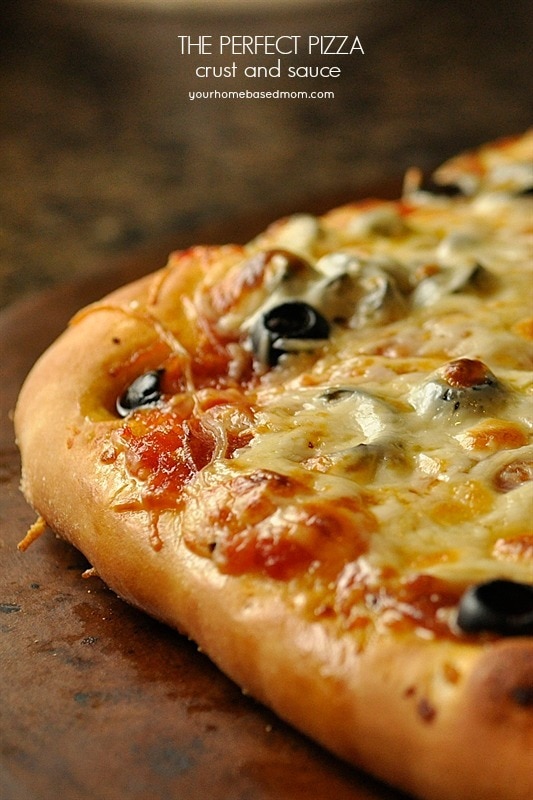 I read it somewhere on the internet. This week is National Pizza Week.
It is usually pizza week at our house every week and some form of pizza is on the menu just about every week.  Sometimes it is from Papa Murphy's and sometimes it is homemade.
This week in honor of National Pizza Week I made homemade pizza.
If I ever had to choose just one food item to eat the rest of my life, it would be pizza.  I love pizza.  I am a boring pizza eater though.  I like cheese.  Yes, plain cheese.  Sometimes I get a little wild and add black olives on my pizza.  I know, watch out!
I grew up in the midwest, an hour north of Chicago in a very Italian town.  We had lots of amazing pizza restaurants so I ate a lot of pizza.  Like I said – I love pizza.  So here are a few of my pizza crust making tips.
The crust can make or break the pizza.  I prefer a medium thickness of crust – not too thin and not too thick – just right and crisp on the bottom.  No soggy crust!
I let the dough rise for at least an hour, a couple of hours won't hurt.
If I have bread flour in the house I use it otherwise just plain old flour will do.
There are two pizza making tools that come in handy – a wooden paddle and a pizza stone.  Not essential but they make the job easier and the crust crisper.  If you don't have a pizza paddle use the backside of a cookie sheet.
I put a light coating of cornmeal onto the pizza paddle (which I got at Target for less than $20.00)  Go buy yourself one, really!  It makes pizza making so much more fun and makes you feel so professional.
Then add the dough.
You can just use your hands like they do at the pizza place but I prefer a rolling pin to roll out my dough.
About 30 minutes before you want to cook your pizza place your pizza stone into the oven and heat the oven to about 450 degrees.  You want that stone nice and hot!  As you can see my pizza stone is well used and so is my oven!

After rolling out your dough add a layer of sauce.  I like a medium layer of sauce, not too heavy.
Next comes your toppings.  Most of my family likes pepperoni and black olive so I usually do our pizza 1/2 cheese and 1/2 pepperoni and black olive. Ocassionally some of those black olives sneak over onto my cheese side.
And then the cheese.  I like to use the real, ungrated mozzarella cheese (the big round ball, not the pregrated stuff).  It really makes a difference in the texture and flavor of the pizza I think.
As a finishing touch I give it a light sprinkle of freshly grated Parmesan cheese too.
Then it goes into the oven.  Just slide it right off the paddle onto the hot stone.
About ten minutes later you have a delicious, cheesy pizza!
Now the question is – how do you cut your pizza.  I grew up with pizza cut into squares but then I moved out West and they cut their pizza into pie shaped slices – how do you like yours??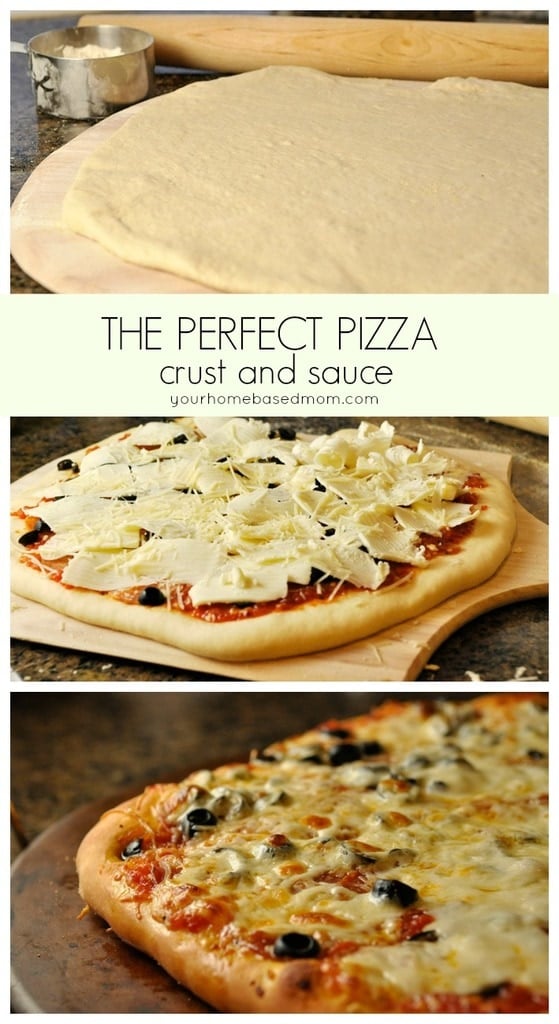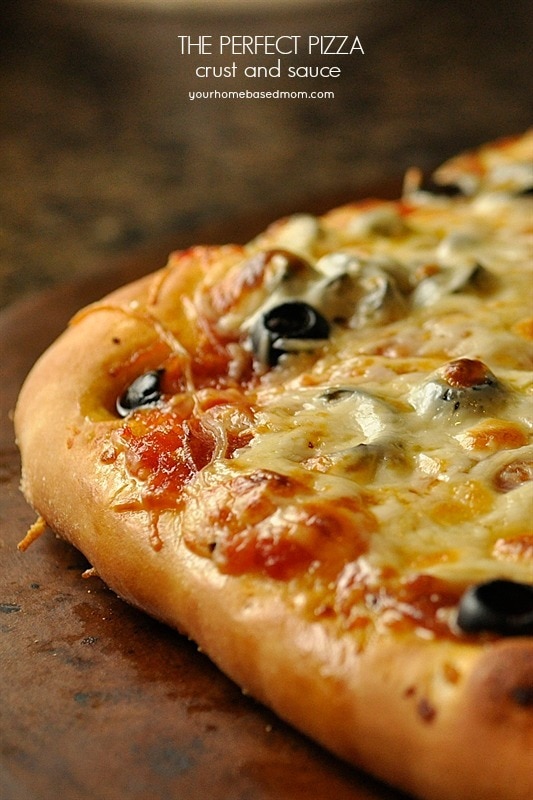 Pizza Crust and Sauce
Ingredients
1

C

warm water

3

tsp

yeast

1

Tbsp

sugar
Add to yeast mixture:
2

C

bread flour

1

tsp

kosher salt

1

Tbps. olive oil

Gather desired pizza toppings: sauce

see below, pepperoni, black olives, mozzarella cheese, Parmesan cheese, etc.
Pizza Sauce:
2

Tbsp

olive oil

2

tsp

garlic

minced

1

26 oz can crushed tomatoes

2

tsp

sugar

1/2

tsp

Italian seasoning
Instructions
Preheat oven and pizza stone to 450 degrees

Combine yeast and sugar with warm water and allow to sit for 5-10 minutes until bubbly
Add to yeast mixture:
Combine wet ingredients in dry ingredients into mixer and knead for 5 minutes until dough is smooth, will be a little sticky

Allow to rise for at least one hour

Cover pizza paddle or backside of a cookie sheet with a light layer of cornmeal

Roll out dough (may need to add a little extra flour)

Add a layer of sauce, desired toppings and then cheese

Add a sprinkling of Parmesan cheese at the end

Slide pizza from paddle or cookie sheet into oven onto the hot pizza stone

Cook in oven preheated to 450 degrees for about 10-12 minutes until cheese is bubbly and lightly browned and edges of crust are golden brown
Pizza Sauce
Heat oil and garlic and cook until garic is sizzling, about 2 minutes

Add in tomatoes, sugar, seasoning and simmer until thickened, about 15 minutes
Stay Updated!
Need more recipes and creative ideas? Sign up and get a FREE copy of my ebook! Do you think your friends would love this too? Please share my blog with them. Thanks!