This Proscuitto, Blackberry & Basil Pizza is not only delicious but it is so pretty.  Love the idea of fruit on my pizza.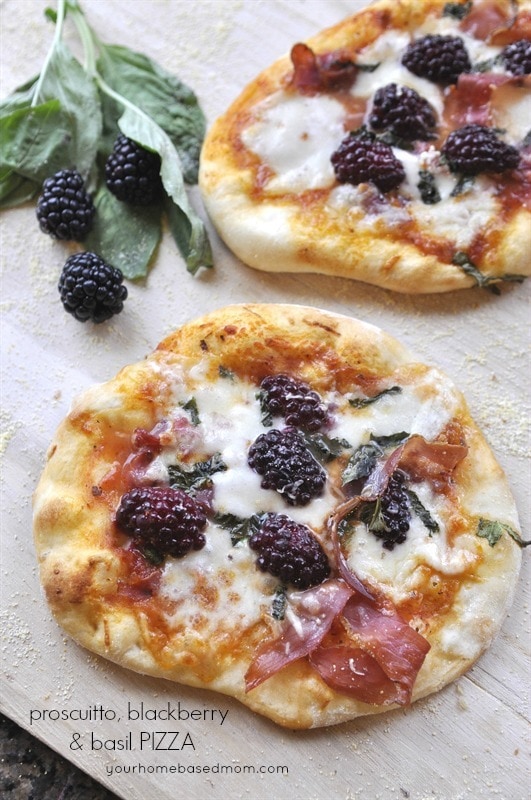 I make a lot of trips to Utah.  My two daughters are there and a lot of Jim's family is too so I love making trips there to participate in family events since we don't have any close extended family nearby. One of my goals for each of my trips to Utah is to find a new restaurant to try in the Provo/Salt Lake City area.  I had seen some pictures on several of my Utah friend's Instagram accounts of pizza. I am a huge pizza fan so I knew this place had to go at the top of my restaurants to check out in Utah.  I was not disappointed.  In fact, I visited the pizzeria on my last two visits to Utah.
I decided to try my hand at making one of my favorite pizzas I had on my last visit.  The pizza has a fun and somewhat different flavor combination – proscuitto, blackberries and basil.  Blackberries on a pizza?  Yes, it totally works!
I started out with my basic, go to pizza crust recipe that you can find here.  I use olive oil in my crust.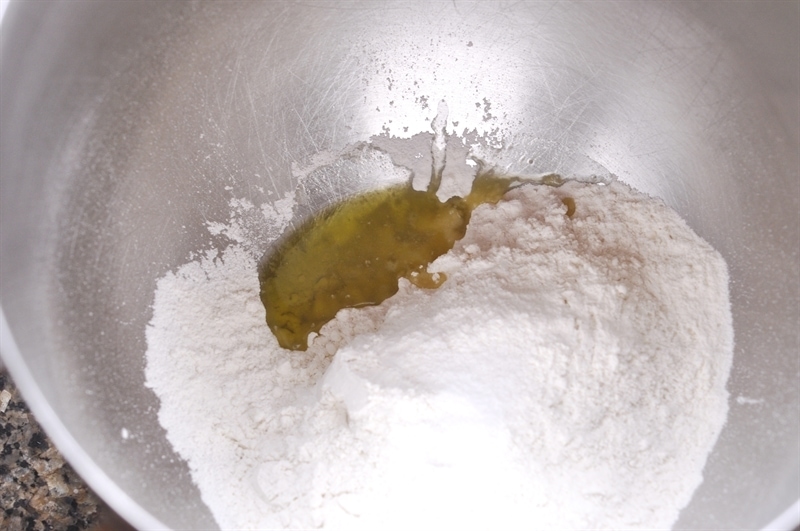 I decided to try two different versions.  One using red sauce and the other using some garlic infused olive oil as the base.  I loved them both.  The restaurant uses a traditional pizza sauce base but if I had to pick one I think it would be the one with the garlic infused olive oil base.
For the garlic olive oil infused version I just added some chopped garlic into my Pompeian Olive Oil.  I used the Canola Oil, Olive Oil, Grapeseed Oil blend.  I have loved being a #PantryInsider for Pompeian this year and cooking with all their great products.  This blend provides natural antioxidants, contain zero trans fat, is a good source of Vitamin E, low in saturated fat and is cholesterol and sodium free. The combination of the oils enhances the flavor and is good for you too!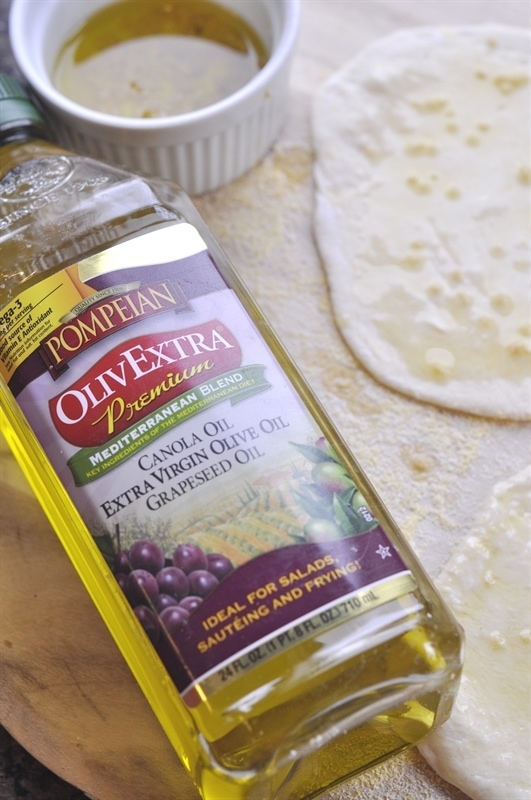 I rolled out my dough onto my paddle that was covered in cornmeal and then spread a layer of the garlic infused olive oil onto my dough.  I made individual size pizzas because I think they are so cute!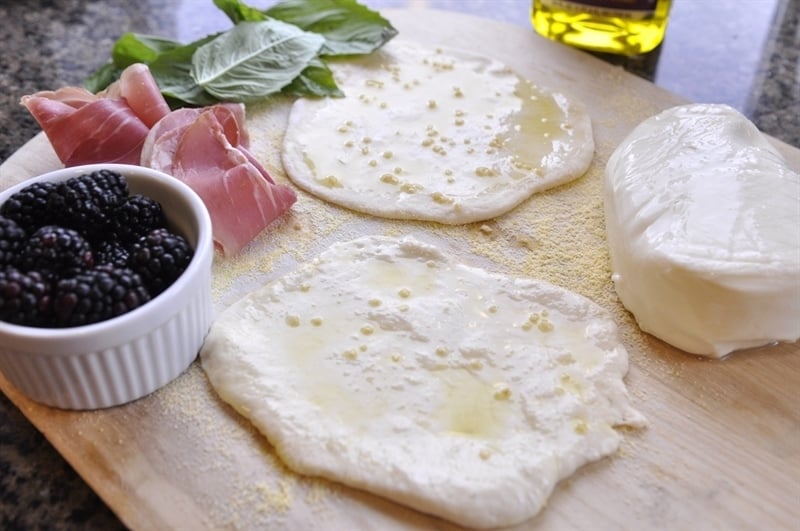 I then topped it with proscuitto, mozzarella cheese, blackberries, basil and some Parmesan cheese.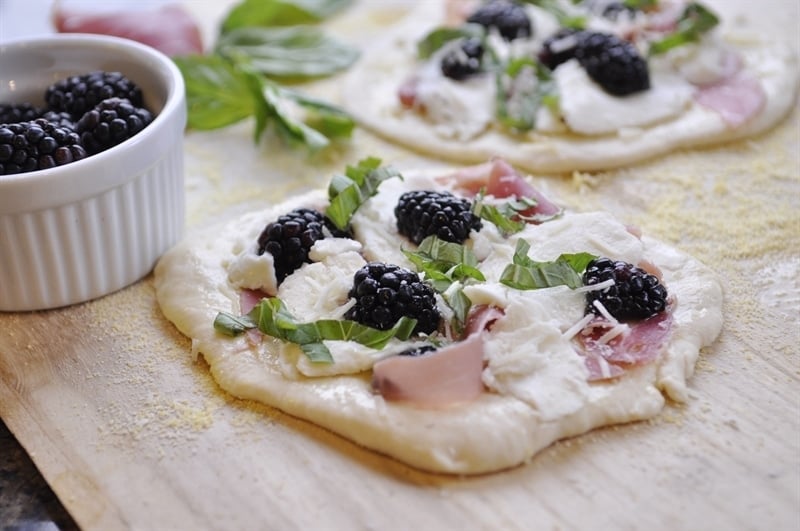 I like to cook my pizza on a  stone which I had heating up in the oven.  It gives you a nice crispy crust.  You can also cook on a regular pizza pan.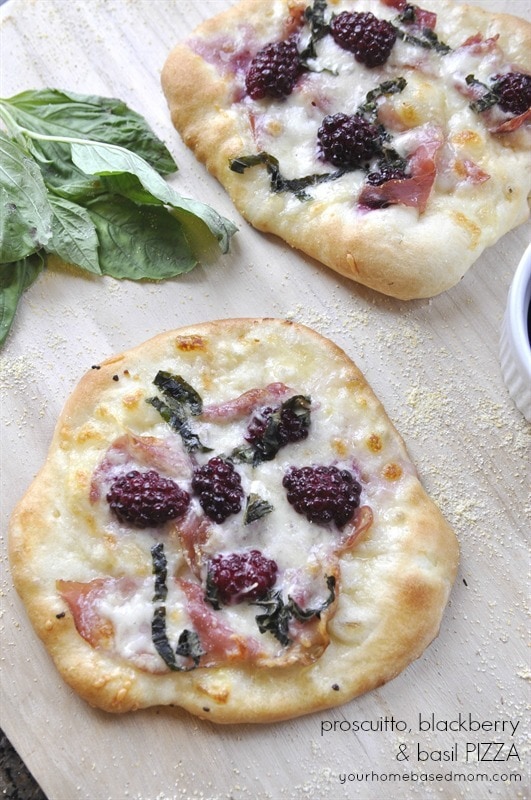 I also made a version with pizza sauce.  You can find my favorite pizza sauce recipe here.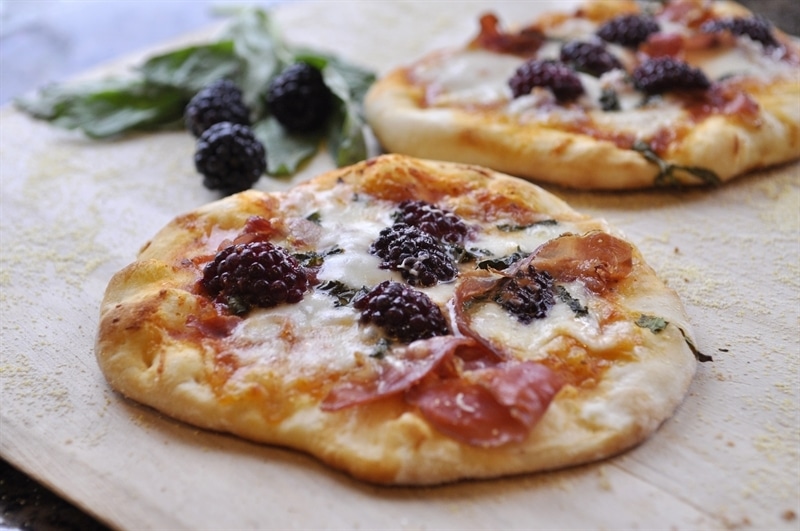 Like I said, they were both delicious.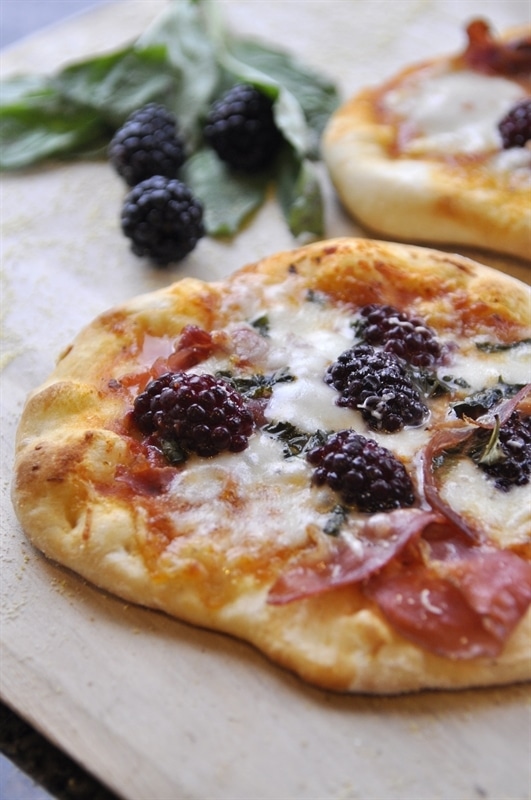 It is a fun twist on the typical Hawiian Pizza combo – instead of pineapple you are using blackberries and instead of Canadian Bacon you've got proscuitto.  Basil is the perfect addition to the flavor combo. Try and see what you think!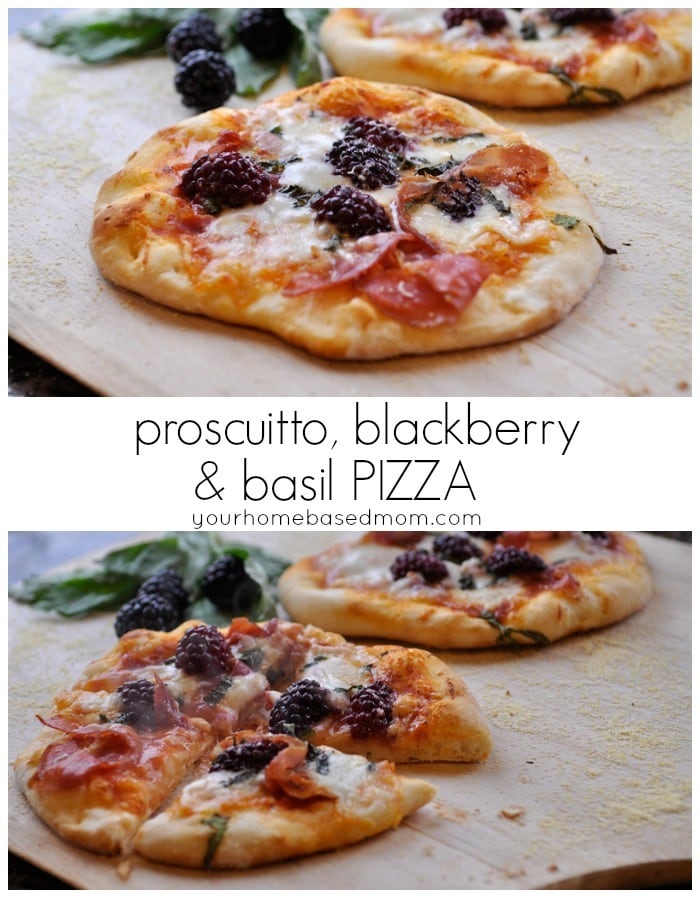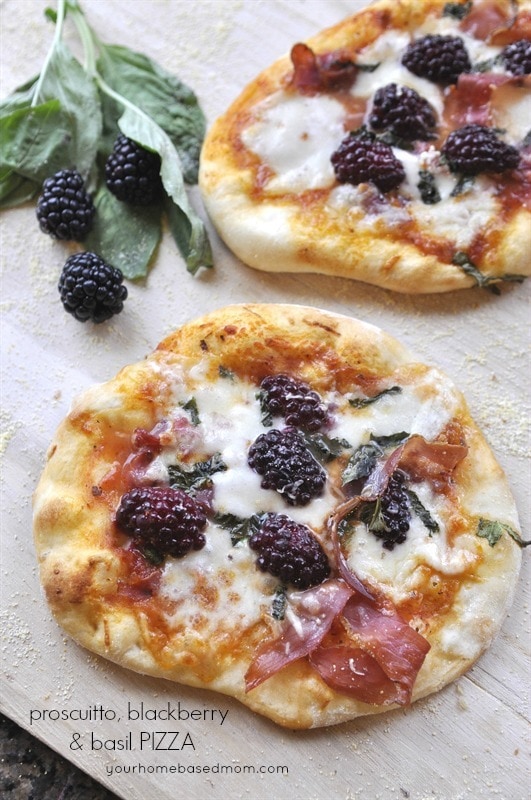 Proscuitto, Blackberry & Basil Pizza
One recipe of Pizza crust makes two full size pizzas. Pizza Sauce recipe will provide enough for two pizzas. All other ingredients below are for one pizza.
Ingredients
Perfect Pizza Crust Recipe

Pizza Sauce

10

pieces

of Proscuitto

very thinly sliced

1

C

Blackberries

cut in half

1/4

C

Basil

chopped

Mozzarella Cheese

Parmesan Cheese

2

Tbsp

olive oil

2

tsp

garlic

minced

Cornmeal for paddle.
Instructions
If using garlic infused olive oil, combine oil and garlic.

Make pizza crust and allow to rise according to directions.

After rising roll out crust onto a cornmeal covered pizza paddle.

Cover dough with either pizza sauce or garlic infused olive oil.

Add proscuitto, blackberries, mozzarella cheese and sprinkle with Parmesan cheese

Back at 450 for 10-12 minutes or until crust is golden brown and cheese is bubbly.
Get my Weekly Menu Plan for FREE!
Receive my FREE "What's for Dinner?" Meal Planning Course, a copy of my FREE ebook that includes my most popular recipes and my FREE weekly Meal Plan.