Today is the day!  Wedding Carnival!
It's been four months of lots and lots of work but it has been so fun.  I am so excited to see it all come together and for the bride and groom and all our family and friends to enjoy what I hope will be a magical moment in time.  That has been my goal.  To celebrate the bride and groom while creating a memory that will last a life time.
  Isn't that what moms are suppose to do!?
Today's recipe is truly an old family favorite.  I have been making this cake for years.  Strawberry Cream Cake has been the traditional "Wilkes Family Birthday Cake" for as long as I can remember.  The one my children always request.  I actually can't believe I have never shared it on the blog before.
As a kid I too was a big fan (and still am) of angel food cake.  It was always my birthday cake of choice.
This summer Tessa requested her usual – Strawberry Cream Cake.  We were at our Week at the Beach for Tessa's birthday and she was so excited to have all her siblings home for her birthday.  This hasn't happened in about ten years so she was thrilled.  We were also celebrating Jessica (my new daughter in laws) birthday while we were there so Tessa graciously shared her birthday cake.
I had limited food props etc. at the beach so my photos aren't as pretty as usual but the cake is just as delicious!
I use a box angel food cake.  I have never had much success with making an angel food cake from scratch.  I usually end up with a fallen mess.  You will need an angel food cake pan.  If you don't own one I always see lots of them at Goodwill so pick yourself up one!  The trick with angel food is turning it upside down after it has baked to cool.  I used my Worcestershire Sauce bottle!  You don't want a bottle with a plastic top because the heat of your pan may just fuse itself right to your bottle (personal experience!)


After it has cooled, run a knife around the edges of the pan and remove.

For the Strawberry Cream Cake you will need to slice the cake horizontally into three layers.  Use a nice serrated knife for this.
For the cream filling I use frozen berries that I have let thaw (you want the juice)  I have made it with both strawberries and raspberries and we love both but strawberry is usually the more requested.  Add some plain gelatin to the thawed strawberries and let it sit.  The gelatin will thicken up the juice so you don't have a runny mess.

Whip your cream and then fold the berry mixture into the whipped cream.


Put a layer of strawberry cream on one layer of cake.

Add the next layer of cake and more strawberry cream.

And then the top layer.  You will then frost the entire cake in more strawberry cream!

Then garnish the top with some fresh berries.


Keep the cake refrigerated until ready to serve.  Slice with a serrated knife.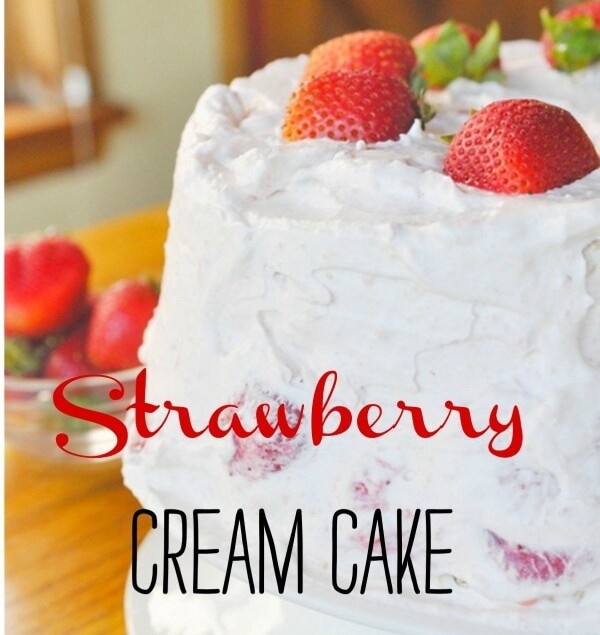 Strawberry Cream Cake
Ingredients
1 10 inch angel food cake baked and cooled
1 pkg. frozen strawberries or raspberries thawed (the kind that comes in the square can.
1 Tbsp unflavored gelatin
2 C whipping cream whipped until stiff
4 Tbsp sugar
1 tsp vanilla
Instructions
After angel food cake is baked and cooled, cut into 3 horizontal layers.

Drain juice from thawed strawberries or raspberries into a small bowl.

Over the juice sprinkle gelatin and allow to stand until softened.

Set bowl into hot water and stir until gelatin dissolves.

Combine the gelatin mixture with berries and barely cool (If it cools too much, the gelatin will set).

Add sugar and vanilla to whipped cream.

Fold berries into cream. Do not worry if fruit seems too juicy, it will soon set up.

Cover the cake layers generously with cream mixture.

Adjust the top layer and spread mixture over the entire top and sides of cake.

Refrigerate until firm.