Strawberry Cream Cake is made with 3 layers of angel food cake filled with strawberry whipped cream. It is sweet, light and delicious.
You may want to check out some of our other favorite strawberry desserts including this Strawberry Pizza which is a real crowd please. This Strawberry Cream Pie is my husbands favorite. We make Fresh Strawberry Ice Cream every summer.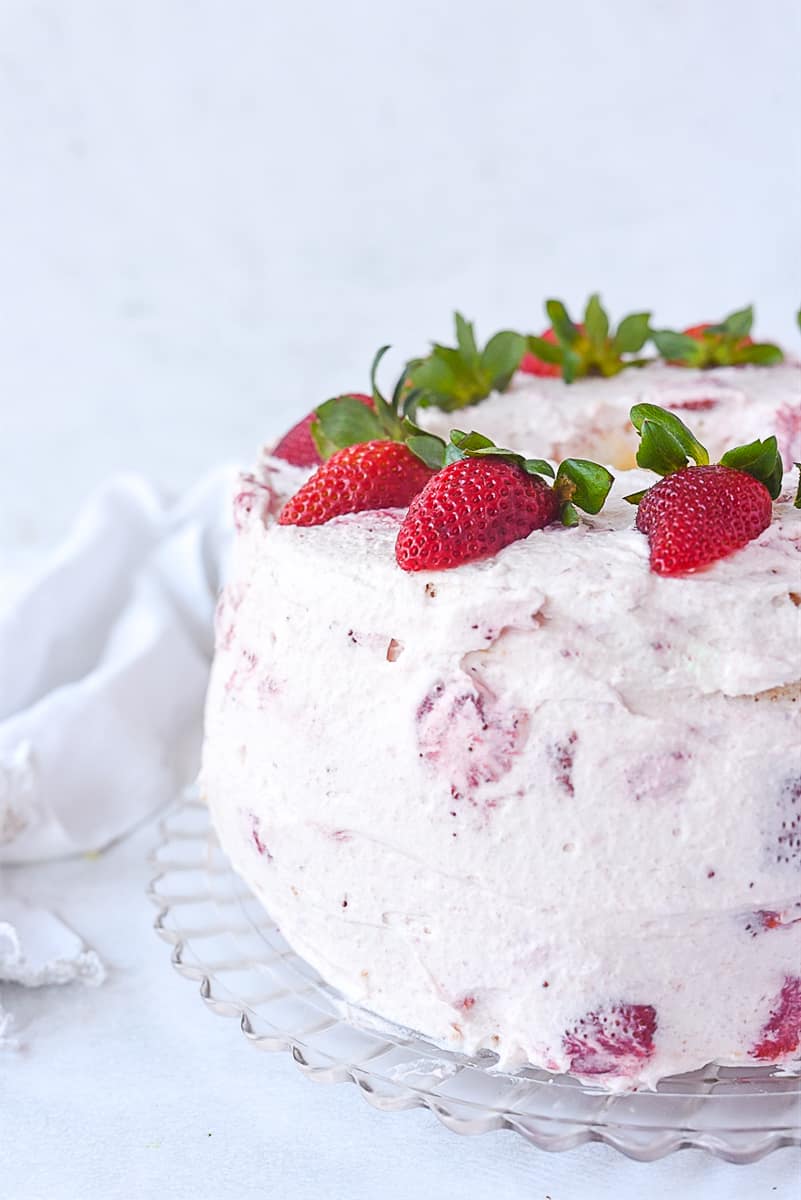 Strawberry Cream Cake
As a kid I too was a big fan (and still am) of angel food cake. It was always my birthday cake of choice.
Strawberry Cream Cake has been the traditional "Wilkes Family Birthday Cake" for as long as I can remember. It is the one my children always requested when they were young.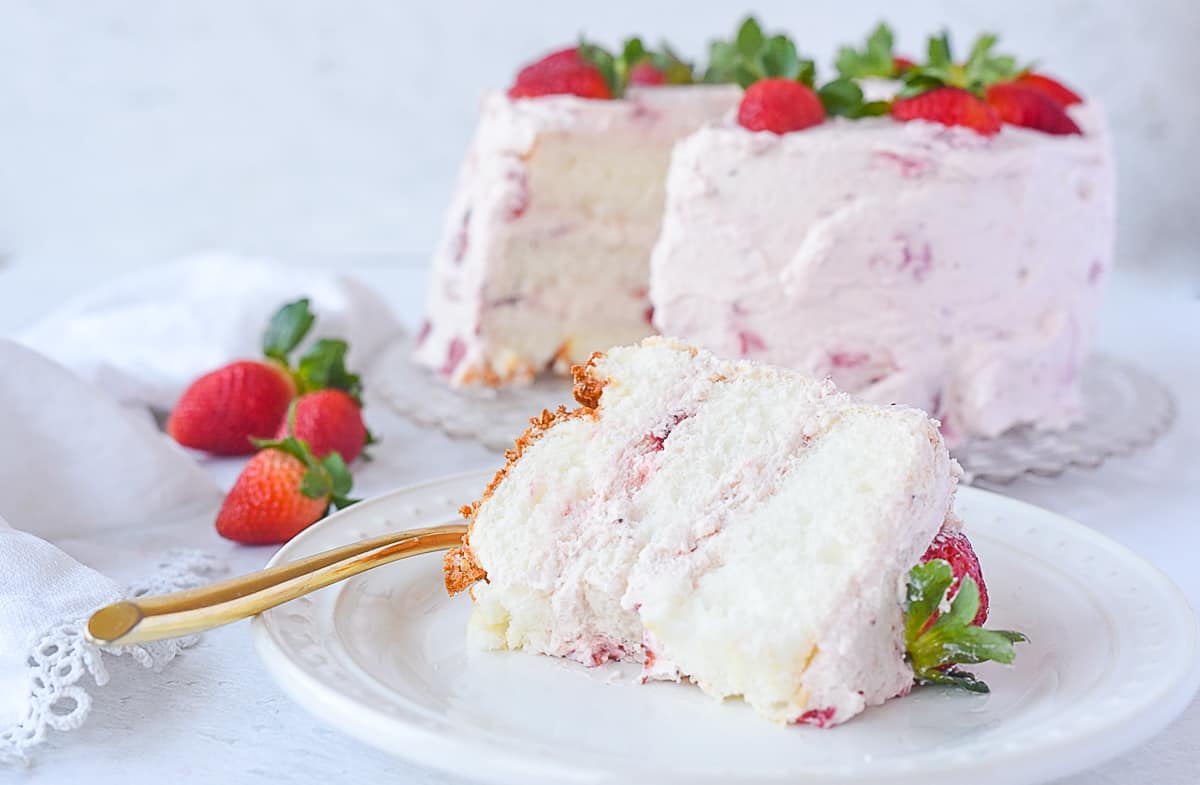 What is Angel Food Cake?
For this recipe I used a boxed angel food cake mix. Angel Food Cake is a sponge cake that is made with egg whites and no fat. It is typically baked in an "angel food cake pan" or tube pan which is round with a hole in the middle. This pan has a removable bottom which makes it easy to remove the cake from the pan. And the pan also allows the cake to bake from outside in and the inside out. The pan gives the cake more area to cling to, helping to hold this light cake up.
Can Angel Food Cake Be Baked in A Bundt Pan?
A bundt cake pan does not work well as the cake is too difficult to remove from the pan. Finding an angel food cake pan is your best bet. Try your local Goodwill or see if your neighbor has one.
The trick with angel food is turning it upside down after it has baked to cool. This helps prevent the cake from deflating while cooling. I used my Worcestershire Sauce bottle! You don't want a bottle with a plastic top because the heat of your pan may just fuse itself right to your bottle (personal experience!)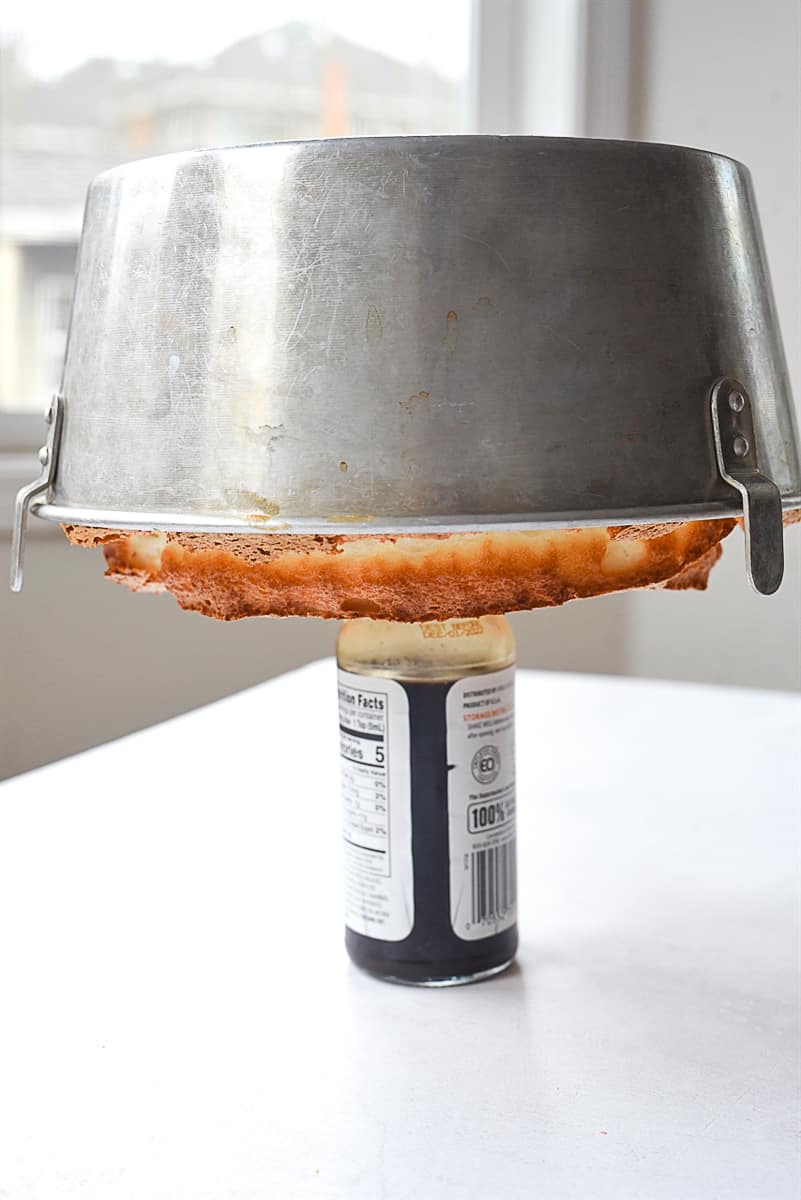 After it has cooled, run a knife around the edges of the pan and remove the cake by pushing up on the removable bottom.
How to Make Strawberry Cream Cake
Cake
Make the angel food cake according to the directions on the back of the box. Allow to cool completely in the pan and remove.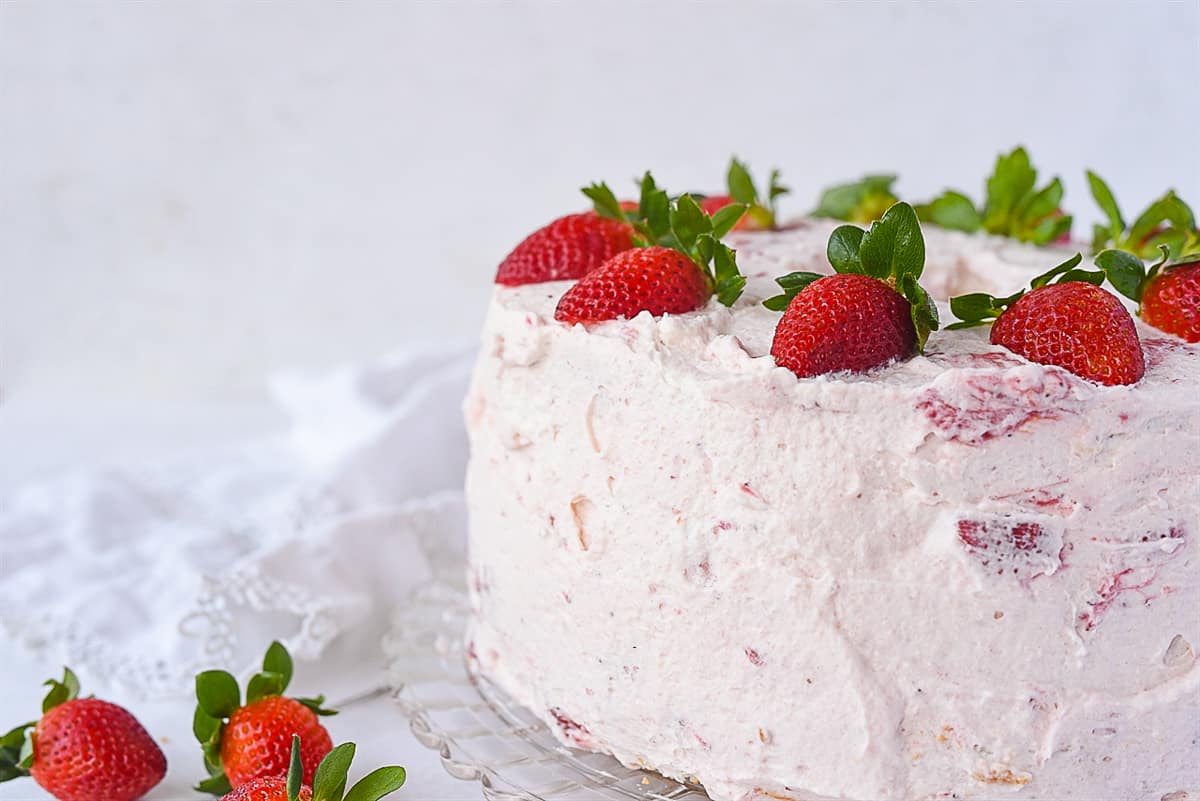 Filling
I always use frozen strawberries which are sliced in sugar for the cream filling. Thaw the strawberries and separate the juice from the berries. Place juice in a bowl.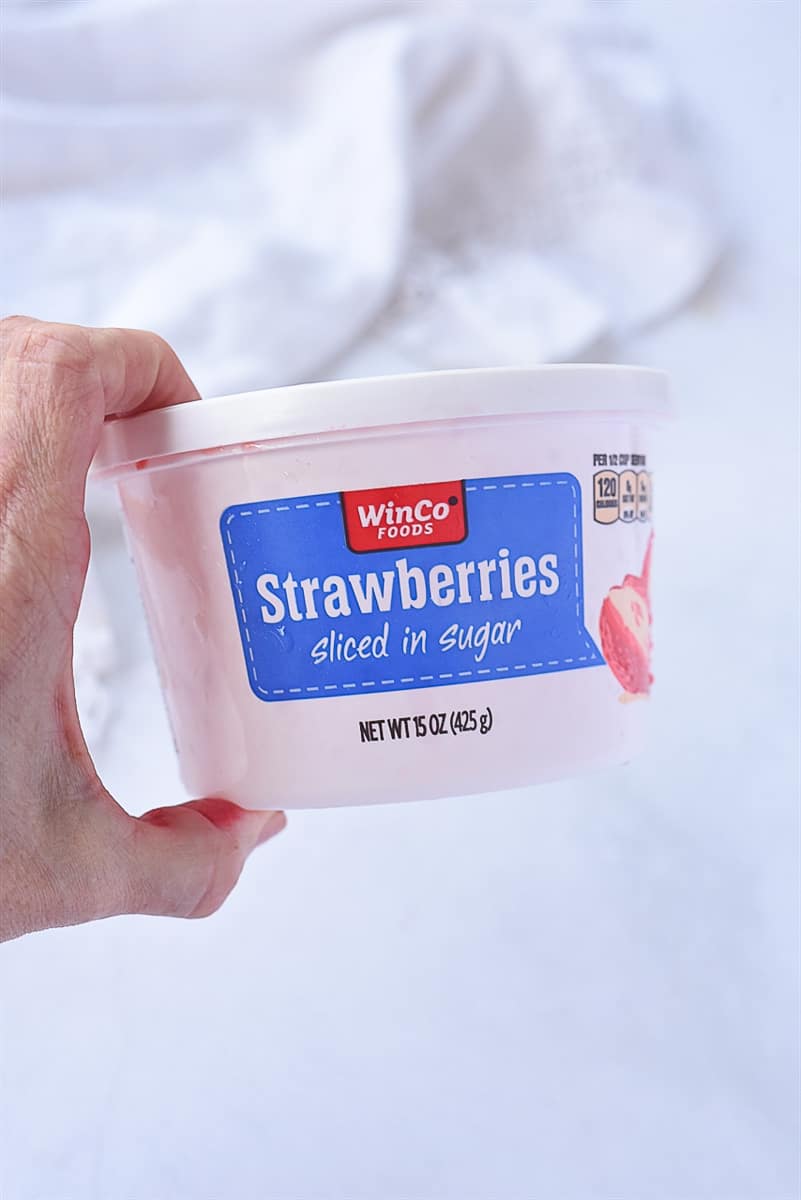 Sprinkle gelatin (this is plain not flavored gelatin) over the strawberries and allow to sit for a few minutes until it is softened. The gelatin acts as a thickener for the berry juices.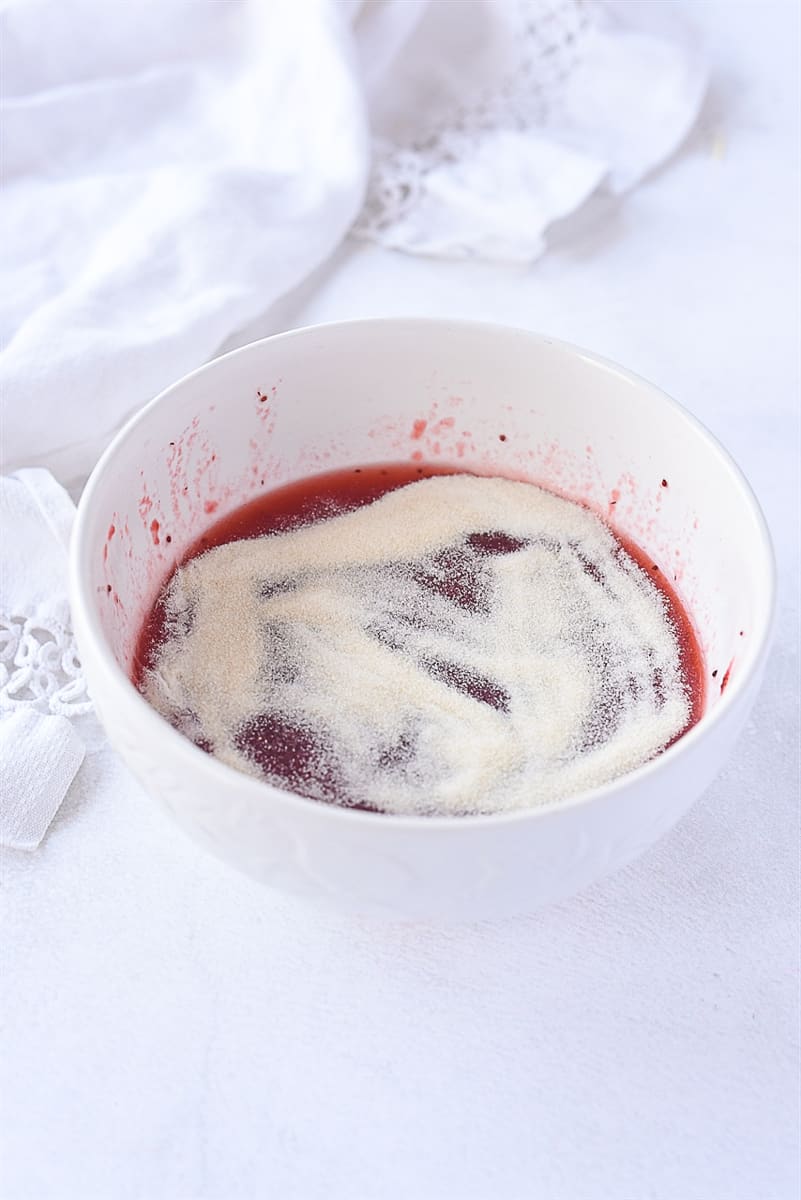 Place the bowl into a pan or bowl of hot water and stir until the gelatin dissolves.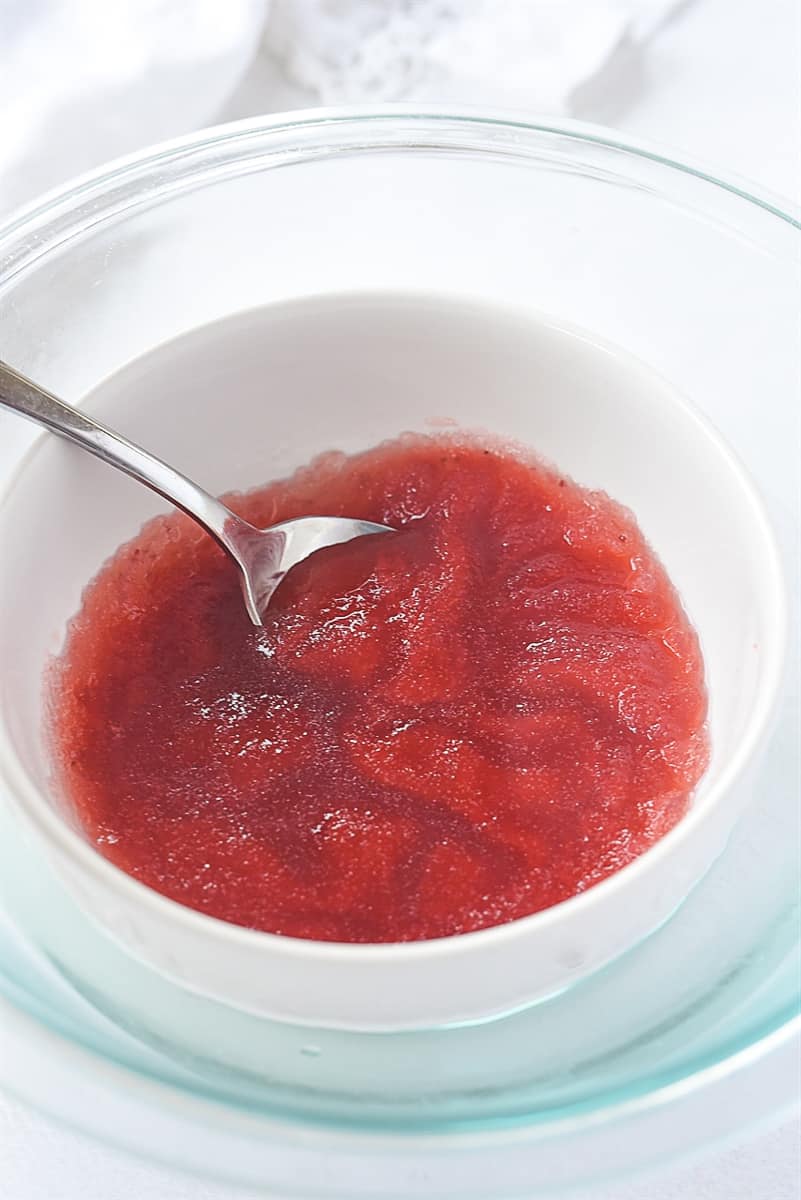 Whip your cream and then fold the berry mixture into the whipped cream. If it seems a bit runny, don't worry, the gelatin will help it set up.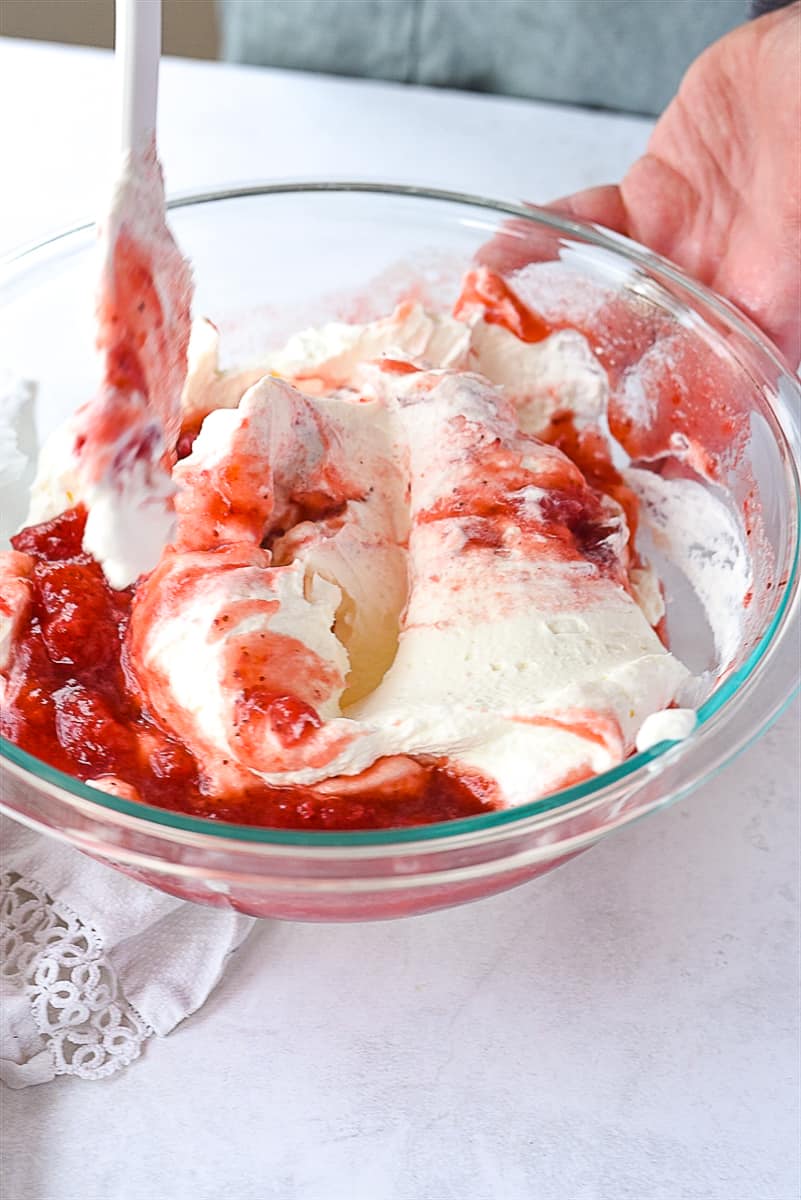 Slice cake into three layers using a serrated bread knife.
Put a layer of strawberry cream on the bottom layer of cake. Repeat with second layer.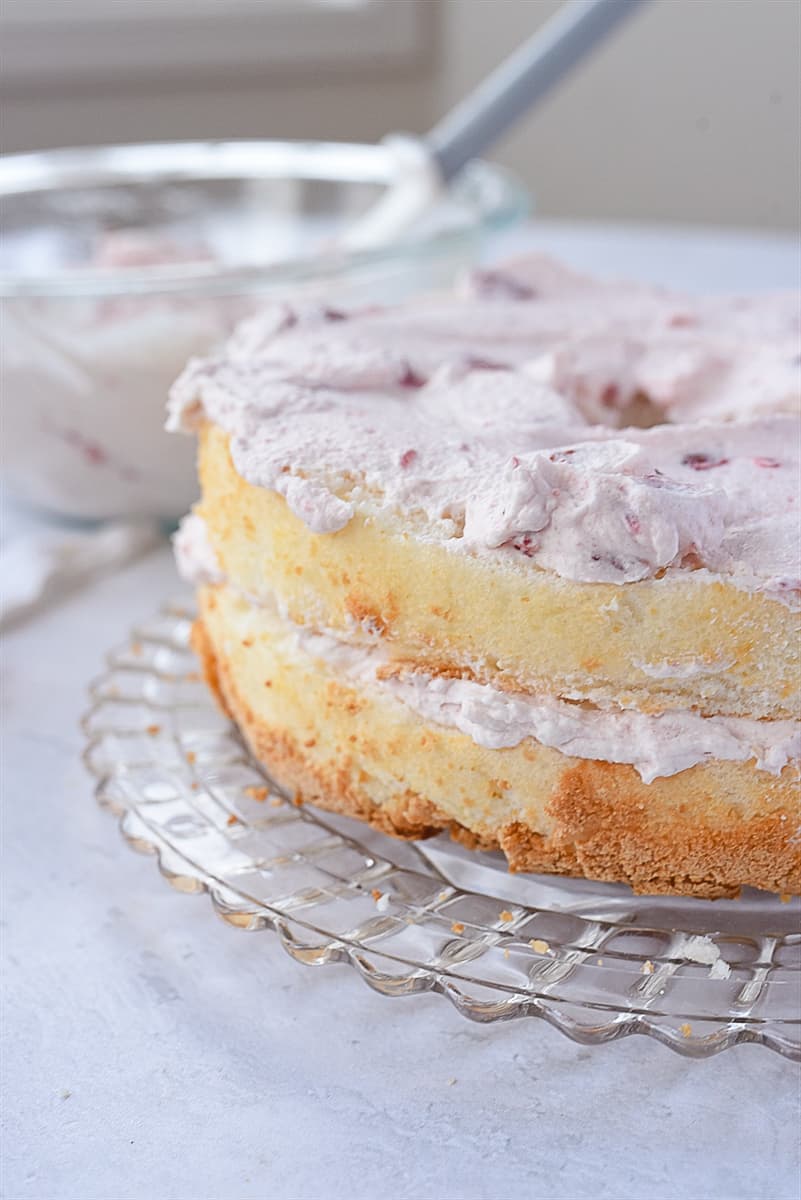 Add the top layer and frost the entire cake in more strawberry cream!
Then garnish the top with some fresh berries.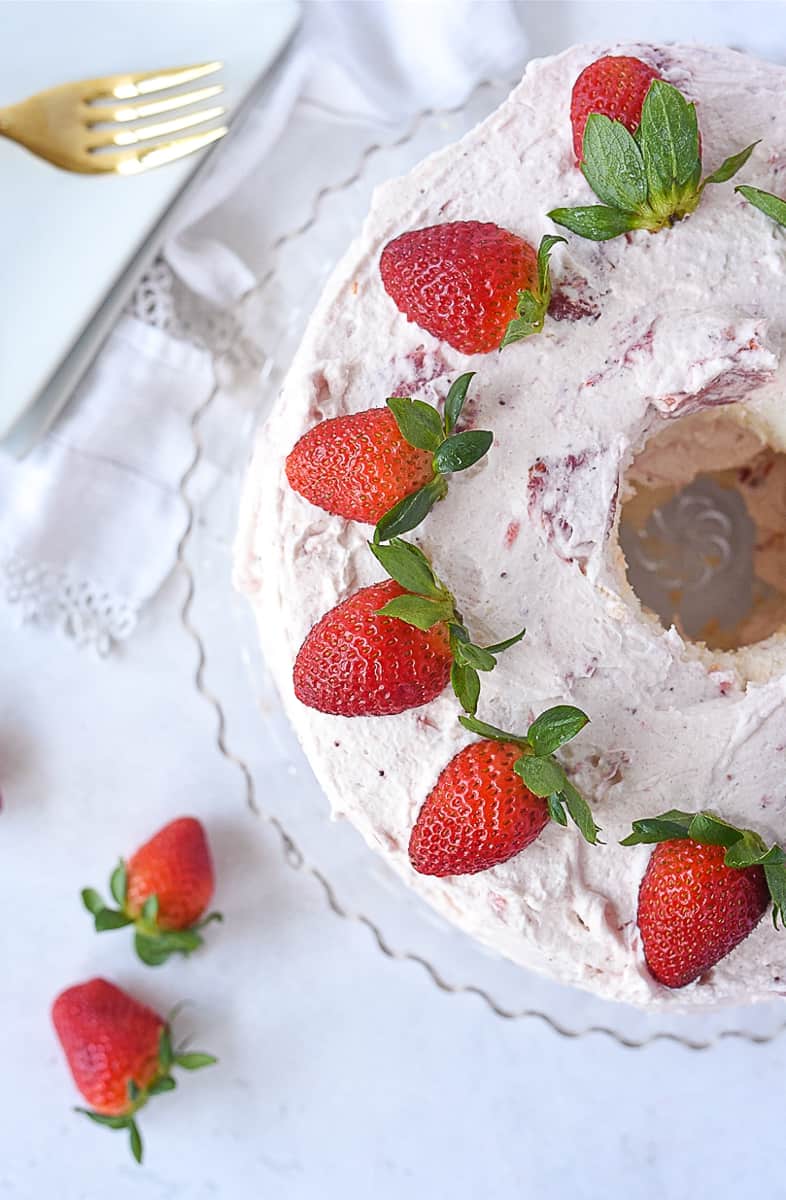 Slice and serve. Keep the cake refrigerated until ready to serve as well as any leftovers. Slice with a serrated knife.
This cake will keep for a day or two but not any longer.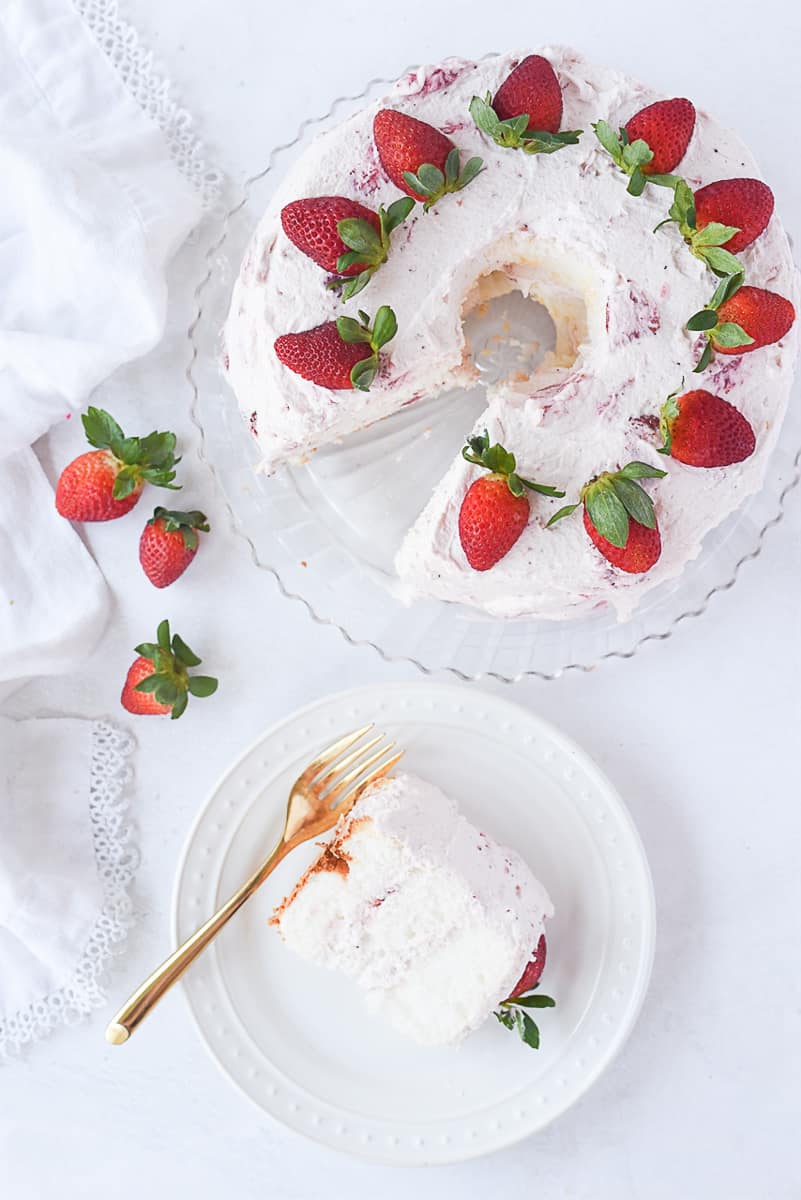 For all of my other favorite kitchen products and tools visit my Amazon Store.
Did you know I wrote a cookbook? Check out the Holiday Slow Cooker Cookbook for 100 delicious recipes.
Strawberry Angel Food Cake Recipe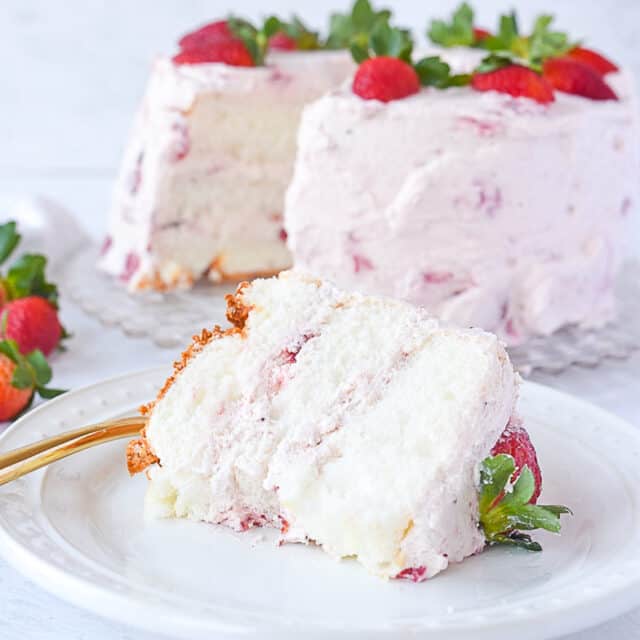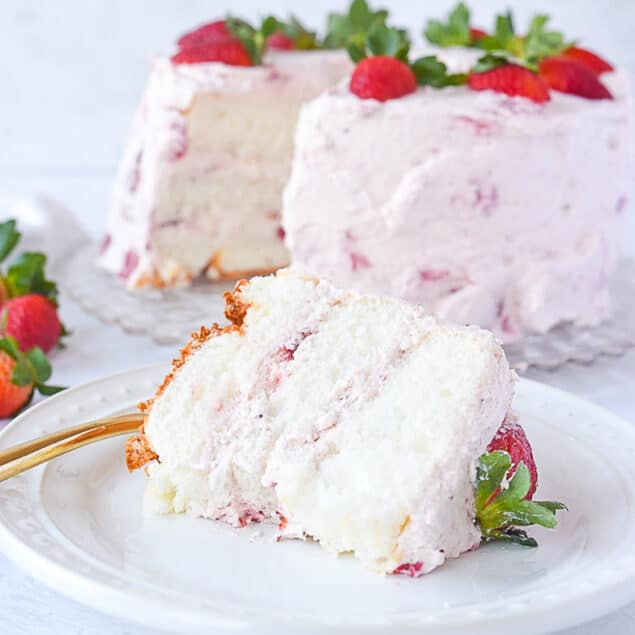 Strawberry Cream Cake
Strawberry Cream Cake is made with 3 layers of angel food cake filled with strawberry whipped cream. It is sweet, light and delicious.
Ingredients
1 10 inch angel food cake baked and cooled
1 15 oz. frozen strawberries or raspberries thawed, sliced in sugar
1 Tbsp unflavored gelatin
2 cups whipping cream whipped until stiff
4 Tbsp sugar
1 tsp vanilla
Instructions
After angel food cake is baked according to directions on the back of the box and cooled, cut into 3 horizontal layers.

Drain juice from strawberries and place into a small bowl. Set berries aside.

Over the juice sprinkle gelatin and allow to stand until softened.

Set bowl into hot water and stir until gelatin dissolves.

Combine the gelatin mixture with berries and barely cool (If it cools too much, the gelatin will set).

Add sugar and vanilla to whipping cream and whip.

Fold berry mixture into cream. Do not worry if fruit seems too juicy, it will soon set up.

Cover the cake layers generously with cream mixture.

Adjust the top layer and spread mixture over the entire top and sides of cake.

Refrigerate until firm.
Nutrition Facts:
Calories: 187kcal (9%) Carbohydrates: 6g (2%) Protein: 2g (4%) Fat: 18g (28%) Saturated Fat: 11g (69%) Cholesterol: 65mg (22%) Sodium: 20mg (1%) Potassium: 37mg (1%) Fiber: 1g (4%) Sugar: 5g (6%) Vitamin A: 700IU (14%) Vitamin C: 1mg (1%) Calcium: 32mg (3%) Iron: 1mg (6%)
* Disclaimer: All nutrition information are estimates only. Read full disclosure here.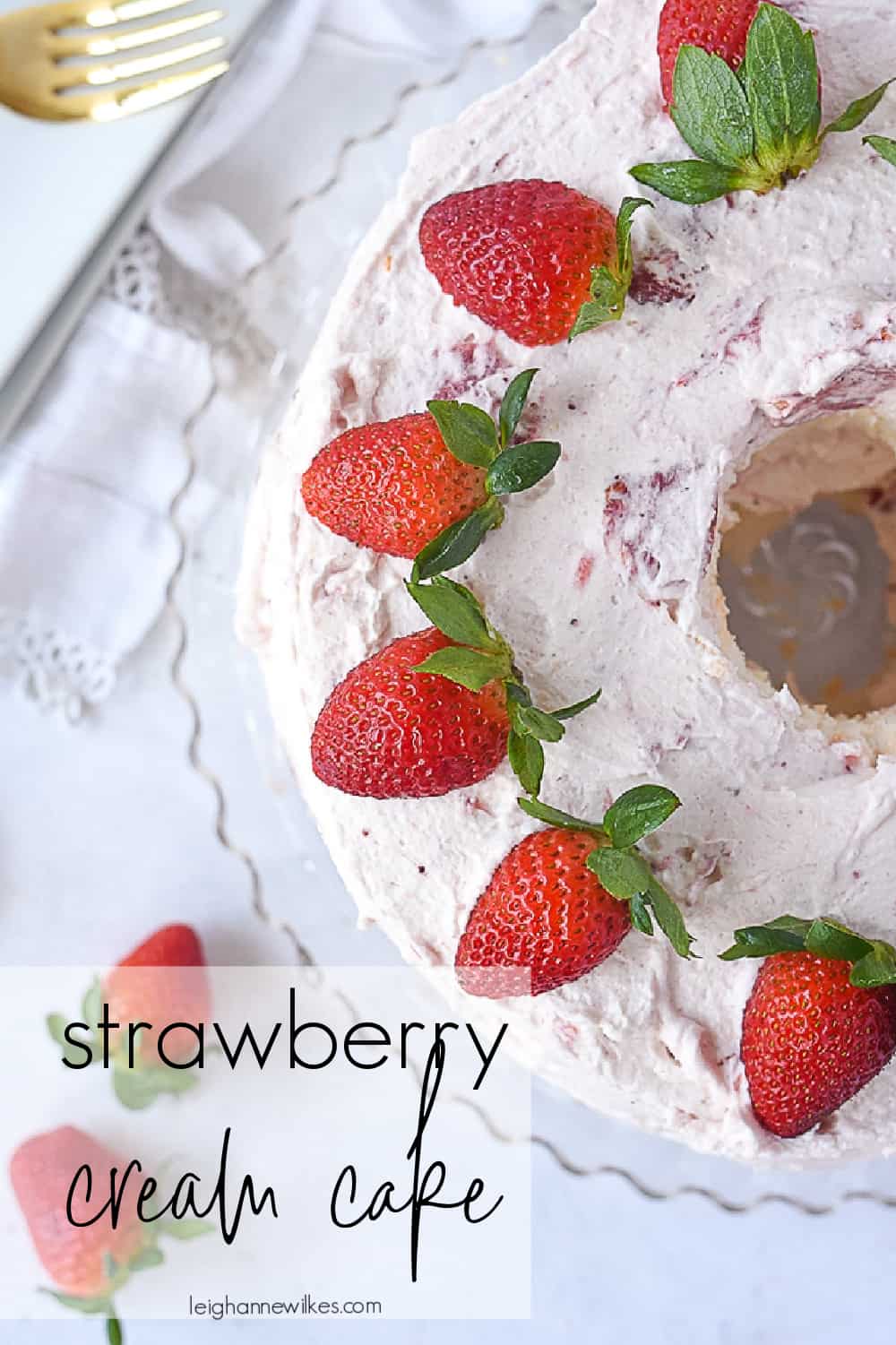 Originally shared August 24, 2012