Skillet Potatoes with Peppers, Onions and Sausage makes a great side dish or main dish – for dinner or breakfast!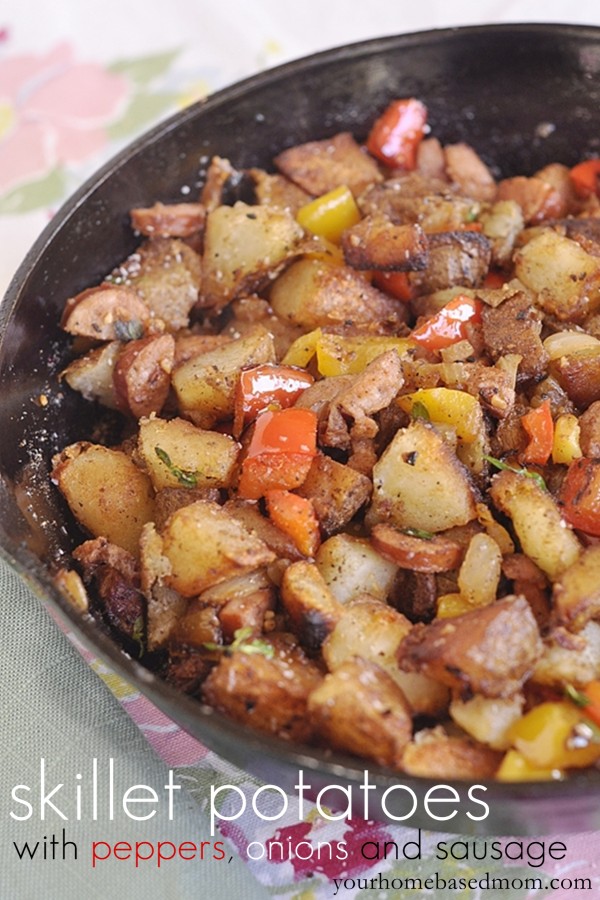 I look for every opportunity I can to cook in my cast iron skillet.  I love that thing!  When Johnsonville  asked me to come up with a recipe using their Premium Smoked or Cooked Sausage along with the "secret ingredient" of peppers I decided to pull out my cast iron skillet.  If you don't own a cast iron skillet, no worries!  This recipe is totally doable in any skillet or frying pan.
In addition to the Johnsonville Sausage and red and yellow peppers I used some onions, potatoes and fresh herbs from my garden.  Dried herbs will work too.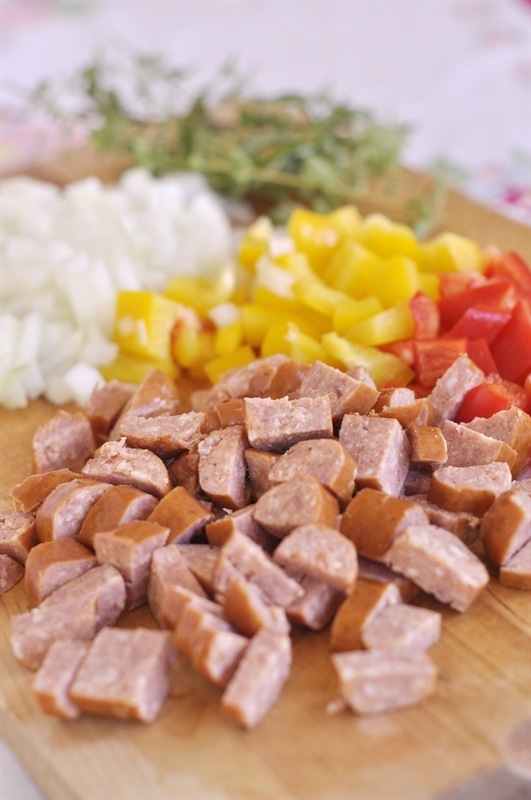 First I sauteed the chopped up onions and peppers in some olive oil until they were nice and soft.  The great thing about the sausage is that it is pre cooked so I threw it in the skillet at the last minute just to warm in through and brown it up a bit.  The cast iron skillet does that really well.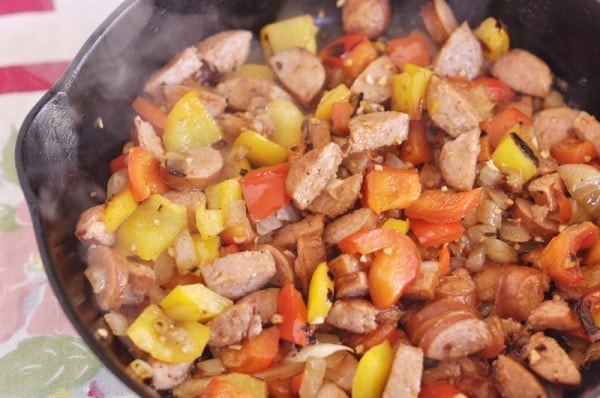 I then sprinkled with some fresh herbs – I used a combination of thyme, oregano and tarragon.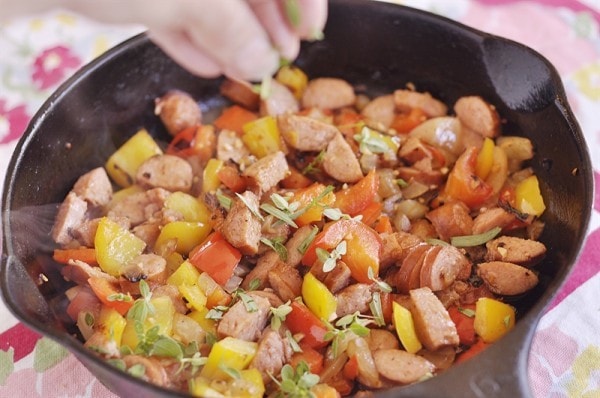 In another pan (one of my three cast iron skillets) I cooked the potatoes.  I had cut up the potatoes and boiled them first until just barely fork tender.  This cuts down on the cooking time of the potatoes in the skillet.  You can even do this step ahead of time and then just refrigerate the potatoes until you are ready to use them.
I then browned the potatoes in some more olive oil in my cast iron skillet until they were nice and golden brown on the outside.  I like my potatoes well done but cook them to your desired doneness and then just add them in with the peppers, onions and sausage.  Give it a few stirs on the stove to get it nice and combined and warm!
The great thing about this dish is that it can be a meal in and of itself.  Serve it up with a few eggs for breakfast, eat it as your main meal at dinner or lunch or use it as a side dish too!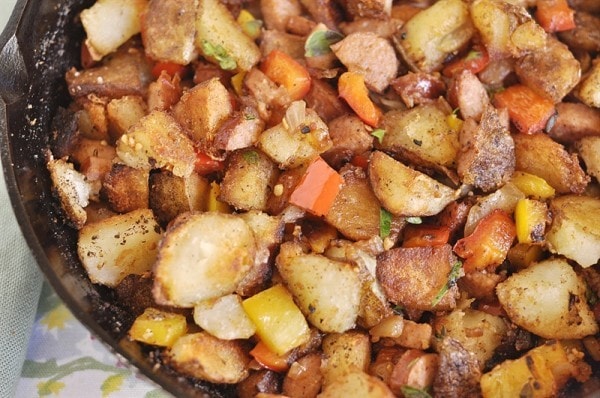 For some other yummy potatoes dishes try these:
Fingerling Potatoes with Prosciutto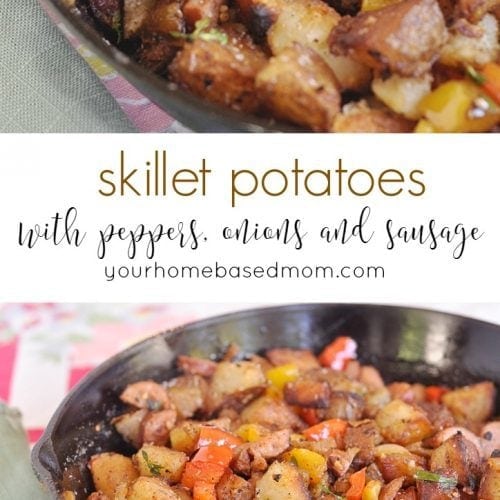 Print
Skillet Potatoes with Peppers, Onions and Sausage
Ingredients
1

C

of precooked Johnsonville Sausage

1/2

red pepper

chopped

1/2

yellow pepper

chopped

1/2

medium size onion

chopped

1

tsp

garlic

1

Tbsp

fresh herbs

combination of oregano, thyme, rosemary, tarragon, etc.

salt and pepper to taste

3-4

russet potatoes

chopped into bite size pieces

2 - 3

Tbsp

olive oil
Instructions
Brown onions and peppers in 1 Tbsp olive oil until soft.

Add in sausage and garlic and stir until sausage is headed through and slightly browned.

Boil potatoes until almost fork tender.

Cover bottom of frying pan with 1 -2 Tbsp olive oil and fry potatoes until brown and crispy.

Add potatoes and fresh herbs into onion and pepper mixture and stir to combine and heat through.