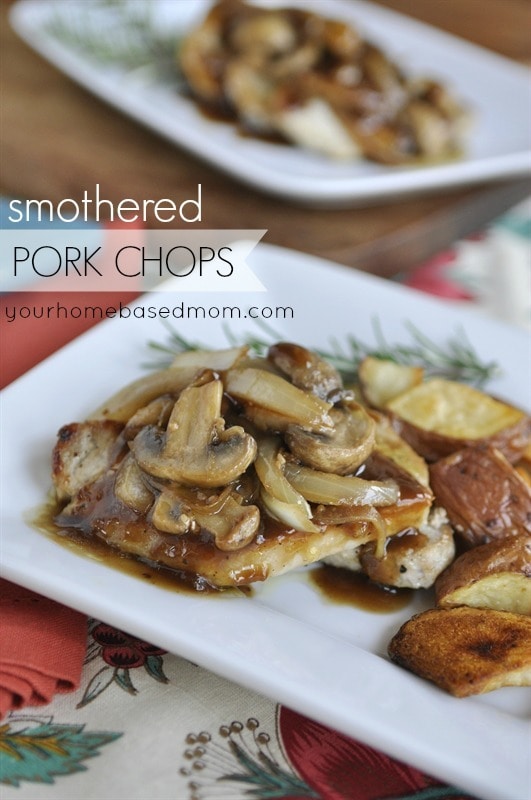 With the craziness of life that this season brings I have to admit that sometimes I am running around and working all day and my mind never even thinks about what's for dinner (when you are an empty nester you can do that!) So if you are anything like I am, you need all the quick & easy dinner ideas you can get.  How about dinner in 20 -30 minutes ??  I've got you covered today.  And the best part is this dinner doesn't look like it took  under 30 minutes.
Today's recipe is for one of those dishes that looks like you spent hours in the kitchen and tastes delicious but it actually comes together quickly. The other great thing about is, you can cook it all in one pan.  No mess!
It looks impressive and tastes impressive but is so easy to put together.You can actually take the sauce from this recipe and use it on beef if you prefer that over pork.
One of the things that makes this recipe so easy is it starts with a can of Campbell's Beef Broth.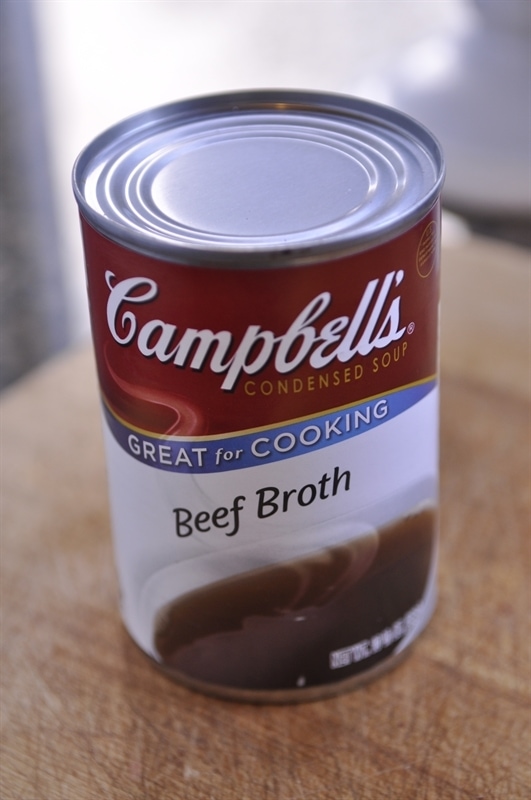 I love those red and white Campbell's cans and my pantry is always full of them.  Campbell's beef broth and chicken broth are two of my favorite and the basis of so many recipes I love to make. The soups in the red & white cans are their "cooking" soups.  The soups meant to be used in recipes.  The beef broth is full of flavor and with the addition of some corn starch makes a quick and easy glaze for our smothered pork chops. Campbell's has been helping make meals easy and more delicious for 144 years!
The first step is to season the pork chops.  I used thin cut pork chops but this recipe would be great with a thicker cut chop too.  I used garlic  powder, onion powder, sea salt and pepper to season on both sides of the chops.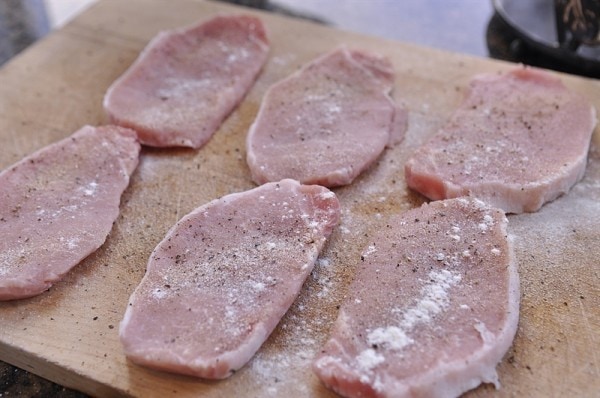 I then pan fried them in some olive oil.  I removed them from the pan and added a bit more oil and then sauteed my onions an mushrooms until the onions were  just how I like them.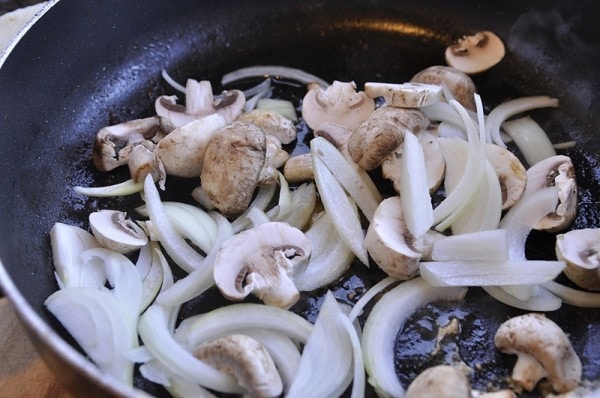 I added some corn starch to the beef broth and then heated in a pan until it thickened.
To serve I just added the mushroom/onion mixture on top of my pork chop and then smothered it with the glaze.  So easy and so delicious!!  And it looks so impressive!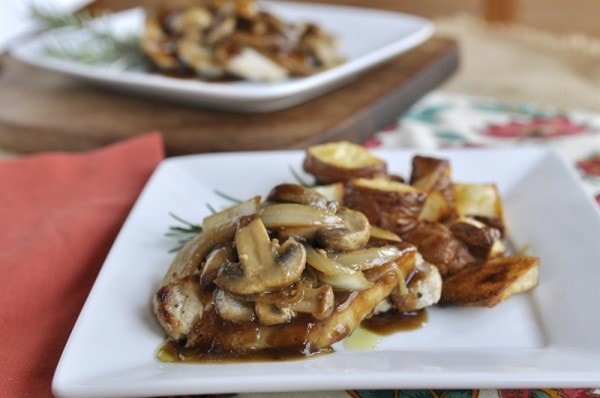 I served it up with some roasted red potatoes and garnished it with a little rosemary and I have a meal that looks like I slaved over it!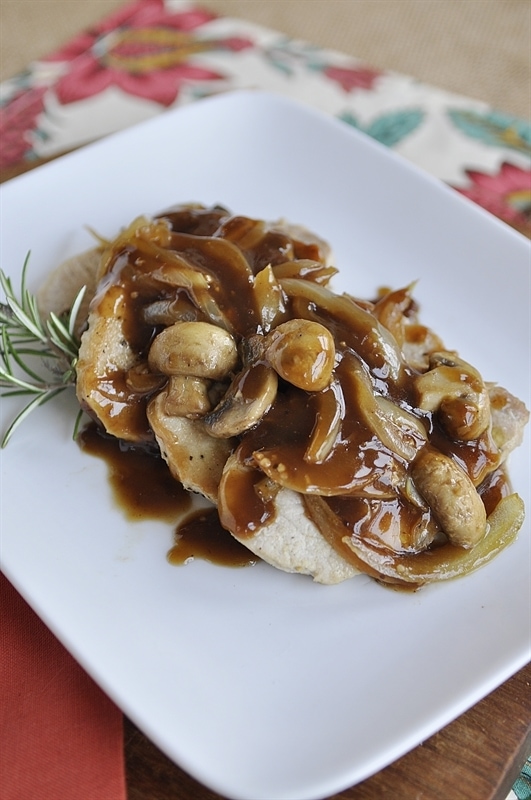 So be sure and stock your pantry with some of Campbell's cooking soups! If you're cooking dinner, Campbell gives you fresh ways to delight your family.  From fresh twists on classic faves to totally new recipes, Campbell will give you inspiration just when you need it at Campbell's Kitchen.
For even more fun, quick meal ideas your kids will love check out WisestKid.com.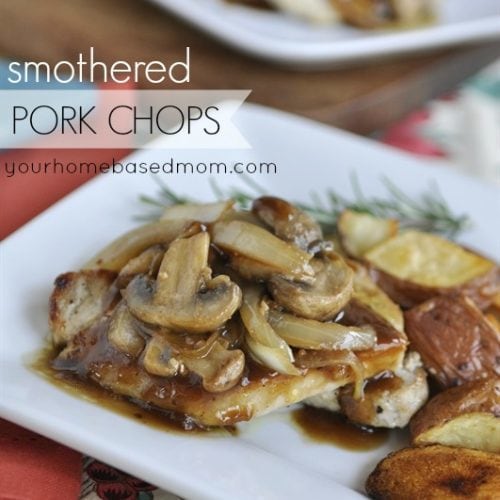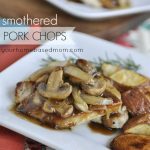 Print
Smothered Pork Chops
Ingredients
1 3/4

cups

or 1 can of Campbell's Beef Broth

2

tablespoons

cornstarch

6

boneless pork chops

3/4-inch thick (about 2 pounds)

2

tablespoons

olive oil

1

large onion

sliced (about 1 cup)

1 1/2

C

mushrooms

cut in half

2

cloves

garlic

minced

salt & pepper

garlic powder

onion powder

2

Tbsp

Steak Sauce
Instructions
Stir the broth and cornstarch in a small bowl until the mixture is smooth.

Season the pork with onion powder, garlic powder, salt & pepper.

Heat 1 tablespoon oil in a 12-inch skillet over medium-high heat. Add the pork and cook for 5 minutes or until cooked through. Remove the pork from the skillet.

Heat the remaining oil in the skillet. Add the onion and mushrooms and cook for 5 minutes or until tender. Remove from pan

Stir the broth mixture in the skillet. Add in steak sauce. Cook and stir until the mixture boils and thickens.

Top pork chops with onion/mushroom mixture and then with sauce
Enjoy!
Leigh Anne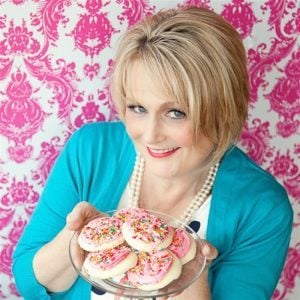 You can also visit me on Facebook, Pinterest, Twitter, Instagram
You might also like