This creamy, easy pumpkin cheesecake has a graham cracker base and even your non pumpkin fans are going this love this subtly flavored pumpkin dessert.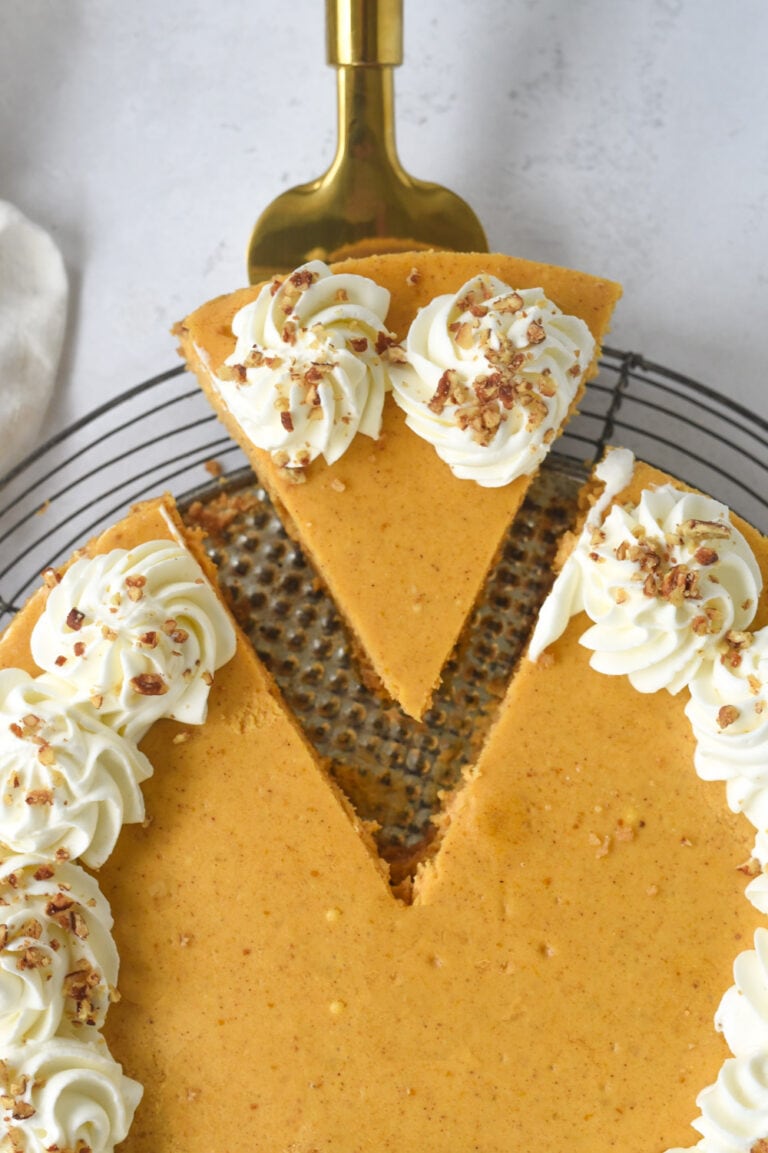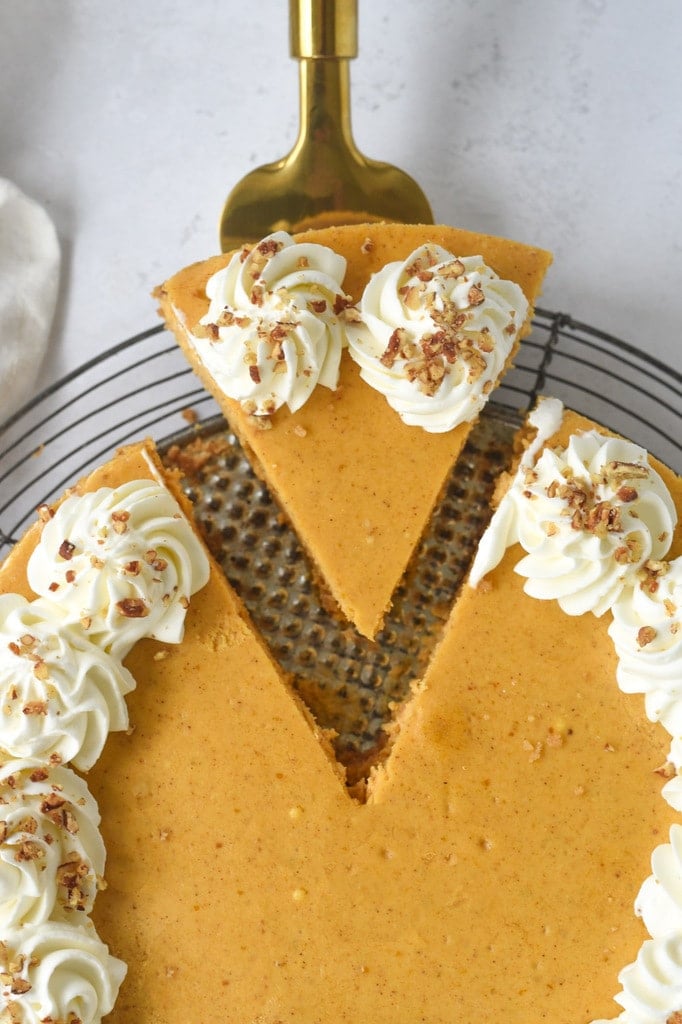 Favorite Pumpkin Recipes
I have never been a pumpkin fan. Although I have discovered that I love a Pumpkin Pie Milk Shake. Several years ago, I decided I needed to learn to embrace pumpkin. My first step to venturing into the world of pumpkin was to try these pumpkin bars. It was pretty much the first pumpkin dessert I ever made and I discovered that I loved them! Although I must admit that I think the best part was not the pumpkin but the cream cheese frosting!!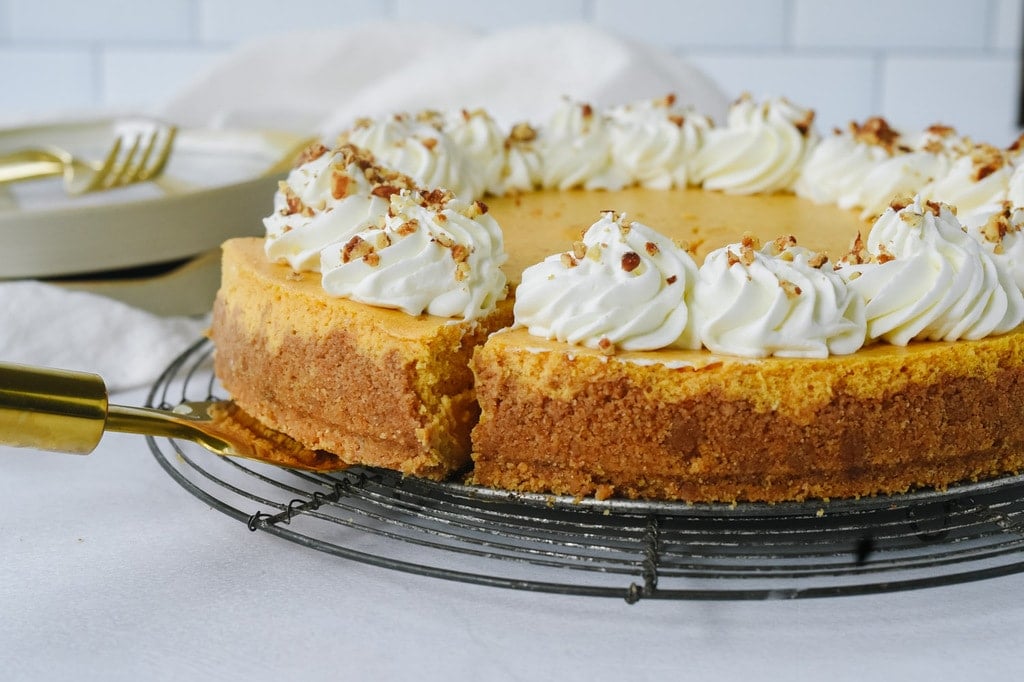 Second, I made a batch of pumpkin cookies -and they were amazing! But again the best part was the yummy maple frosting. Are you seeing a trend here. ? I'm a frosting kid of girl
My third venture into pumpkin was Pumpkin Cheesecake. I fell in love with today's recipe. It's creamy and delicious with just the right amount of pumpkin flavor.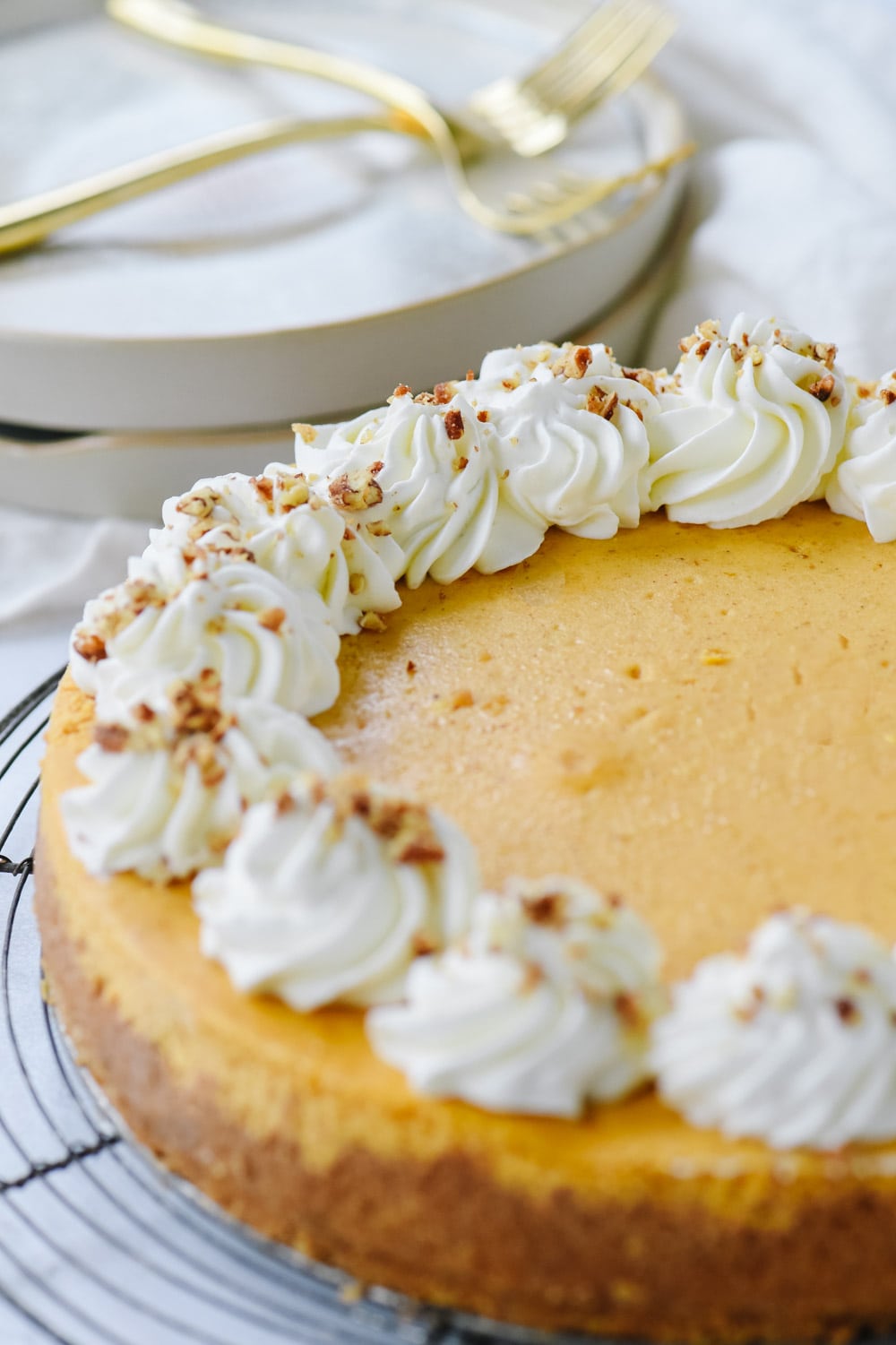 Why Does Cheesecake Crack?
There are a several things you can to do to help prevent cheesecake from cracking.
Use Room Temperature Ingredients – you want your cream cheese, pumpkin and eggs to be room temperature. This will help prevent lumps in your cheesecake and also help reduce the risk of cracks in your cheesecake.
Keep your Oven Closed – opening your oven during the baking process will slow down the baking process and it will also increase your risk of cracks in the cheesecake.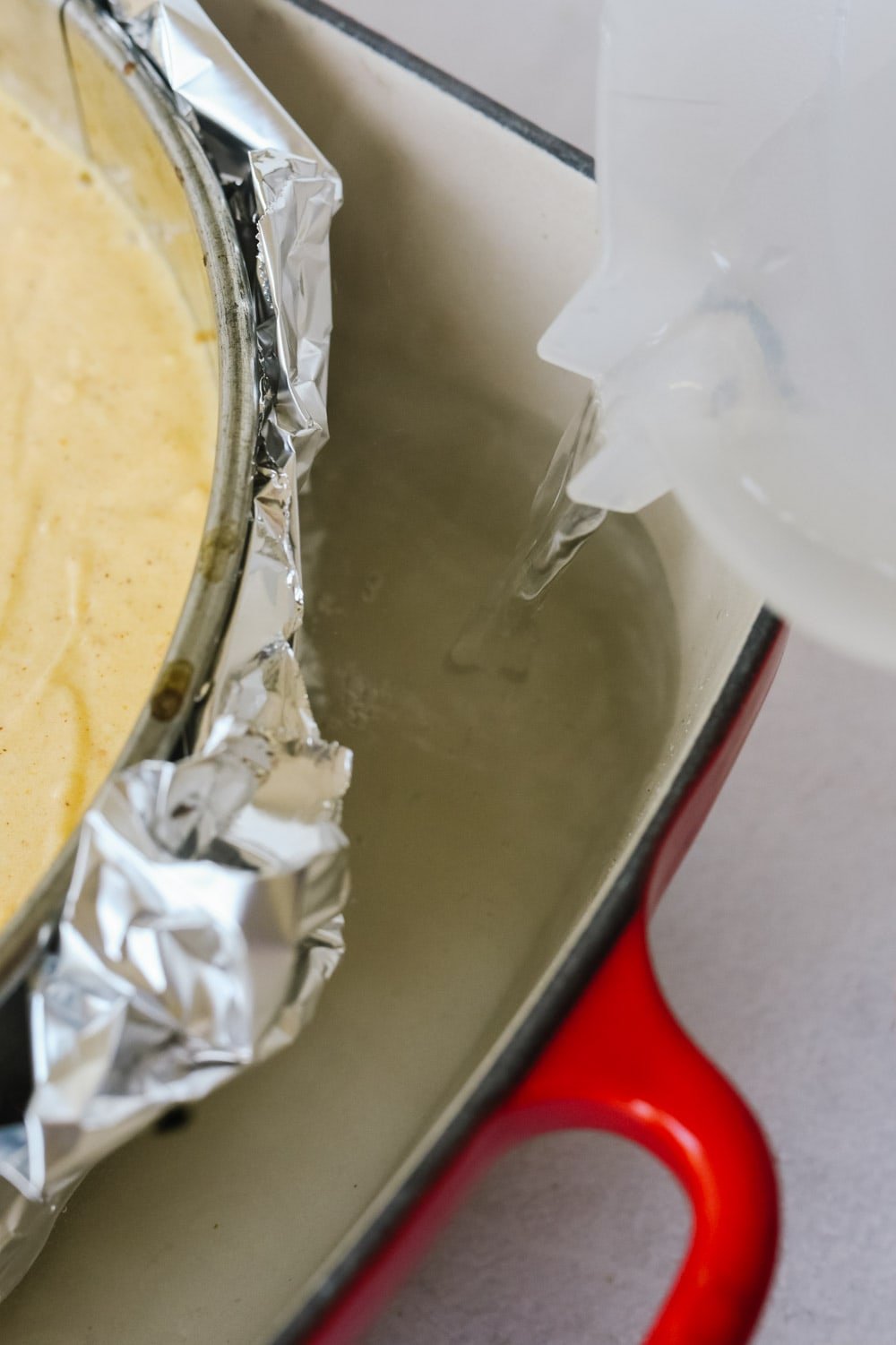 Use a Water Bath – Wrap the bottom of your springform pan in foil and then place your pan into another pan that is full of water. You want the water level to come about 1/3 of the way up the pan. The hot water helps insulate the outer ring of the pan and helps keep the oven moist which gives the center of the cheesecake time to cook. When the outer edges cook faster than the center, cracking and sinking occurs.
If you try all these things and your cheesecake still sinks or cracks just cover up the cracks with whipping cream!!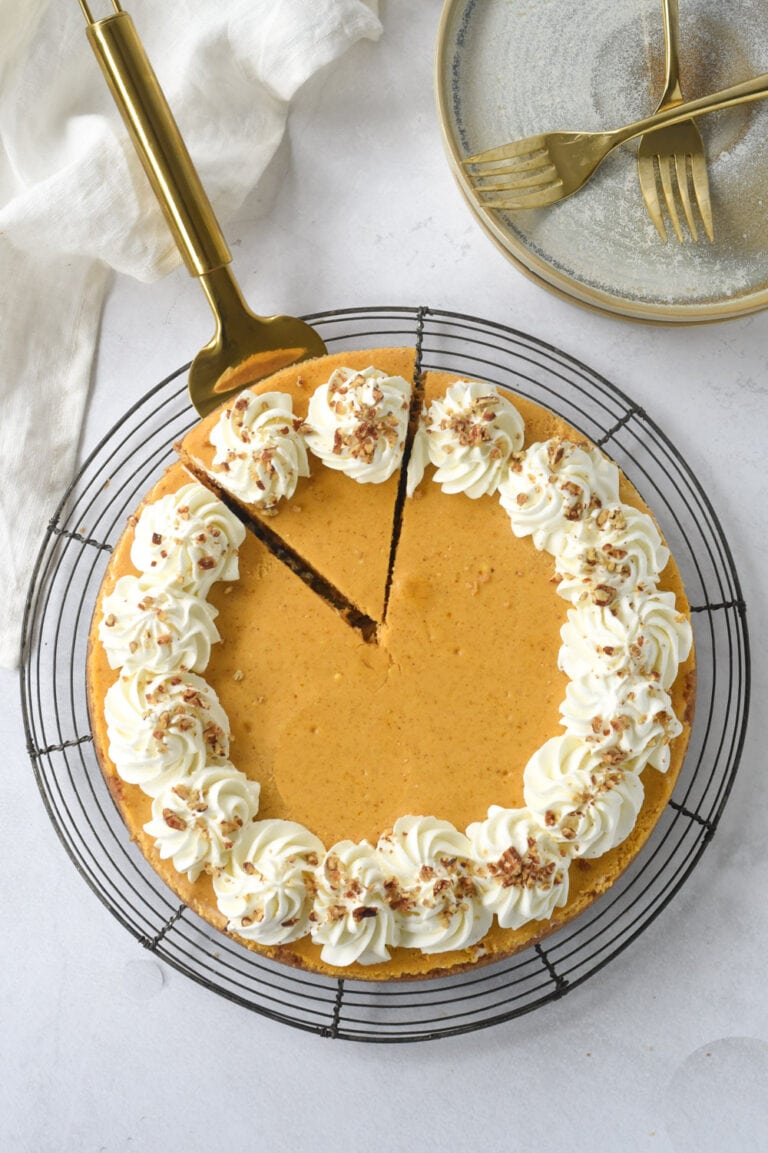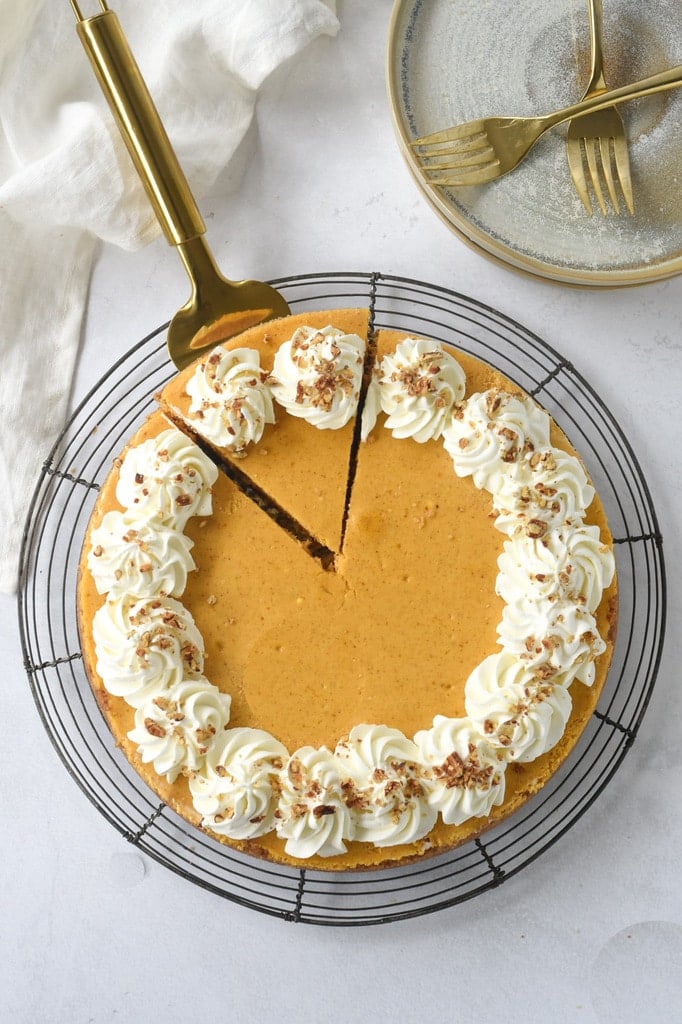 How to Make Pumpkin Cheesecake
Graham Cracker Crust – As many cheesecakes, this one starts with a graham cracker crust. I always make my own and you can find the detailed directions here. You want the graham cracker crust to come about 2/3 of the way up the sides of the springform pan.
Gingersnap Crust – I have also used a gingersnap cookie to make the crust and that works well too. The ginger adds a lot of flavor though and it can overpower the pumpkin a bit. Follow the same directions as the graham cracker crust just substitute gingersnap crumbs.
Use canned pumpkin, not pumpkin pie filling. They are two different things and usually found next to each other in the baking aisle. Pumpkin Pie filling is preseasoned and sweetened and is intended to use for an easy pumpkin pie.
Chill before serving. A cheesecake needs to set up. Let it cool to room temperature and then refrigerate for at least four hours uncovered.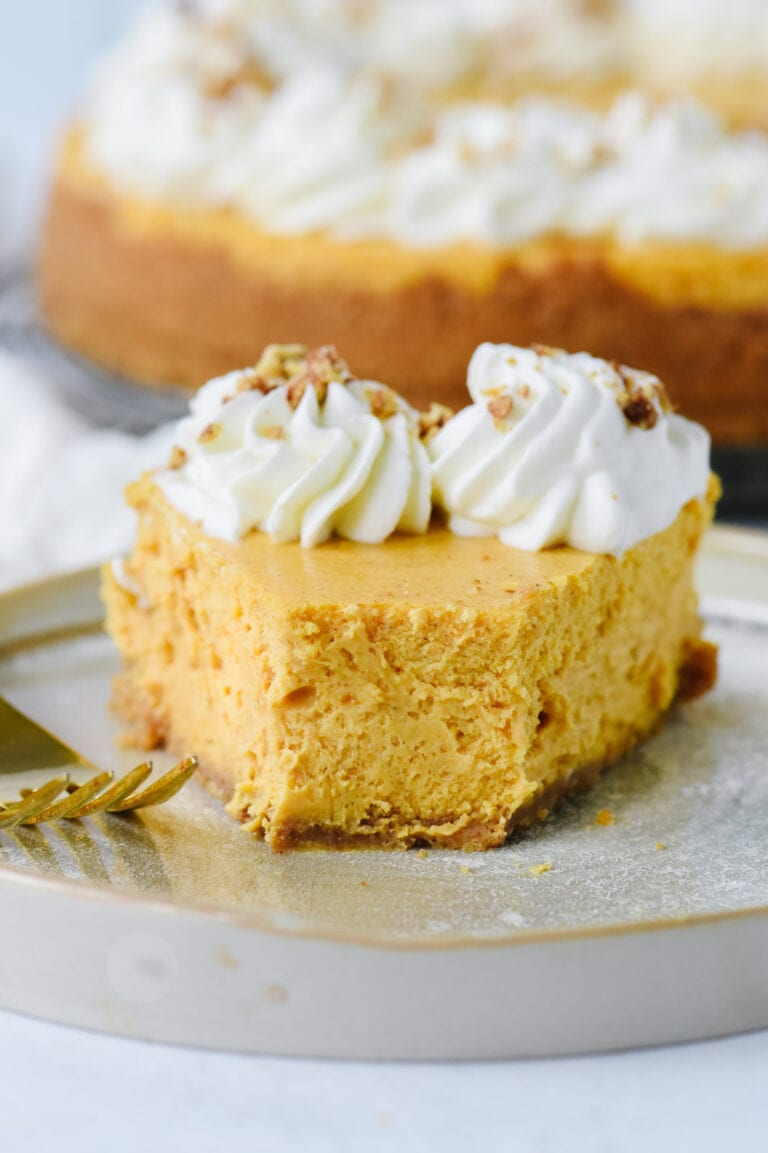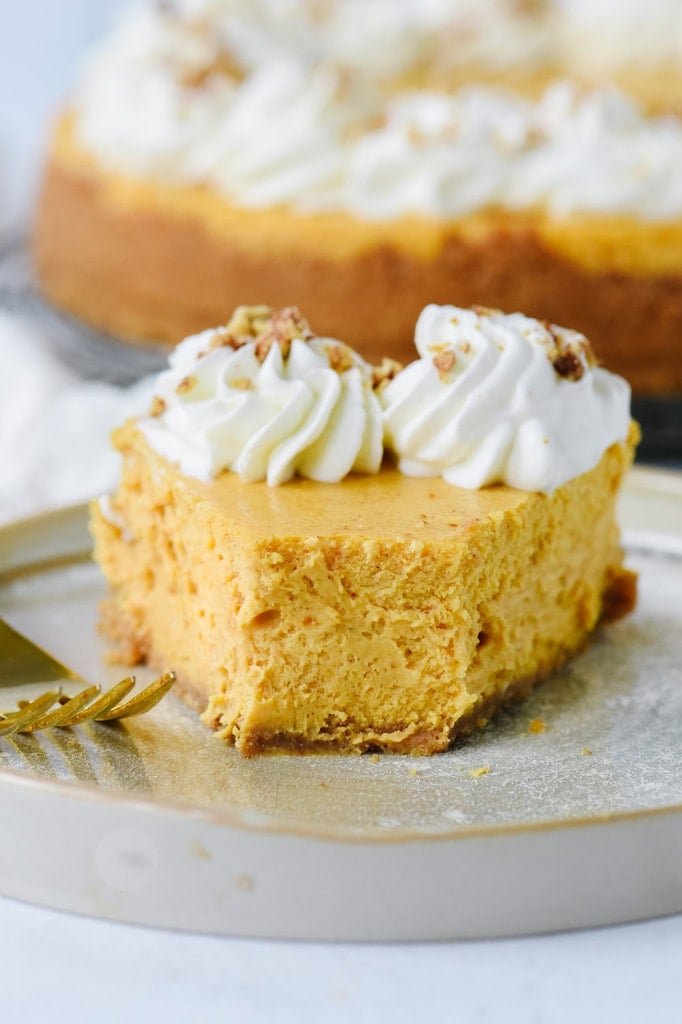 Do I have to Use a Springform Pan?
No, although cheesecake is traditionally made in a springform pan it does not have to be. Cheesecake can be made in a 9 x 13 pan. To make it easier to remove the cake from a 9 x 13, line the bottom of the pan with parchment paper. Don't fill your 9 x 13 pan more than 1/4″ from the top of the pan. Your baking time will change if using a 9 x 13″ pan. Bake it at 325 degrees F for 40-45 minutes.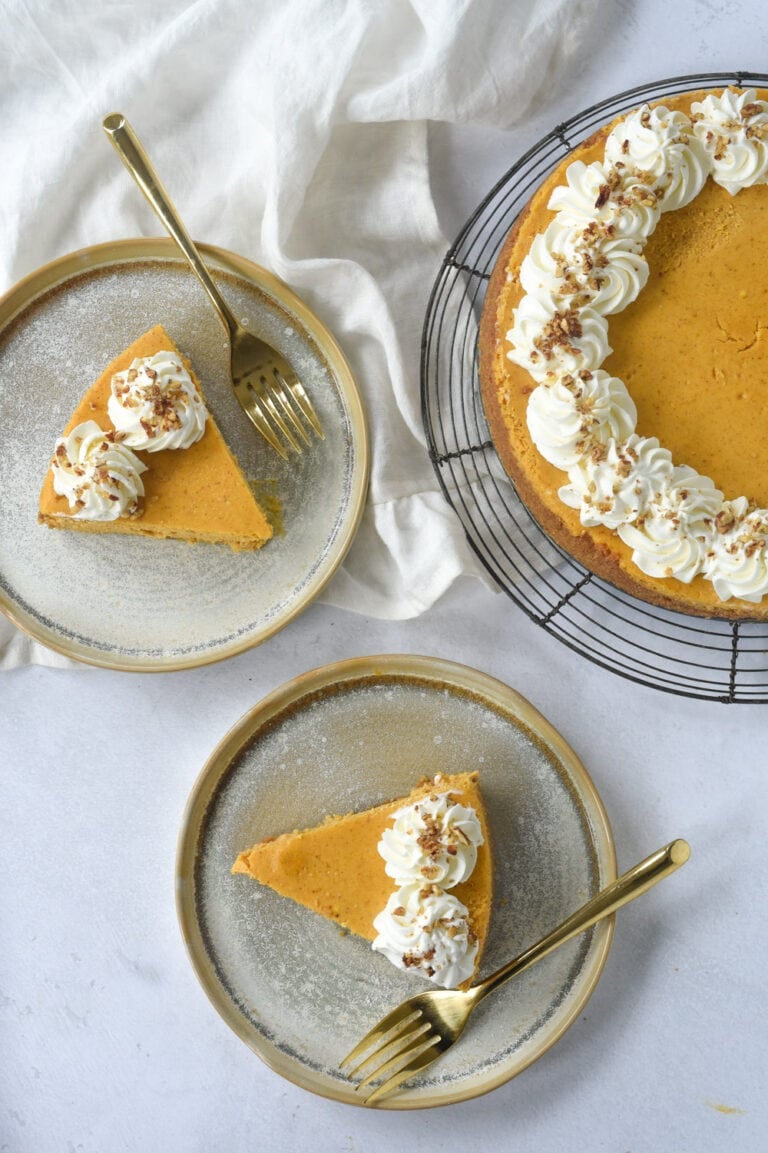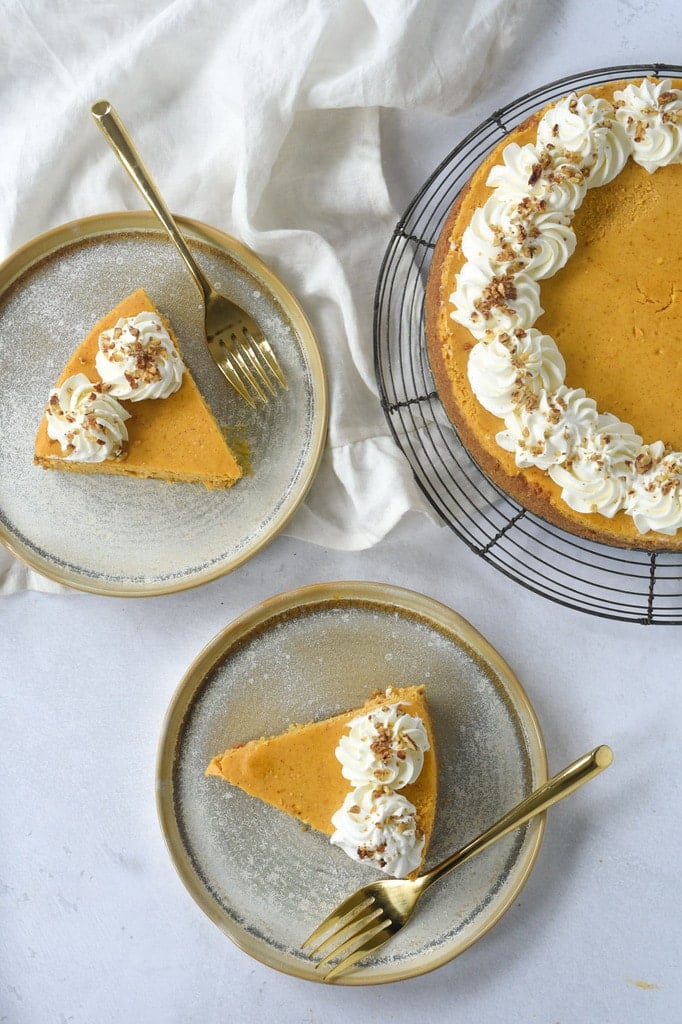 What To Put On Pumpkin Cheesecake
Before serving, top the cheesecake with some whipped cream and chopped pecans and serve. To get extra fancy, drizzle some maple syrup on the whipped cream.
For all of my other favorite kitchen products and tools visit my Amazon Store.
Did you know I wrote a cookbook? Check out the Holiday Slow Cooker Cookbook for 100 delicious recipes.
Check out more cheesecake recipes you may enjoy:
Easy Pumpkin Cheesecake Recipe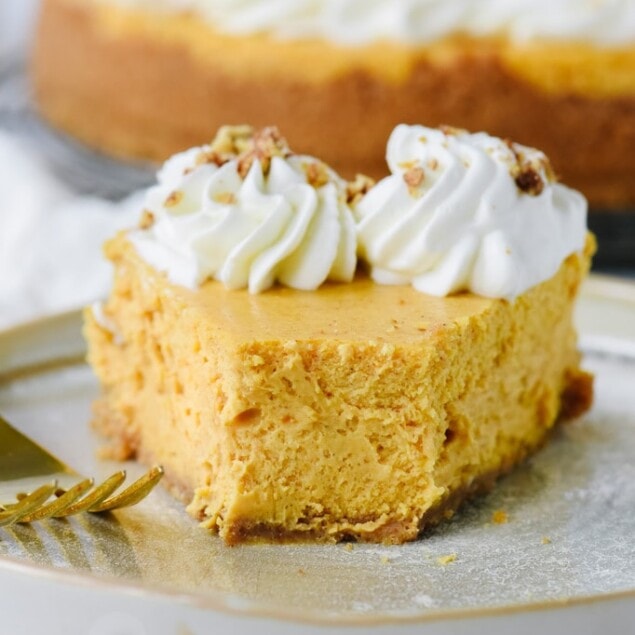 Pumpkin Cheesecake
This easy, creamy pumpkin cheesecake has a graham cracker base and even your non pumpkin fans are going this love this subtly flavored pumpkin dessert.


Ingredients
Crust:
1 3/4 cups graham cracker crumbs
6 Tbsp. butter melted
1 Tbsp. sugar
Filling:
3 8 oz. cream cheese softened
1 cup sugar
1 tsp. vanilla
1 cup canned pumpkin
3 eggs
1/2 tsp. cinnamon
1/4 tsp. nutmeg
1/4 tsp. allspice
Whipped Cream
pecans chopped for garnish
Instructions
Preheat the oven to 350 degrees F.

Make the crust by combining the graham cracker crumbs with the melted butter and one tablespoon sugar in a medium bowl.

Stir well enough to coat all of the crumbs with the butter, but not so much as to turn the mixture into paste. Keep it crumbly.

Press the crumbs onto the bottom and about two-thirds of the way up the sides of a springform pan.

You don't want the crust to form all of the way up the back of each slice of cheesecake.

Bake the crust for 5 minutes, then set it aside until you are ready to fill it.

In a large mixing bowl combine the cream cheese, 1 cup sugar, and vanilla. Mix with an electric mixer until smooth.

Add the pumpkin, eggs, cinnamon, nutmeg, and allspice and continue to beat until smooth and creamy.

Pour the filling into the pan.

I wrapped the bottom and sides of the springform pan with foil and then placed it in a glass 9 x 13 pan.

Fill the pan with hot water until the water reached about 1/3 – 1/2 way up the springform pan.

Placing your cheesecake in a water bath helps prevent the outside of the cheesecake from cooking faster than the inside which can cause it to crack.

Bake for 60 to 70 minutes.

Remove from the oven and allow the cheesecake to cool. When the cheesecake has come to room temperature, put it into the refrigerator. Chill for 4-6 hours.

Serve with a generous portion of whipped cream on top and a sprinkle of pecans
Tips & Notes:
Pumpkin Pie Spice – you can substitute 1 tsp of this for the other spices. 9 x 13 pan – this can be made in a 9 x 13 pan, just line the bottom with parchment paper to make removal easier and adjust the cooking time and temperature to 325 degrees F for 40-45 minutes. Be sure to use canned pumpkin, not canned pumpkin pie filling.  The pie filling is preseasoned and sweetened and is meant for an easy pumpkin pie.
Nutrition Facts:
Calories: 200kcal (10%) Carbohydrates: 29g (10%) Protein: 3g (6%) Fat: 8g (12%) Saturated Fat: 4g (25%) Cholesterol: 57mg (19%) Sodium: 151mg (7%) Potassium: 79mg (2%) Fiber: 1g (4%) Sugar: 21g (23%) Vitamin A: 3422IU (68%) Vitamin C: 1mg (1%) Calcium: 25mg (3%) Iron: 1mg (6%)
* Disclaimer: All nutrition information are estimates only. Read full disclosure here.