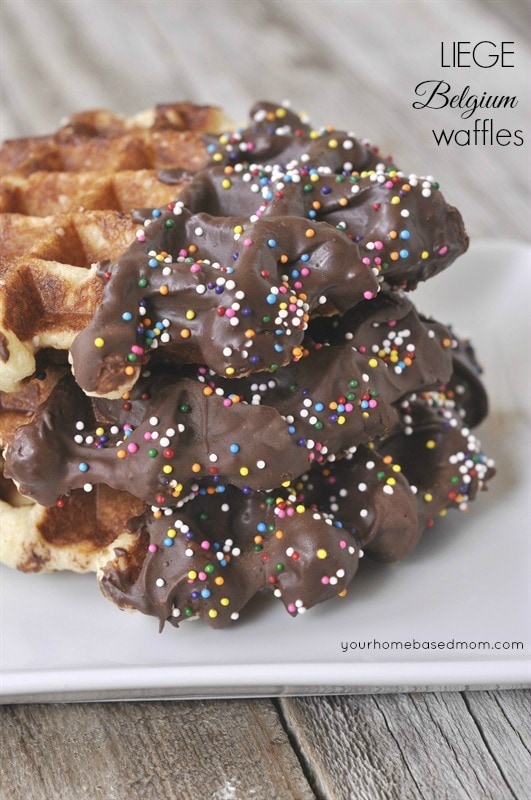 I get frequent emails from readers who are going to be visiting my fair city – Portland, Oregon and they want to know where they should go and where they should eat.  I love sharing some of my favorite places.  Many of them I have blogged about over at Homebased Portland.  I have lots of favorites but one place I suggest every time is The Waffle Window.
It is definitely a Wilkes family favorite.  It is often the first place we stop after picking up kids from the airport when they come home for a visit or the last place we stop on the way to drop them back off at the airport. It is conveniently located between our house and the airport.
It is literally a window on the side of a building.  A fun spot down a side street in the  Hawthorne area of Portland.  They serve the most amazing Liege Belgium style waffles.   I decided it would be fun to make my own version at home.
Since Jim and I are temporarily not empty nesters and we have Tessa home for a month or so I love to spoil her a bit with my cooking.  This is what I fixed for her for Sunday breakfast!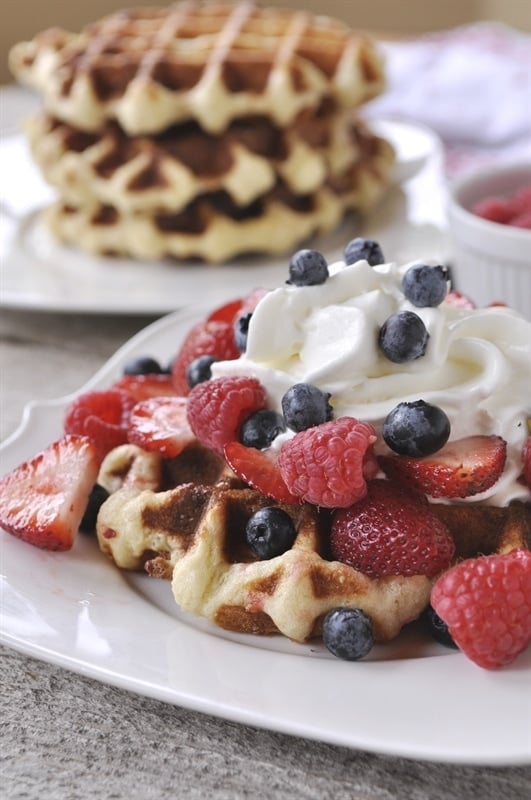 A Liege BelgianWaffle covered in fresh berries and whipped cream.  Yum! I would have drizzled it with lemon curd but she opted not to.
A Liege Waffle is more dense than our family Overnight Yeast Waffle.  The Liege waffle is a a richer, denser, sweeter, and chewier waffle.  It is also made with yeast and has another secret ingredient – pearl sugar.  I found the pearl sugar at IKEA but you can also order it online through Amazon.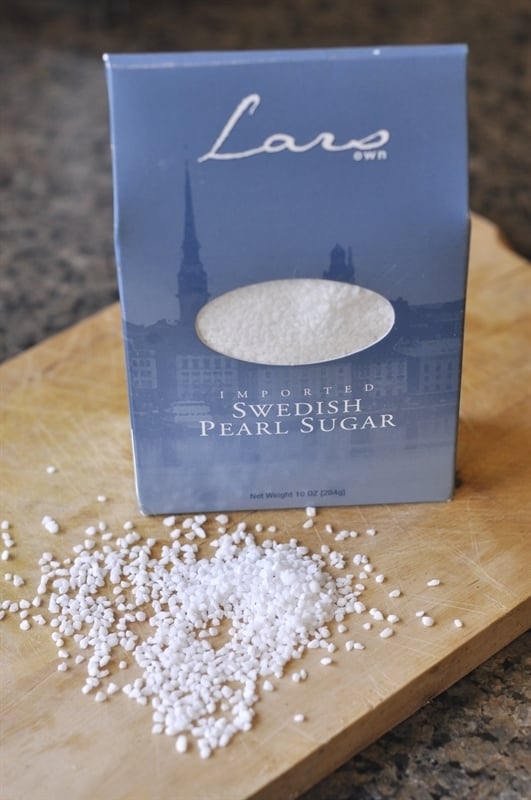 The pearl sugar caramelizes on the outside of the waffle as it bakes.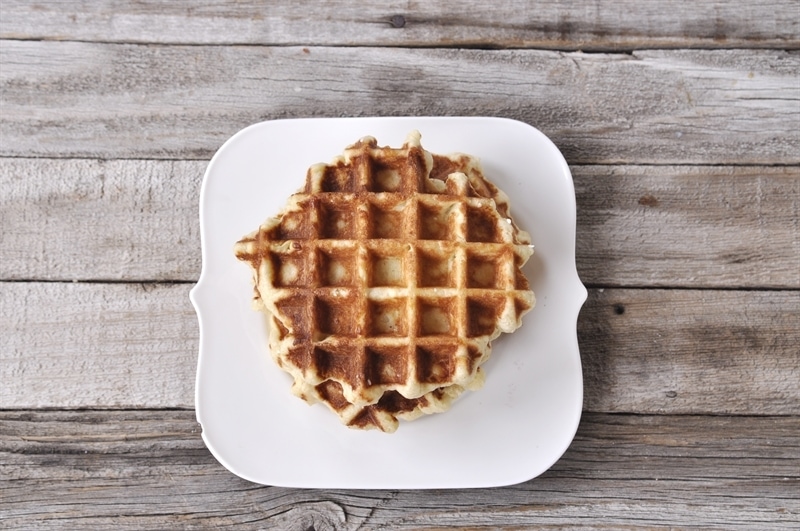 The waffle batter is made with a combination of flour, yeast, water, eggs, milk, melted butter, salt, vanilla and pearl sugar.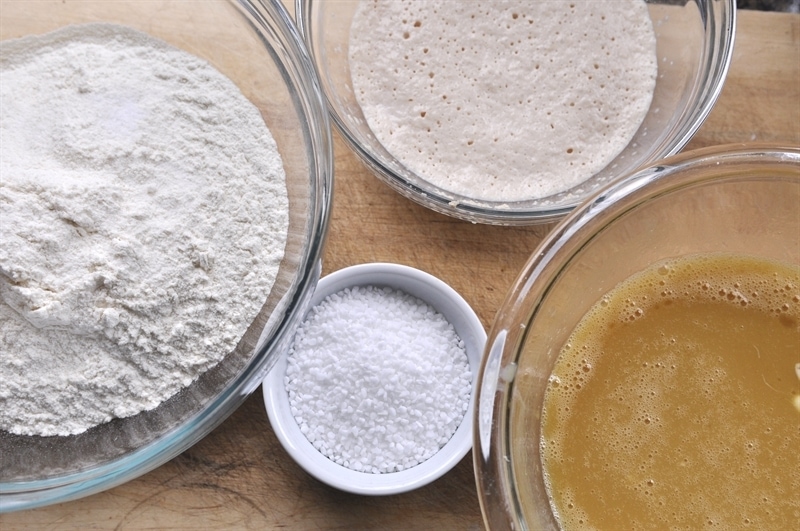 The dough is quite thick.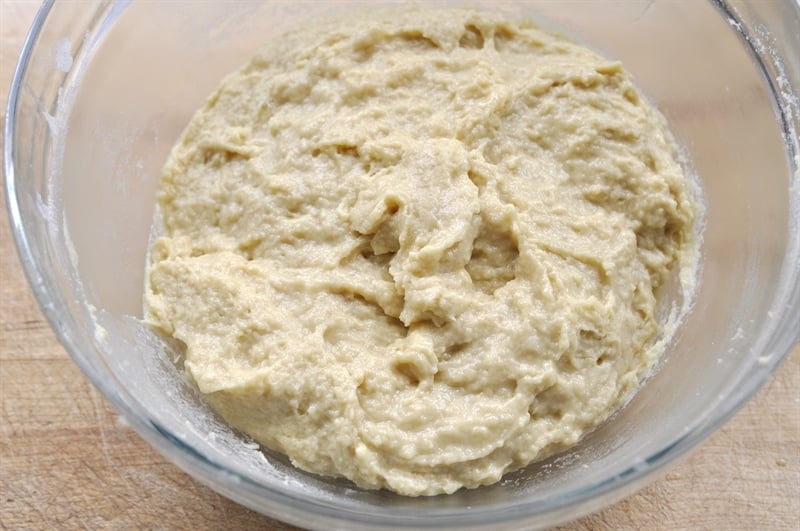 Allow it to raise for about 30 minutes and it will look like this.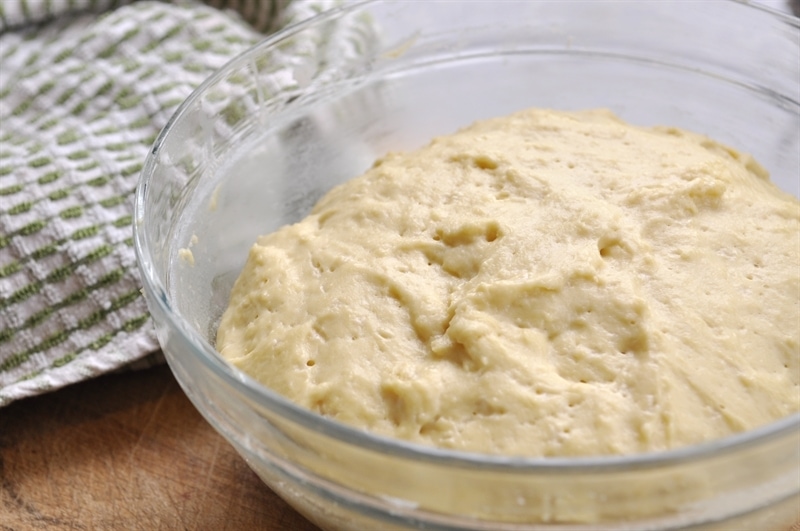 Then add in the pearl sugar and stir to mix.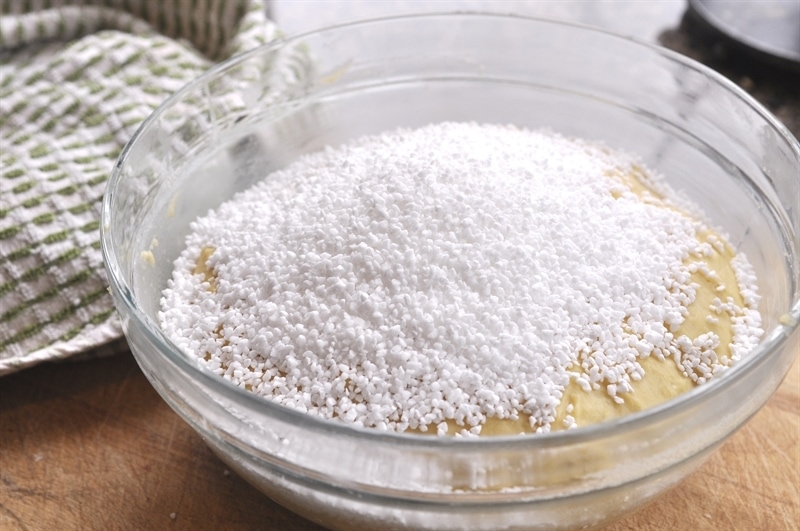 Heat up your waffle iron and you are ready to get cooking.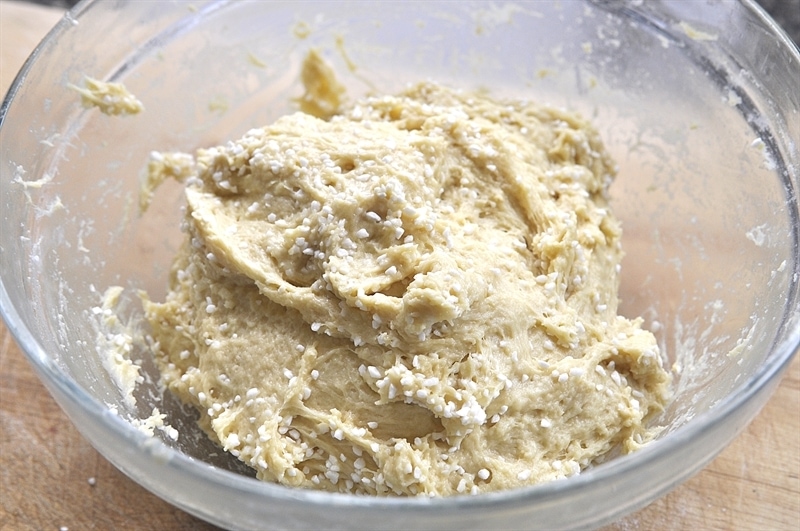 I put about 1 cups worth of dough onto the waffle iron, or about a scoop the size of a baseball for your sports enthusiasts!  I flatten it out with the back of a spoon.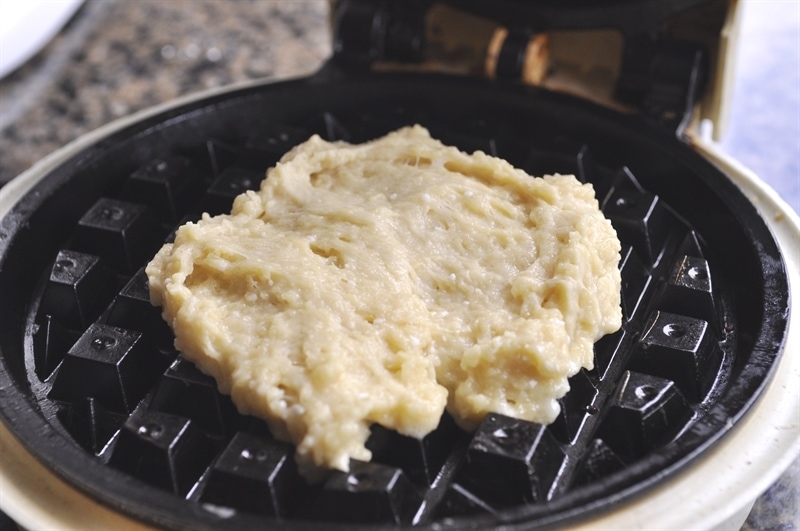 The recipe makes about 8-10 waffles.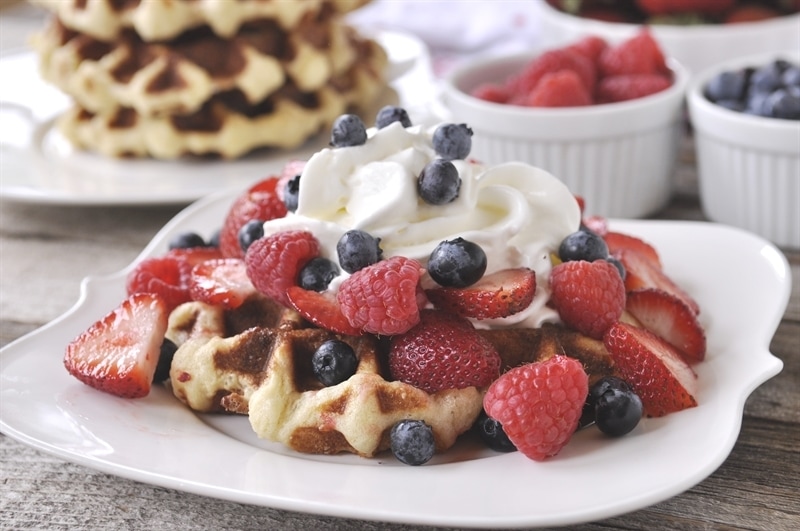 Then all you have to do is add your favorite toppings.  We love berries and whipped cream but you can get creative with all kinds of things. Another fun option is to dip half of the waffle into melted chocolate.  Tap it on the side of the dish to knock off the excess chocolate.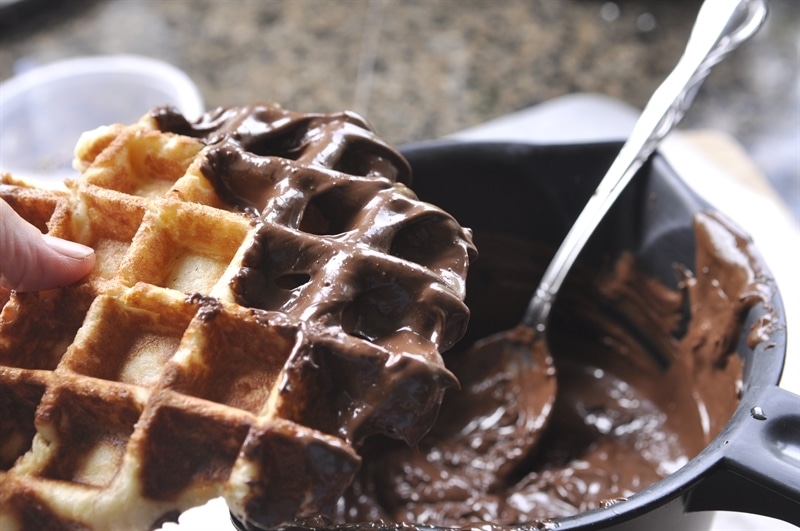 Then give it a sprinkle of sprinkles!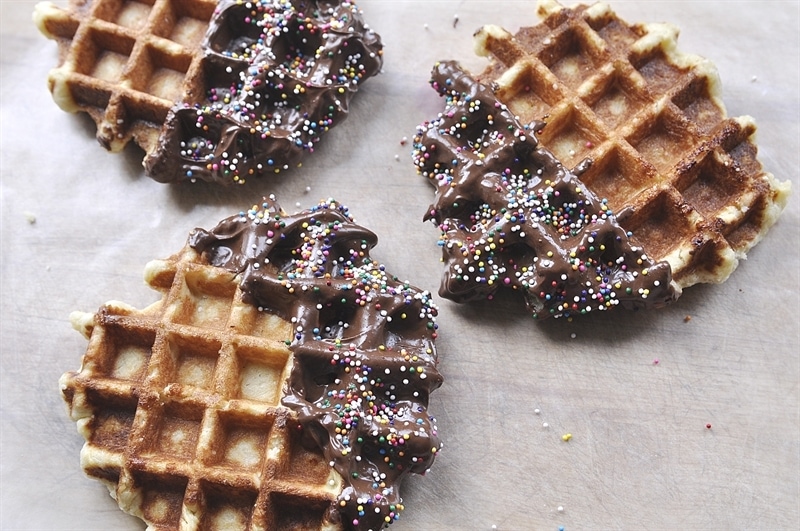 These are fun to east right out of your hand!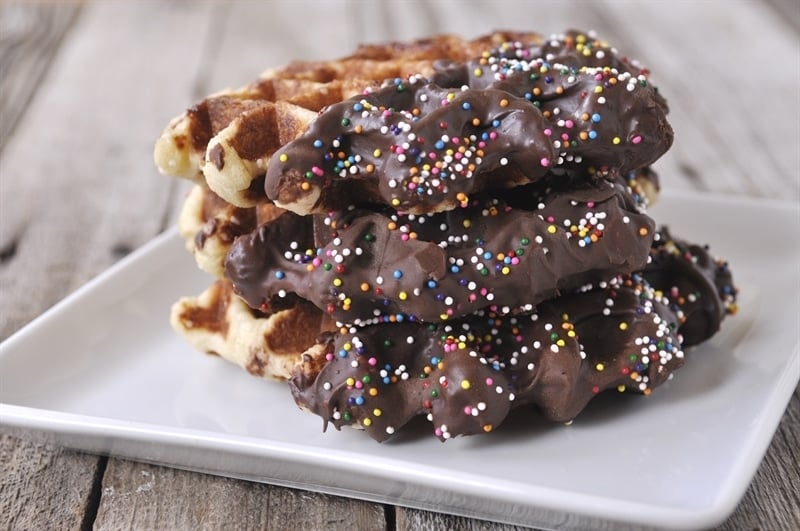 However you choose to eat your Liege Belgian Waffles I promise you'll love it!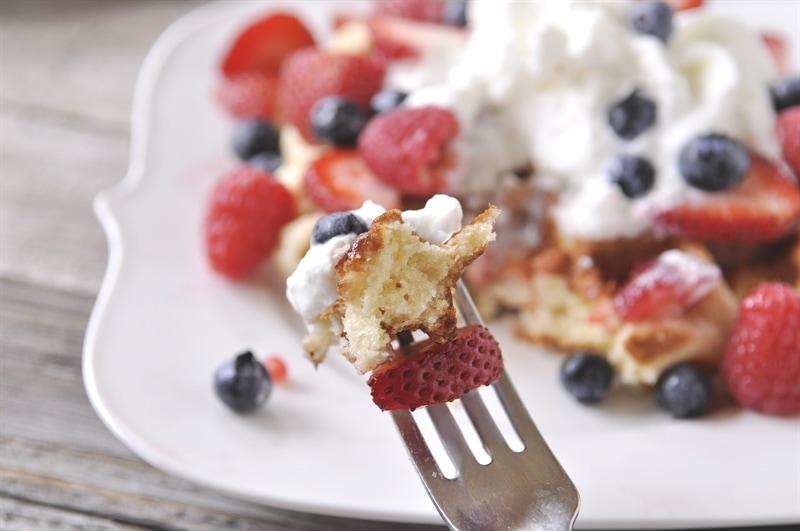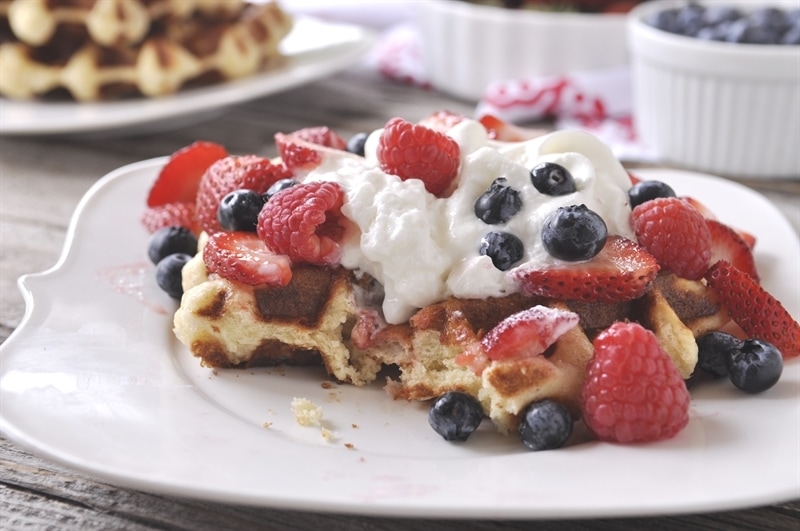 They freeze well too!
Other yummy breakfast treats:
Overnight Waffles – Peanut Butter Pancakes – Cinnamon Streusel Pancakes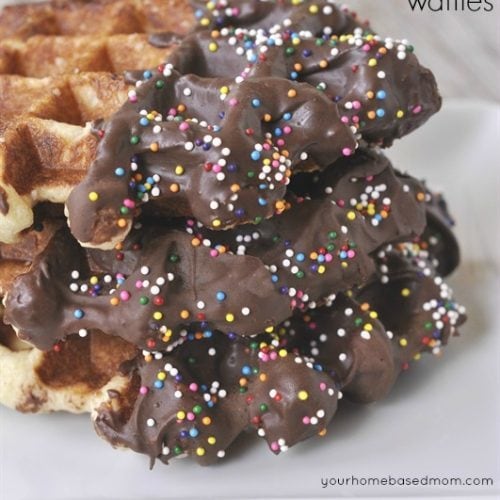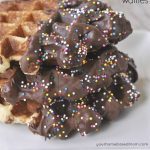 Print
Liege Belgian Waffles
Ingredients
2 1/4

tsp

active dry yeast

1 1/2

Tbsp

granulated sugar

3/4

C

lukewarm milk

3

eggs

3/4

C

melted butter

1

Tbsp

vanilla extract

3

C

flour

3/4

tsp

salt

1 - 1 1/2

C

pearl sugar

depending on how sweet you want them
Instructions
Sprinkle yeast and white sugar over warm milk in a bowl. Milk temperature should be no more than 100 degrees.

Let stand until yeast foams, about 15 minutes.

Mix together eggs, butter and vanilla.

Pour into yeast mixture and stir.

Put flour and salt into a bowl and form a well in the center.

Pour egg mixture into well and stir until a soft dough forms.

Cover and let rise for about 30 minutes or until double.

Gently fold in pearl sugar.

Preheat waffle iron

Place approximately 1 cup or a baseball size ball of dough into preheated waffle iron. Flatten with the back of a spoon.

Cook until crisp.
Enjoy!
Leigh Anne
You can also visit me on Facebook, Pinterest, Twitter, Instagram
and Google+