Oatmeal Waffles made with whole wheat flour are a great way to start the day off with a delicious and healthy breakfast.
I am on a continuous quest to integrate more whole grains into my family's diet.   From that desire, these delicious, healthy and filling oatmeal waffles were created! We have been enjoying these yummy whole wheat and oatmeal waffles at our house for breakfast and dinner.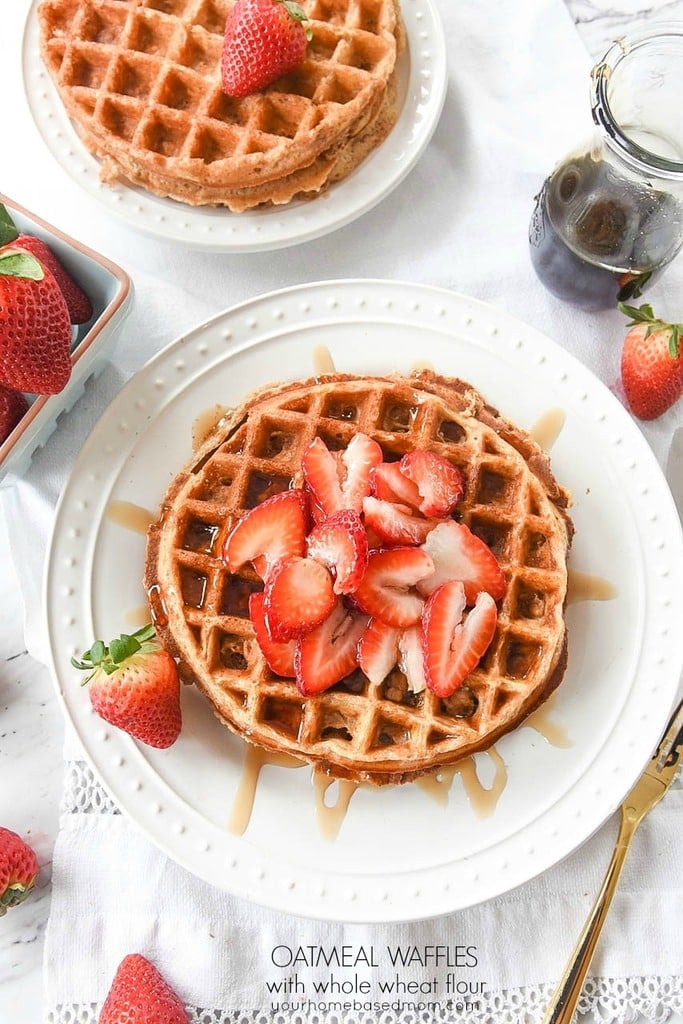 Remember my oatmeal pancake recipe?  My family loved them and they were the inspiration for these oatmeal waffles.  We enjoy our oatmeal waffles with real maple syrup and strawberries, but they are also yummy with  butter, jam, or your favorite waffle topping.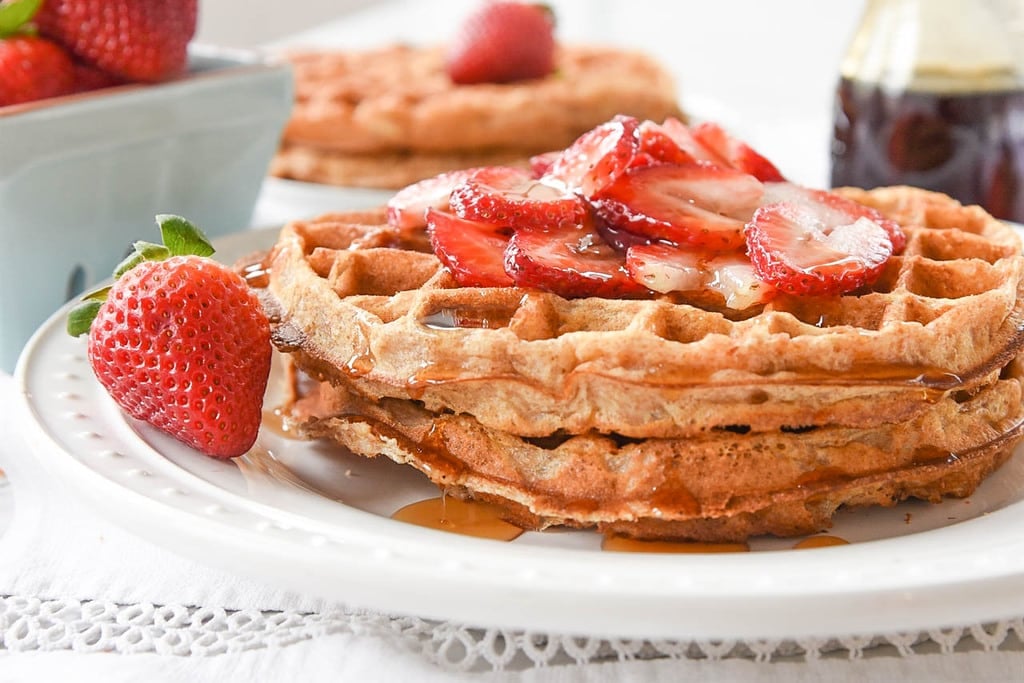 Another waffle trick we love is to fry up some bacon and break into pieces.  Then add that right into the waffler batter.  So delicious!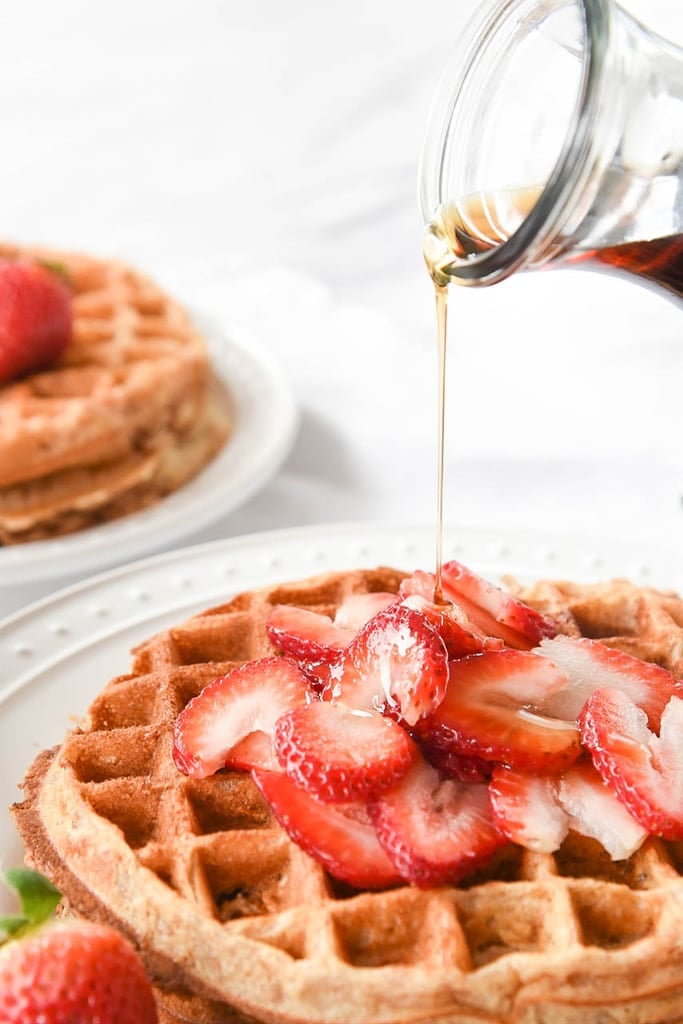 This recipe freezes really well, so I love to make them for dinner and double the batch.  Then I put the leftover waffles into the freezer for us to enjoy for breakfast.  They are perfect to grab on a morning when you are short on time and need something quick and easy.   Just pop them into the toaster and you are good to go!  All you have to do is add some maple syrup.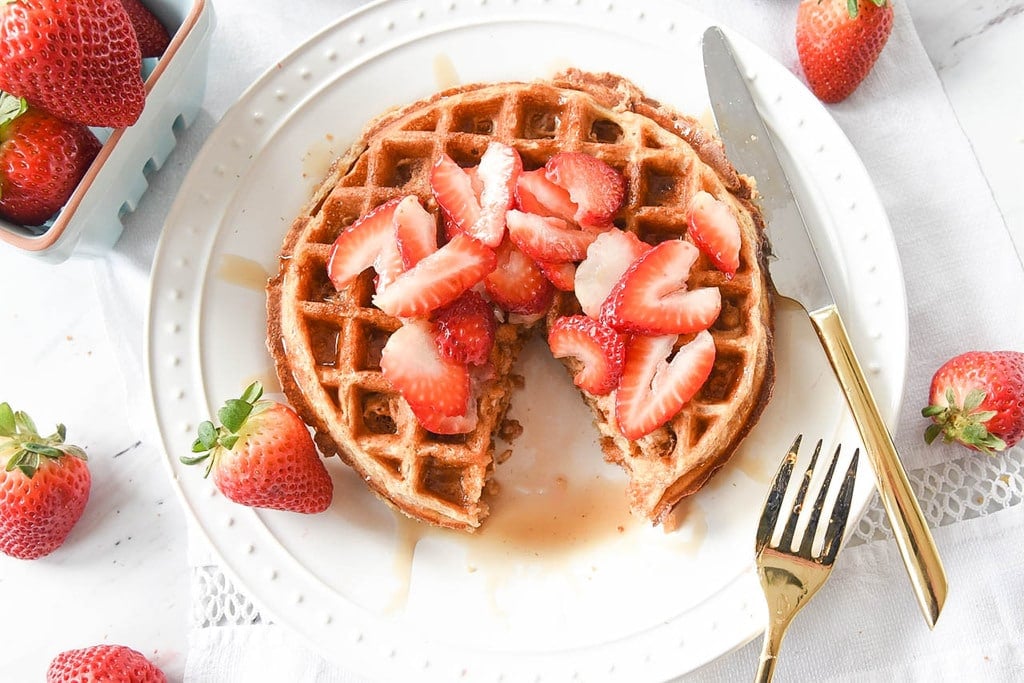 Originally posted April 2010
 Made exclusively with whole wheat flour and old fashioned oatmeal, you might expect a heavy and dense waffle.  But this recipe makes nice crisp and light waffles.
Some of my other favorite breakfast recipes include:
Some of my favorite kitchen tools I used to make Oatmeal Waffles:
ROUND WAFFLE MAKER – I love the round, Belgian like waffles you get from this waffle maker.
PYREX BOWLS – I love my Pyrex bowls and actually own a couple of sets.  Perfect for mixing or serving.
Oatmeal Waffles with Whole Wheat Flour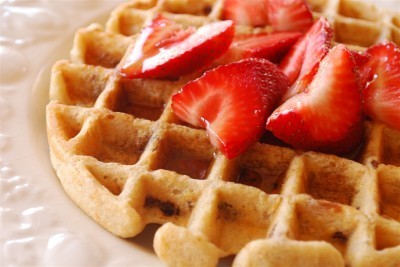 Whole Wheat and Oatmeal Waffles
Ingredients
1 C whole wheat flour
1 C old fashioned oats
1 Tbsp and 1 tsp baking powder
3 Tbsp sugar or honey
3 Tbsp canola oil
1 1/4 C buttermilk
1/2 C water
1 egg
Instructions
Combine dry ingredients.

Whisk together wet ingredients.

Pour wet into dry and stir until combined.

Heat waffle iron and spray with non-stick spray.

Pour in about 1/2 cup batter and cook until brown and crisp.