Lemon Pancakes are light and delicious thanks to cottage cheese and egg whites and have the perfect hint of lemon.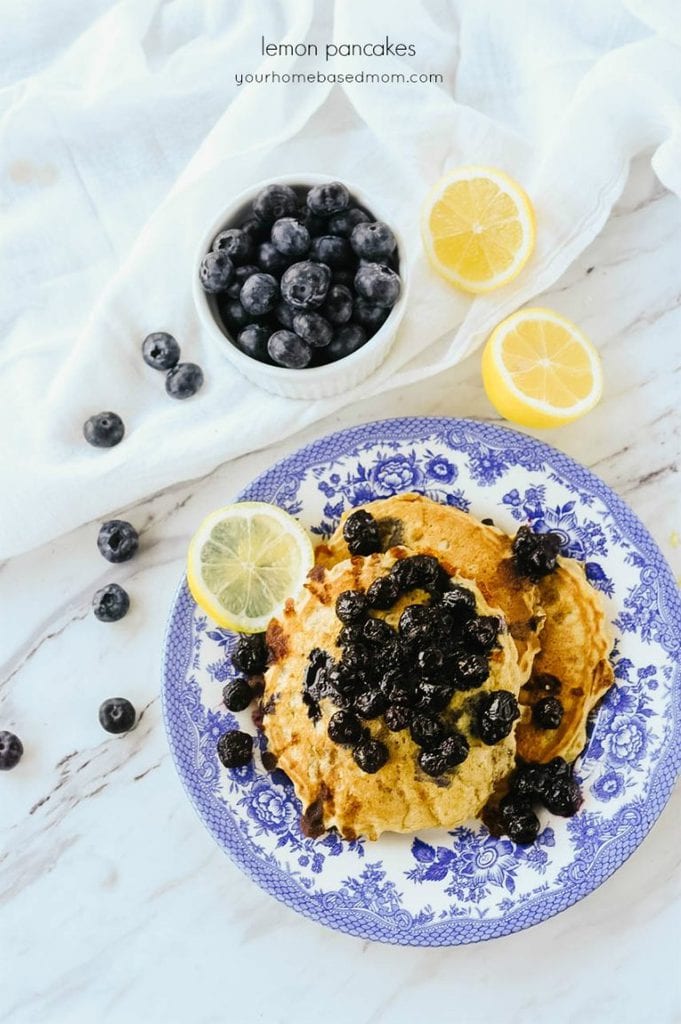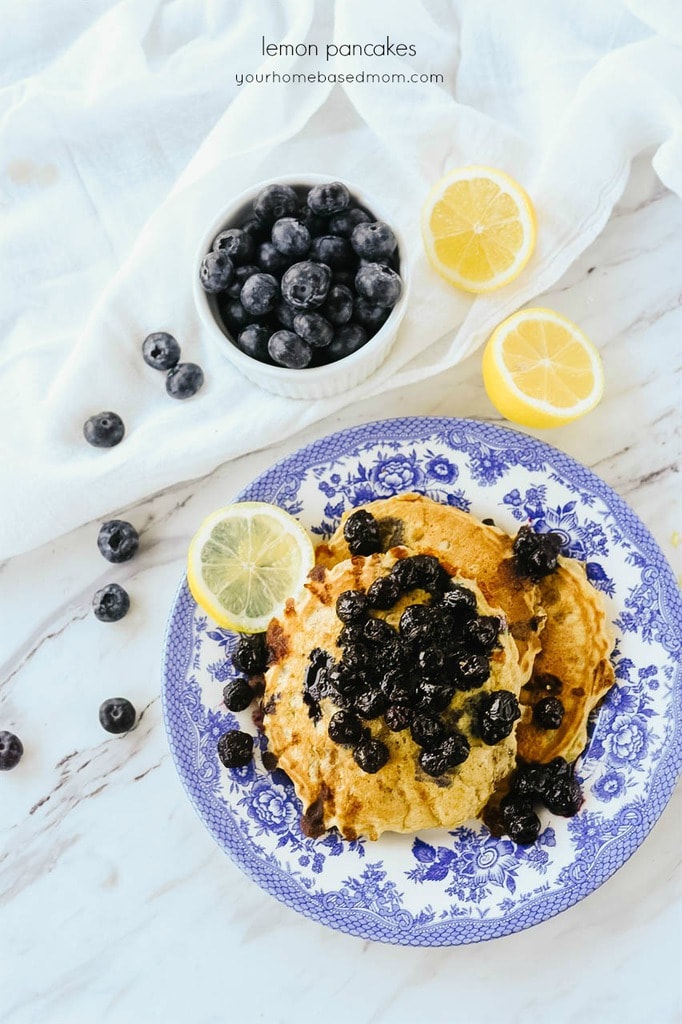 I'm a pancake lover. If there are pancakes on the menu, I order them and they are always my first choice for breakfast at home. I have a fun pancake recipes here on the blog too. There were these yummy Brown Sugar Oatmeal Pancakes. And some lovely raspberry topped Swedish Pancakes. Tessa's favorite pancake to make are her Yellow Pancakes. But sometimes you just want a good old Buttermilk Pancake.
Since becoming empty nesters, one of our favorite things to do is go out for breakfast on Saturday mornings. Lately I have been playing around with flavored pancakes and trying to replicate some of my favorite restaurant pancakes. Last week it was lemon. Yes, lovely lemon pancakes!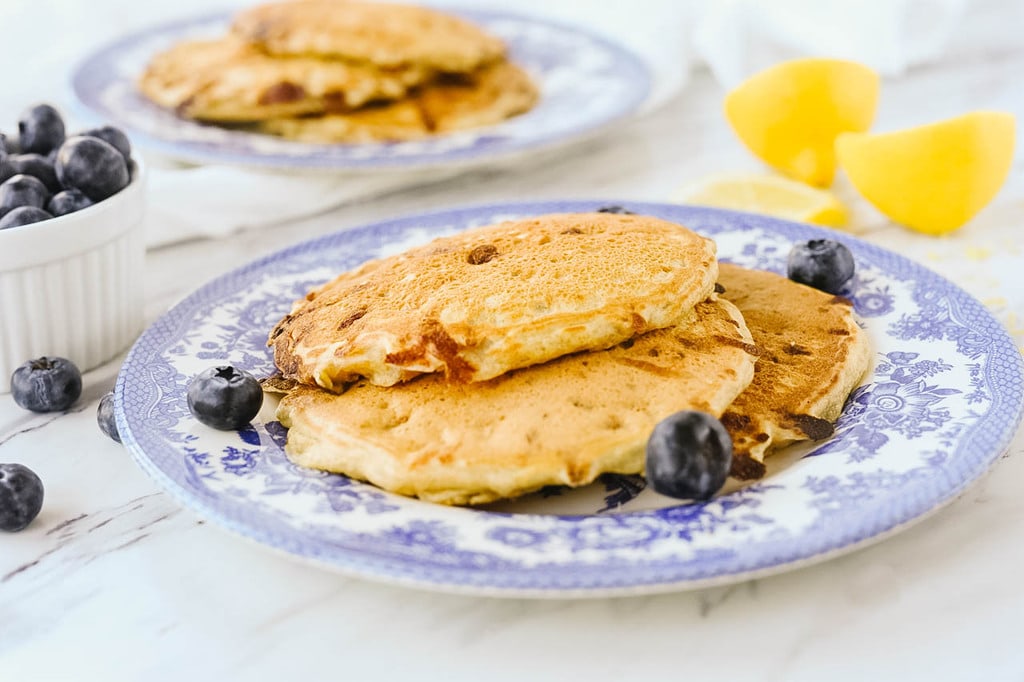 How to Make Lemon Pancakes
The recipe uses part whole wheat flour which can make a lemon pancake a little heavy but thanks to some cottage cheese and egg whites these pancakes are light and fluffy just like a pancake should be! I used a small curd cottage cheese because the large curd stuff just freaks me out a bit. I don't eat cottage cheese (texture issues) but I don't mind it in things as long as I don't see it! The small curd blends in better!!
The cottage cheese won't totally mix into the batter, you will have lumps but that's o.k. Those lumps of cottage cheese make for a nice light pancake. I like the way the pieces near the edge of the pancake get brown and chewy. It's kind of like when the cheese spills out of the grilled cheese sandwich!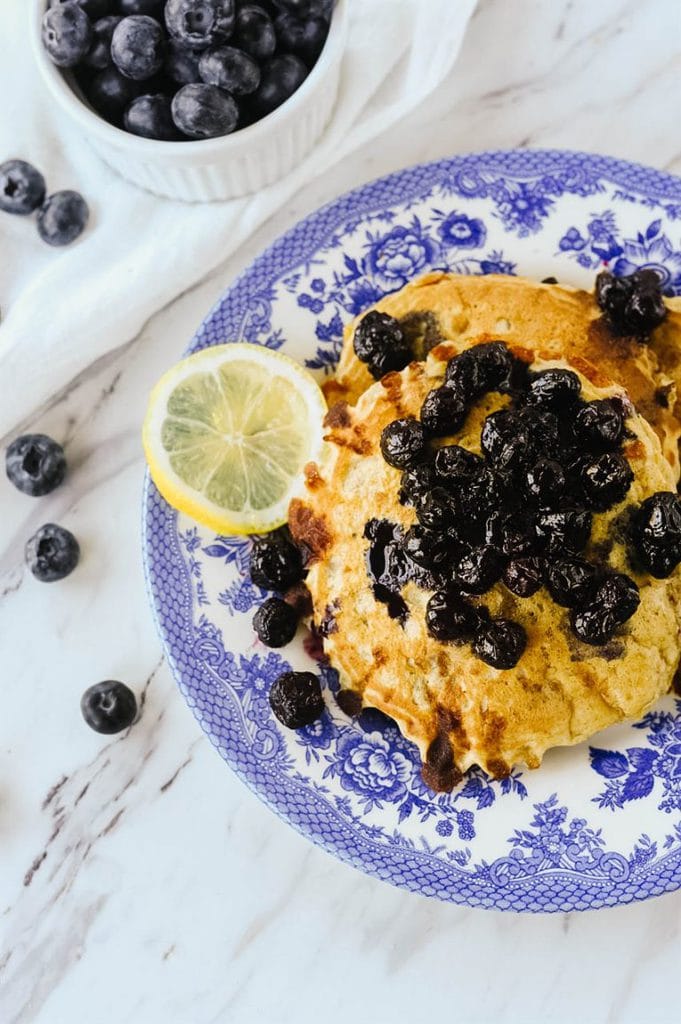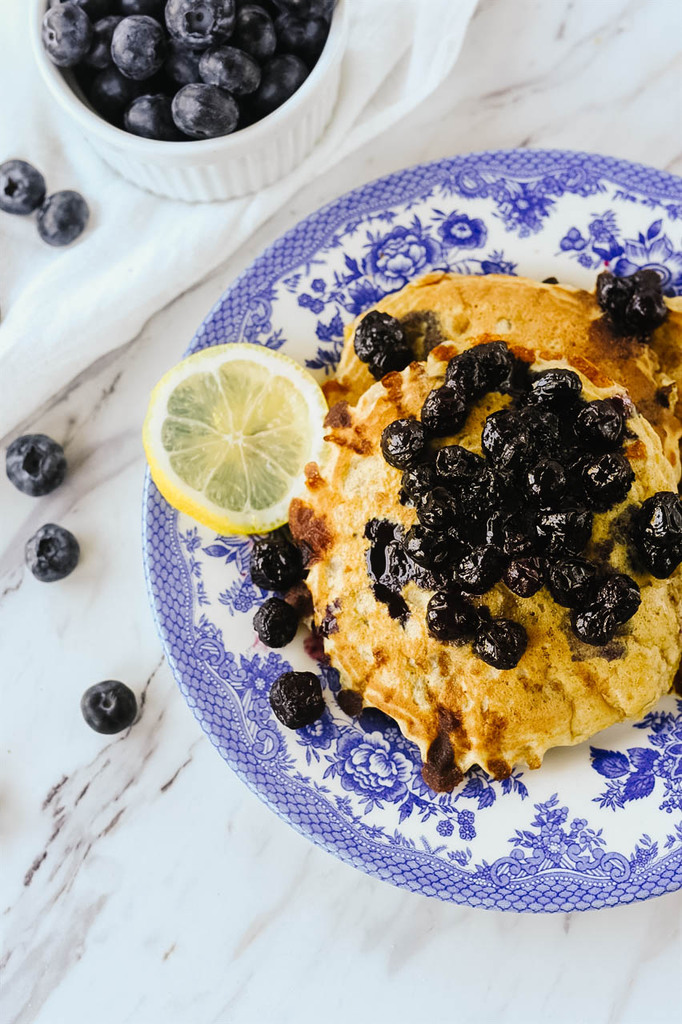 How to make Perfect Pancakes
Mix your wet ingredients together and dry ingredients together separately. Then pour the wet ingredients into the dry.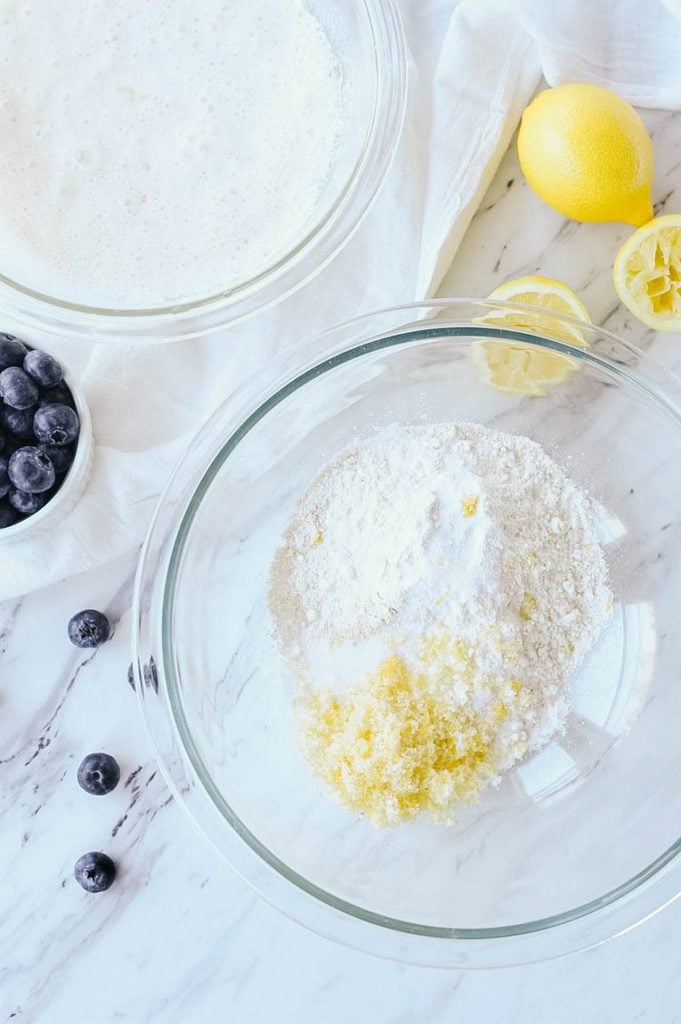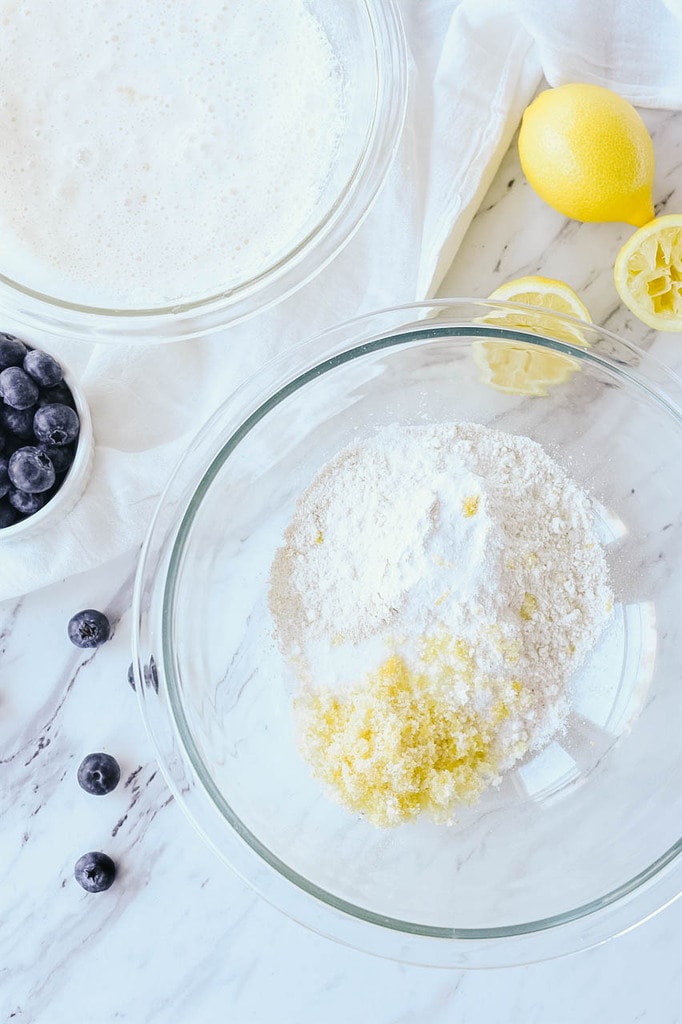 Only stir enough to combine the ingredients, over stirring causes tough lemon pancakes.
It's o.k. to have lumps in your batter, especially lumps of cottage cheese.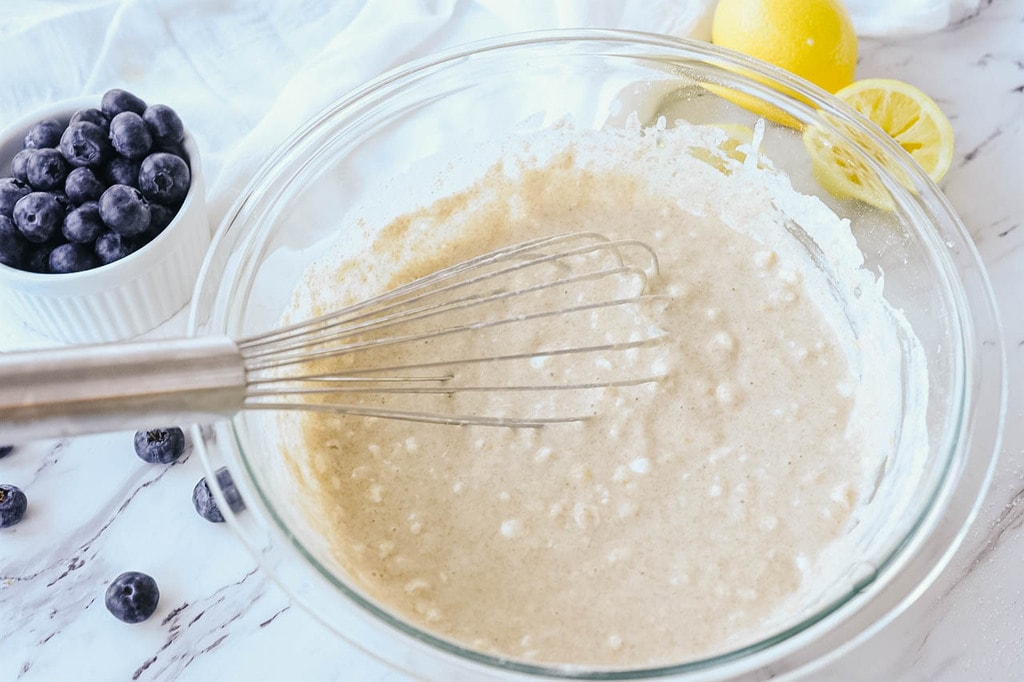 Cook your lemon pancakes on a butter coated skillet or pan. The butter adds additional amazing flavor and gives the pancakes a nice golden brown color.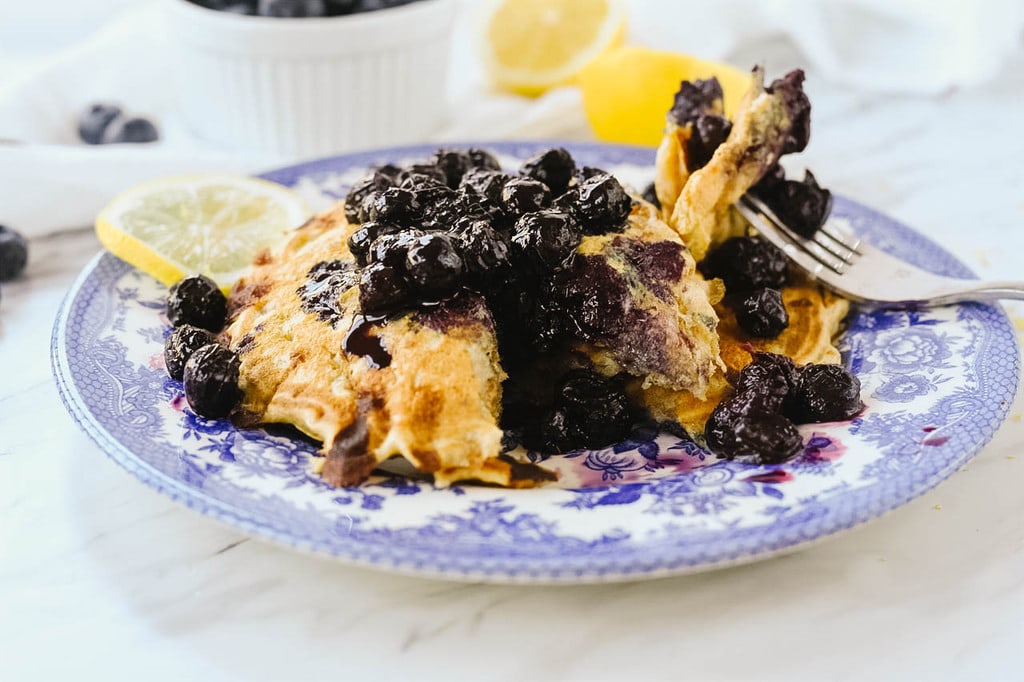 Use a large cookie scoop or a measuring cup to scoop your batter, this will give you even sized pancakes.

When do you flip a pancake?
Allow bubbles to form on the surface of the pancake and the edges to set up a bit before flipping. Don't flip your pancake too soon. You end up with a mess!
Never push down on your pancakes with your spatula to flatten them – don't do it ever!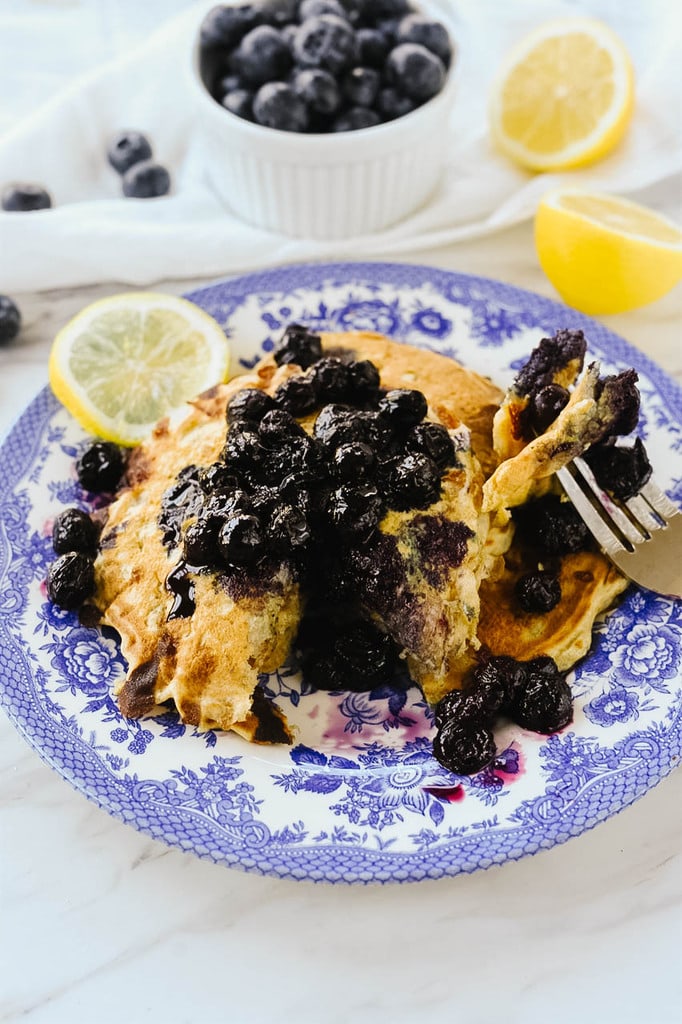 Every good pancake needs some kind of topping or syrup. Real maple syrup is always a winner but with these lemon pancakes so I decided to dress them with blueberry compote because I think lemon and blueberry is a perfect combo. The lemon flavor in the pancake is subtle, not too strong but it's there. The addition of blueberry compote is perfect and you can find the recipe here.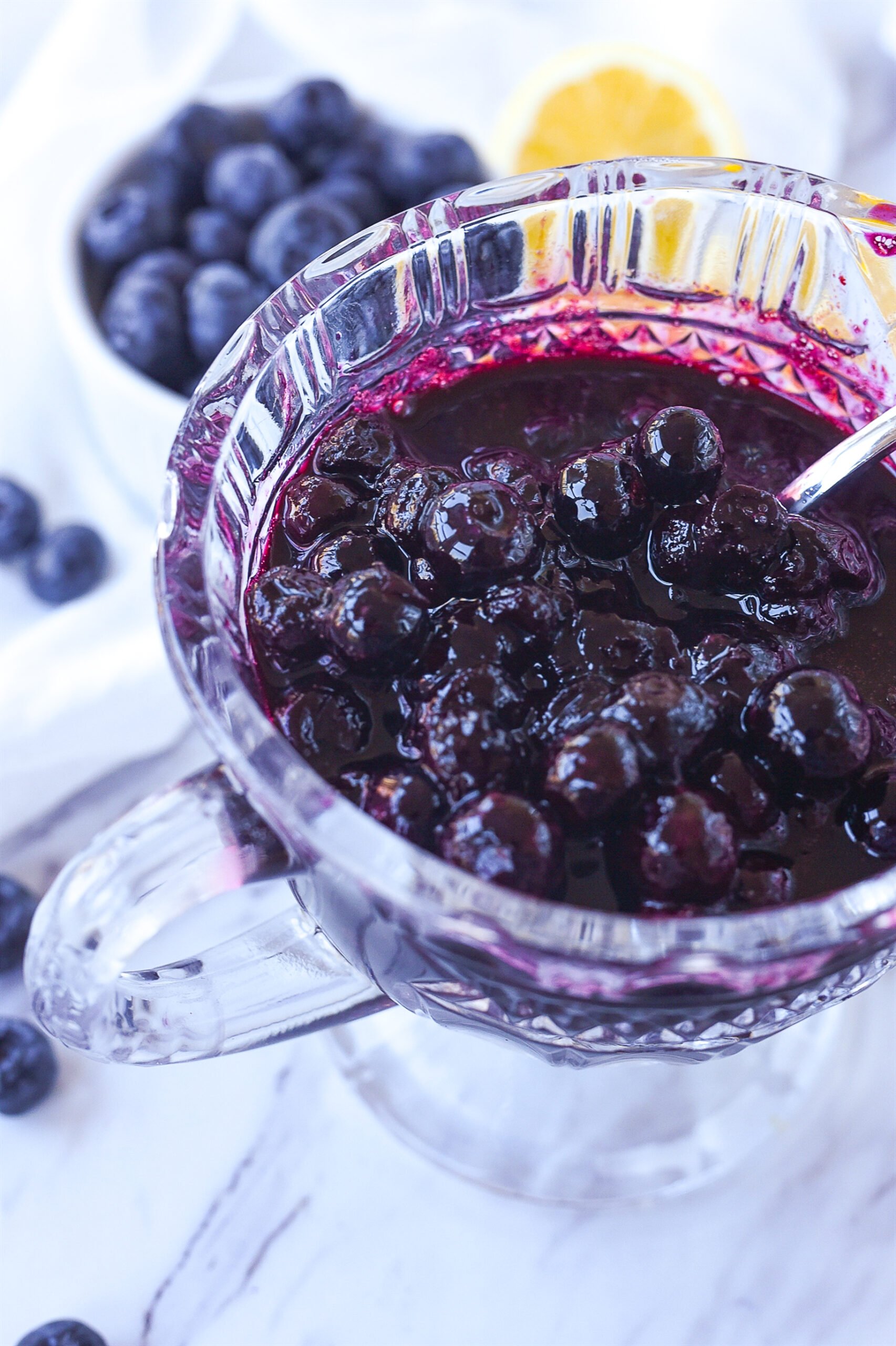 Some of my other favorite pancake syrups: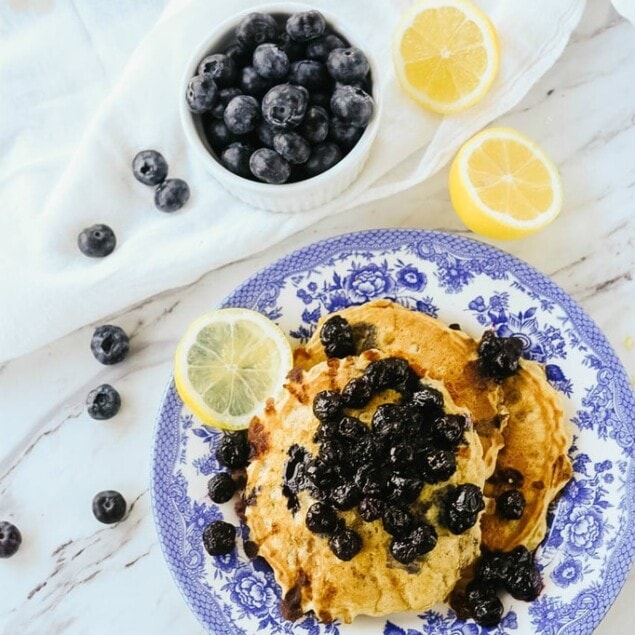 Lemon Pancakes
Lemon Pancakes are light and delicious thanks to cottage cheese and egg whites and have a subtle hint of lemon.
Ingredients
1/2 cup whole wheat flour
1/4 cup all purpose flour
3/4 tsp baking powder
1/4 tsp baking soda
1/4 tsp salt
1 1/2 Tbsp sugar
1 lemon zested and juiced
2/3 cup 2 % milk
3/4 cup small curd cottage cheese
2 egg whites
1 tsp vanilla
Instructions
In a large bowl, combine flours, baking powder, baking soda and salt.

In a small bowl combine sugar and lemon zest and rub together with fingers.

Add the lemon sugar to the dry ingredients. Mix together.

Mix together the milk, cottage cheese, egg whites, extract and lemon juice.

Pour into dry mixture and stir to combine, it will be lumpy. Don't over stir.

Head a large skillet or griddle and spray with cooking spray

Add about 1/4- 1/3 cup batter to pan. Cook until edges of pancake begin to set up and it bubbles in the middle.

Flip and cook on other side.
Nutrition Facts:
Calories: 69kcal (3%) Carbohydrates: 11g (4%) Protein: 4g (8%) Fat: 1g (2%) Cholesterol: 3mg (1%) Sodium: 165mg (7%) Potassium: 122mg (3%) Fiber: 1g (4%) Sugar: 3g (3%) Vitamin A: 40IU (1%) Vitamin C: 5.7mg (7%) Calcium: 53mg (5%) Iron: 0.5mg (3%)
* Disclaimer: All nutrition information are estimates only. Read full disclosure here.