Fast Fire Flank Steak is tender and juicy with amazing flavor.  It is one of the top favorite meals for the men at my house!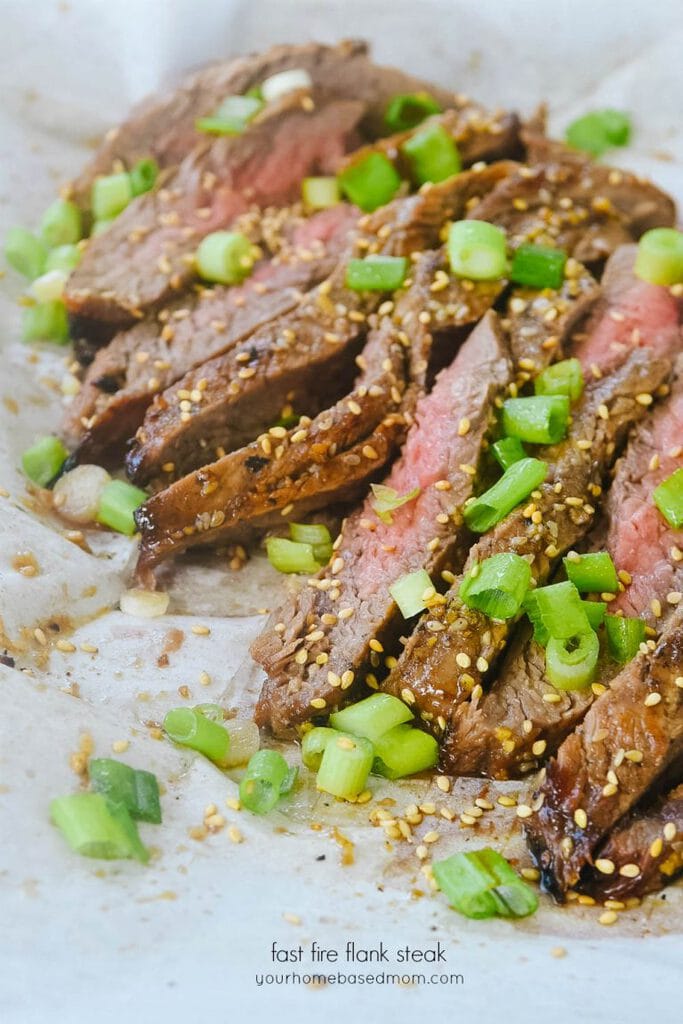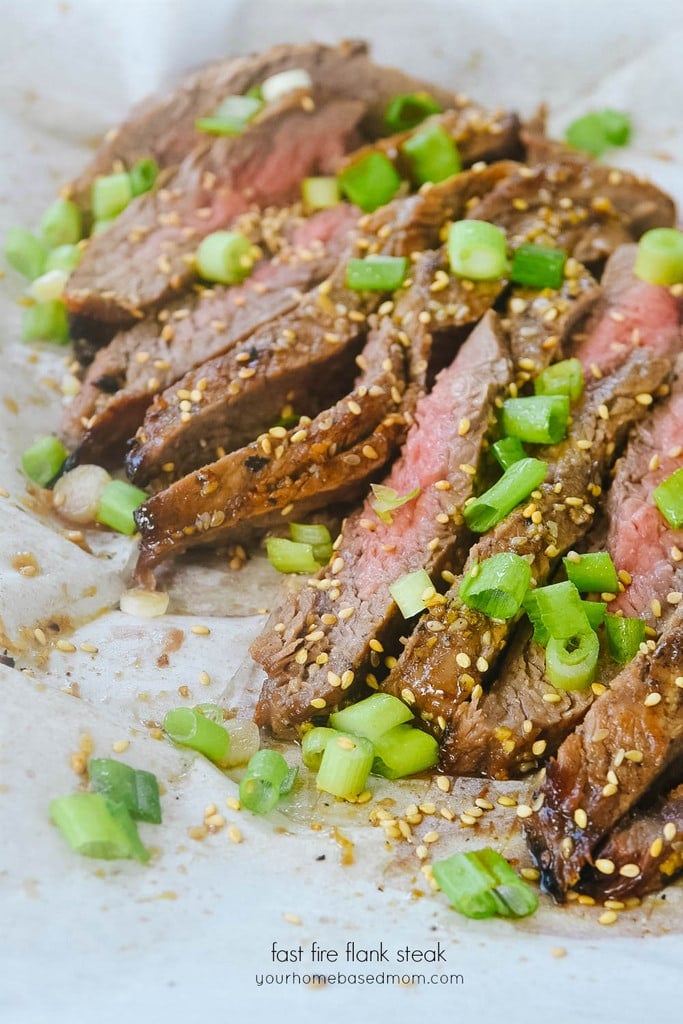 This was one of the earliest recipes I shared here on the blog back in 2008, it's been a family favorite for a long time. It is one of the most requested meals when my kids come home to visit.
If you ask any of the men at my house what their favorite dinner is, Fast Fire Flank Steak would be in the top two choices for all of them, if not the top choice. Throw in some kind of potato and they are in heaven! I shared a hand written copy of this recipe with a friend years ago. I guess my writing was a little messy because her family calls this flank steak Fist Fire Flank Steak. She could never figure out why it was called fist fire!!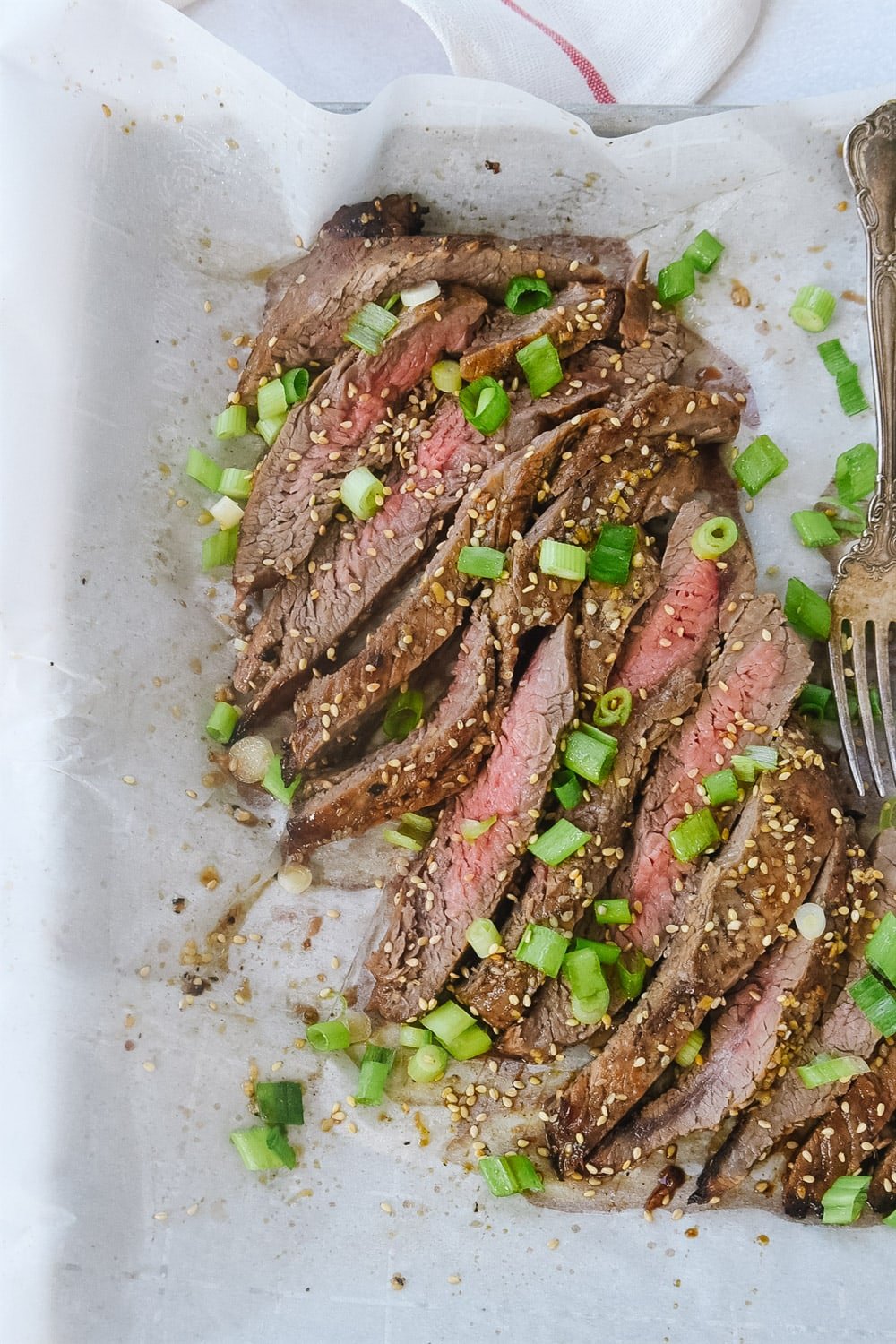 What is Flank Steak ?
Flank steak comes from the bottom abdominal area of the cow and it contains some hard-working muscles and can be a little tough so it is a great choice for marinating. The marinade will help tenderize the meat. Grilling is the best way to cook a flank steak.
Prior to marinating the beef I score the meat diagonally across the grain to allow the marinade to get deeper into the meat.

How Long Should I Marinade Flank Steak?
I recommend doing it 12-24 hours if possible. If you are short on time try to do it for at least 3 hours. I place the steak along with the marinade into a large plastic zipper baggie. and place in the refrigerator so the meat is flat so that more meat comes in contact with the marinade.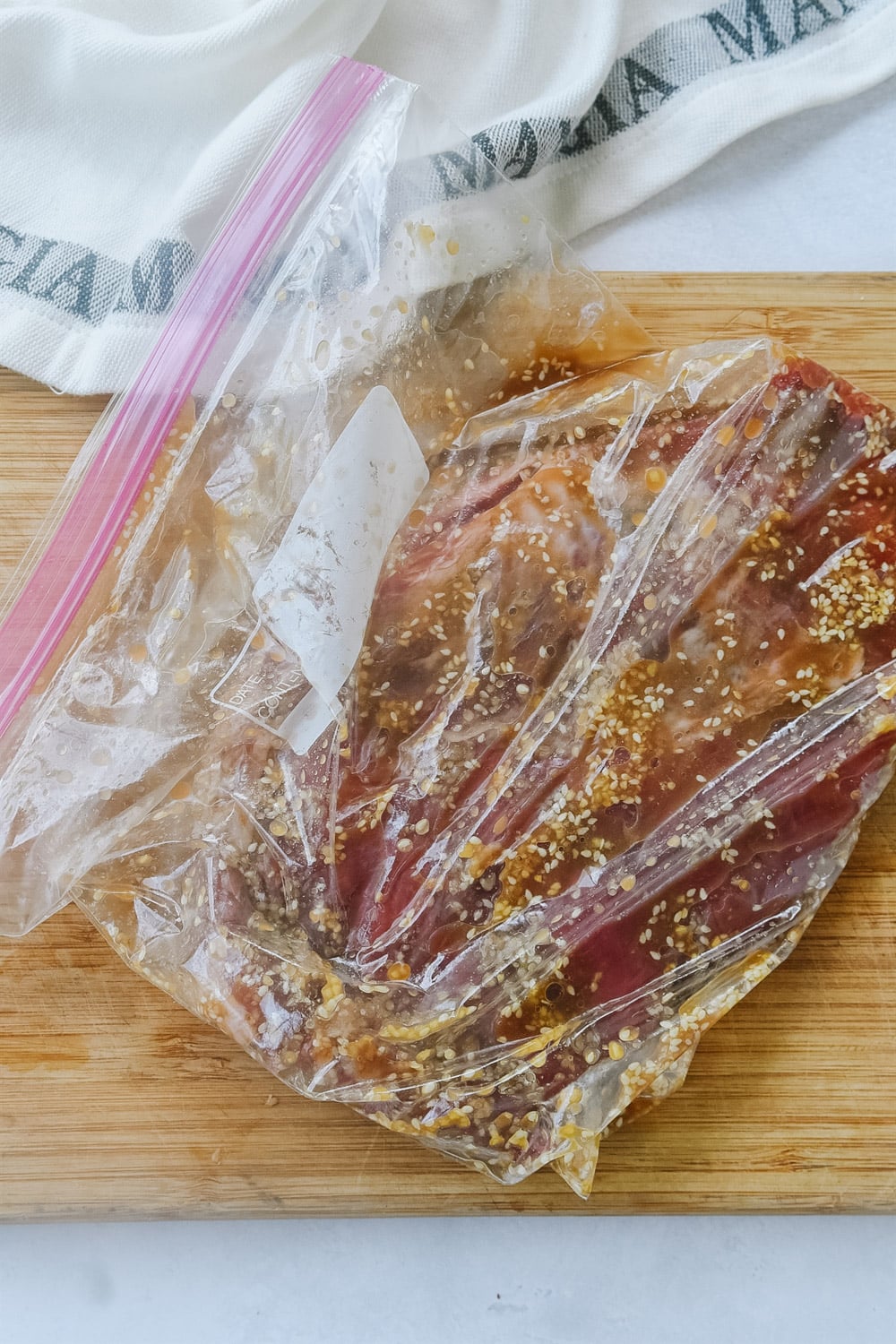 How to Cook Flank Steak
We always cook our flank steak on the grill over a high heat. Flank steak is fairly thin so it cooks quickly. We prefer it medium to medium rare which is usually 4-6 minutes per side.
I always use a meat thermometer to check the temperature of my flank steak. I love using the Thermoworks Thermapen.
Rare – 125 degrees F
Rare Medium – 135 degrees F
Medium – 145 degrees F
Medium Well – 155 degrees F
Pull the meat off the grill about 5 degrees before the desired temperature and allow the meat to sit for a few minutes. It will continue to cook as it rests.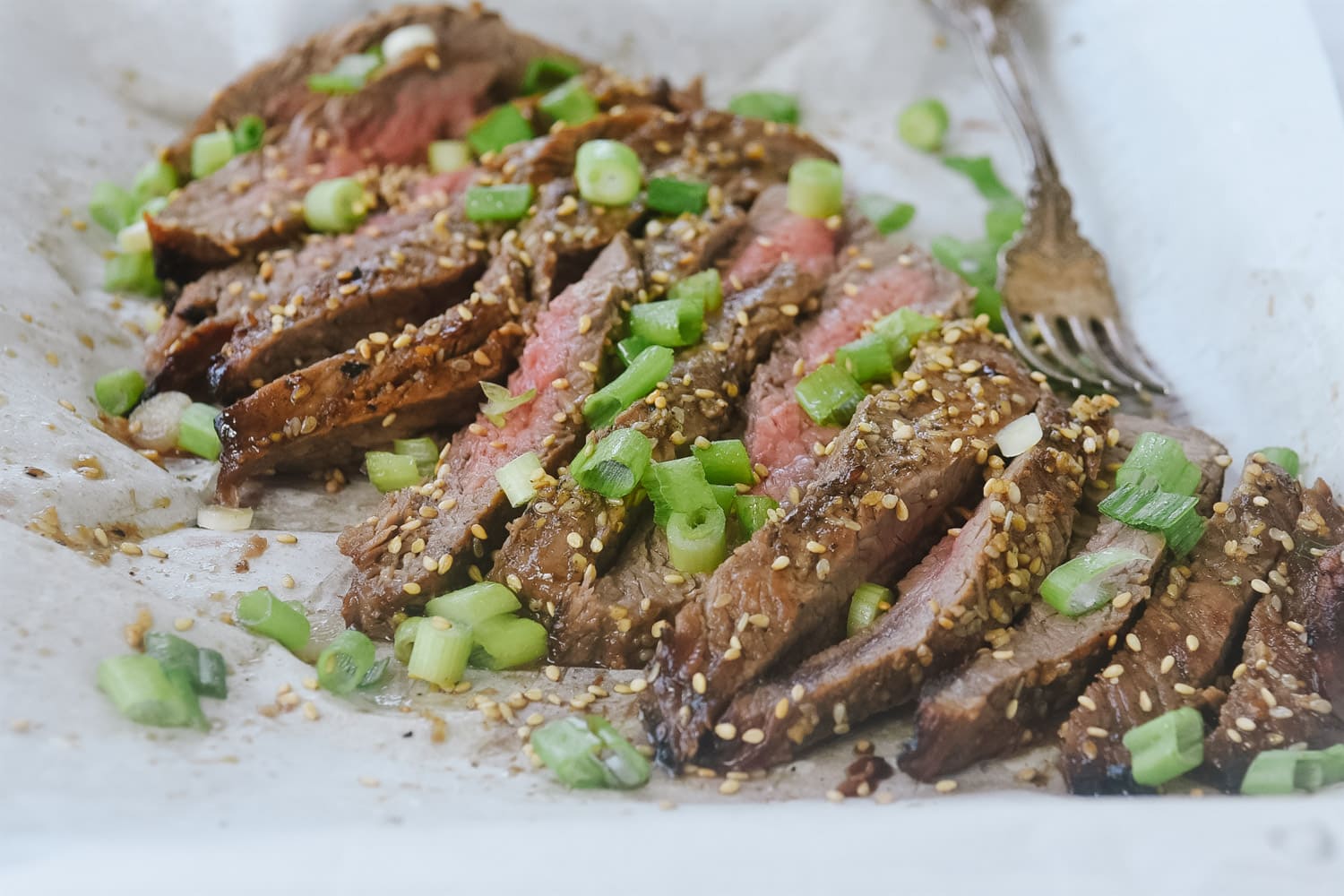 How to Slice Flank Steak
To help make the flank steak more tender, always slice the meat across the grain.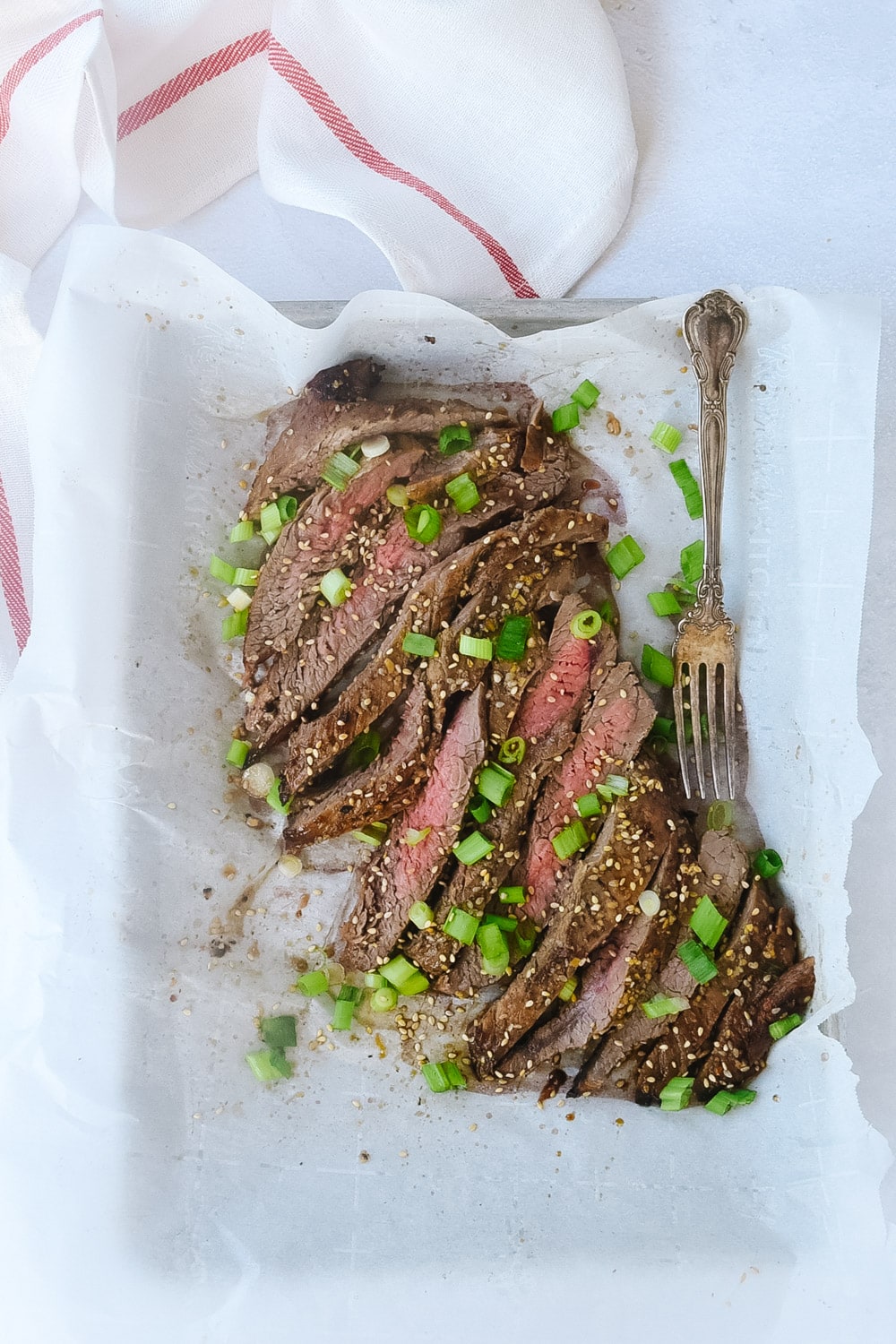 We love to serve it with some roasted potatoes and roasted asparagus and you have pretty much a perfect meal.
Check out more of my favorite beef recipes:
For all of my other favorite kitchen products and tools visit my Amazon Store.
Did you know I wrote a cookbook? Check out the Holiday Slow Cooker Cookbook for 100 delicious recipes
Fast Fire Flank Steak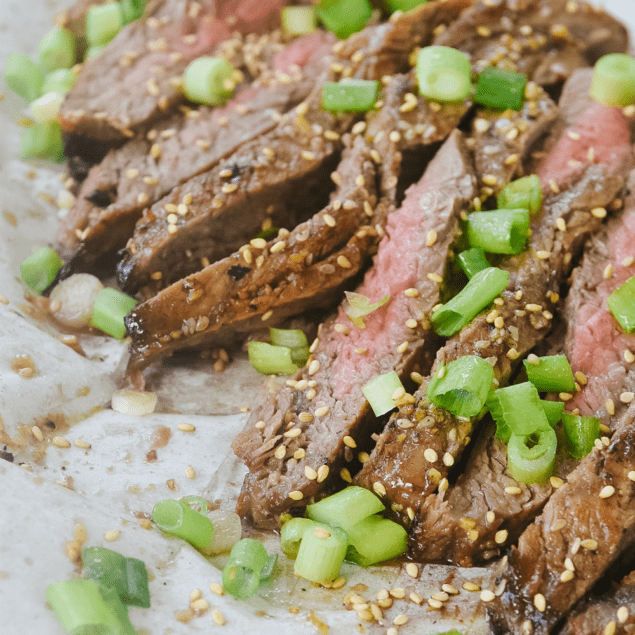 Fast Fire Flank Steak
Fast Fire Flank Steak is tender and juicy with amazing flavor.  It is one of the top favorite meals for the men at my house!


Ingredients
1 flank steak about 1 1/4 lbs.
1 1/2 Tbsp. brown sugar
1 1/2 Tbsp. soy sauce
1  Tbsp. cooking sherry
1 Tbsp. sesame oil
2 Tbsp. sesame seeds
2 Tbsp. minced garlic
1 tsp. minced fresh ginger
2 scallions sliced 1/8 inch thick
1/4 tsp. green pepper I usually don't put this in
oil for brushing
Instructions
Score flank steak 1/8 inch deep on both sides at 1 inch intervals

Mix all ingredients except oil for brushing together, pour over steak and rub into both sides

Marinade at least 3 hours or overnight

Remove from refrigerator 30 minutes before cooking

Brush grill with oil

Cook for 3 minutes each side for rare, 5 for medium, 7 for well done

Thinly slice against the grain
Nutrition Facts:
Calories: 129kcal (6%) Carbohydrates: 7g (2%) Protein: 10g (20%) Fat: 7g (11%) Saturated Fat: 1g (6%) Cholesterol: 23mg (8%) Sodium: 146mg (6%) Potassium: 189mg (5%) Fiber: 1g (4%) Sugar: 4g (4%) Vitamin A: 40IU (1%) Vitamin C: 2.5mg (3%) Calcium: 71mg (7%) Iron: 1.5mg (8%)
* Disclaimer: All nutrition information are estimates only. Read full disclosure here.
Originally posted in 2008