This No Bake Banana Split Dessert has been a family favorite for years – such an easy and delicious summer time treat.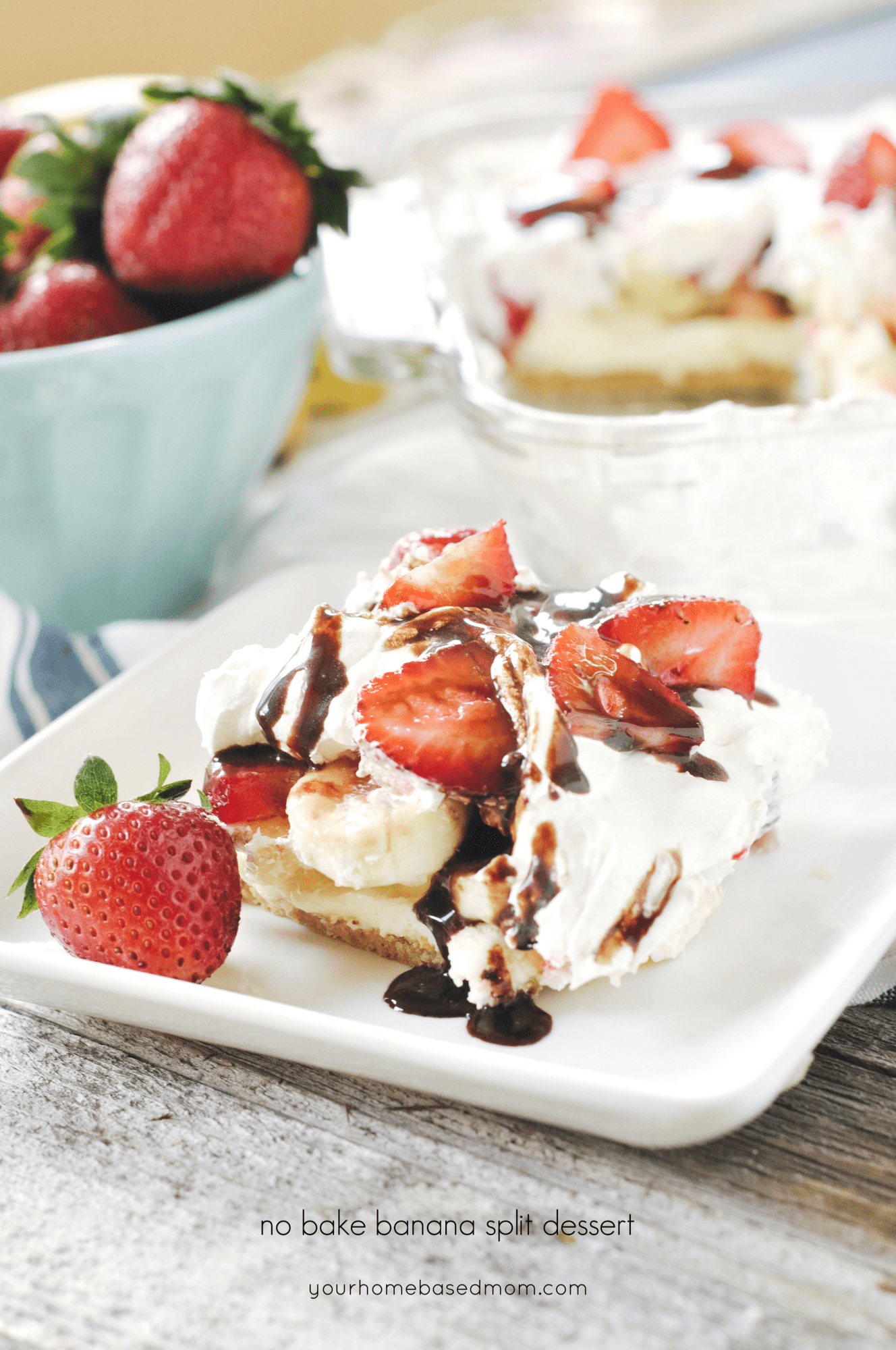 Today's recipes is another one of those oldies but goodies. I have had it in my recipe file for over 30 years and it originally belonged to my mother. It is on a nice little type written 3 x 5 index card in my collection of recipes. I remember spending hours on my typewriter typing out all my recipes! Now all I have to do is log onto my blog.
I served today's recipe at a farewell dinner party for a sister missionary in our ward this past week. Her family was here to pick her up so we invited them to dinner and then invited a lot of the people she had served and taught during her mission over for a little dessert party and to say goodbye. Let's just say the banana split dessert was a huge hit. I actually had to hide a few pieces of it so that the guest of honor could have a piece when she was done visiting.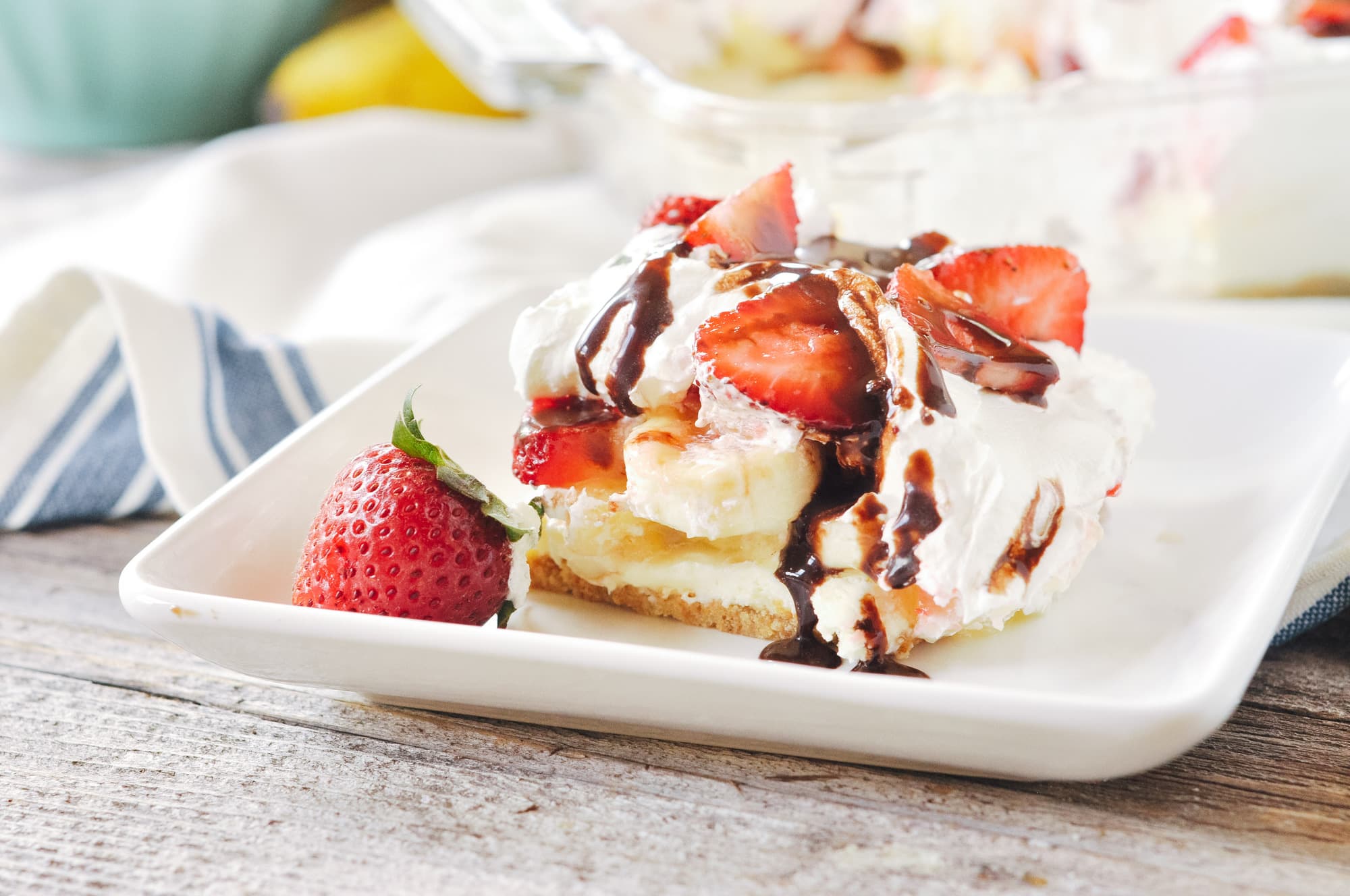 One of the best things about this dessert, other than it is delicious, is that it is no bake! No oven or stovetop required so it's perfect for summer, especially on a 95 degree day like it is in Portland today and your air conditioner is broken. Yes, that would be me!
What is an Icebox Cake?
There are lots of different variations of an icebox cake but it is traditionally made with either chocolate wafers or graham crackers.  I used graham crackers for this one but it would also be delicious with chocolate wafers.  There is also a layer of whipped cream (I used Cool Whip) and pudding.  It is kept in the refrigerator overnight which helps the crust to soften up and allowing it to be sliced easily. The Americanized version often has bananas and or pineapple in between the layers.  I used both and added in some strawberries!
How to Make Icebox Cake
The dessert starts with a base of graham cracker crumbs in a 9 x 13 glass pan. The graham cracker crumbs are combined with some melted butter and pressed into the dish.
Beat together the sugar and butter for 15 minutes until it gets so light and fluffy! Yes, 15 minutes! It is so yummy and I have a hard time not just eating all the filling straight out of the bowl. But I did manage to save some for the dessert. Spread this mixture over the top of the graham cracker crust.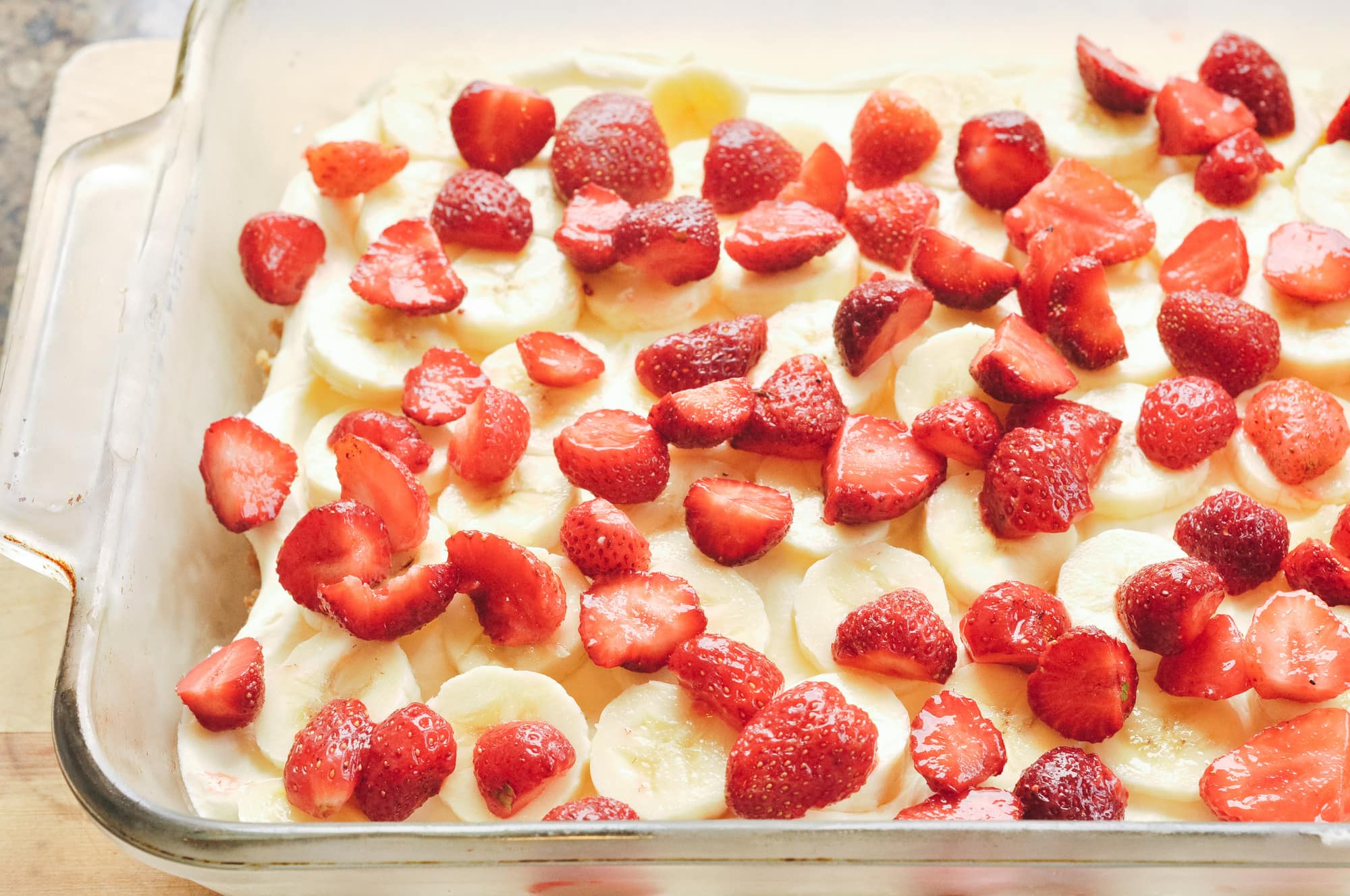 Then top it with Cool Whip, more sliced strawberries and then I like to drizzle it with chocolate syrup. A banana split must have chocolate!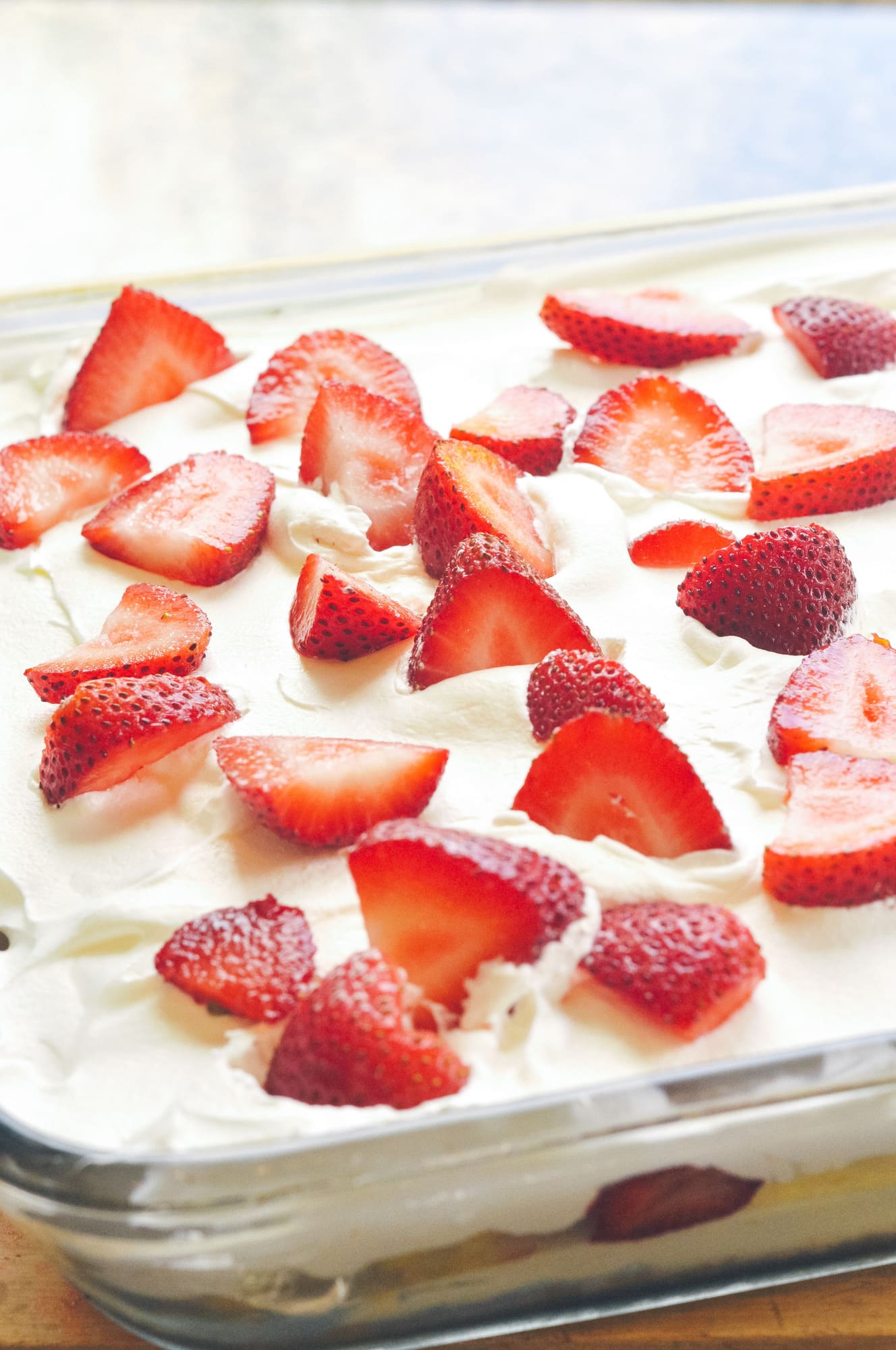 Then all you have to do is slice and serve. Be sure to keep it refrigerated until you are ready to eat it! It is definitely a crowd pleaser and the perfect dessert for a hot summer day when the last thing you want to do is turn on the oven. It's a great potluck dish and perfect for a neighborhood BBQ. This dessert got a lot of oohs and aahs at the last party I took it too!!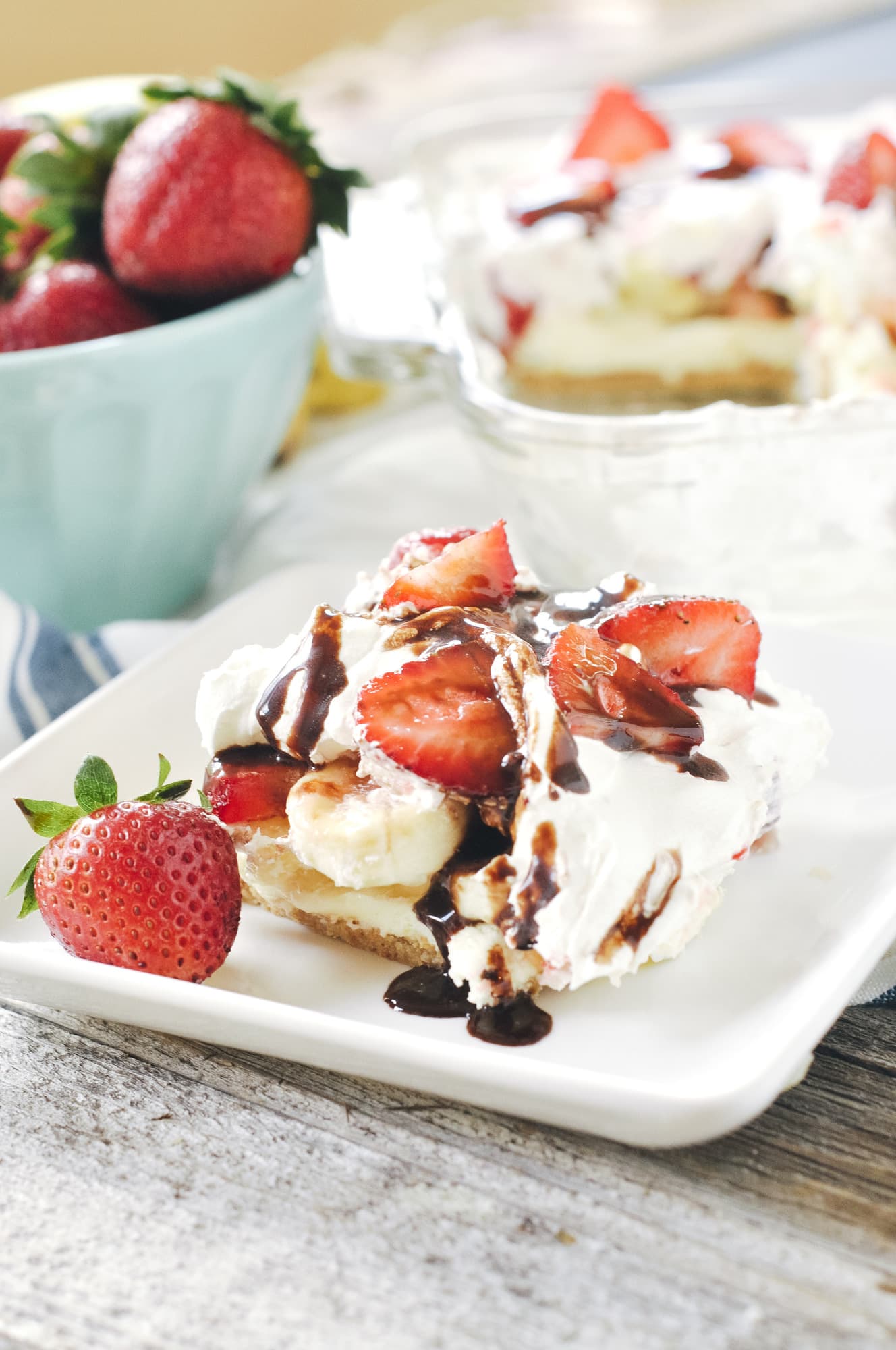 For other yummy desserts, try these: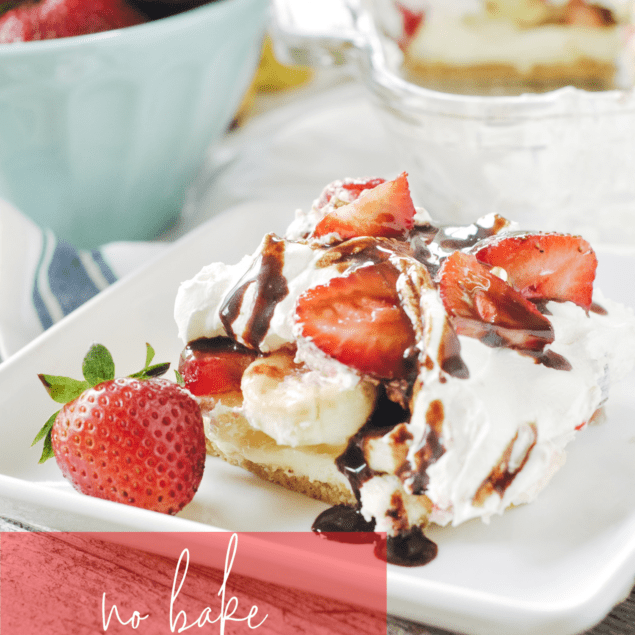 No Bake Banana Split Dessert
This No Bake Banana Split Dessert has been a family favorite for years – such an easy and delicious summer time treat.


Ingredients
1/2 cup butter melted
1 cup graham cracker crumbs
2 eggs
1 cup butter
2 cup powdered sugar
3-4 bananas sliced
1 1/2 pints strawberries sliced
1 12 oz. Cool Whip
1 20 oz. can crushed pineapple drained
chocolate syrup to drizzle
Instructions
Note: If raw eggs are a concern for you they can be left out of the second layer.
Layer One:
Mix together 1/2 C butter melted and 1 C graham cracker crumbs

Press into bottom of 9 x 12 pan.
Second Layer:
Mix together eggs, 1 C butter and powdered sugar and beat for 15 minutes (this is important!)

Spread over graham cracker layer
Third Layer:
Slice bananas and cover over second layer
Fourth Layer:
Cover over bananas with 1 pint sliced strawberries
Seventh Layer:
Sprinkle with remaining strawberries and drizzle with chocolate syrup

Refrigerate until ready to serve.
Nutrition Facts:
Calories: 367kcal (18%) Carbohydrates: 37g (12%) Protein: 2g (4%) Fat: 25g (38%) Saturated Fat: 15g (94%) Cholesterol: 88mg (29%) Sodium: 260mg (11%) Potassium: 223mg (6%) Fiber: 2g (8%) Sugar: 28g (31%) Vitamin A: 775IU (16%) Vitamin C: 37mg (45%) Calcium: 27mg (3%) Iron: 1mg (6%)
* Disclaimer: All nutrition information are estimates only. Read full disclosure here.
Originally posted July 2, 2014