Banana ice cream is sure to become a family favorite and the perfect way to cool down this summer.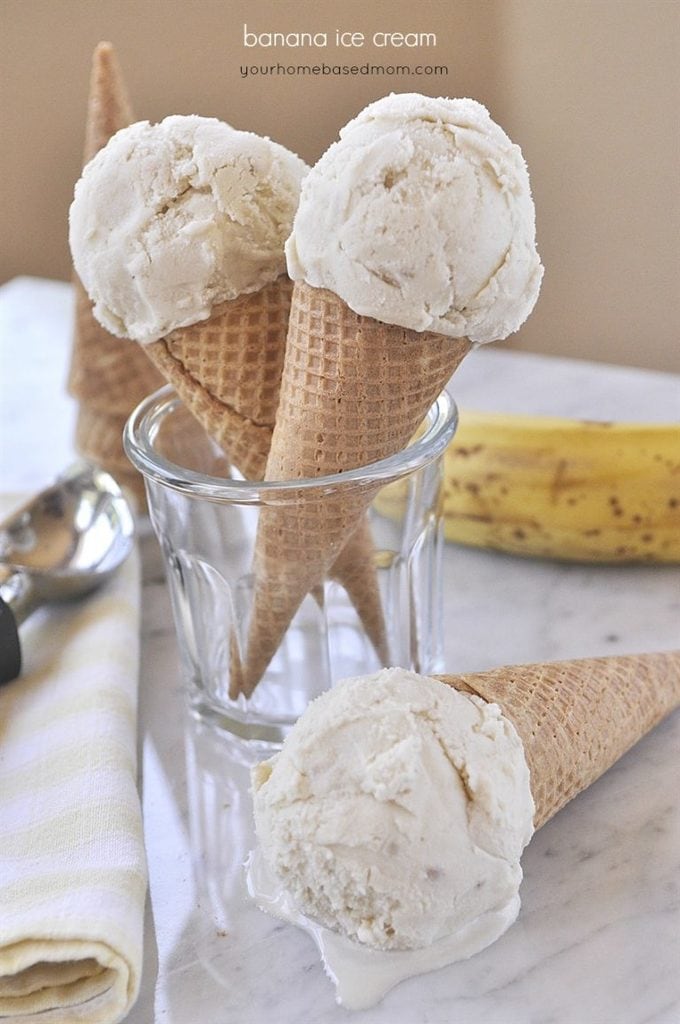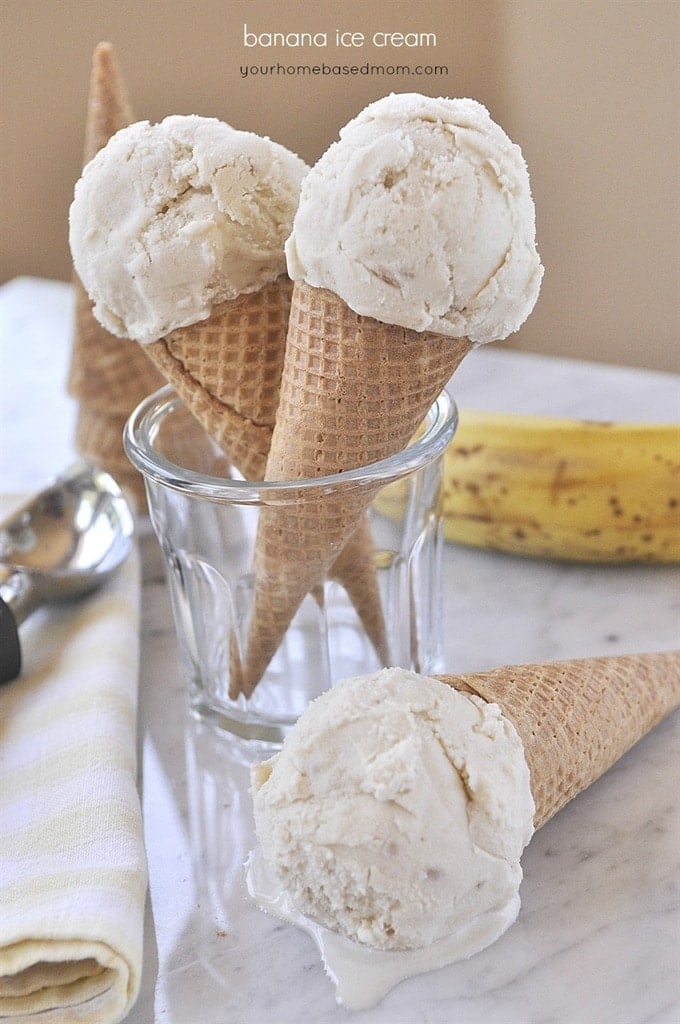 When you travel and try new restaurants and food, do you ever come home and try to recreate it? I love doing this and it never fails after each trip I take, I find at least one thing I want to come home and try making. After my trip to NYC over Memorial weekend there were two things I wanted to come home and recreate and today's recipe for Banana Ice Cream is one of them.
On Monday I shared with you my Best Ice Cream Spots in NYC. Did you see it? I ate a lot of ice cream while I was there and my favorite was the banana ice cream.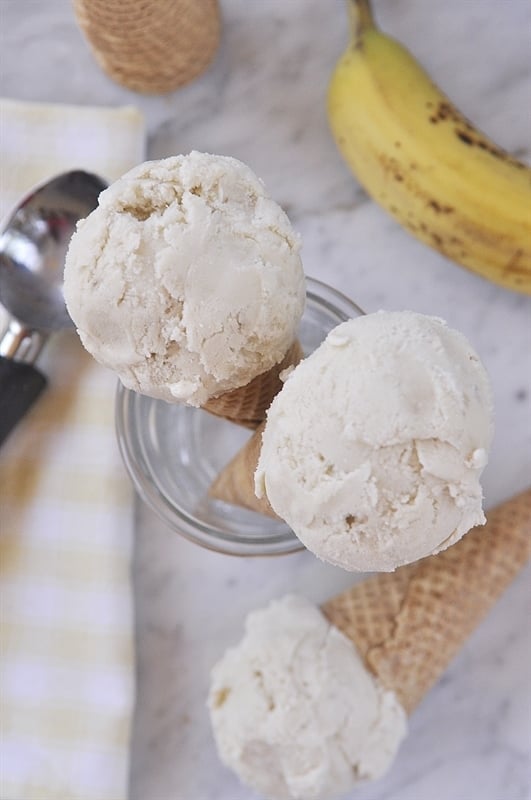 Those of you who know me well may be surprised that I am sharing a recipe for banana ice cream. You see, I don't eat bananas. But for me it is not a flavor thing, it is a texture thing. I don't like the texture of bananas but I love the flavor. The bananas are mashed up in the ice cream and so you just enjoy the flavor of the banana without the texture.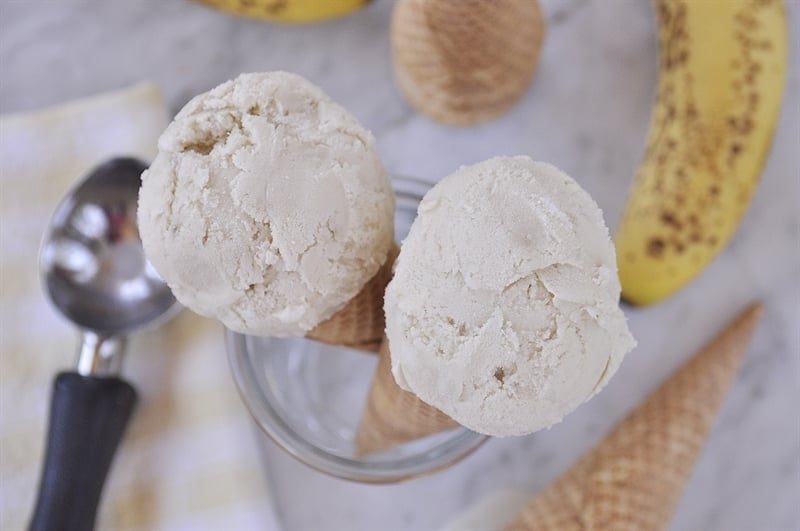 This recipe uses eggs so it requires a cooked custard base. After cooking the custard cool it down quicker by putting the pan in an ice bath and then moving it into the refrigerator to continue to chill. You are going to be in a hurry to get this ice cream made because it's so yummy so this tip will come in handy! Trust me!
I used my favorite Cuisinart ice cream maker and churned it according to the directions. I then store my ice cream in my Tovolo container in the freezer. This container is the best and keeps the ice cream at the perfect texture.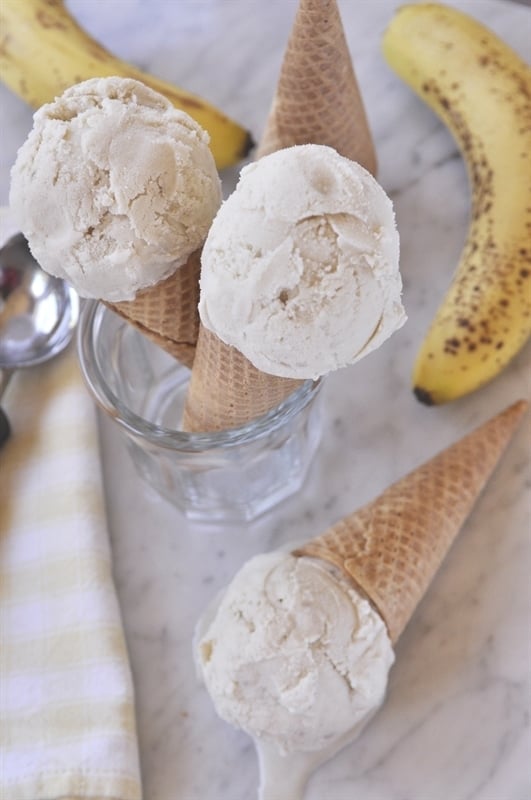 You can enjoy the beauty of this banana ice cream all by itself but it is also delicious with some chocolate or caramel sauce drizzled over the top. I think next time I am going to fold some peanut butter into the ice cream after I churn it for some banana peanut butter action. Maybe add in some chocolate chips too! In NYC I ate it with a scoop of peanut butter chocolate ice cream and it was divine!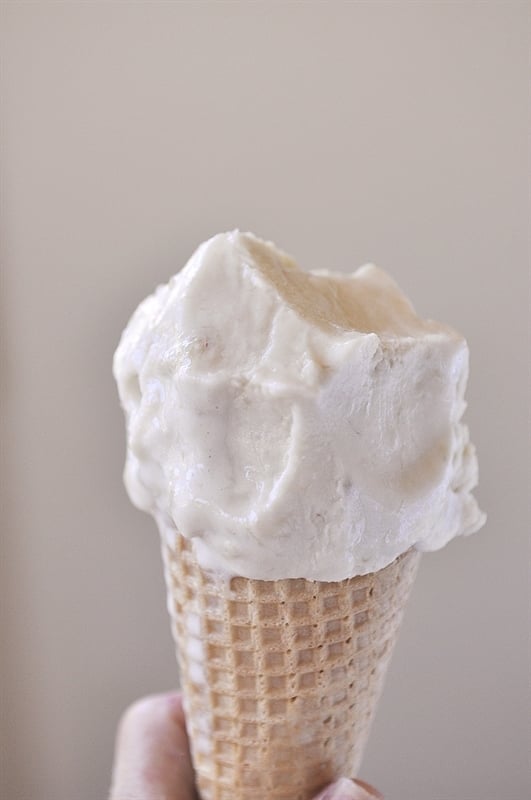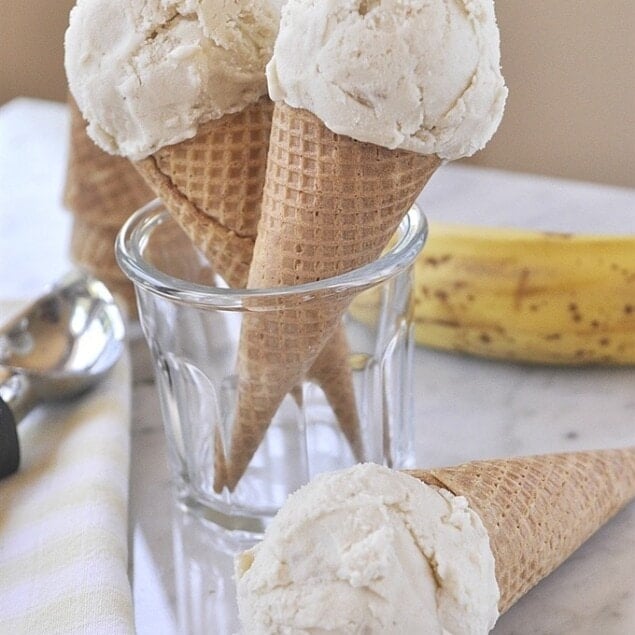 Banana Ice Cream
Creamy ice cream made with real bananas.
Ingredients
2 cups half and half
1 1/4 cups sugar
pinch of salt
2 eggs lightly beaten
2 cups heavy whipping cream
5 oz evaporated milk 1 can
2 tsp vanilla extract
1 cup mashed banana 2-3 bananas
Instructions
In a saucepan heat half and half to 175 degrees F. Add in sugar and salt and stir until dissolved.

Spoon a small amount of hot milk mixture into eggs and beat.

Put egg mixture back into pan with rest of milk and whisk together

Cook and stir over low heat until mixture reaches 160 degrees F. Should coat the back of a spoon.

Remove from heat and place pan into a large bowl filled with ice water. Stir to cool.

Add in whipping cream, milk and vanilla.

Cover with plastic wrap and refrigerate for a few hours or overnight.

Add in mashed bananas and place in ice cream maker. Churn according to directions. Refrigerate until ready to serve.
Nutrition Facts:
Calories: 299kcal (15%) Carbohydrates: 28g (9%) Protein: 3g (6%) Fat: 20g (31%) Saturated Fat: 12g (75%) Polyunsaturated Fat: 1g Monounsaturated Fat: 6g Trans Fat: 1g Cholesterol: 97mg (32%) Sodium: 43mg (2%) Potassium: 161mg (5%) Fiber: 1g (4%) Sugar: 23g (26%) Vitamin A: 778IU (16%) Vitamin C: 2mg (2%) Calcium: 74mg (7%) Iron: 1mg (6%)
* Disclaimer: All nutrition information are estimates only. Read full disclosure here.