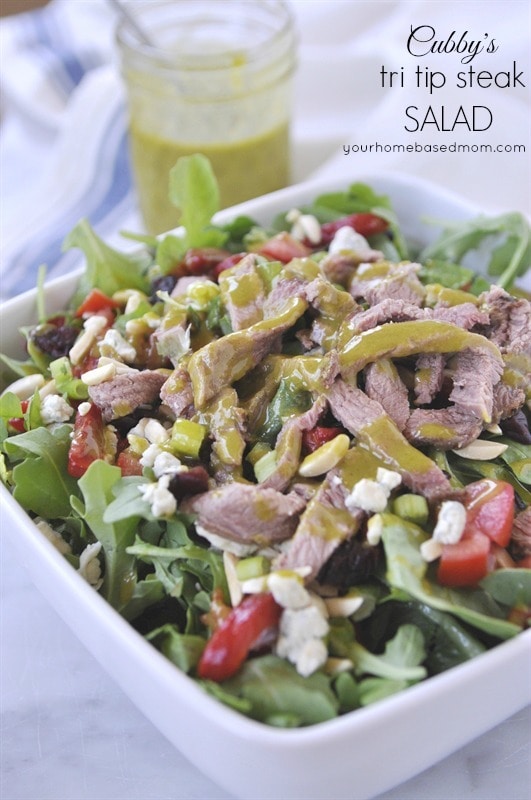 Many of you know that I spend a lot of time in Provo, Utah.  Up until early this year all of my children lived in Provo.  But they are growing  up, moving up and out and graduating and this fall just the girls will be in Provo.
One of my favorite things to do in Provo other than see my children is to check out the restaurant scene.  When mom comes to town that means one thing  – the kid's get to eat out and mom pays!  Maybe one of these days one of them will cook for me???
One place we always visit for lunch or dinner is Cubby's.  Their food is great and they have some good options for my gluten free/dairy free girl including their yummy salads.  I usually end up with a salad too and my favorite is their Tri Tip Steak Salad.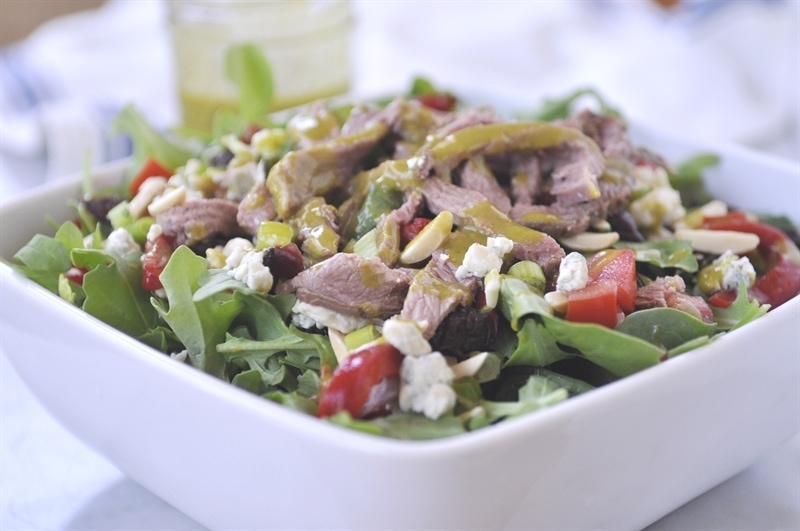 I decided I would try and recreate it at home.  The salad is made up of all kinds of yummy goodness:  Roasted red peppers, tomatoes, green onions, toasted almonds, dried cherries and Blue  Cheese.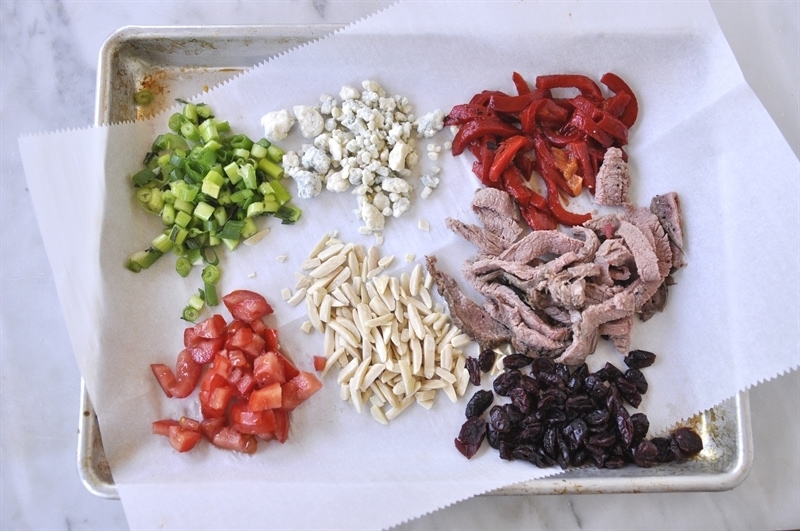 The salad is topped with slices of tri tip steak and a lemon cilantro vinaigrette.
I think I came pretty close.  I'll have to visit again on my next trip just to make sure.
This is a great salad to have when you have left over tri -tip or any cut of beef/steak.  I found a little bit of a shortcut though when you are in the mood for a good salad and you don't have leftover meat.  I discovered that Costco carries this amazing fully cooked sliced beef.  It has only been seasoned with salt and pepper.  It comes in slices and then I just cut it into strips and topped my salad with it.  So easy and delicious!  It comes in a bag and is in the deli section.  It is different than the deli sliced roast beef for sandwiches.  This is thicker, like slices of a roast.  So technically I guess it wasn't tri tip but it still was good!!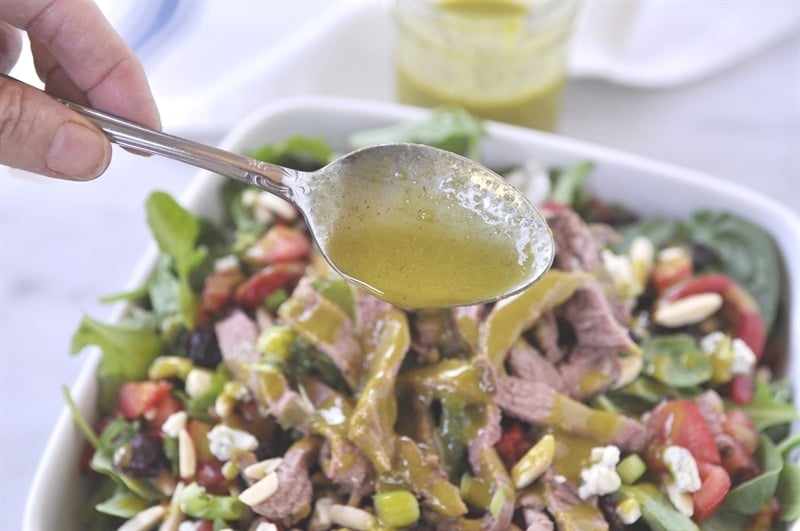 We ate this salad twice last week we liked it so much!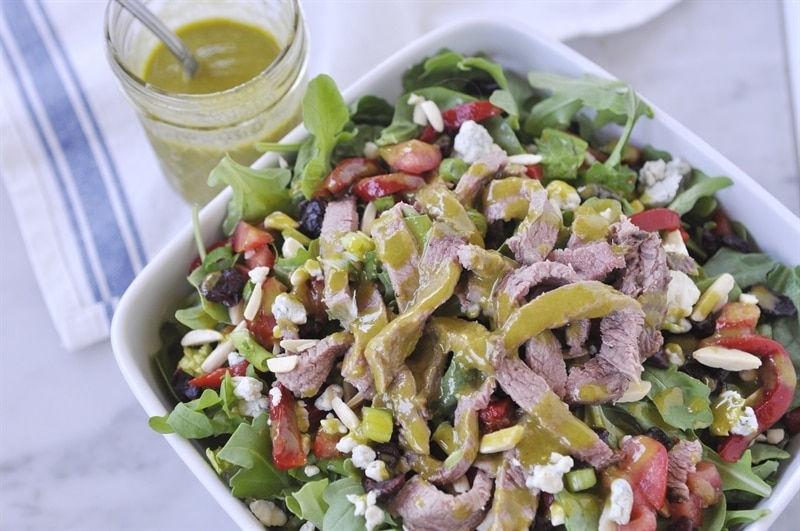 So for all you Provo readers out there that know what I'm talking about, give the Cubby's Tri Tip Steak Salad a go and let me know what you think.
For other main dish salads try these:
Ginger Sesame Chicken Salad – Tex Mex Chicken Salad – Cafe Rio Sweet Pork Salad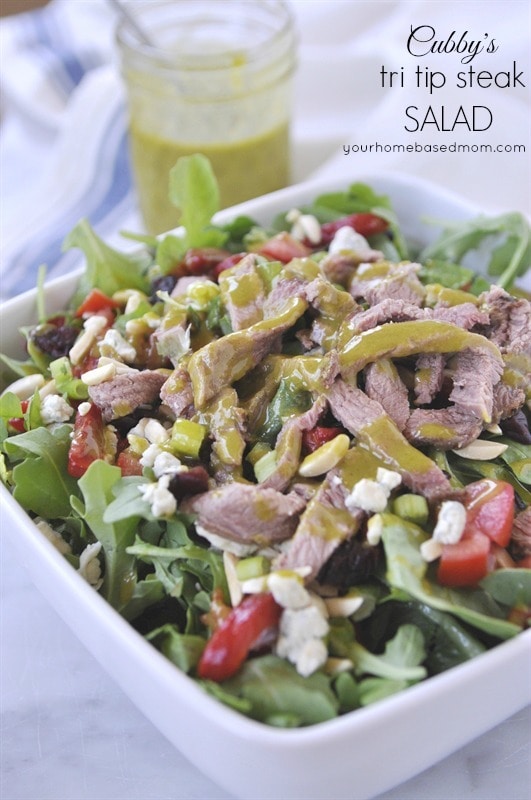 Cubby's Tri Tip Steak Salad
Delicious steak salad with grilled tri tip and a honey dijon mustard dressing.
Ingredients
1

C

tomato

chopped

4

green onions

chopped

1/2

C

dried cherries

1/2

C

slivered almonds

toasted

1/2

C

red pepper

sliced and roasted

1/2

C

Blue Cheese

crumbled

romaine

2

C

tri tip steak

cooked and sliced
Dressing
3/4

C

olive oil

1/3

C

lemon juice

3

tsp

lemon zest

1

Tbsp

dried minced onion

3

Tbsp

white vinegar

1/2

tsp

salt

3

tsp

honey

1

tsp

dijon mustard

1/4

tsp

red pepper flakes

1

bunch cilantro

chopped
Instructions
Dressing
Place all ingredients but olive oil into a blender.

Blend until smooth

Drizzle in olive oil.

Assemble salad, top with steak and pour dressing over top
Nutrition Facts
Cubby's Tri Tip Steak Salad
Amount Per Serving
Calories 728
Calories from Fat 531
% Daily Value*
Total Fat 59g 91%
Cholesterol 68mg 23%
Sodium 595mg 25%
Potassium 609mg 17%
Total Carbohydrates 24g 8%
Protein 26g 52%
* Percent Daily Values are based on a 2000 calorie diet.
 Enjoy!
Leigh Anne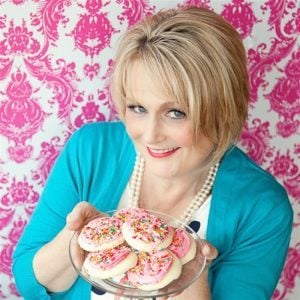 You can also visit me on Facebook, Pinterest, Twitter or Instagram.
Get my Weekly Menu Plan for FREE!
Receive my FREE "What's for Dinner?" Meal Planning Course, a copy of my FREE ebook that includes my most popular recipes and my FREE weekly Meal Plan.