Creating the perfect meringue cookies is easy with this step by step tutorial.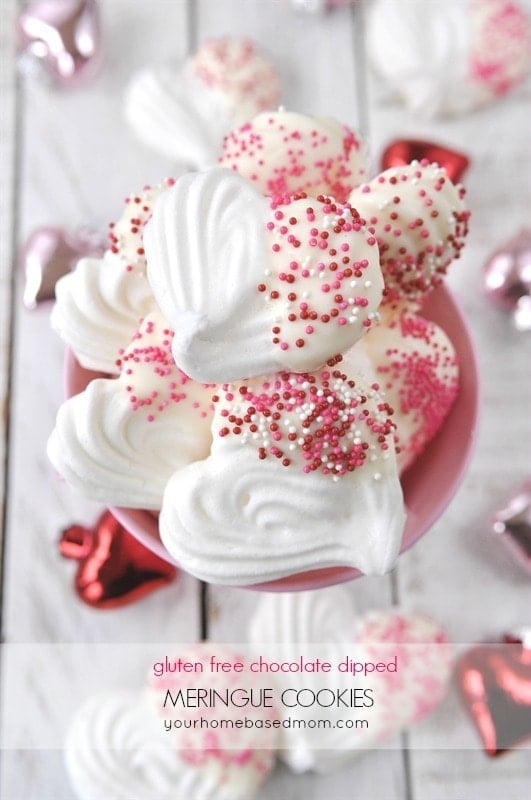 I love meringue.  I love the taste of it, the texture of it and I love that it is naturally gluten free.  I'm not gluten free but several people in my family are so it is a cookie that we can all  enjoy.  I also love how light and airy it feels in my mouth – there must not be any calories in it, right?  As far as cookies go, it is pretty low calorie and there is no fat either.
I also love how easy it is to make once you know the tricks.  There are a couple of tricks to making perfect meringue.  Perfect meringue can be eaten without it totally falling apart in your  hand.  When you bite into it, it still holds it shape but has a nice crispness to it with a bit of chewiness in the inside.  Just a bit of chewiness, you don't want it too chewy but you don't want it totally crispy either.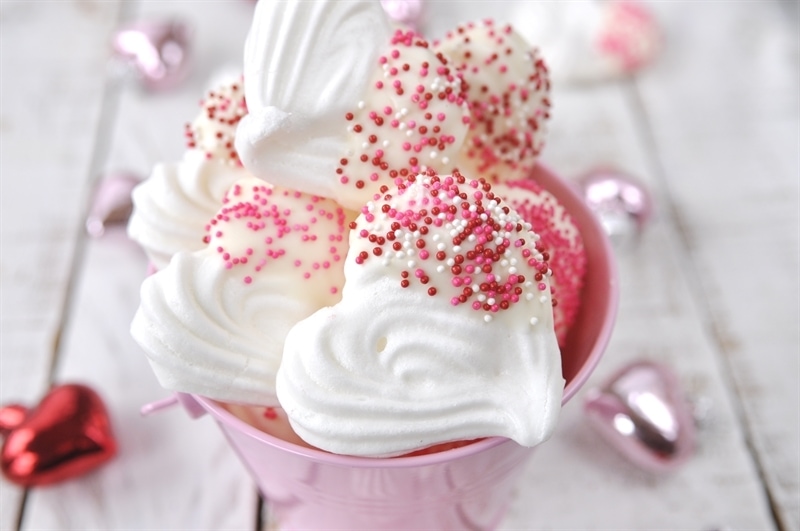 There are four tricks I have discovered to making perfect meringue.
1.  Use eggs at room temperature. Eggs at room temperature whip better and higher.
2.  Use a clean, greasefree bowl to whip your egg whites.  Any bit of fat will ruin your meringue.
2.  Use a combination of granulated sugar and powdered sugar.
3.  Bake it low and slow.
Meringues are made with egg whites, sugar, a pinch of salt and some cream of tartar.
This is what a nice stiff  meringue will look like.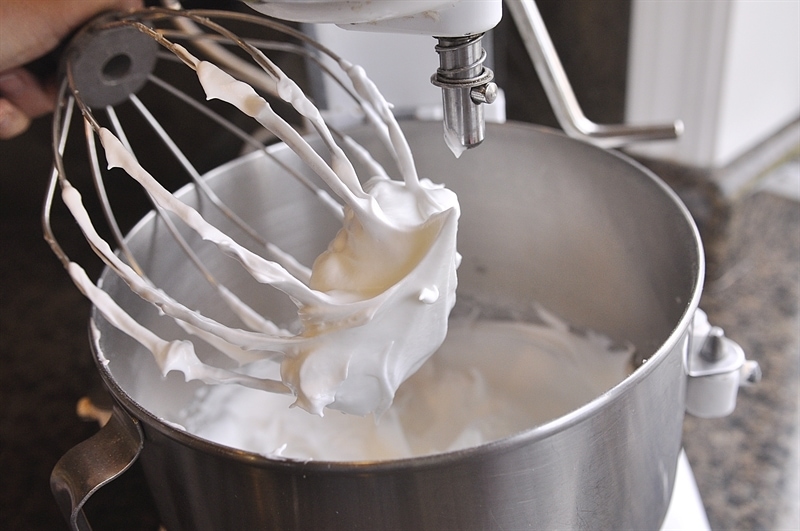 After you have whipped your egg whites with the cream of tartar and granulated sugar, fold in the powdered sugar.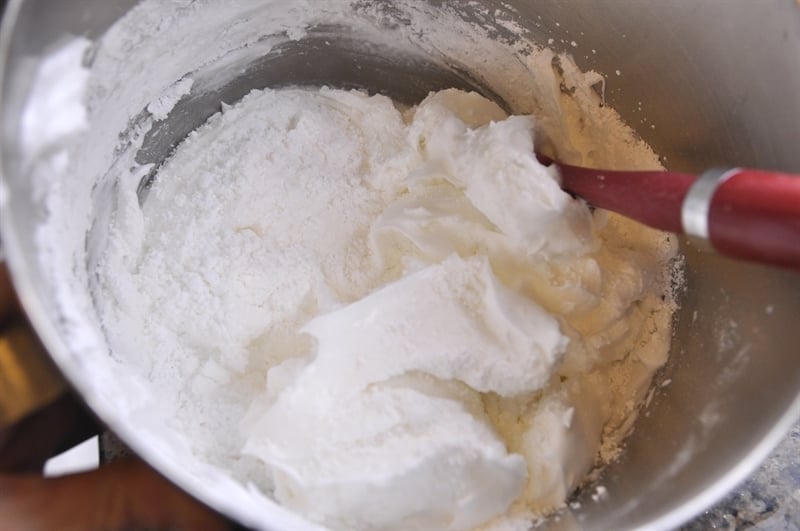 You want to bake your meringue on a parchment covered cookie sheet. I used a piping bag and tip to make my hearts.  I used my largest star tip and formed the right hand side of my heart first.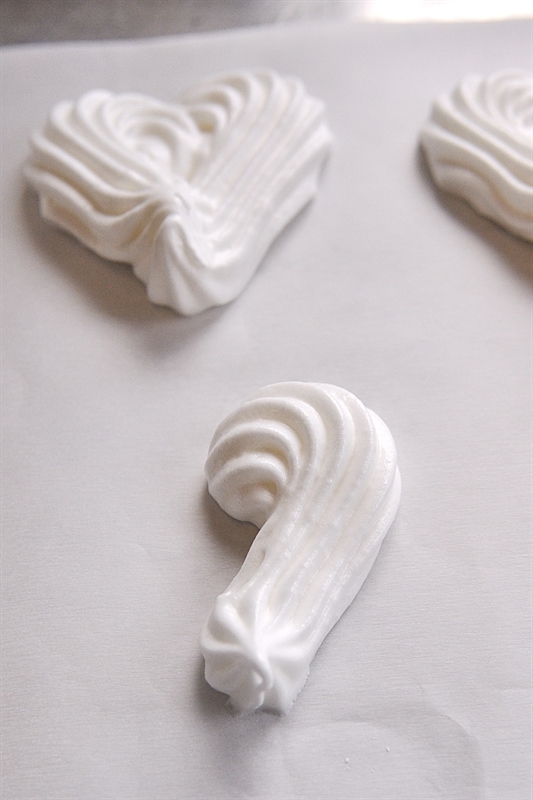 I then repeated that same shape on the opposite side to form a heart.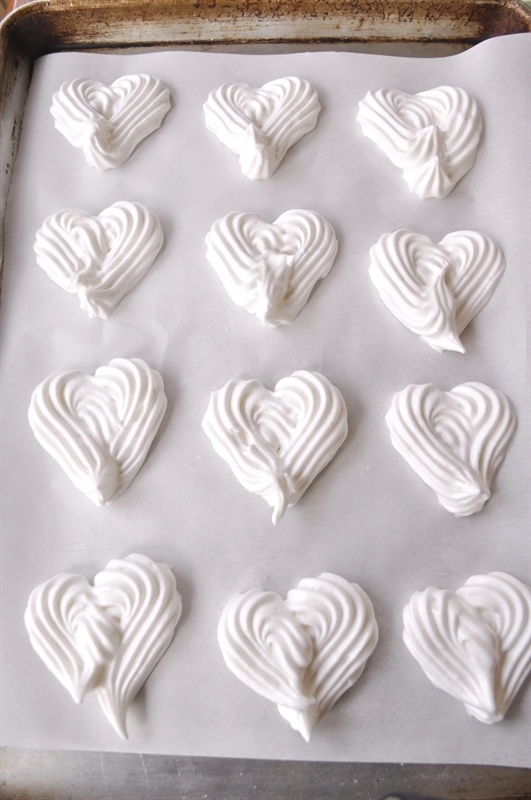 Bake them at 200 degrees for two hours  or bake for one hour and then turn off the oven and just let them sit in the oven for a few more hours.  Often, I make mine at night and after I turn off the oven I just let them sit in the closed oven all night.
They should easily come off the parchment paper and be light as air.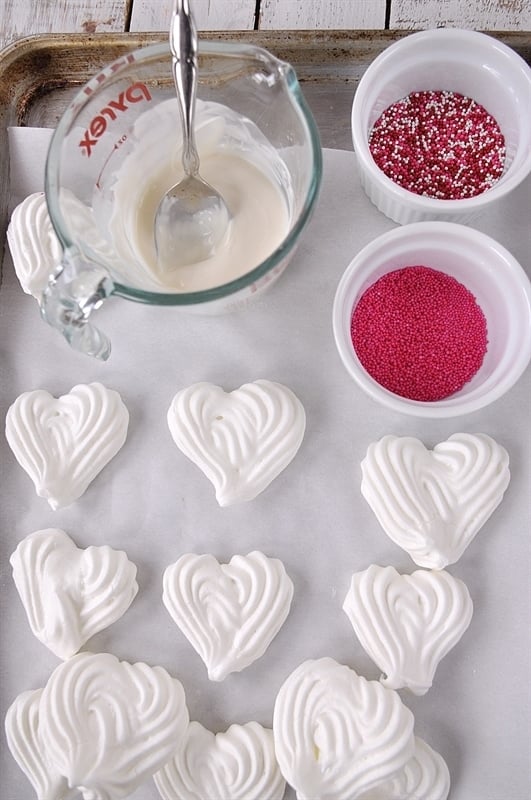 The meringues are pretty much perfect just the way they are but I wanted to dress them up a bit for Valentine's Day.  I melted some white chocolate (or you can use Wilton Melts).  I dipped half of the heart into the chocolate.  Be gentle as they are a bit fragile.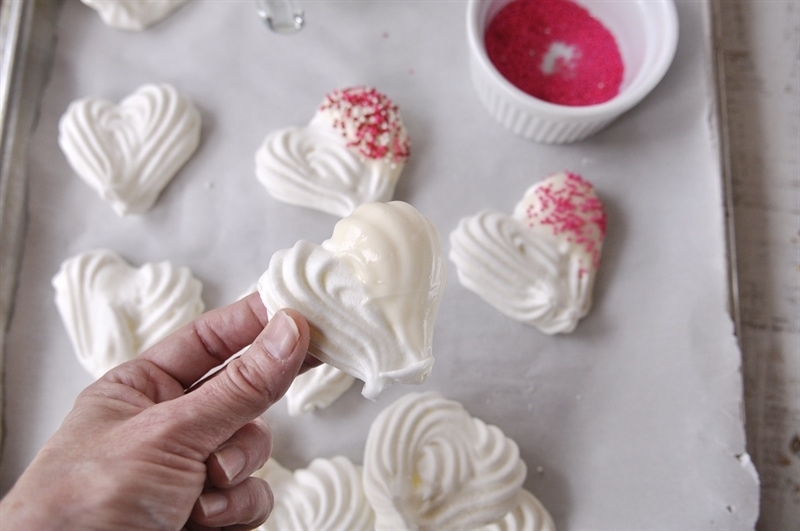 Then add sprinkles!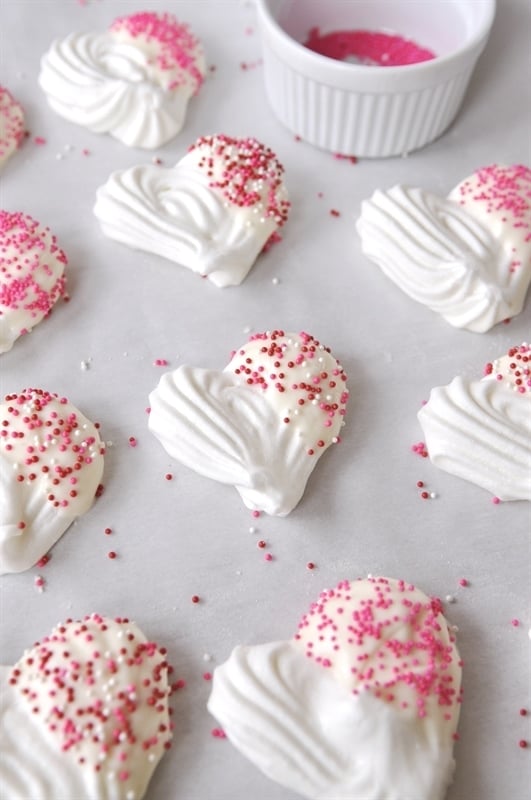 Let the chocolate set up and then enjoy!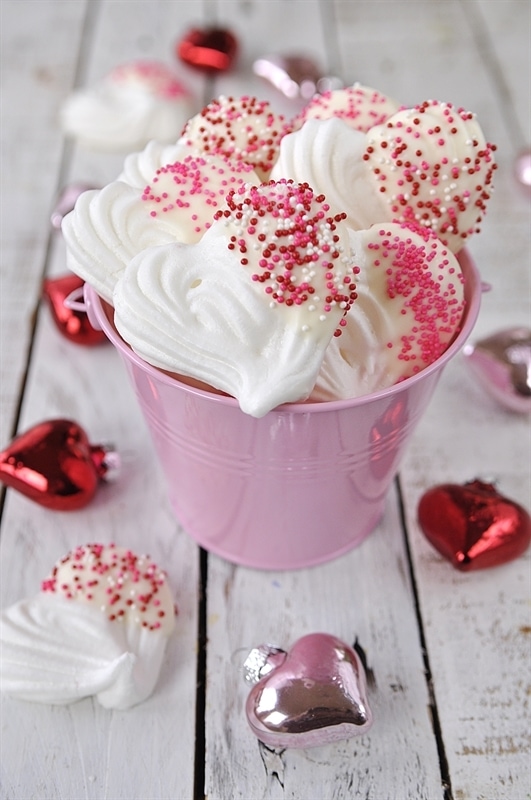 Printable Recipe for Chocolate Dipped Meringue Cookies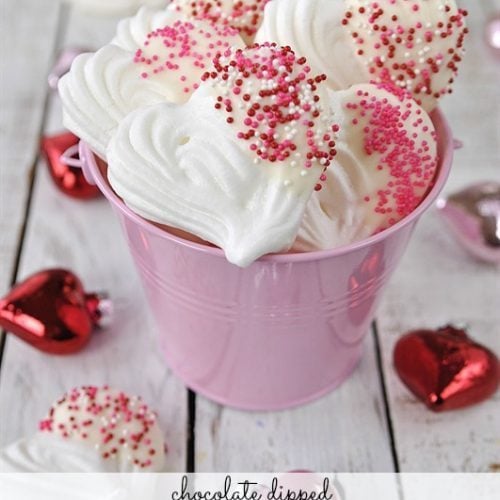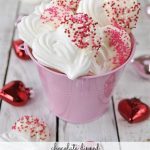 Print
Chocolate Dipped Meringue Cookies
Total Time
1
hour
10
minutes
Ingredients
4

egg whites

1/2

tsp

cream of tartar

1/2

C

granulated white sugar

1

C

powdered sugar
Instructions
Preheat oven to 200 degrees

Line cookie sheet with parchment paper or a brown paper bag

Beat egg whites until foamy.

Add in cream of tartar and beat until soft peaks form

Slowly add in granulated sugar and beat until stiff peaks form.

Fold in powdered sugar.

Place meringue in a piping bag with a large star tip and pipe on to baking sheet.

Bake for 2 hours or bake for 1 hour and turn off oven and leave in oven overnight.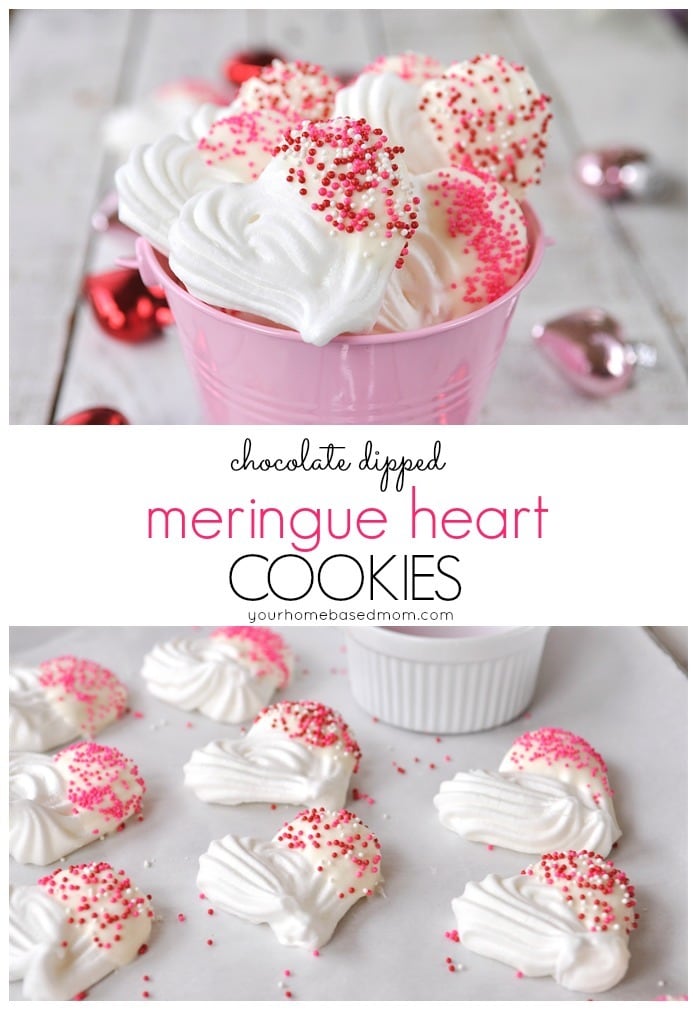 Get my Weekly Menu Plan for FREE!
Receive my FREE "What's for Dinner?" Meal Planning Course, a copy of my FREE ebook that includes my most popular recipes and my FREE weekly Meal Plan.