This is a Sponsored post written by me on behalf of Pompeian. All opinions are 100% mine.
When my husband brought these pork chops in from the grill the first thing he said was, "My  mouth is watering just looking at these."  These pork chops will make  your mouth water!
As part of the Pompeian #PantryInsiders program I get to try out all the different varieties of olive oil from the Pompeian line.  This month I used their OlivExtra® Premium Mediterranean Blend.  This particular olive oil blend is  a unique, healthy combination of canola, extra virgin and grapeseed oil, which are key components of the Mediterranean Diet. This oil blend gives you the the robust taste of extra virgin olive oil and the high smoke point of grapeseed oil, making this the perfect all-purpose oil for everything from salads to frying.  You can easily substitute butter, shortenings or any other vegetable oils with this particular blend in your favorite recipes.
I used the Mediterranean Blend as part of the tomato onion relish/marinade  and also to brush on the pork chops before grilling.
The first step is to make the marinade/relish using chipotle chiles in adobo sauce, garlic, cumin seed, dried thyme leaves, cinnamon, onions, fire roasted tomatos, cilantro and olive oil.  So many yummy flavors.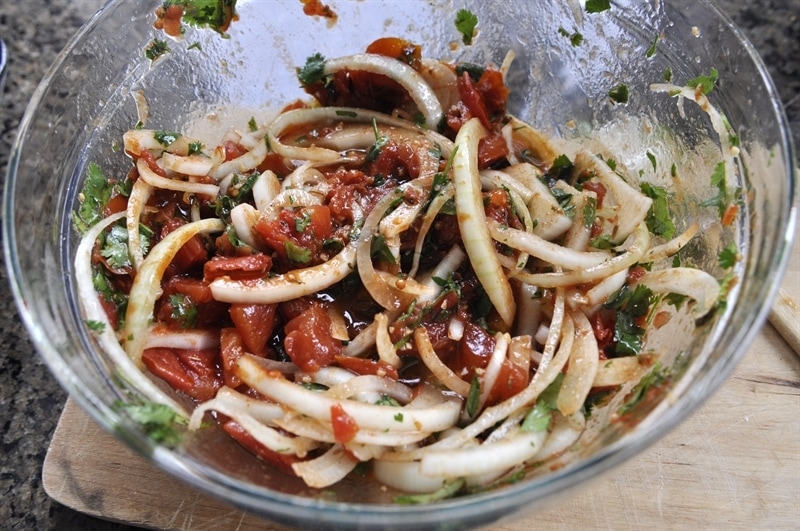 Combine this with the pork chops into a plastic zipper bag and let it marinade for at least 4 hours.  Remove the pork chops from the bag and brush with olive oil before grilling.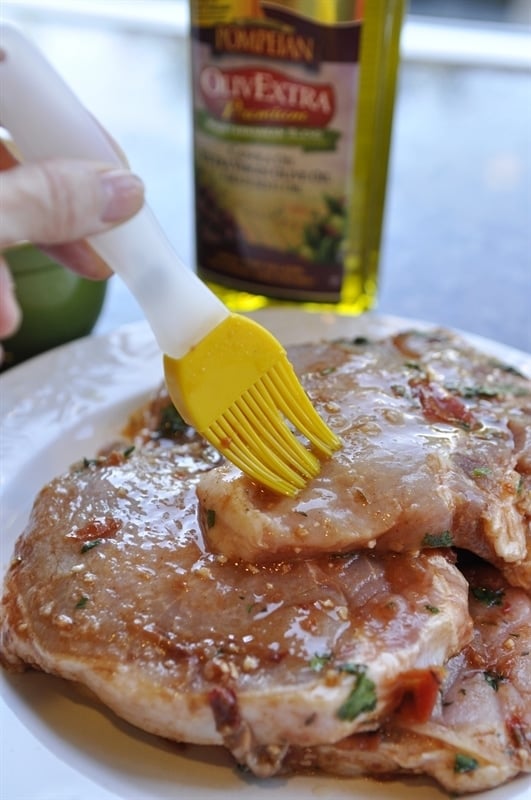 Grill your pork chops for 8-10 minutes on each side until cooked through.  While the pork chops are grilling pour your remaining marinade into a pan along with 1/4 C water and cook until the onions are soft.  About 10-15 minutes.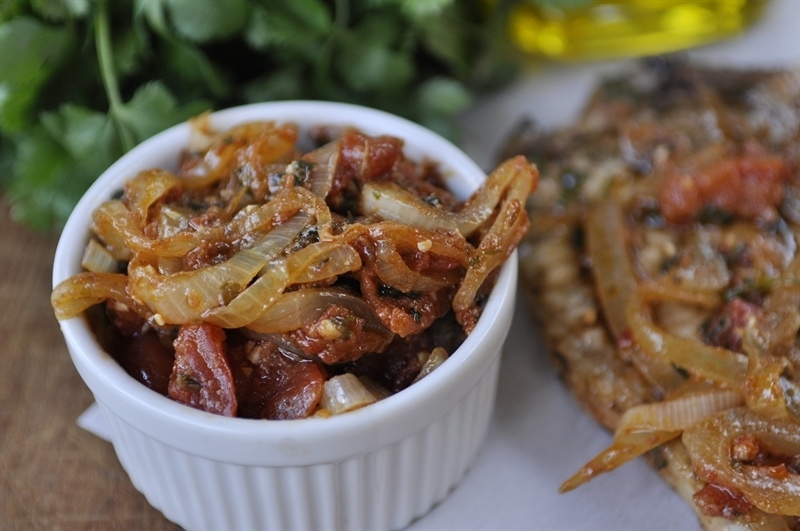 Place a spoonful or two of the relish on top of the pork chops before serving.  I like to serve some additional relish alongside too because it is so yummy and you will want more.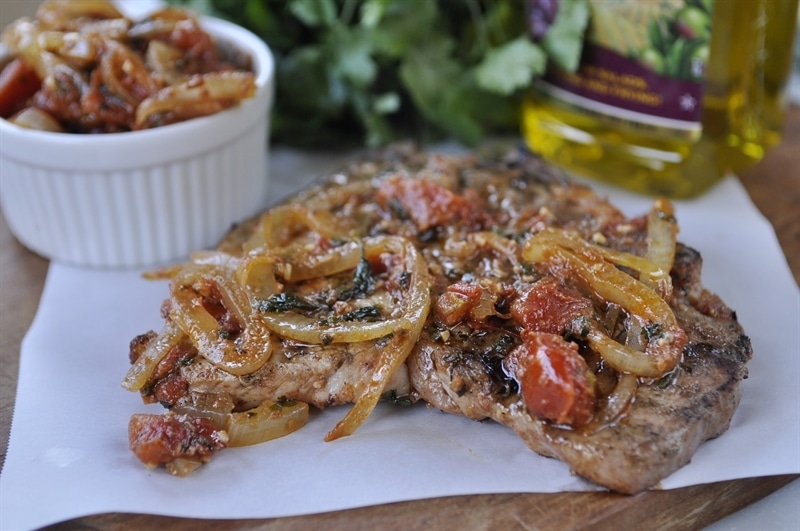 I used a bone-in pork loin center cut and it was so tender and juicy.  I love the subtle chipotle flavor.  If you want more heat you can easily add in more adobo sauce or chiles in your marinade.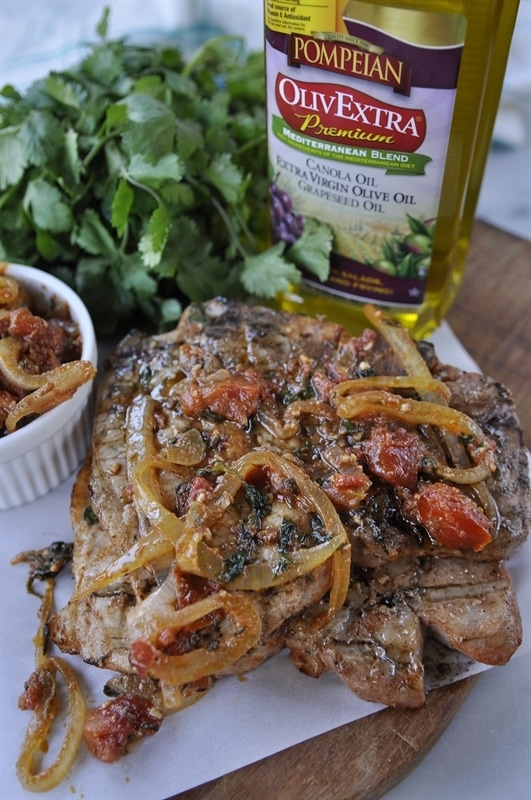 This was a big hit at our house and my husband was so glad I had made extra so there were plenty of leftovers for his lunch this week.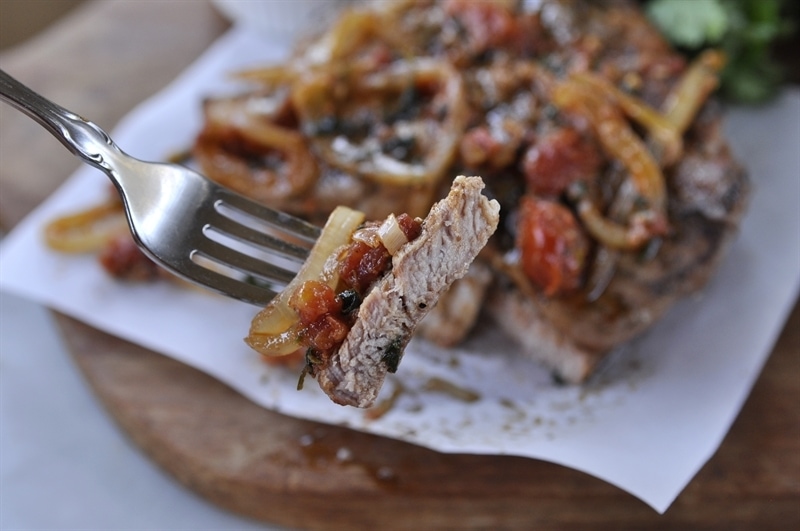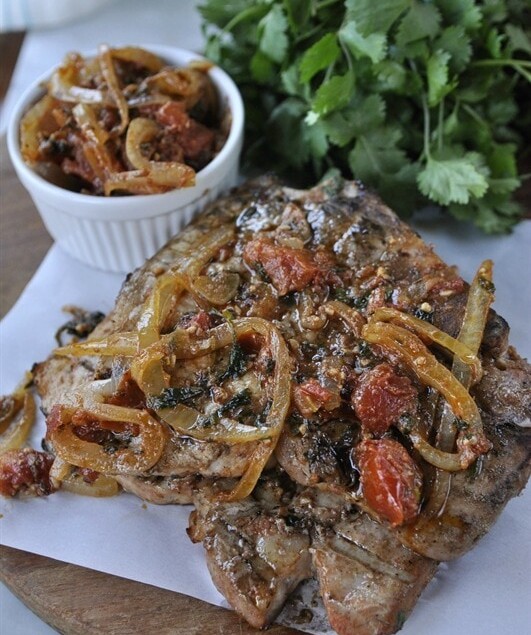 Chipotle Pork Chop with Tomato Onion Relish
Ingredients
2 chipotle chiles in adobo sauce plus 1 Tbsp sauce
4 garlic cloves minced
1 tsp cumin seed
1 tsp dried thyme leaves
4 tsps kosher salt
3/4 tsp ground cinnamon
1 large onion halved and sliced
1 14.50 oz can fire roasted tomatotes
1 C chopped fresh cilantro
1/3 C olive oil and more fro brushing
4 bone in pork loin center cut chops
Instructions
Combine chiles, sauce, garlic, cumin, thyme, cinnamon and 4 tsps salt. in a food processor and pulse to make a paste.

Place mixture in a bowl and add onion, tomatoes, cilantro and 1/3 cup olive oil

Add pork chops and marinade into a zippered plastic bag and refrigerate for at least 4 hours.

When ready to cook remove pork chops and place marinade into a pan with 1/4 C water.

Cook over medium high heat until onions are soft, about 10 minutes or so.

Brush pork chops on both sides with olive oil and grill until cooked through- about 8-10 minutes a side.

Top with tomato onion relish and serve.