One of my favorite quick and easy meal ideas that is also healthy is stir fry.  Green bean chicken is the perfect combination of a little protein with some veggies and a yummy sauce.  Delicious and easy!
Stir Fry is one of my favorite ways to use fresh vegetables, especially green beans.  In the summer we always seem to have more green beans than we can use.  Jim usually walks around the neighborhood giving them away.
You could use this recipe with any of your favorite veges – corn, snap peas, broccoli, zucchini  – be creative.
I like my vegetables to stay slightly crisp in my stir fry – don't want them over cooked.  A quick and easy way to cook your green beans is to steam them for just 2 minutes in the microwave first before adding them to the stir fry.  Just snap off the ends of the beans and put them in a ziploc bag. Microwave on high for 2 minutes and then let them sit.  They are firm and a pretty green and ready to add into the stir fry.
Besides the meat and the vegetable a good, flavorful sauce is essential for a good stir fry.
The only other thing you need is some good rice – white rice  or brown rice and you are ready to go!
Green Bean Chicken Recipe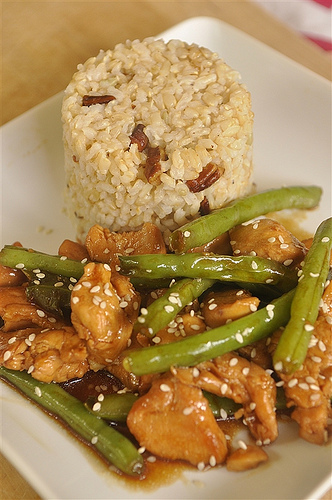 Chicken & Green Bean Stir Fry
Ingredients
2 skinless boneless chicken breasts, cut into bite size pieces
1/2 lb. green beans
2-3 Tbsp. sesame oil
1 Tbsp. minced ginger
3 tsp garlic minced
5 Tbsp soy sauce
3 Tbsp vinegar
Instructions
Steam green beans by placing them in a Ziploc baggie and microwaving on high for about 2 minutes

Until crisp-tender and bright green

Heat 2 Tbsp. sesame oil in pan over medium heat

Add chicken, sprinkle with salt and pepper and cook until cooked through

Remove chicken from pan

Add remaining oil to pan and add green beans, garlic and ginger and stir fry for 1-2 minutes

Add chicken back in

Add in soy sauce and vinegar and cook until sauce begins to thicken - about 2-3 minutes

Serve over rice