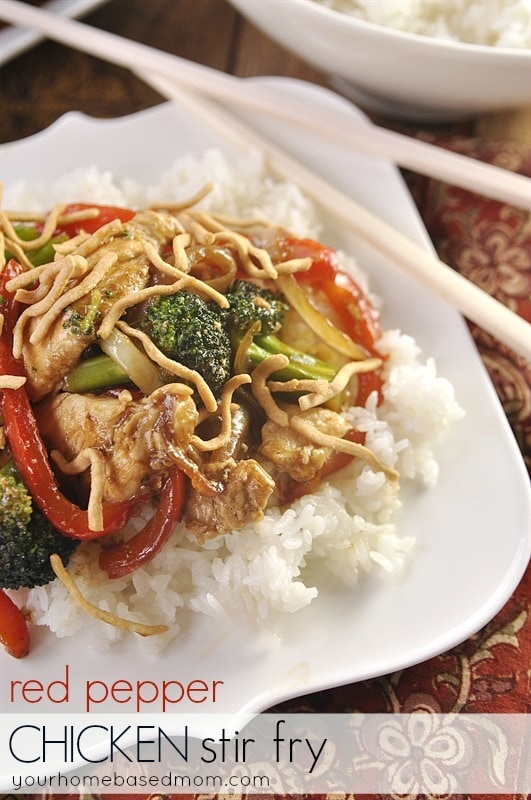 One of my goals for this blog is to make sure I am always sharing with you at least one good family dinner idea each week.  I love doing sweets & treats but a family can not live on cookies alone! (we only wish!)   This week – you get a bonus!  Two family dinner ideas.  Also, remember each Saturday I put together a weekly meal plan to help with that dinner planning too!
So how much input do you give your family about what to fix for dinner?  My least favorite thing about cooking dinner every night is deciding what to make.  When the kids were at home I would make each of them pick one thing they wanted for dinner that week.  (I did retain final approval)   That way I didn't have to decide all the time.  Now that it is just Jim and I at home I only have one person to ask.  Nine times out of ten when I ask my husband what he wants for dinner his answer is stir fry. Usually a chicken stir fry.  I am not sure why but I guess he likes it.  I have to admit it has been a really long time since I made a good stir fry – sorry honey.  I guess that means I haven't asked him what he wants for dinner in a while.  In fact, I didn't even ask him this time – I just made it because  it sounded good to me too and it's quick!
One of the other reasons I like a good stir fry is that it is usually a complete meal.  You've got your protein, your veggies and a starch when you serve it over rice.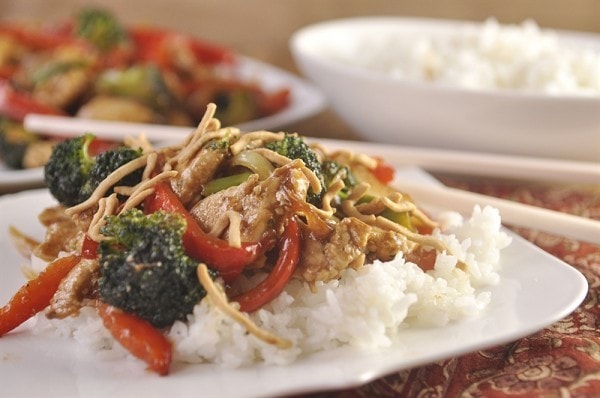 The process is very simple and usually the most time consuming part of the process is the chopping – chopping your vegetables and meat.  For this dish I first sauteed my veggies – red peppers, onions and broccoli until they were crisp tender.  I removed those from the pan and then cooked my chicken and then removed it from the pan and made  my sauce which is a combo  chicken broth, starch, plum sauce, Worcestershire sauce and soy sauce.   After it has thickened up add back in your veggies and chicken, stir to coat and heat through.  I love that I can make this dish with only getting one pan dirty.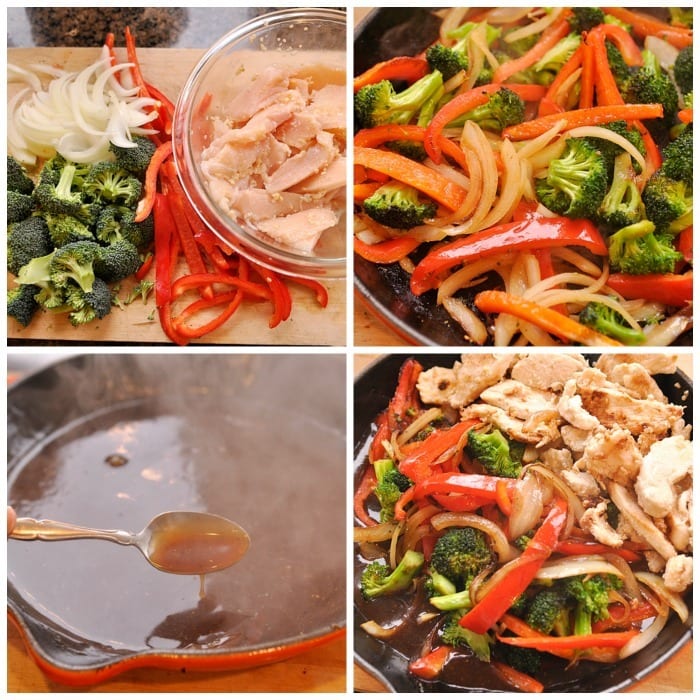 I also like a little crunch with my stir fry so this time I sprinkled some chow mein noodles on top for that crunch.  You could also add in some peanuts, cashews or almonds!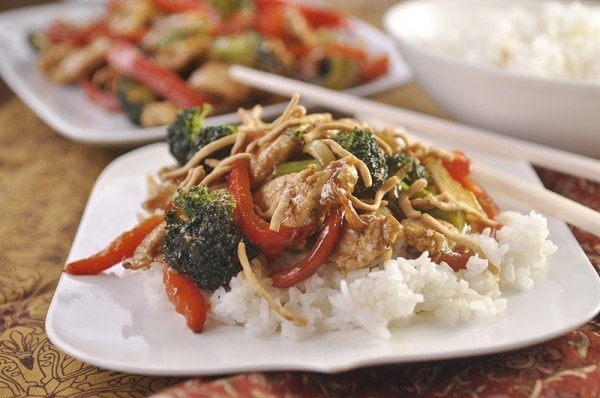 So don't bother asking your family what they want for dinner – just make them stir fry!  I bet they'll love it!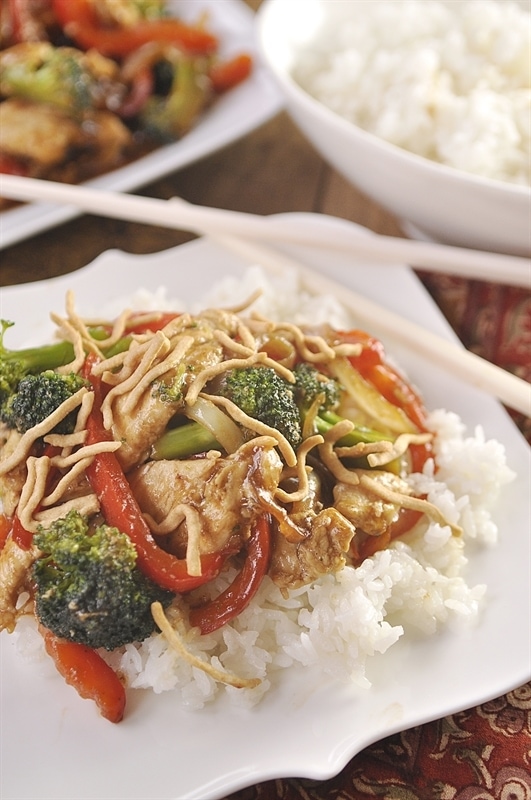 For some other yummy stir fry ideas try these:
Cashew Nut Chicken – Chicken and Green Bean Stir Fry –Mongolian Beef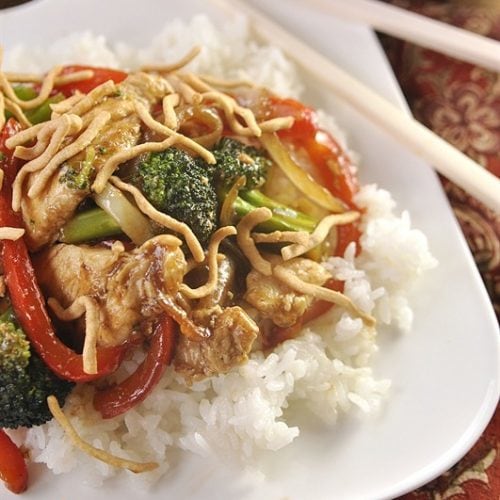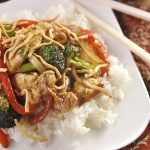 Print
Red Pepper Chicken Stir Fry
Ingredients
2

boneless

skinless chicken breasts, cut into thin strips

1

tsp

minced fresh ginger

2

tsp

minced garlic

2

Tbsp

canola oil

divided

1

red pepper

seeded and cut into thin slices.

1

medium onion

cut into thin slices

1

C

broccoli flowerets

1

C

chicken broth

1

Tbsp

cornstarch

2

Tbsp

plum sauce

1

Tbsp

Worcestershire Sauce

1

Tbsp

soy sauce

rice

chow mein noodles for garnish
Instructions
Combine chicken ginger and garlic and set aside while you chop veggies.

Heat 1 Tbsp oil in pan and cook chicken until done. Remove from pan.

Add remaining 1 Tbsp oil and stir fry veggies until crisp tender.

Remove veggies from pan

Combine broth, cornstarch, plum sauce, Worcestershire sauce and soy sauce.

Cook over medium heat until thickened and bubbly.

Add chicken and vegetables to sauce and cook until heated through.

Serve over rice and top with chow mein noodles.
Enjoy!
Leigh Anne
You can also visit me on Facebook, Pinterest, Twitter, Instagram
and Google+