This recipe for Mongolian Beef has become a family favorite.  It's better than take out!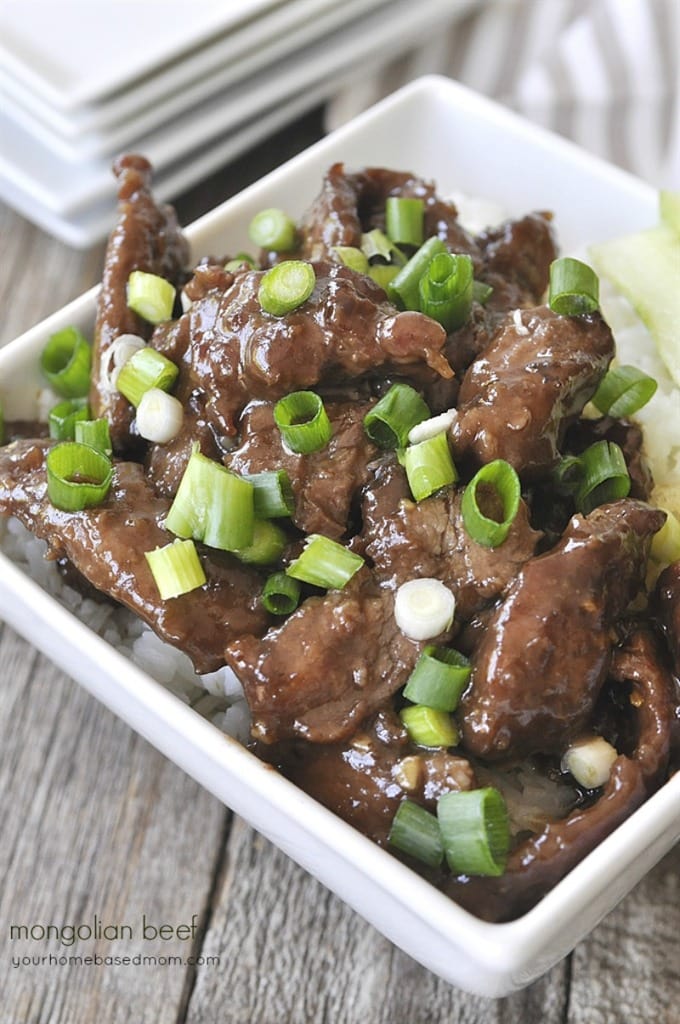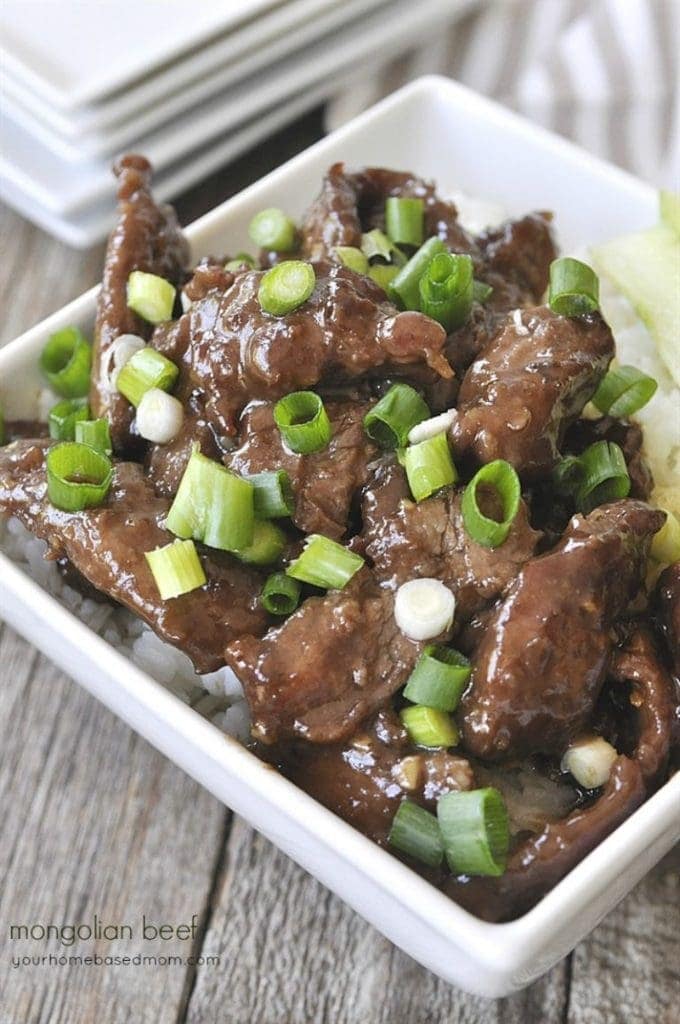 I currently have over 2,000 recipes on my blog.  When I originally posted this recipe it was my 500th post and was originally posted in January of 2010.  It is still a favorite at our house and it was due for a redo!
Here is the original post:
As I logged into the dashboard of my blog yesterday I noticed that I had written 499 posts.  That means that today's post is my 500th post!!!
It is hard to believe that I have actually found 500 things to blog about over the last 2 1/2 years!  My biggest fear when I first started blogging, other than that no one would read my blog, was that I'd run out of things to blog about.  So far that hasn't been a problem!
So welcome to my 500th post here on Your Homebased Mom!!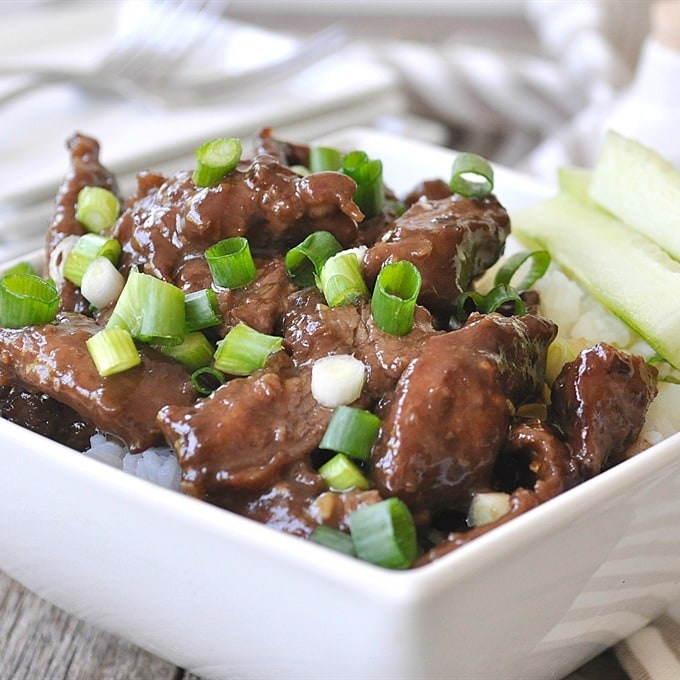 I did A LOT of cooking over the holidays and I loved it but once we got the kids sent back to school and work I was feeling a little burned out in the cooking department.  Fortunately my birthday falls right after the holidays and that is always a nice excuse not to cook!
My little break from cooking has helped me to refocus (there is one of those re words!) my meal planning and recommit to doing it weekly.  I eliminate so much stress from my life when I figure out on Sunday what we are going to have for dinner all week!  It really only takes 20 minutes or so to make up the plan and it saves me so much time, stress and money!  If you need some hints or tips on meal planning be sure and check out this post and this one.  And if you'd like to see what I try to always have on hand that makes meal planning easier check out this list. I also have a weekly meal on the blog every Saturday.  You can also ask to join my Family Dinner Table Facebook Group where we love sharing dinner and meal planning ideas.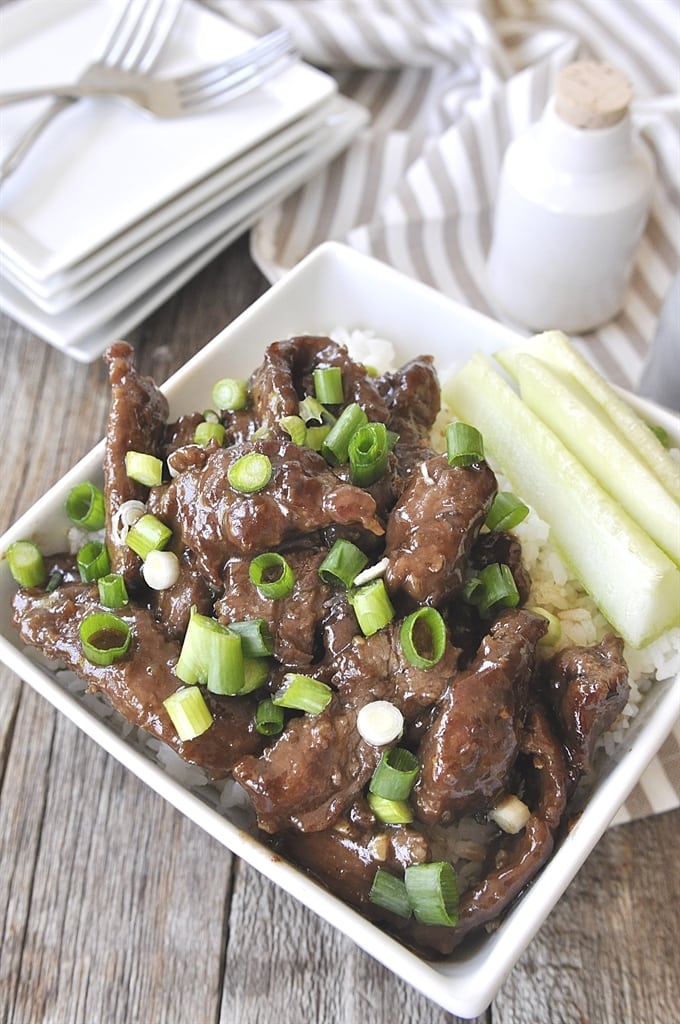 One of my favorite take out dishes is Mongolian Beef and it is a easy one to recreate at home.
The beef has a light cornstarch coating and is then lightly fried up in some oil which creates a nice crispy coating.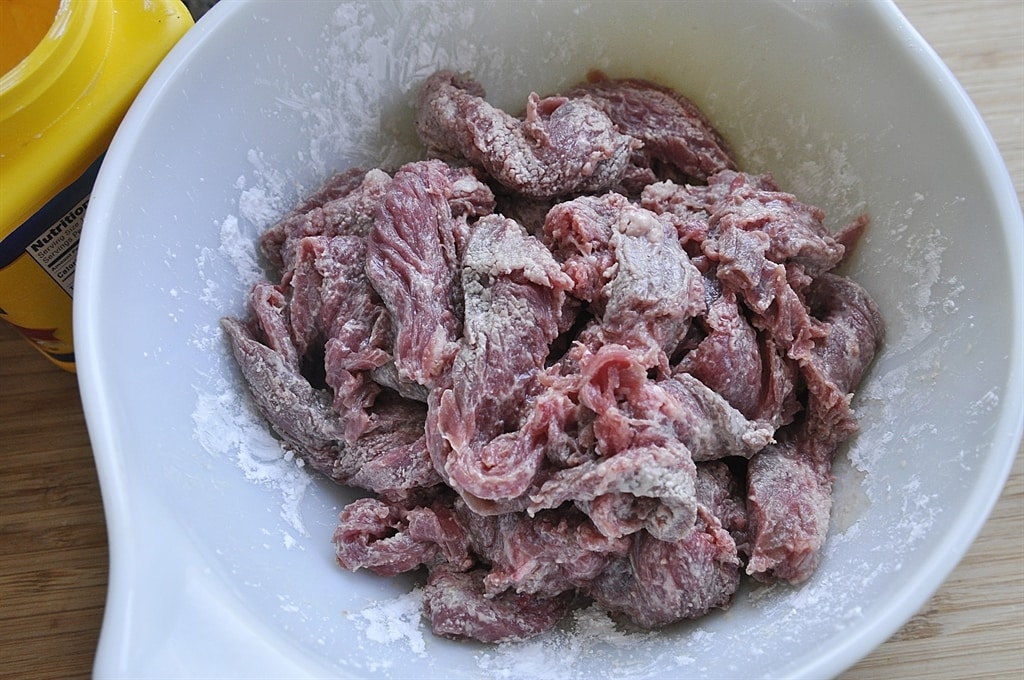 If you are on a diet or health kick you could skip the frying part but then it wouldn't be just like the restaurant version but still yummy.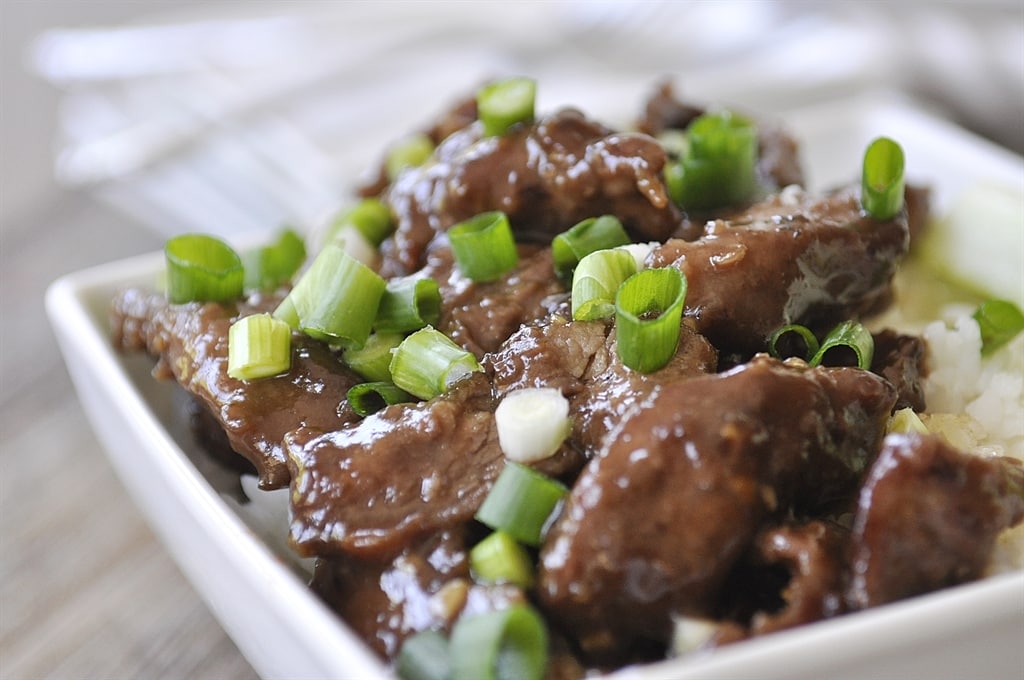 You can use flank steak or top round steak.  I like to slice my meat when it is still slightly frozen because it allows you to cut the meat nice and thin.  The recipe calls for green onions but it would be yummy with some broccoli or fresh green beans thrown in too.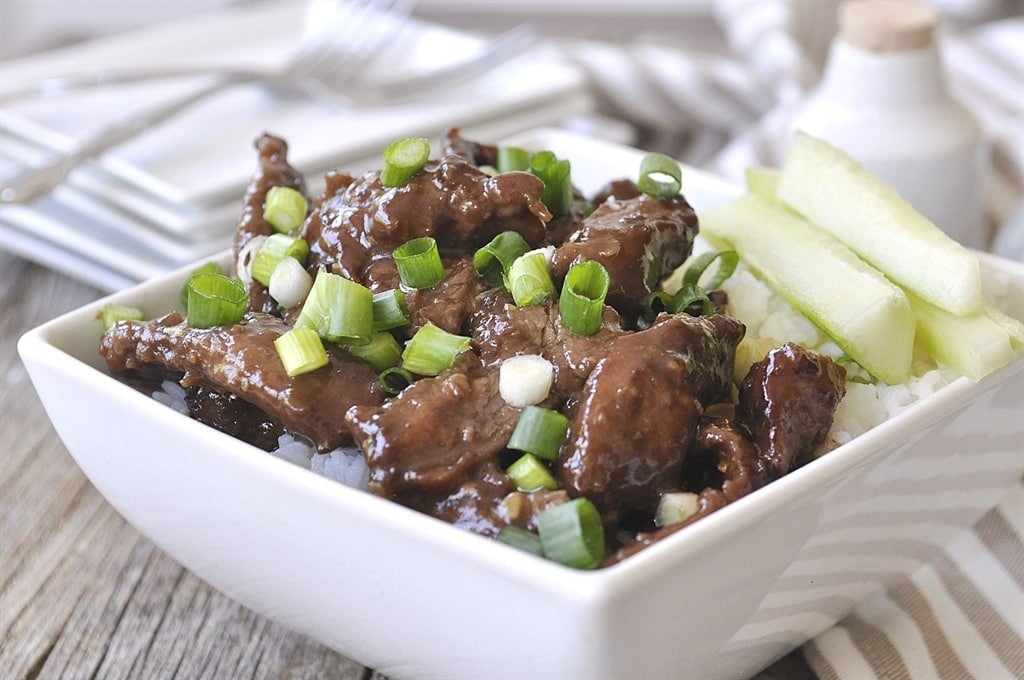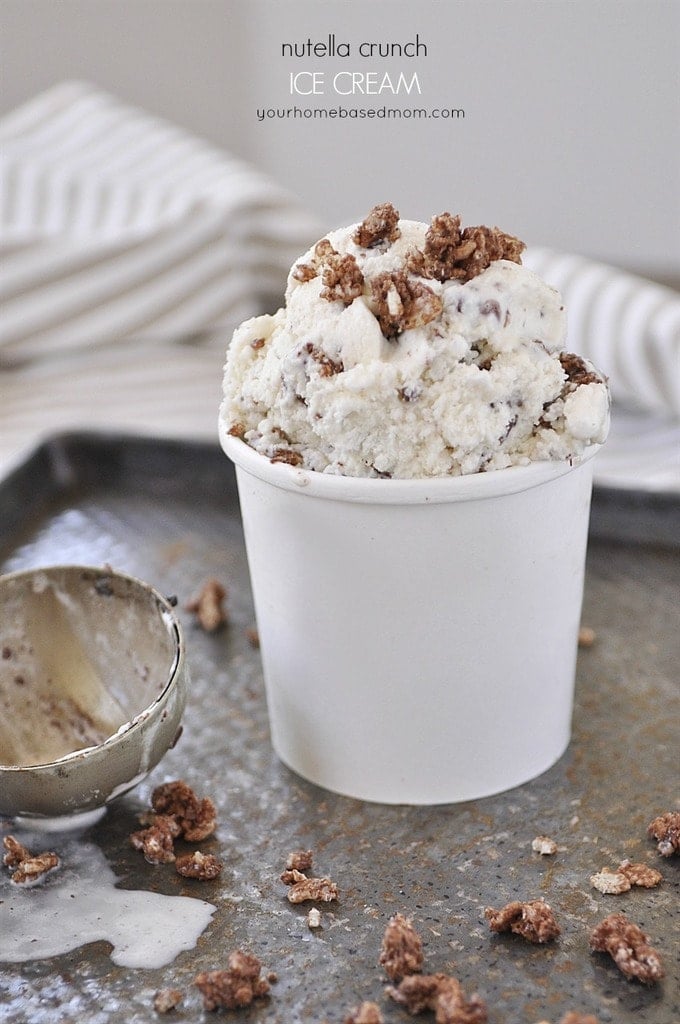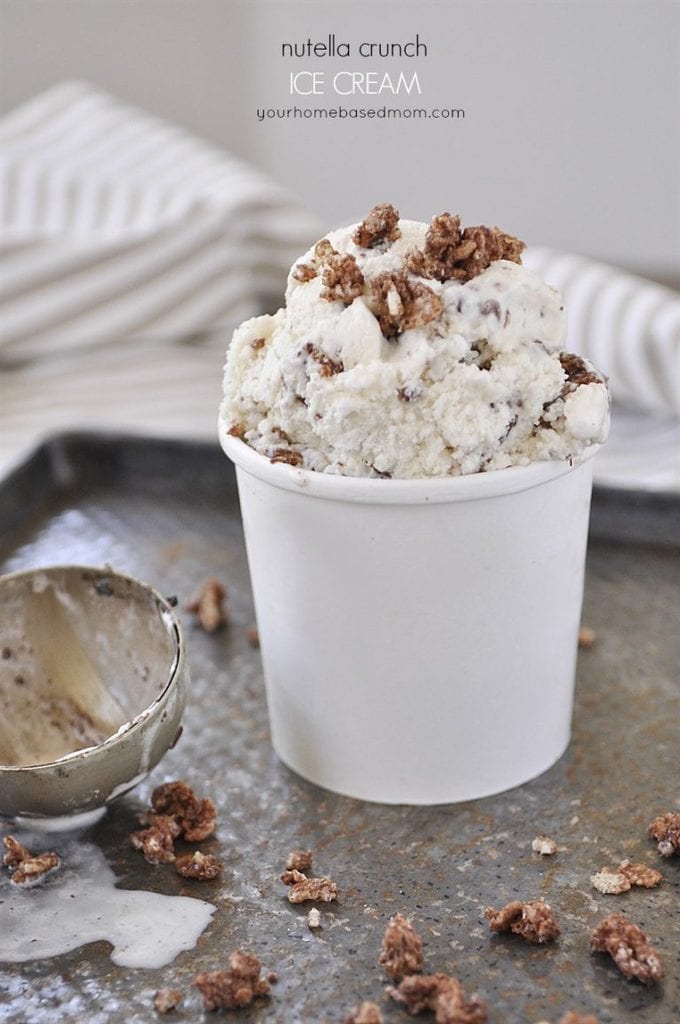 Mongolian Beef
Ingredients
1

lb

top round steak or flank steak

cut thinly on the cross grain

1/4

C

cornstarch

3

tsp

vegetable oil

1/2

tsp

grated fresh ginger or minced ginger

1

Tbsp

minced garlic

1/2

C

water

1/2

C

soy sauce

I used low sodium

1/2

C

brown sugar

2

Tbsp

rice wine vinegar

3

green onions

sliced into 2-3" pieces

oil for frying
Instructions
Dry off meat with a paper towel and slice into 1/4" thick slices against the grain

Add to a bowl with the cornstarch and coat thoroughly

Add 1 1/2 tsp oil to a wok or large frying pan over medium heat

Add the garlic and ginger, stir until fragrant

Add soy sauce, water, rice vinegar and brown sugar

Cook for about 2 minutes and remove from pan

Add remaining 1 1/2 tsp oil to pan over high heat

Add the meat and cook until brown on all sides and slightly crispy

Pour sauce back into pan over meat

Add green onions, stir and remove from heat

Serve with rice

Stay Updated!
Need more recipes and creative ideas? Sign up and get a FREE copy of my ebook! Do you think your friends would love this too? Please share my blog with them. Thanks!