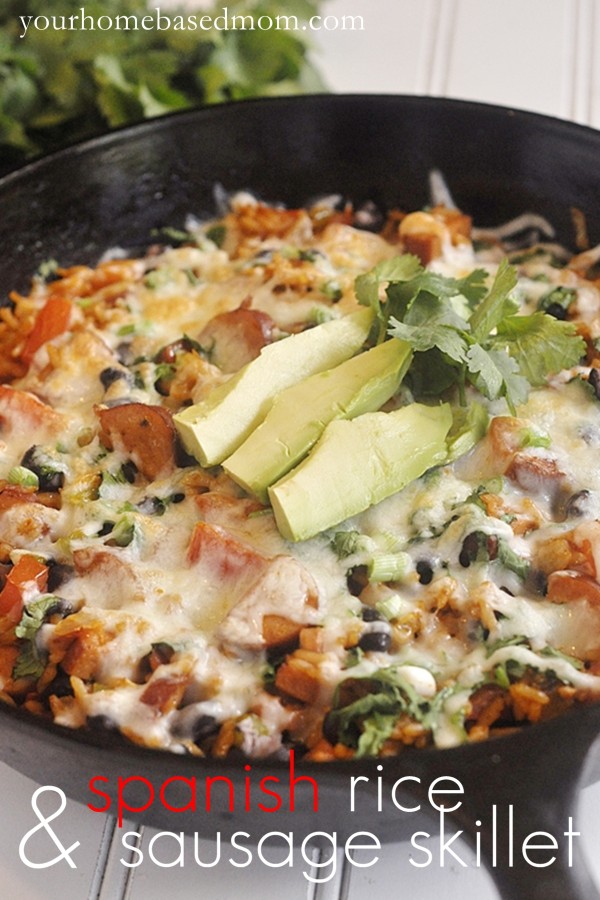 I love a recipe that can be done in one pan. Not only does it make for a quick and easy dinner but doing the dishes is quick and easy too!  Besides that I am always looking for excuses to cook in my cast iron skillet.  I don't know what it is about that thing but I think food taste better that's been cooked in it!!
Because one of my girls is allergic to red meat I am always on the look out for alternatives. I have discovered that Johnsonville makes a delicious line of chicken sausage that not only has less fat but lots of flavor too. For today's recipe I used their Chipotle Monterey Jack Cheese Chicken Sausage. 
We are also big rice eaters at our house and have been ever since I was a child.  I remember my mother always used Uncle Ben's rice and I still do.   I recently discovered their new line of Ready Rice.  All you have to do it put it in the microwave for 90 seconds and it's ready to go!  Doesn't get much quicker or easier. It also comes in lots of yummy flavors. For today's recipe I used their Spanish Style rice.
I began by sauteing some onion and green pepper in a little olive oil along with the Chipotle Monterey Jack Cheese Chicken Sausage that I had cut up into bite size pieces.  Cook until peppers and onions are soft and sausage is heated through.  I then added in a can of black beans, one chopped up fresh tomato, a handful of chopped cilantro, a couple of chopped green onions and the Spanish Style Ready Rice.  Then I just gave it a few stirs to get it all heated through .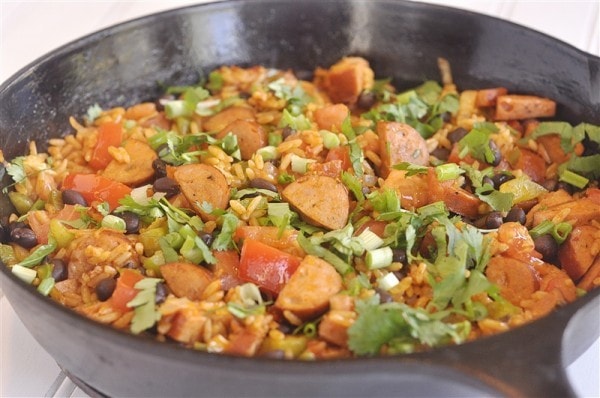 It is delicious and ready to eat at this point but I decided to take it one step further and topped it with some shredded Monterey Jack Cheese.  Cheese makes everything better!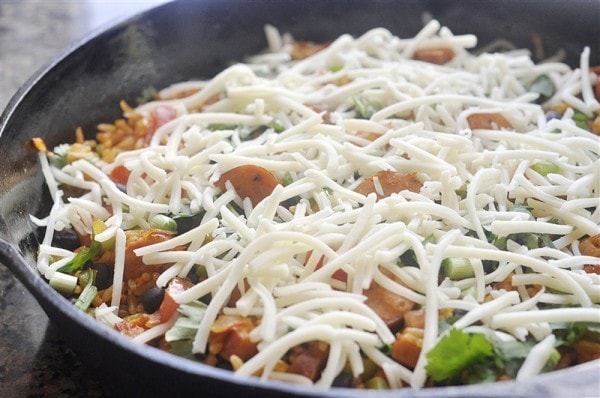 I then put the pan into my oven under the broiler.  One of the benefits of using a cast iron skillet is it can go right into the oven!  I just broiled it until the cheese melted.  I added a garnish of cilantro and sliced avocado and dinner was ready!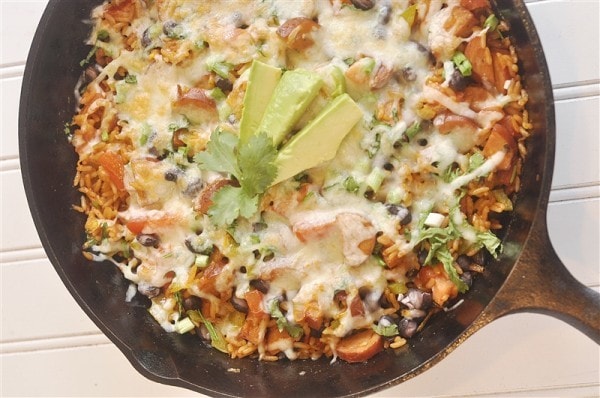 So in about 20 minutes I had a delicious dinner ready.  Jim gave it two thumbs up and since he usually does the dishes at our house he was a pretty happy camper in that department too!
Enjoy!
Leigh Anne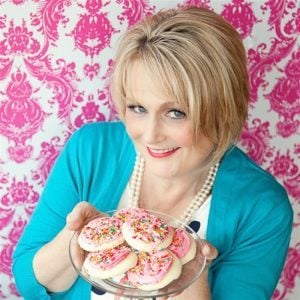 You can also visit me on Facebook, Pinterest, Twitter or Instagram.
For a list of where I Link Up each week go here.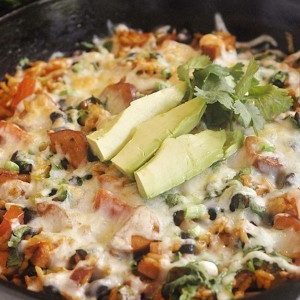 Spanish Rice and Sausage Skillet Dinner – Ready in 20 minutes!
Ingredients
1 pkg Johnsonville Chipotle Monterey Jack Cheese Chicken Sausage cut up (I used 3 sausages)
1/2 onion chopped
1 green pepper chopped
1 Tbsp. olive oil
1 can black beans drained
1 large tomato chopped
1 pkg Uncle Ben's Spanish Style Ready Rice
1/2 cup cilantro chopped
2 green onions chopped
avocado for garnish
Instructions
Saute onion, green pepper and sausage in olive oil in skillet.

Add in black beans, rice, tomato, cilantro and green onion.

Stir to mix and heat through.

Garnish with additional cilantro and avocado if desired