Our oldest son moved to San Diego in January.  The first thing we did was figure out when we could down and visit.
I love San Diego!  I think if I had to pick a city other than Portland to live in it would be San Diego.  The weather is awesome, I love the feel and pace of the city, beautiful scenery and they have amazing fish tacos!
We spent a long weekend down in San Diego a month or so ago and I think in the four days we were there we ate fish tacos five times!  We just couldn't get enough of them.  The other great part – they are pretty inexpensive.  You can find taco shops on just about every corner and thanks to  Logan we found some good ones.  Our youngest daughter was with us and she has spent her whole life so far thinking she doesn't like fish.  After our trip to San Diego she realized she was wrong!  She decided she was going to give the fish tacos a try, just to see.  Well, she was in  love and ate fish tacos five times too!
So now that we've been back in Portland for a while we've started having fish taco withdrawals and cravings.
You can use whatever kind of fish you like but all the tacos we had in San Diego were a light, white fish such as cod, halibut or tilapia.    I think traditionally they are breaded in a beer batter.  Since we don't drink beer I decided to use carbonated soda water and it worked great.  It may effect the taste a bit but we really couldn't tell.
I cut the fish into one or two inch pieces.
I then dipped them into a batter of flour, cornstarch and soda water until they were lightly coated.
Then they went into a pan of hot oil (about 375 degrees) where I cooked them until they were cooked through.  I used my cast iron skillet. If you don't do fried food you could easily grill the fish too because the real secret to this recipe is the white sauce that goes on the taco.  In my book that is what totally makes the fish taco.
Instead of putting the fried fish on a paper towel to drain and cool  I use a cookie cooling rack and put the paper towel on the counter under the rack.
I found the recipe for the sauce on allrecipes and tweaked it just a bit. The sauce is a combo plain Greek yogurt, mayo, lime juice, minced capers, oregano, cumin, dill week and cayenne pepper.
The sauce is better if it is mixed up ahead and allowed to sit in the refrigerator for at least a few hours or overnight.  The flavor improves as it sits.
A San Diego style taco must also have a garnish of chopped cabbage.  Love the extra little crunch it gives.  Wrap it all up in a corn tortilla and close your eyes and you might just think you are in San Diego!
For other taco recipes try these:
Baked Tacos – Flatbread Tacos – Crock Pot Salsa Chicken Tacos
San Diego Style Fish Tacos
Ingredients
1

lb.

fish

cod, halibut or tilapia, cut into 1-2inch chunks

1

C

flour

2

Tbsp

cornstarch

1

tsp

baking powder

1/2

tsp

salt

1

egg

1

C

soda water or beer

used soda water
White Sauce
1/2

C

plain Greek yogurt

1/2

C

mayo

juice of one lime

1

tsp

minced capers

don't leave this out

1/2

tsp

dried oregano

1/2

tsp

ground cumin

1/2

tsp

dried till weed

1

tsp

ground cayenne pepper

1

quart

oil for frying

corn tortillas

cabbage

finely shredded
Instructions
Mix together flour, cornstarch, baking powder, salt, egg and soda water to make batter. A few lumps is o.k.
White sauce
In a bowl combine yogurt and mayo.

Add in lime juice and seasonings. Allow to sit in refrigerator a few hours or overnight.
Fish
Heat oil in deep frying pan to 375 degrees. I used my cast iron skillet.

Dip fish into batter and fry until crisp and golden brown and cooked through.

Place on a cooling rack to drain and cool.

To serve place fish in a corn tortilla. Garnish with sauce and shredded cabbage.
Enjoy!
Leigh Anne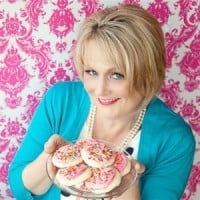 You can also visit me on Facebook, Pinterest, Twitter or Instagram.
Get my Weekly Menu Plan for FREE!
Receive my FREE "What's for Dinner?" Meal Planning Course, a copy of my FREE ebook that includes my most popular recipes and my FREE weekly Meal Plan.