If eating more salad is one of your goals for the new year be sure and check out this Romaine Lettuce Salad with Lemon Vinaigrette!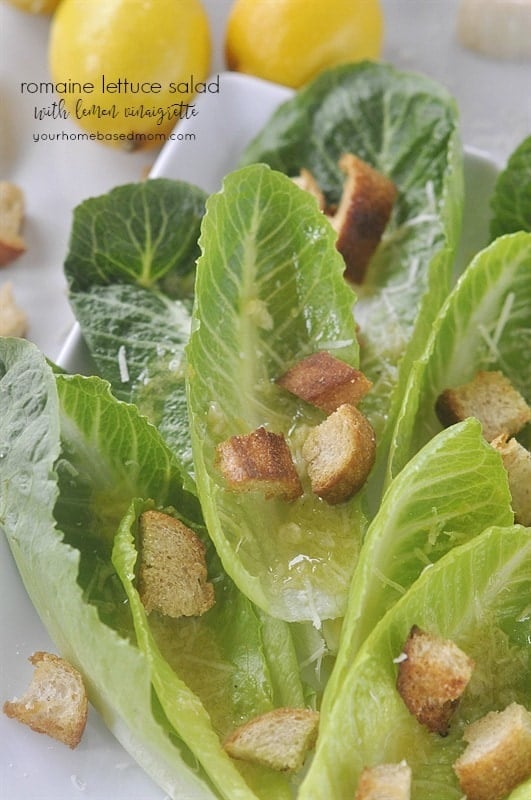 Eat More Salads was one of the things on my New Year's Resolution list this year.  How about you?  Today's post is to help me with that goal and hopefully you'll enjoy it too.  My husband and I have a fun monthly dinner group we are apart of with several other couples.  Each couple brings part of the meal.  The hostess provides the main dish and we all fill in the rest – appetizer, salad, side dish, dessert.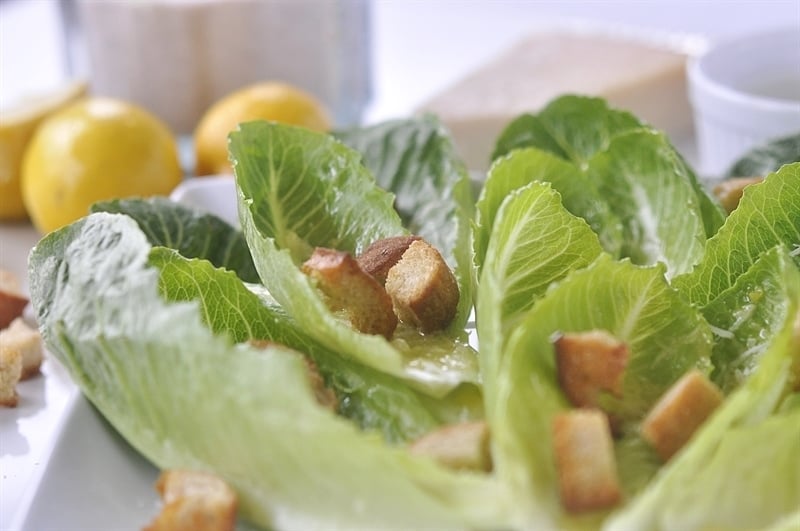 Not only is it a great opportunity to enjoy good food and good company but it's a great way to get some new recipes.  This last month I fell in love with the salad that was brought.  It was delicious and it was fun to eat.  How can a salad be fun to eat you may wonder?  Well, this salad used the whole romaine leaf, no cutting or tearing.  The whole leaves were drizzled with a yummy lemon vinaigrette, sprinkled with fresh parmesan cheese and homemade croutons were added. (My recipe for homemade croutons is coming next week)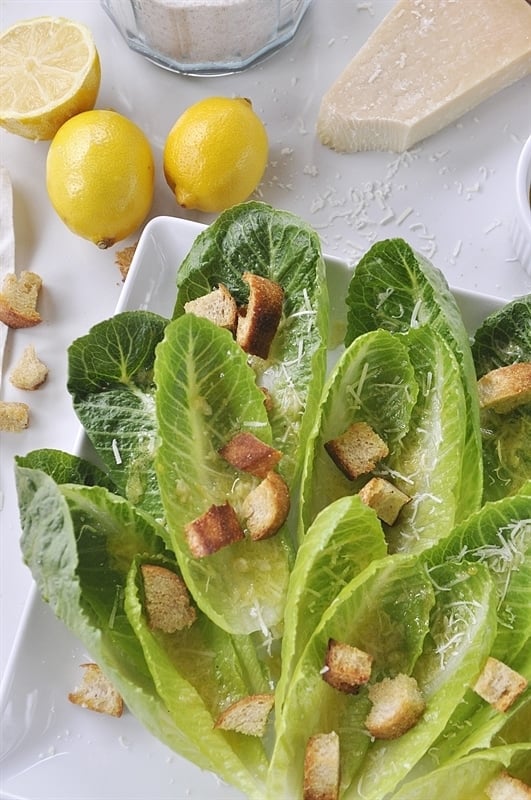 Then, you just picked up the leaf and enjoyed!  Of course, if you didn't want to get your fingers a little messy you could use a knife and fork but that's no fun!
The salad comes together so easy.  The vinaigrette is a combination of garlic, olive oil, lemon zest, lemon juice, dijon mustard and salt.  It has a nice light, fresh taste.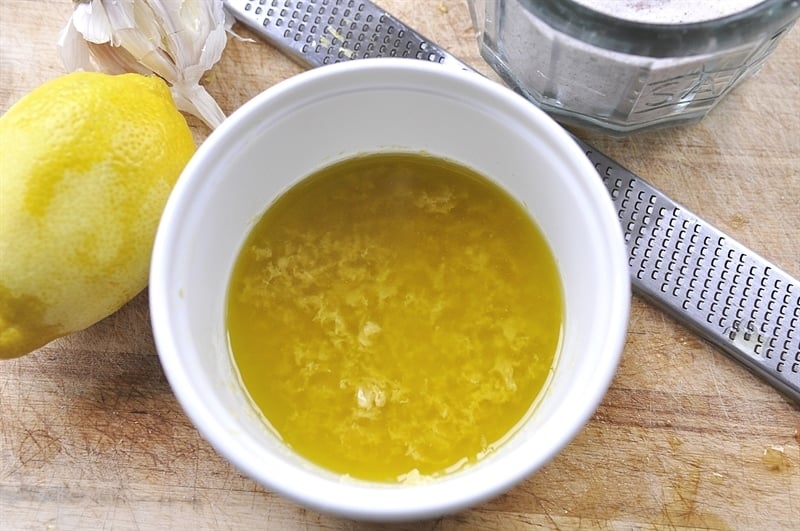 After placing your lettuce leaves on the serving plate, drizzle with dressing and then sprinkle with grated Parmesan cheese and croutons.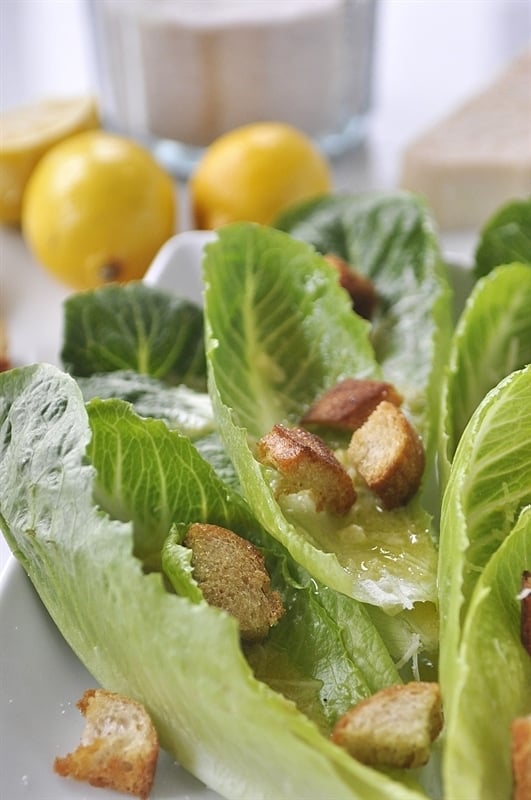 Lemon Vinaigrette Recipe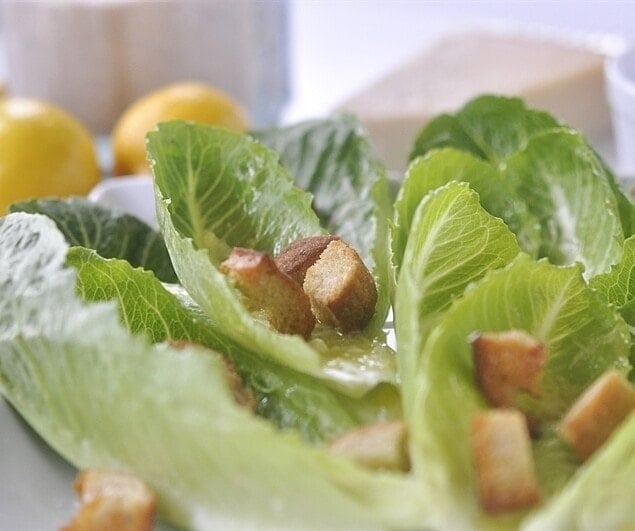 Romaine Lettuce Salad with Lemon Vinaigrette!
Simple and easy Romaine Lettuce Salad with a delicious Lemon Vinaigrette dressing.
Ingredients
2 heads Romaine lettuce whole leaf
1 large clove garlic minced
1/2 tsp sea salt
1 tsp. grated lemon zest
2 Tbsp fresh lemon juice
1 tsp Dijon mustard
6 Tbps olive oil
1/3 C freshly grated Parmesan cheese or more to taste
Croutons
Fresh ground pepper
Instructions
Cut the bottom of the heads of lettuce off and carefully seperate leaves. Place leaves on a plate or serving dish.

Mince garlic by pounding it with the side of your knife or using a mortar. Add in salt.

Whisk together the lemon zest and juice with the garlic salt mixture.

Add in mustard and oil. Whisk until combined

Drizzle dressing over lettuce leaves.

Sprinkle with cheese and croutons

Add pepper if wanted.