With just a few easy steps, this easy tomato soup recipe will turn a can of condensed soup into a restaurant quality bowl of tomato soup.
For other yummy soup recipes try Chicken Noodle Soup, Roasted Red Pepper Soup and Chicken Tortilla Soup.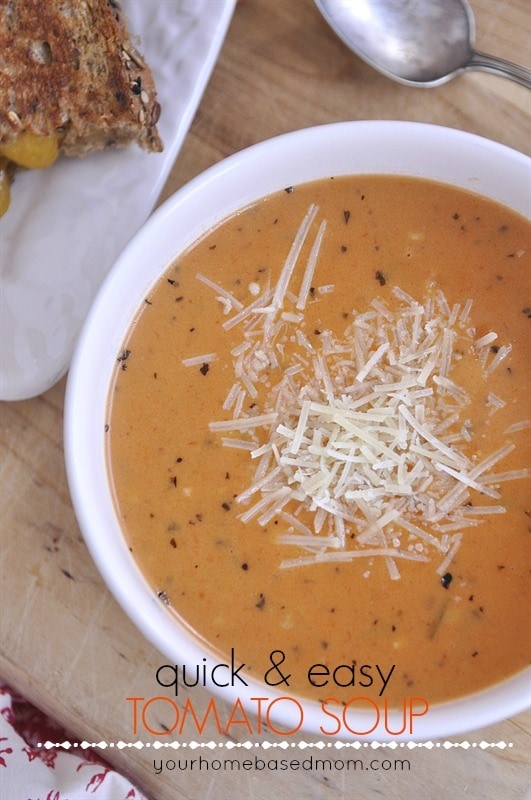 I have always loved tomato soup. Growing up my favorite lunch and sometimes dinner was a bowl tomato soup and of course it was always accompanied by a grilled cheese sandwich. We didn't have a lunch room at my elementary school, so I walked home for lunch every day. And many times I came home to a bowl of hot tomato soup and a grilled cheese sandwich. It always tasted wonderful, especially when I had to walk home through 10 feet of snow for blocks. (At least that is what I use to tell my kids!)
That tomato soup always came out of a can. And I loved it.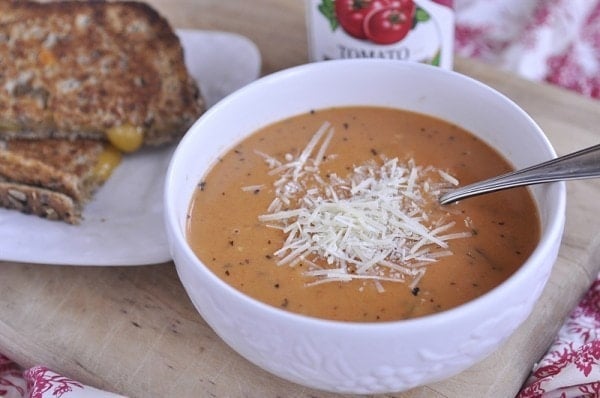 quick soup idea
I have shared several tomato soup recipes with you before. Some of them use fresh tomatoes and other recipes using canned tomatoes. But sometimes when you've got that craving for tomato soup and you don't have a lot of time, you just need to open a can of soup!
Today I want to show you how you can easily do that and just dress it up a bit so it doesn't taste like you are eating tomato soup straight out of a can. The perfect soup recipe!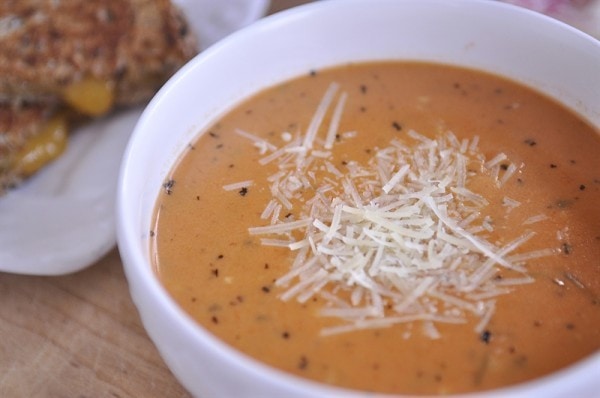 How to Dress Up Tomato Soup
Saute onions and garlic in olive oil.
Add in soup from the can along with one can full of milk. You can also use water but milk makes it better.
Add in dried basil, rosemary and some Parmesan Cheese.
It is so yummy and of course I served it with a grilled cheese sandwich! No one will know it came out of a can.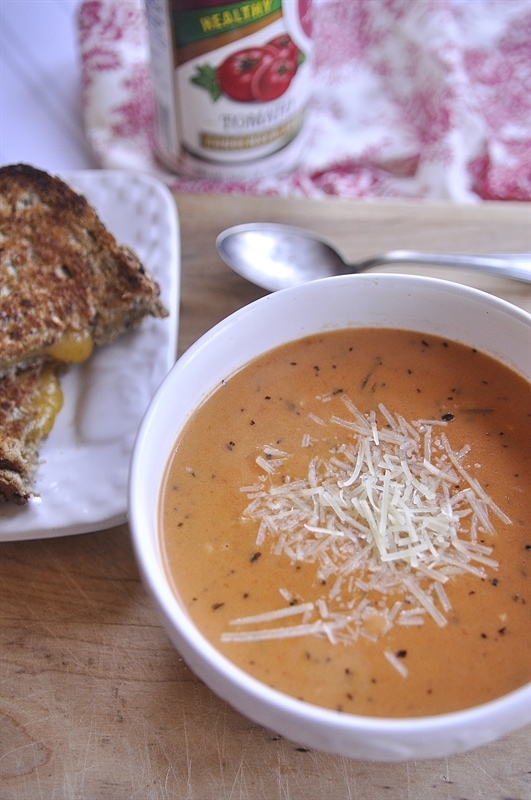 Other Ways to Dress Up Canned Tomato Soup
Toasted Bread. As a child I loved taking a piece of toast and tearing it into pieces on top of my soup.
Cheese. In addition to parmesan sprinkle the top with some Mozzarella cheese for more cheesy goodness.
Diced Tomatoes. Add in a can of diced tomato to make it stretch and give it more texture.
Spice it Up. Add in a shake of red pepper flakes for a little heat.
Pesto. Add in a spoonful of pesto for more flavor.
Nuts. Sprinkle your soup with some pine nuts.
Grilled Cheese Sandwich The classic! Use it for dipping into the soup.
For all my other favorite kitchen products and tools visit my Amazon Store.
Did you know I wrote a cookbook? Check out the Holiday Slow Cooker Cookbook for 100 delicious recipes.
Be sure and follow me over on You Tube for weekly cooking demos.
Easy Tomato Soup Recipe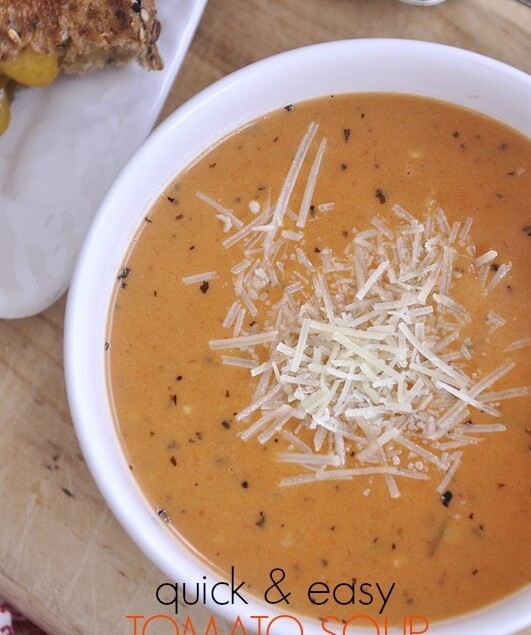 Easy Tomato Soup
With just a few easy steps, this easy tomato soup recipe will turn a can of condensed soup into a restaurant quality bowl of tomato soup.
Ingredients
1 Tbs olive oil
1/4 cup chopped onion
2 tsp minced garlic
1 can (10.75 oz) condensed tomato soup
1 can milk or water
2 Tbsp grated Parmesan cheese
1 tsp dried basil
1/2 tsp dried rosemary
salt and ground black pepper to taste
Instructions
Heat olive oil in a saucepan over medium heat.

Cook and stir onion and garlic until onion is tender, about 5 minutes.

Add in tomato soup and milk and bring to a boil.

Add Parmesan cheese, basil, and rosemary.

Season with salt and black pepper.

Reduce heat to low and simmer for 5 to 10 minutes more.
Nutrition Facts:
Calories: 97kcal (5%) Carbohydrates: 11g (4%) Protein: 2g (4%) Fat: 4g (6%) Saturated Fat: 1g (6%) Cholesterol: 2mg (1%) Sodium: 55mg (2%) Potassium: 188mg (5%) Fiber: 1g (4%) Sugar: 6g (7%) Vitamin A: 320IU (6%) Vitamin C: 11mg (13%) Calcium: 44mg (4%) Iron: 1mg (6%)
* Disclaimer: All nutrition information are estimates only. Read full disclosure here.
Originally posted November 8, 2013