This easy peach crisp is made with fresh peaches and topped with a sweet and crumbly topping.  Be sure and serve it with a nice big scoop of vanilla ice cream.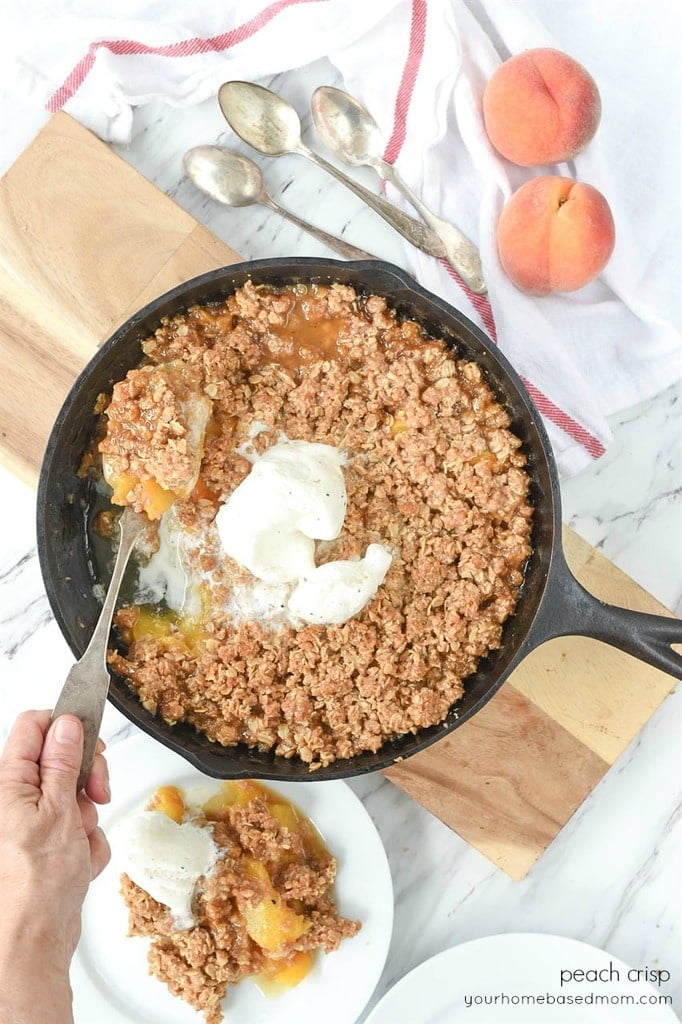 Are you a cobbler or a crisp fan?  I go back and forth but the other day after my neighbor delivered some freshly picked peaches I decided it was a peach crisp kind of day.  I had already made a peach pie so a peach crisp sounded easy and delicious.
As much as I enjoy a delicious peach, I have to admit that my favorite part of a peach crisp is that crunchy, sweet topping that goes over the peaches.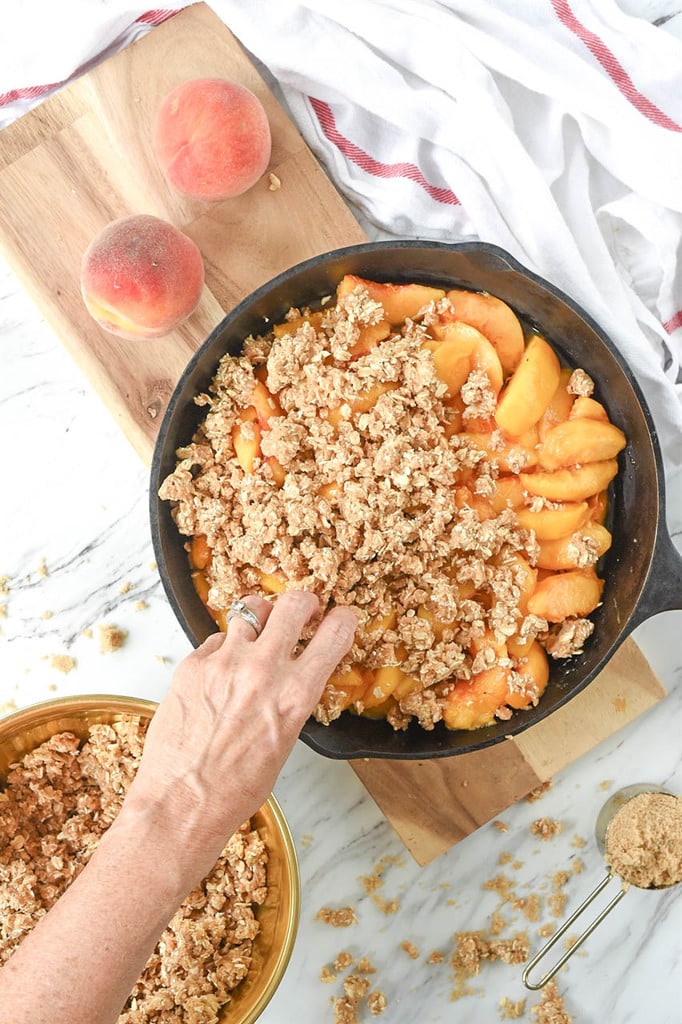 The topping is a combination of brown sugar, flour, oats and butter and a some cinnamon.
The first step to making a peach crisp is peeling the peaches.  Here are my quick and easy tips:
How to Peel Peaches
Fill a large pan with water and bring to a boil.  Fill a large bowl with cold water.  Once water has come to a boil, add peaches to boiling water a couple at a time and leave in water for a minute or so.
Remove and put into cold water.  The skin should peel right off.  If it doesn't leave in the boiling water for a little longer.  Then just cut the peach in half, remove the stone and slice!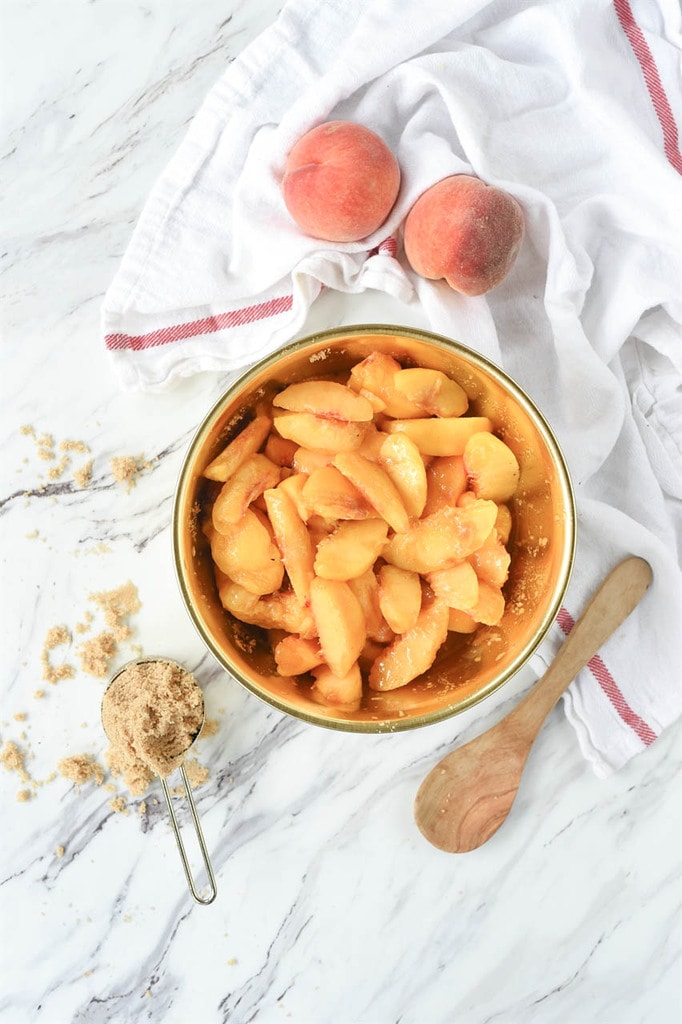 After they are peeled I like to add a little brown sugar to the peaches and let them sit for a bit to get nice and juicy and sweet.  I love using my cast iron pan for a peach crisp but you can also make it in a 9 x 13″ pan.  My cast iron pan is 10″ wide and I just peel enough peaches to fill it up, about 4 lbs.  You will need a few more peaches if you are using a 9 x 13″ pan, about 5 lbs. or so.
You just want there to be a nice generous layer of peaches in the pan.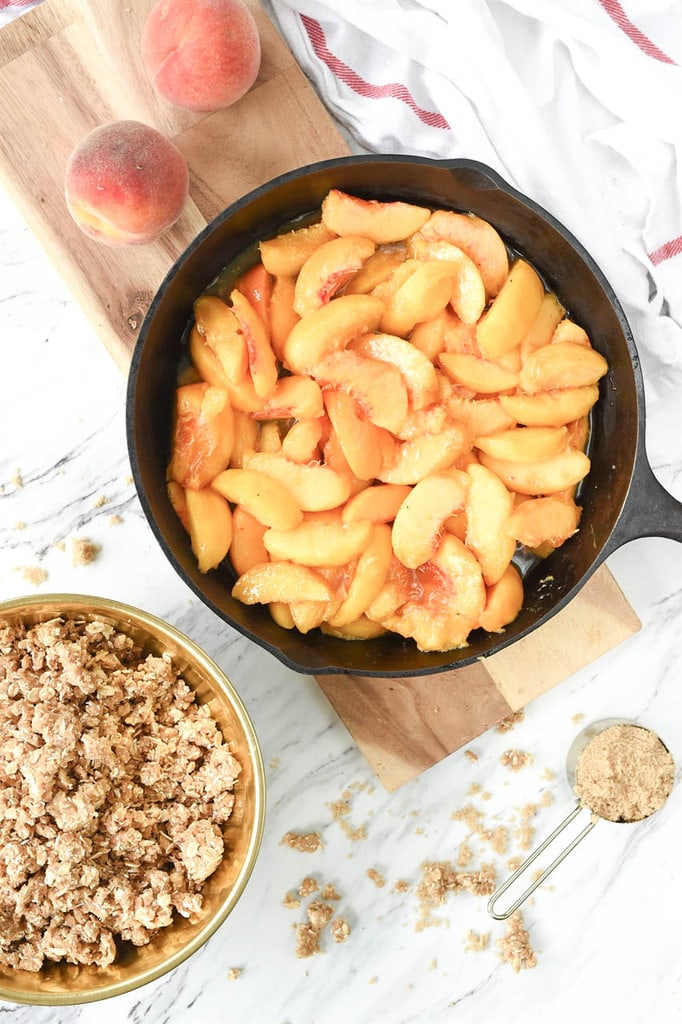 Add the crumb topping (I like a lot!) and then put it into bake until the topping gets golden brown and crispy and the peaches are bubbling, about 50 minutes.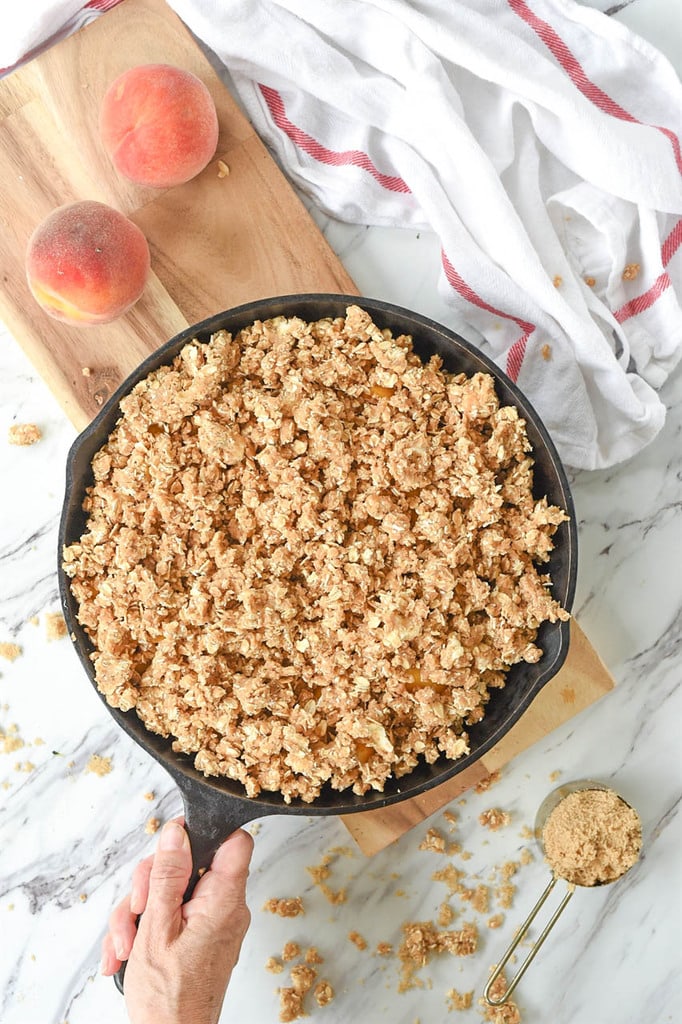 I like to serve this easy peach crisp right out of the cast iron pan.  Just grab a spoon and dig in.  But be sure to add a nice big scoop of vanilla ice cream before you dig in.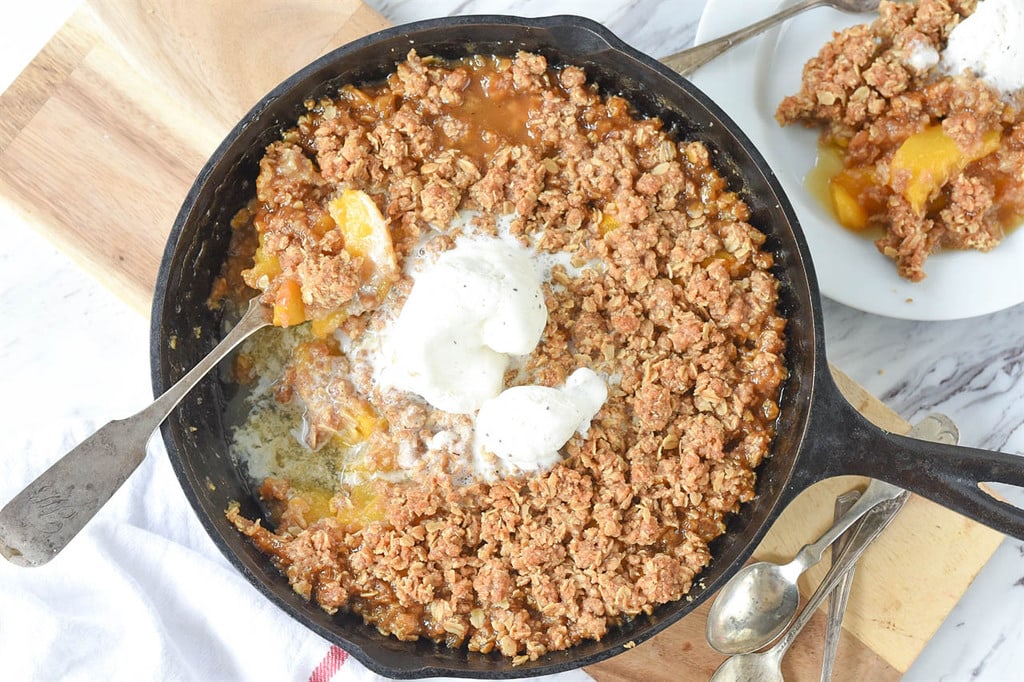 In addition to peaches you can use your favorite fruit or whatever is in season.  You could even add some blueberries in with the peaches.  Berries are definitely a favorite of mine.
Can I use frozen fruit in an easy peach crisp?
Absolutely!  I prefer to use fresh fruit but the recipe works well with frozen fruit also.  Just be sure and drain your fruit and add in a 2-3 tablespoons of flour or cornstarch to the fruit to help thicken it a bit as frozen fruit can make it a little more runny.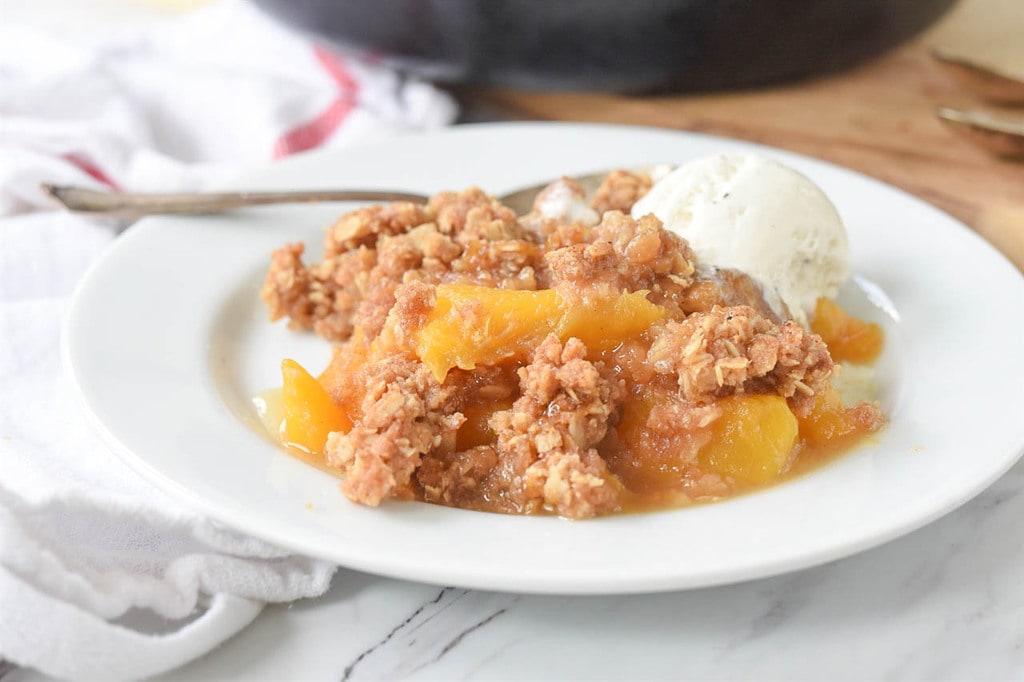 Some of my other favorite fruit desserts:
Some of my favorite kitchen tools I use to make Peach Crisp:
CAST IRON SKILLET – I have an assortment of sizes but the 10 inch is my most used cast iron pan.
6 PIECE MEASURING CUP SET – Everyone needs at least one set of measuring cups, I have 4 sets!
MAGNETIC MEASURING SPOONS – I love these things.  They are magnetic so they stay together in the drawer!
Peach Crisp Recipe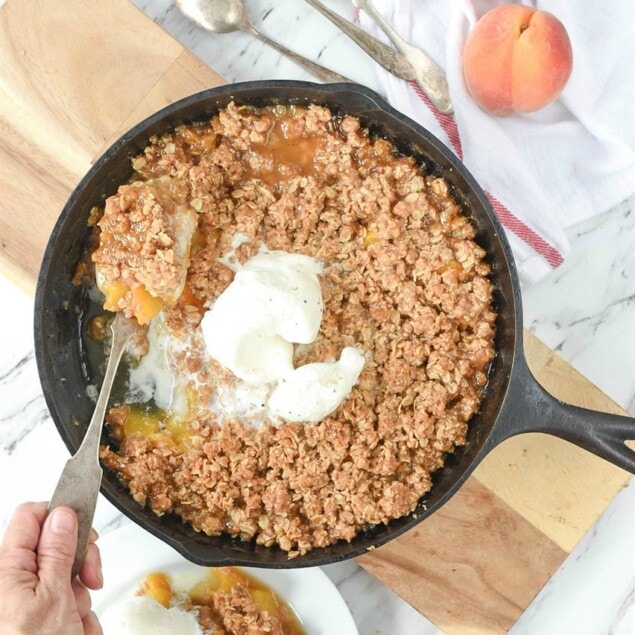 Peach Crisp
This easy peach crisp is made with fresh peaches and topped with a sweet and crumbly topping. Be sure and serve it with a nice big scoop of vanilla ice cream.

Ingredients
4-5 lbs. peaches peeled and sliced
1 cup all purpose flour
1 cup brown sugar divided
1 cup cold butter cut into small pieces
2 tsp cinnamon
1/2 tsp salt
2 cups old fashioned oats
Instructions
Preheat oven to 350 degrees F.

Put peeled, sliced peaches into a bowl and cover with 1/4 cup brown sugar. Stir to coat and allow to sit for about 30 minutes.

In a mixer bowl, combine flour, oats, remaining brown sugar, cinnamon, salt, and cold butter.  Mix with paddle attachment until all dry ingredients are incorporated and mixture is crumbly. 

Place peaches into a 10" cast iron pan or 9 x 13" baking dish. Cover with crumbled topping.

Bake for 50-60 minutes or until topping is golden brown and juices are bubbling.
Nutrition Facts:
Calories: 532kcal (27%) Carbohydrates: 75g (25%) Protein: 7g (14%) Fat: 25g (38%) Saturated Fat: 15g (94%) Cholesterol: 61mg (20%) Sodium: 357mg (16%) Potassium: 564mg (16%) Fiber: 6g (25%) Sugar: 46g (51%) Vitamin A: 1448IU (29%) Vitamin C: 15mg (18%) Calcium: 63mg (6%) Iron: 2mg (11%)
* Disclaimer: All nutrition information are estimates only. Read full disclosure here.
Need some help figuring out what's for dinner tonight?
Come join our Facebook Group!  Join hundreds of others who love sharing dinner time ideas.  You don't want to miss out on the fun!

You'll find lots of ideas for dinner from all our awesome members and you can share your ideas too!  Join the Family Dinner Table today.