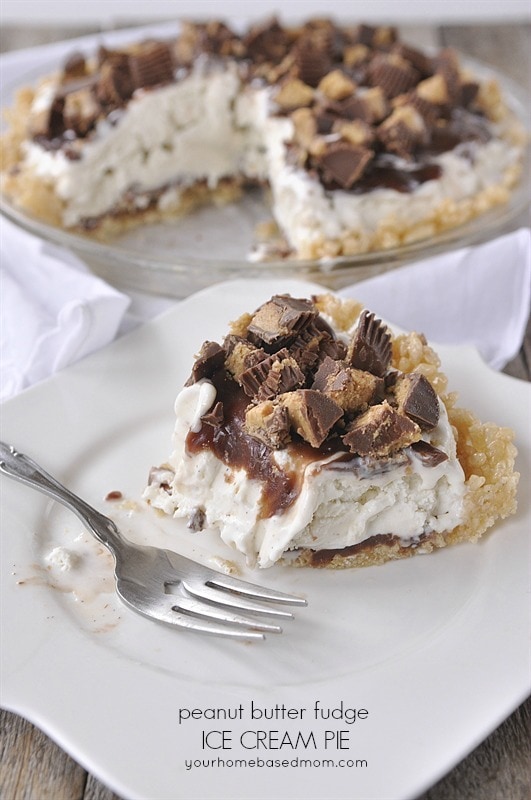 Are you still looking for a yummy, easy, no bake dessert for a Valentine's Day treat? I've got you covered. If you don't need a dessert for Valentines but just want to make something yummy, I've got you covered.
If you have a chocolate/peanut butter fan for a Valentine today's recipe is perfect.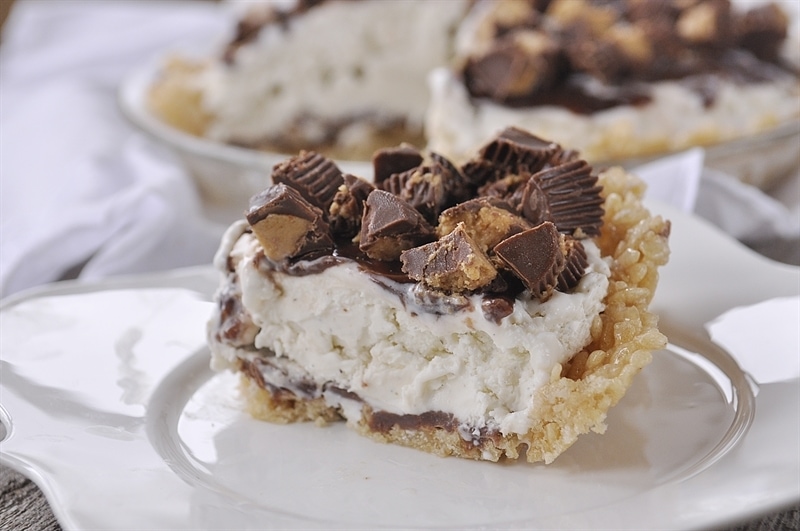 What makes this dessert a little more fun is that it is made with a rice krispie crust. The crust is a combination of rice krispie cereal, brown sugar and corn syrup.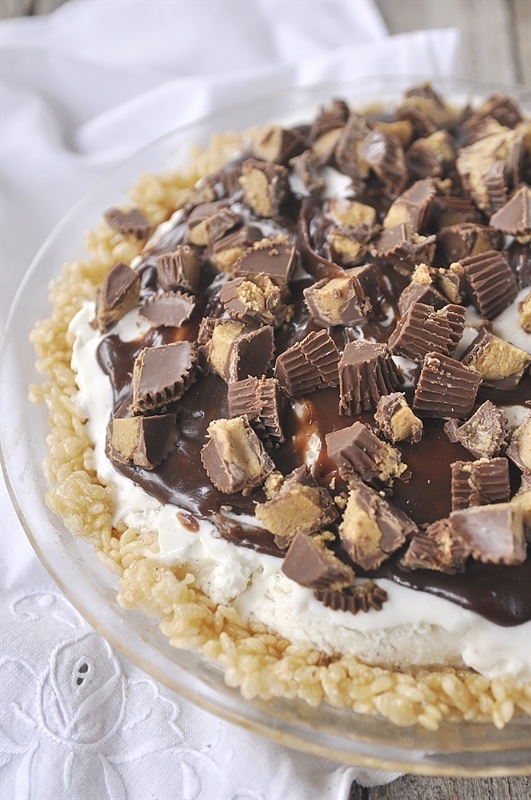 You add a layer of chocolate peanut butter fudge sauce on the crust and then pile in the ice cream.  You can use chocolate, or chocolate peanut butter ice cream but I decided to use vanilla.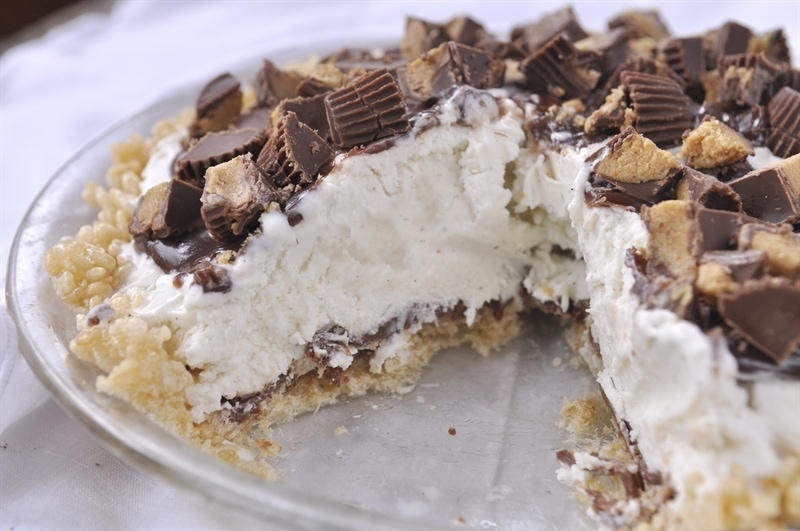 Then add another layer of the chocolate peanut butter fudge over the top of the ice cream.  If the sauce is still warm work fast as your ice cream will start to melt a bit.  Quickly sprinkle your chopped up peanut butter cups on top and pop it back into the freezer.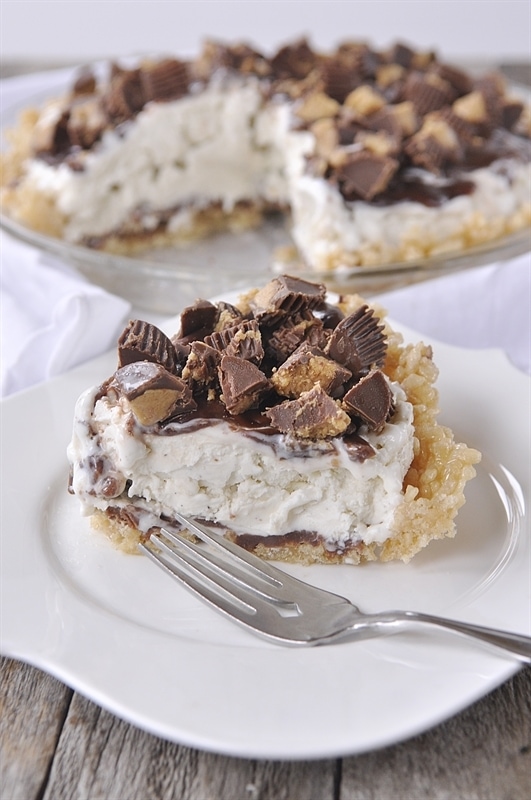 Quick, easy and delicious!  All you need to do is add a fork!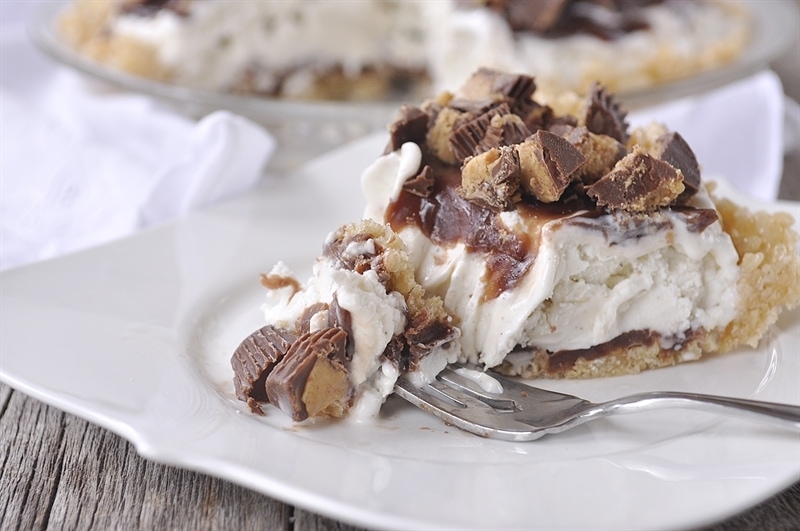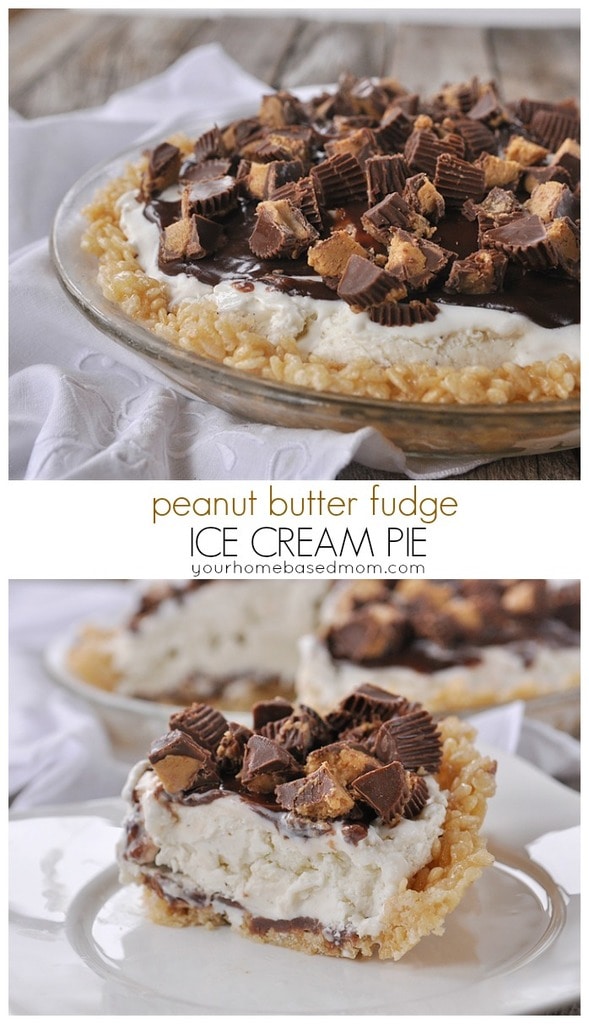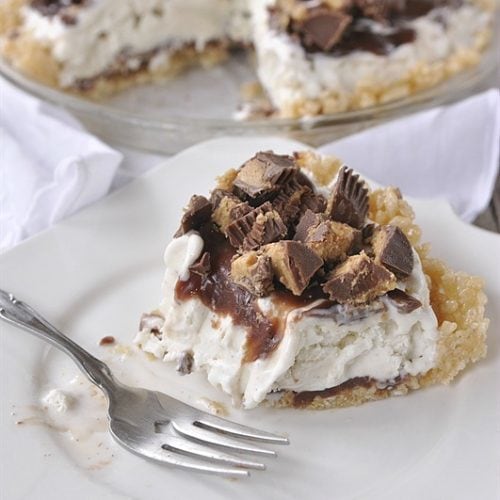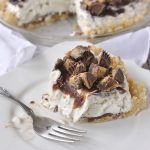 Print
Peanut Butter Fudge Ice Cream Pie
Ingredients
1/4

C

corn syrup

2

Tbsp

brown sugar

3

Tbsp

butter 1 1/2 C Rice Krispie cereal

1.5

quarts

vanilla ice cream

1/3

C

peanut butter

1/3

C

fudge sauce

3

Tbsp

corn syrup

15

miniature peanut butter cups

quartered
Instructions
Stir together 1/4 C corn syrup, brown sugar and butter in a saucepan. Cook over low heat, stirring occasionally, until mixture begins to boil.

Remove from heat.

Pour over Rice Krispies, stirring until coated.

Pour mixture into a greased 9 inch round pie plate form a crust. Press up on the sides.

Stir together peanut butter, fudge sauce and 3 Tbsp corn syrup.

Heat mixture on stove top or microwave.

Spread a few tablespoons of the mixture on the bottom of the crust.

Chill.

Spoon softened ice cream into crust, spread evenly.

Freeze until firm.

Reheat fudge mixture if needed and spread over the top of the ice cream. If it is warm, work quickly as the ice cream will begin to melt.

Sprinkle with chopped up peanut butter cups.

Freeze until ready to serve

Spread a thin layer on the bottom of the crust.