This Nutty Bars Ice Cream Cake combines two childhood favorites – nutty bars and ice cream. Add in some hot fudge sauce and peanuts and it's time to celebrate!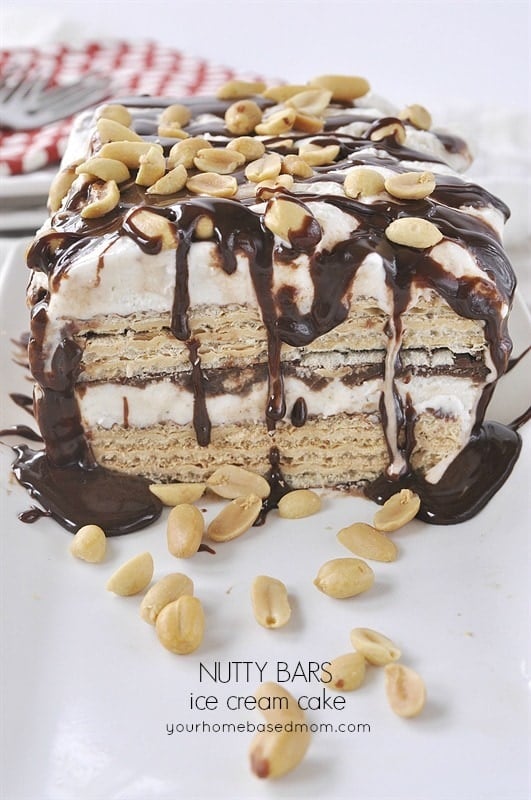 This is a sponsored post written by me on behalf of Little Debbie®. As always, all opinions are my own.
There are just certain foods that evoke childhood memories. For me it is peanut butter and jelly sandwiches. At our school the only kids who could eat hot lunch at school were the kids who took the bus. I walked to school so I had to bring my lunch that my mother packed for me. And in that sack lunch there was always a pb & j sandwich. Were you a sack lunch kid too
If you were, you know that the best part of the sack lunch was not the peanut butter & jelly sandwich. It is what was waiting for you after you finished your sandwich. A treat your mother had put in there for you! I bet for many of you it was a Little Debbie® treat!! What was your favorite? Maybe it was Little Debbie®Chocolate Marshmallow Pies or Little Debbie® Zebra Cakes. Or maybe, like me you were and are a Little Debbie® Nutty Bars fan! It's a taste you never outgrow!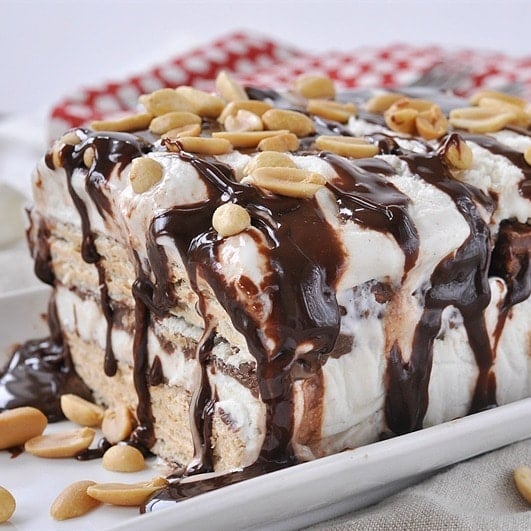 Now that I am all grown up and don't have a sack lunch every day I have found a fun and delicious way to enjoy those Nutty Bars! I combined two of my childhood favorites – ice cream and Nutty Bars to create a yummy Nutty Bars Ice Cream Cake!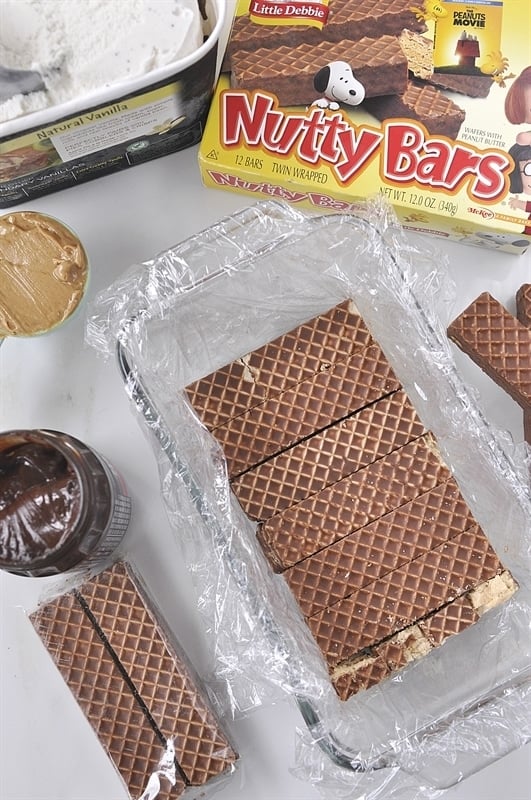 This is so easy to do it would be the perfect thing for the kids to make for you for Mother's Day or make for your own mom to thank her for all those Little Debbie® treats in your lunch. No baking required and the kids are going to love it as much as mom is.
I made it in a bread pan. Be sure and line it with plastic wrap first. It will make it so much easier to get the cake out of the pan! After it is lined, place a layer of Nutty Bars on the bottom. Depending on the size of your pan you may need to cut one into smaller pieces. Put a layer of ice cream on top and then a layer of hot fudge and peanut butter.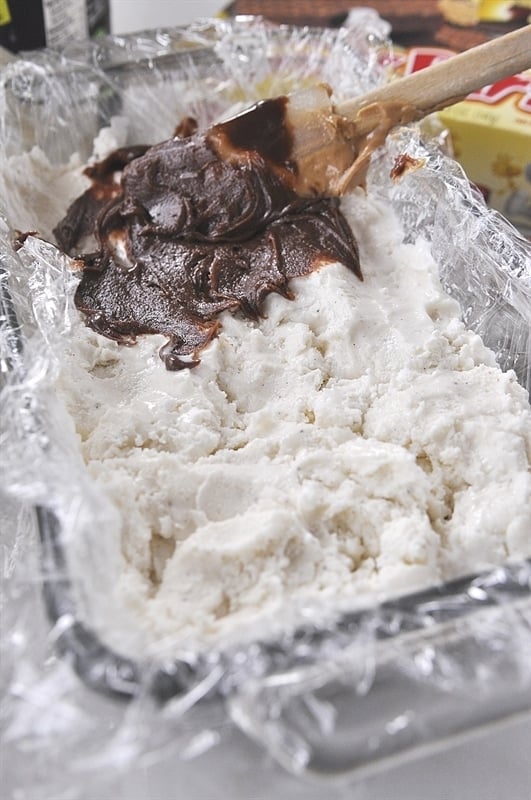 Add another layer of Nutty Bars and more ice cream and then wrap it up in plastic wrap and place in freezer to harden.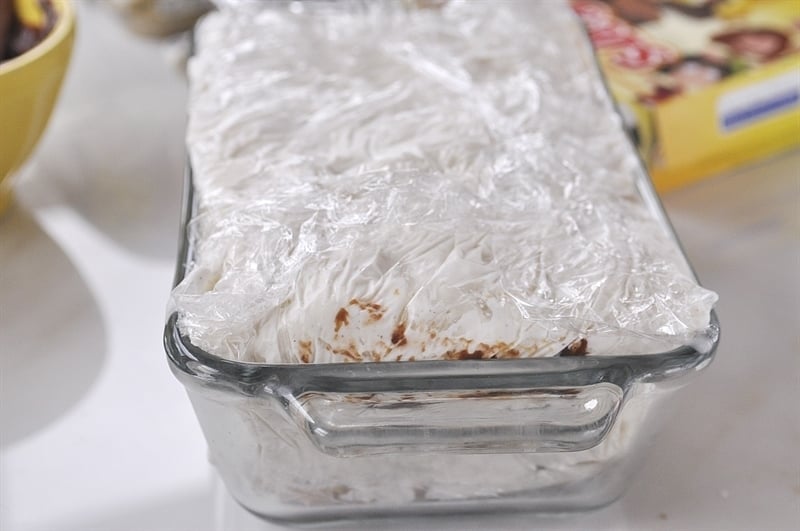 After it hardens up and you are ready to serve it, remove from freezer and lift it out of the pan. Garnish with more hot fudge sauce and top with peanuts.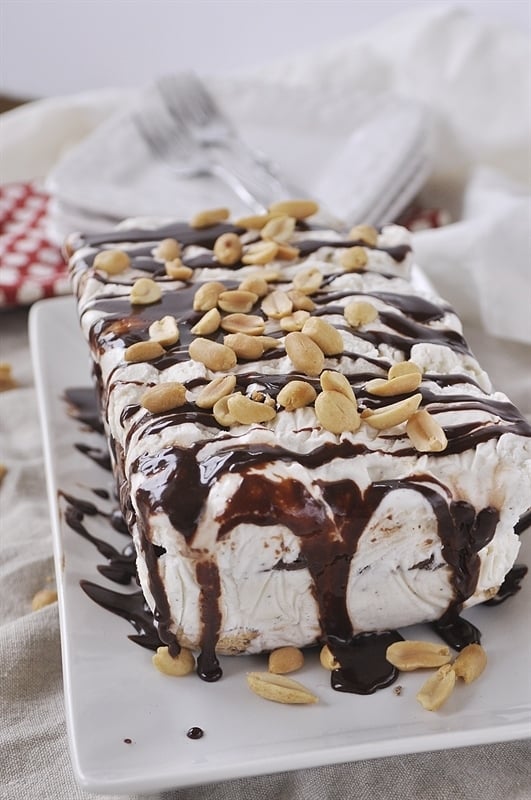 Then all that is left to do is slice it up and serve it.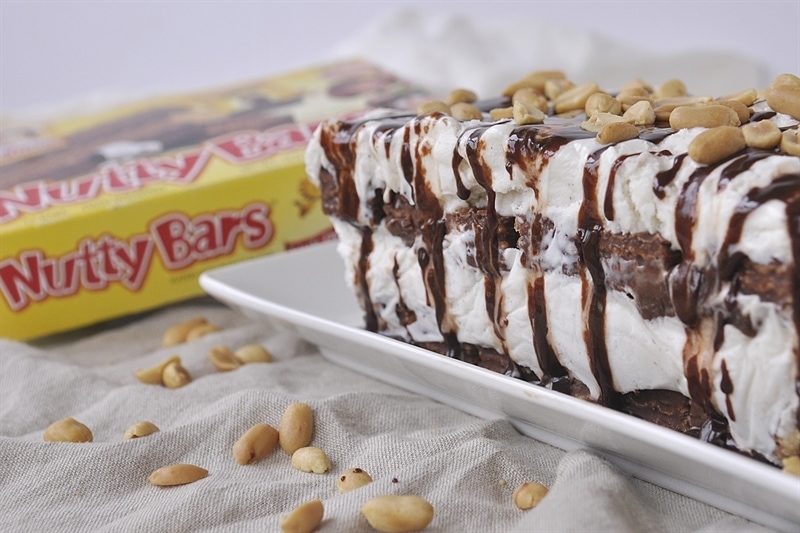 Bring back and enjoy those childhood food memories with this Nutty Bars Ice Cream Cake!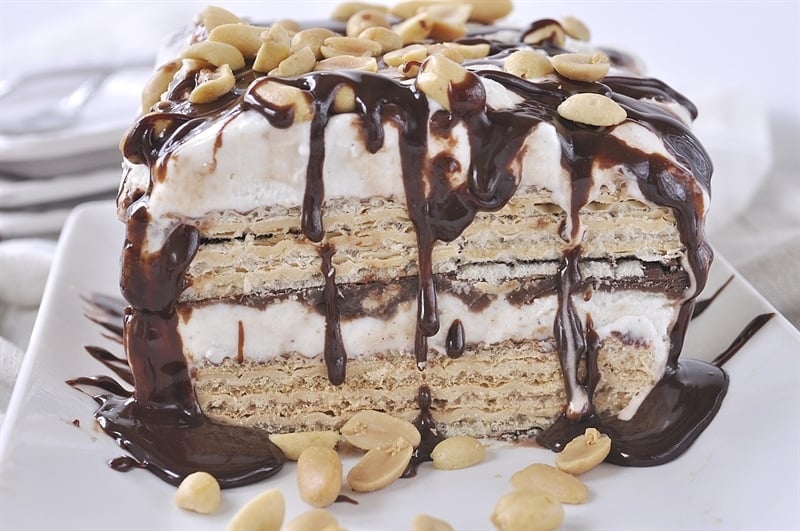 Check out the Little Debbie® website and all the other fun treats! Little Debbie® is a family run bakery and has been in business for over 80 years. The bakery has been passed down to the second and third generations and they have helped create a lot of family memories for their family and others with their products.
You can find more fun recipes using Little Debbie® products here.
What favorite memories do you have? Upload a photo of a Sweet Memory on Instagram using #SweetMemoriesGiveaway for a chance to win $1,000 this Mother's Day.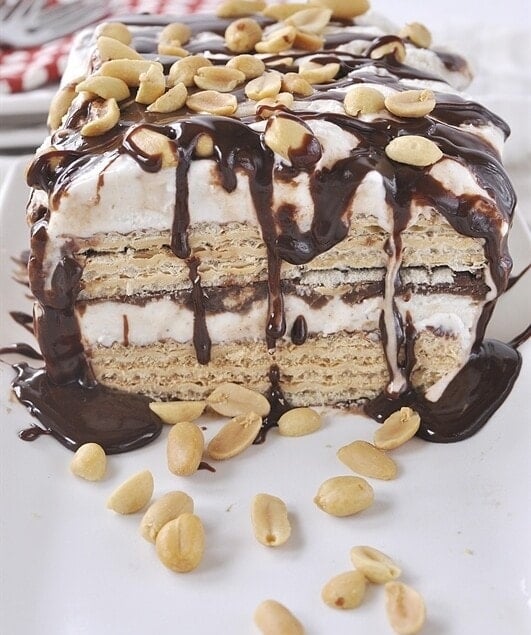 Nutty Bars Ice Cream Cake
This Nutty Bars Ice Cream Cake combines nutty bars, ice cream, hot fudge sauce and peanuts!
Ingredients
1 box of Little Debbie® Nutty Bars
1.5 qts of vanilla ice cream
1/4 C peanut butter
1/2 C hot fudge sauce divided
peanuts to garnish
Instructions
Line bread pan with plastic wrap.

Layer Nutty Bars in bottom of pan, single layer

Layer half of ice cream over the top

Mix together 1/4 C hot fudge and peanut butter and spread over top of ice cream.

Add another single layer of Nutty Bars and remaining ice cream

Wrap plastic wrap over top and place in freezer until firm.

When ready to serve, remove from freezer and lift out of pan by plastic wrap.

Unwrap, place on serving platter and drizzle with remaining hot fudge and garnish with peanuts.
Nutrition Facts:
Calories: 534kcal (27%) Carbohydrates: 57g (19%) Protein: 12g (24%) Fat: 30g (46%) Saturated Fat: 14g (88%) Polyunsaturated Fat: 4g Monounsaturated Fat: 10g Cholesterol: 78mg (26%) Sodium: 247mg (11%) Potassium: 528mg (15%) Fiber: 3g (13%) Sugar: 45g (50%) Vitamin A: 748IU (15%) Vitamin C: 1mg (1%) Calcium: 250mg (25%) Iron: 1mg (6%)
* Disclaimer: All nutrition information are estimates only. Read full disclosure here.